Are you on the hunt for big discounts on chainsaws this year?
Well, I definitely don't want you missing out on the best Black Friday chainsaw deals and Cyber Monday chainsaw sales that are out there to be grabbed.
This year, Black Friday is on November 27, 2020 and Cyber Monday is on November 30, 2020; however, you can often find great bargains on chainsaws leading up to those days too.
In fact, it's rumored that Amazon is going to be starting its Black Friday sales extra early this year on October 26, 2020.
So to help you get your wishlist started for a new chainsaw to enjoy, I've put together a list of the top chainsaws for you to snag deals on during this holiday season.
The most popular chainsaw brands this year include:
DEWALT
Greenworks
Husqvarna
Makita
Poulan Pro
Remington
WORX
On this page, you'll find reviews of the best chainsaw models by each of those top brands. That way, you can compare each tool quickly and find the one that's right for you and your holiday budget.
Don't Let These Deals Pass You By
If you find a great deal on a chainsaw below as you're reading the reviews and checking prices, then I highly recommend that you go ahead and buy it today. Otherwise, the tool may be out of stock before you know it.
In 2020, the line between Black Friday and Cyber Monday is very blurred.
This year, many retailers are offering the same deals throughout the entire month of November (and earlier) instead of just Thanksgiving weekend through Christmas day. These early-bird discounts are being used to make up for the lack of sales that resulted from the Coronavirus pandemic that shut businesses down earlier in 2020.
So if you see a chainsaw that you like—and the price is right—I encourage you to snatch it up before the deal is gone, or worse yet: the tool goes out of stock.
Also, if you're looking to do most of your holiday shopping done online, then be sure to check out these links as well to get the best discounts on everything:
Disclosure: The chainsaws recommended below are my top favorites because they have a great combination of quality and features. As an Amazon Associate, I earn from qualifying purchases made through the links as a way to support this site. If you buy a qualifying product, you're not charged anything extra, but I'll get a small commission to help pay for my expenses. I hope you find my advice helpful and discover the best chainsaw for your needs on this list.
Best Black Friday and Cyber Monday Chainsaws List
24-inch Gas Powered
This professional chainsaw is great for experienced operators who need to do some serious wood-cutting.
Husqvarna is a top brand that makes one of the highest rated chainsaws with a 24-inch bar.
What makes it so popular is that this chainsaw gives you the power you need for performing the toughest jobs without any hiccups, like cutting down large trees, ripping big logs into usable lumber, and cutting tree stumps.
The upgraded X-Torq Technology is a great feature too. It lowers emissions by 60% and reduces fuel consumption by 20% so you can save money on gas and cut for longer periods of time during each project.
This chainsaw also includes all of the top features you want in a tool this big:
Inertia-Activated Chain Brake
Automatic Oiler with Adjustable Flow
Side-Mounted Chain Tensioning System
There's not much more you can ask for in a powerful chainsaw like this for the holiday season.
20-inch Gas Powered
Poulan Pro is another popular brand of chainsaws and the 20-inch bar on this tool makes it a powerhouse saw for any user.
It's a top choice for both professional tree workers and homeowners alike.
If you're looking for a good gas powered chainsaw for Christmas that can cut down large trees and is not too expensive, then this Poulan Pro model a great choice.
The bar length also makes it a good chainsaw for cutting wood into stackable firewood.
Similar to the Husqvarna chainsaw mentioned above, this machine also has an improved OxyPower Engine Technology that produces 70% fewer emissions and 20% lower fuel consumption. That makes this chainsaw good for both the environment and you're wallet.
It also has a top-of-the-line Inertia-Activated Chain Brake, which is one of the best safety features you can find, and a Side-Mounted Chain Tensioning System for quick chain adjustments.
Finally, the Fixed Flow Automatic Oiler keeps your bar properly oiled at all times without any stress of it overheating, which is what you want for a long-lasting chainsaw.
18-inch Cordless Battery Powered
This Greeworks Pro chainsaw is another top tool you'll want to consider this year because it offers the convenience of battery power along with an 18-inch bar and chain.
It's a great choice for any homeowner who is looking for a powerful tool for heavy duty jobs around the yard.
In fact, this is the biggest and best cordless battery chainsaw you'll find for sale during the holiday. (No other brand makes a battery saw longer than 18-inches.)
With this beast of a machine, you'll be able to tackle all of the tough wood-cutting jobs that used to require a gas-powered tool. But now you can do it without the hassle of lugging around gasoline or breathing in the exhaust fumes.
The 80V Lithium-Ion battery gives you around 30-45 minutes of cutting time and takes about 30 minutes to charge. So grab an extra battery or two if you plan on working long shifts.
A really nice feature that chainsaw model has which others don't are called "Bucking Spikes".
These spikes allow you to dig the base of the chainsaw into a log to help guide a more precise cut. Bucking spikes also help prevent injuries during a kickback by securing the saw firmly into the wood.
The Manual Chain Brake is a standard safety feature on all cordless chainsaws and the Automatic Fixed Flow Oiler keeps your bar well lubricated without any worries.
12-inch Cordless Battery Powered
If you're looking for a good deal on Black Friday for a small cordless chainsaw, then the Makita XCU02PT1 is the one you'll want to grab.
While it does have a short 12-inch bar, it's the perfect tool for residential projects, such as light trimming work around the house and tree clean up in the yard.
This model is also very popular for home use because it runs much quieter than a gas-powered tool. Noise is only made when you pull the trigger, and even during operation, it's not very loud.
One of the best parts, however, is that this chainsaw runs on two 18V LXT Lithium-Ion batteries. This subtle, yet important feature, increases your operation time by 50%.
If you get the kit, it also comes with 4 quick-charge batteries so you can cut for several hours at a time without having to stop to recharge.
Another nice perk is that you can use these batteries with all Makita power tools. This saves you a considerable amount of money when buying other yard tools by this brand.
As with other cordless chainsaws, this tool has a Manual Chain Brake for safety. But it has an upgraded Automatic Oiler with Adjustable Flow for more precise bar lubrication. And that's not something you find very often in battery chainsaws of this size.
14-inch Gas Powered
If you're looking for a good overall chainsaw that you can use season after season, then this is it.
In fact, it's one of the most popular chainsaws for both rural and suburban homeowners who need a professional gas-powered tool to take care of a variety of tree trimming and wood cutting needs.
The 14-inch bar is a versatile size that makes it a good saw for cutting small trees, pruning branches, and cutting overgrown brush.
The best parts, however, are the Quickstart Technology for smoother starting, the Automatic Oiler with Adjustable Flow for perfect chain lubrication, and the 5-point Anti-Vibration System for comfortable long-term use.
A Side-Mounted Chain Tensioning System doesn't require any special tool, which is a nice feature to have, so you can make quick chain adjustments while working around the yard.
And finally, a Manual Chain Brake is included for your protection against sudden kickbacks.
16-inch Gas Powered
This Remington chainsaw gives you all of the same benefits as the last model but comes with a longer bar—16 inches.
If you're looking for a great middle-of-the-road power tool to put under your Christmas tree this year that's easy to use and gets the job done fast, then this is a clear winner.
No other chainsaw brand offers this unique combination of features at a such a low price.
You especially won't find any other tool that includes an Automatic Oiler with Adjustable Flow and a 5-Point Anti-Vibration System for better comfort.
It really is one of the cheapest gas-powered chainsaws you can buy with a 16-inch bar for tough wood-cutting work.
16-inch Cordless Battery Operated
If you're looking for a battery powered chainsaw that comes in a 16-inch bar length, then this Dewalt model won't disappoint.
The electric motor runs on a Lithium-Ion battery and lasts up to one hour of heavy cutting time.
The battery is also interchangeable with other DEWALT power tools, which is good if you want to buy other yard tools within this product line.
The Manual Chain Brake is a good safety feature for your protection and the Automatic Fixed Flow Oiler takes the guesswork out of keeping your bar properly oiled 100% of the time.
You also get a Tool-Free Chain Tensioning System in addition to a Bar Tightening Knob for fast adjustments to your chain while working in the field.
14-inch Electric Corded
If you're looking a good corded electric chainsaw this holiday season, then this Greenworks model is a great one to consider.
With this tool, there's no need for dealing with gasoline or waiting for batteries to charge—you literally cut forever without any stops or hesitation.
What makes this 14-inch chainsaw a good deal for any operator is that it has an extremely lightweight design (8 lbs.) that's easy to use.
For small tree cutting jobs and pruning, this chainsaw is a dream come true for many homeowners who want something that's low maintenance and affordable.
A wraparound hand guard is located on top of the tool to protect your hand from any flying debris while cutting wood.
An Automatic Fixed Flow Oiler gives effortless oiling of the bar and chain.
And a Quick Chain Tensioner allows you to easily adjust the chain tightness without having to keep a separate tool in your pocket.
For a corded electric chainsaw of this size, you won't find a better deal during this Christmas season.
16-inch Electric Corded
Perhaps you're looking for an electric chainsaw that's a bit more powerful than the last model.
If that's the case, then this may be the exact chainsaw you're after.
This popular 16-inch chainsaw is great for first-time users and casual lumberjacks. It's the perfect go-to chainsaw for quick and easy jobs to tackle around the yard (e.g. clearing brush, trimming small trees, cutting firewood).
The best part of this tool; however, is the Easy-turn Screw Chain Tensioning System. This special feature takes all of the guesswork out of tightening your saw's chain. And it helps you keep it at the perfect tension for hundreds of cuts.
The Automatic Fixed Flow Oiler comes with a built-in window level indicator on the reservoir so you never have to guess it's time to refill the chamber.
Finally, this chainsaw also has a wraparound hand guard like the last review for safe operation.
18-inch Electric Corded
If you're really on the hunt for the best sale on a corded chainsaw with a longer bar, then you're in luck.
This WORX professional chainsaw model offers all of the same benefits as the last review but comes with the added advantage of an 18-inch bar and chain.
Similar to cordless chainsaws, 18-inches is the longest length you'll find in an electric chainsaw that's powered with a cord.
What makes this a good choice for your holiday wishlist is that this chainsaw is a powerhouse for tougher jobs, like cutting down large trees, bucking fallen trees, and slicing up logs into firewood.
There's really no job that this chainsaw can't handle.
Plus, you don't have to worry about carrying around gasoline or recharging batteries because it takes its power from any standard electrical outlet.
So if you want one of the highest rated chainsaws that operate on electricity, then you can't go wrong with this tool.
It runs forever when plugged in and offers the ideal wood cutting length for most people.
---
Don't Forget to Stock Up On Safety Gear Too
Do you have goggles, hearing protection, gloves, or a helmet?
If not, then be sure to add a few items like these to your holiday list when shopping for Black Friday chainsaw sales and Cyber Monday deals.
These items will help keep you safe while operating your new chainsaw Christmas present.
Should You Shop for a Chainsaw on Black Friday or Cyber Monday?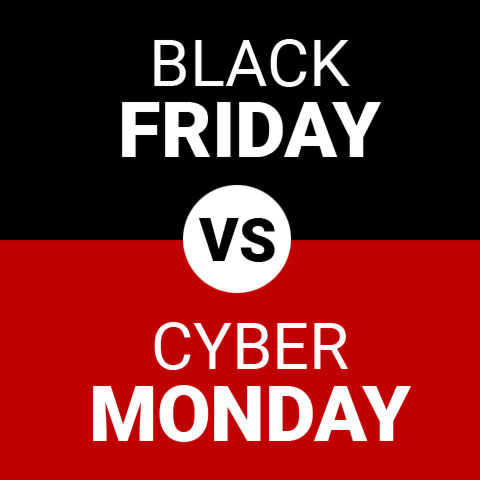 This is a top question I'm being asked in 2020.
People want to know if they should go ahead and grab Black Friday chainsaw deals or wait three days to see what the Cyber Monday chainsaw sales have to offer.
Well, my best advice for you here is that you may actually want to start shopping for a chainsaw earlier than those dates.
Why am I suggesting that?
In 2020, many retailers have decided to extend their chainsaws deals so that they last throughout the entire Thanksgiving weekend.
That means you can often get the same discount on a chainsaw regardless if you purchase the tool on November 27 (Black Friday) or November 30 (Cyber Monday).
Additionally, you can probably find the same price or a cheaper discount on these tools if you shop earlier in the month of November too.
What you'll find is that Black Friday and Cyber Monday are not necessarily the only exclusive days you can get the best holiday shopping deals.
With millions of people doing their shopping online, it can be tough for retailers to keep up with the huge spike in demand over the Thanksgiving weekend. Therefore, many businesses are trying to get people to spread out their purchases throughout the entire November and December months. (Some brands are even pushing this into October.)
In fact, some deals on chainsaws that are listed as "Black Friday" are actually starting several days or weeks before the actual Black Friday date. The catchphrase, "Black Friday" has really just become a popular way of saying "Big Sale".
My Recommendation to You
If you want to get the best deal on a chainsaw during the 2020 Christmas and holiday season, then you shouldn't try to guess which day will be better for your shopping dollars.
Instead, you should choose the chainsaw you want most from the list above and buy it today if the price is affordable.
What you'll find is that trying to take a chance on Black Friday chainsaw deals versus Cyber Monday chainsaw sales may not work out for your benefit. That's because retailers are offering a different product mix this year.
For example, one site may offer the best Black Friday deal on Husqvarna chainsaws while the next may give a good discount on Cyber Monday. Additionally, you may find Poulan Pro Black Friday deals on chainsaws to be hot while Cyber Monday not so much.
S, if you find a chainsaw featured on this page that you like and can afford it, then it's best to go ahead and grab that deal while you can so you don't miss out on it.
Online retailers are getting hit especially hard this time of year because the discounts are so good. Therefore, you'll want to get that chainsaw ordered quickly if you do like it.
Remember, Black Friday Chainsaw Deals and Cyber Monday Chainsaw Sales Won't Last
I hope you enjoyed this guide on 2020 chainsaw Black Friday deals and Cyber Monday chainsaw sales that are going on right now.
As I stressed throughout this page, many of these discounts are not going to last. So you need to take action while the price is right.
Hopefully, after reading the reviews on this page, you have a clear idea on the type of chainsaw you want to buy during this Christmas and holiday season.
All of the models listed above are high-quality tools that do a great job of cutting wood around the house and in the field.
So just choose the chainsaw that's right for you and your holiday budget!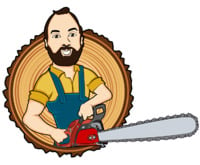 Your pal,
Chainsaw Larry