So, you want the best 16 inch chainsaw?
But you're not sure which one to buy?
Well, you've come to the right place.
Below, I'll show you what the best 16 inch chainsaw is for every category:
Gas powered
Battery operated
Corded electric
That way, you can pick the one that's right for your needs.
In many ways, a 16″ chainsaw is the perfect size for a sawing machine.
It offers a nice balance for handling moderate to large cuttings jobs in addition to tackling small tasks you have around the house.
If you want to keep your yard well maintained and do more serious work, a 16 inch chainsaw is definitely the way to go.
So, let's get into it.
The best 16″ chainsaws with pure power awaits.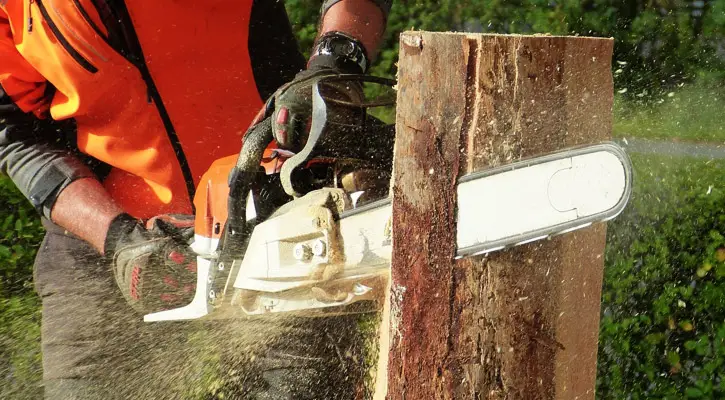 Disclosure: The chainsaws recommended below are my top favorites because they have a great combination of quality and features. As an Amazon Associate, I earn from qualifying purchases made through the links as a way to support this site. If you buy a qualifying product, you're not charged anything extra, but I'll get a small commission to help pay for my expenses. I hope you find my advice helpful and discover the best chainsaw for your needs on this list.
What is the Best 16 inch Chainsaw?
These are the best 16 inch chainsaws you can buy today:
Remington RM4216 Chainsaw
Husqvarna 440e II Chainsaw
Greenworks 20312 Chainsaw
DEWALT DCCS690M1 Chainsaw
WORX WG303.1 Chainsaw
Makita UC4051A Chainsaw
I'll review each of these chainsaws later in this guide, but here's a quick comparison chart so you can see them side-by-side.
How Do You Choose the Right Type of 16 inch Chainsaw?
These days, 16″ chainsaws are powered in various ways, including gasoline, batteries, and electrical power cords.
While gas powered chainsaws are still the most popular, you may find that a battery operated or corded electric model may be better suited for your needs.
To help you decided on which type of chainsaw is right for you, here's a short list for you to quickly compare the pros and cons of each model.
Gas Chainsaws
Uses a mixture of gasoline and 2-stroke oil
Most powerful type
Cuts the fastest
Cuts for long periods of time (only limited by your amount of fuel)
Starts with a pull cord
Most rugged type
Moderately priced
Heaviest type
Loudest type
Produces emissions
What is the Best 16 inch Gas Chainsaw?
If you're looking for the best 16 inch gas chainsaw, you have two great options:
Battery Chainsaws
Uses rechargeable batteries
Less powerful than gas chainsaws
Cuts slower than gas chainsaws

Cutting time is limited by battery size (i.e. 30 mins to one hour)

Starts with a push of a button
Most expensive type
Lighter than gas chainsaws but heavier than electric chainsaws
Quiet (only makes noise when the trigger is pulled)
What is the Best 16 inch Battery Chainsaw?
If you're looking for the best 16 inch battery chainsaw, you have these powerful choices:
Corded Electric Chainsaws
Powered through an extension cord
Equally powerful as a battery chainsaw

Unlimited cutting time (if it's plugged in, it will cut)

Starts with a push of a button
Cheapest type
Lightest type
Quiet (only makes noise when the trigger is pulled)
What is the Best 16 inch Electric Chainsaw?
If you're looking for the best 16 inch battery chainsaw, you have these popular models:
16 inch Chainsaw Reviews & Buying Guide
Now that you know what to expect out of each type of 16″ chainsaw, and got a glimpse of the top products in each category, we can now move on to the full reviews of each machine.
Below, you'll find reviews of the best 16 inch chainsaws for the money.
The purpose here is to give you a wide range of options to find the top chainsaw for your needs.
When comparing chainsaws, you'll quickly discover that not every model contains the same set of features, so it's good to have more than one choice in each category.

Best 16 inch Chainsaw List
Gas Powered
If you're looking for one of the best 16 inch chainsaws that run on gasoline, this is it.
In fact, this is one of the best 16 inch gas chainsaws for both rural and suburban homeowners who need a tool that can handle a wide variety of tree cutting needs.
With this machine, you can zip through pruning, trimming and felling trees as well as splitting logs and cutting firewood.
Remington engineered this chainsaw to not only be efficient and reliable but also easy to use for any skill level. With it, you can literally take on any task.
What truly makes this chainsaw stand out include:
Quickstart Technology that makes it super-simple to start
Automatic (Adjustable Flow) Oiler for precision chain lubrication
5-point Anti-Vibration System that takes all of the stress out of handling this machine
Side-Mounted Tensioning System for rapid fast chain adjustments in the field
Heavy-duty carrying case to protect your equipment when not in use
As a whole, no other chainsaws in this class offers this combination of advanced features.
Plus, it's one of the cheapest gas chainsaws you can buy with a 16″ bar and chain.
Gas Powered
If you want a rugged workhorse that can last a lifetime, this chainsaw may be the perfect one for you.
The Husqvarna brand has been around since 1689 and is highly trusted by tree cutting professionals. With a Husqvarna chainsaw, you're getting a top-quality machine with amazing performance.
What makes this the second best 16 inch gas chainsaw includes:
Super lightweight design at only 9.8 pounds
X-Torq Engine that lowers emissions by 60% and reduces fuel consumption by 20%
Automatic (Fixed Flow) Oiler for hands-free bar and chain oiling
Inertia-activated chain brake for stopping the chain during a kickback (the safest kind available)
Quick-release air filter for easier maintenance
Flip-up tank caps (I wish every chainsaw had these)
If you want 16 inches of raw chainsaw power, this gas model is a great choice.
Battery Powered
If you're looking for a chainsaw that's more environmentally friendly, this Greenworks model is a good alternative.
While it doesn't have the full power of a gas chainsaw, it can still get the jobs you need done at an efficient rate. The brushless motor is designed for maximum torque and heavy cutting loads so you don't have to worry about it bogging down.
In fact, Greenworks markets this 16″ machine as the first battery powered chainsaw that can replace your gas tool. And in some ways I can to agree with that.
With this model, you'll enjoy the following benefits:
10.4 pounds (you can't get much lighter than that for a battery chainsaw of this size)
70% less vibration than a gas chainsaw
Automatic (Fixed Flow) Oiler ensures smooth cutting and uninterrupted work
40 minutes of continuous cutting time on one battery charge
40V battery can power almost 30 different Greenworks tools
Tool-Less Chain Tensioning System for tightening the chain quick and easy adjustments
The price for all of this is quite affordable too and it's actually cheaper than my previous chainsaw review.
Battery Powered
The next best chainsaw you can buy in a cordless model is this DEWALT chainsaw here.
Like my last review, this chainsaw also has a brushless motor for delivering maximum performance that rivals a gas powered machine.
So, why would you choose this chainsaw over the Greenworks model?
Honestly, it really boils down to which product line you want to invest in. If you already have other DEWALT outdoor tools, then go when this model. You can save money by not purchasing the battery.
But, if you're not invested in a cordless ecosystem yet, then the Greenworks model may be a better choice for you.
As for the top specs for this chainsaw, here's what you'll get:
Not too heavy at 17 pounds
60 minutes of continuous cutting time
Automatic (Fixed Flow) Oiler
Tool-Less Chain Tensioning System
Convenient quarter-turn oil cap for quicker re-fills
40V battery is compatible with other DEWALT outdoor power equipment
If you want a 16″ battery chainsaw, you can't go wrong with this tool. The portability, low maintenance, and gas-free design make it a handy machine.
Corded Electric
If you're not a fan of gas chainsaws or don't want to spend the extra money on a battery powered model, then a corded electric chainsaw is what you need.
You can tackle all of the same yard projects as any other 16 inch chainsaw on this list, but bigger jobs may take you a bit more time to complete since the chain doesn't spin as fast.
However, the major advantage of a corded electric chainsaw like this is the low price. They're dirt cheap.
Plus, you can cut forever as long as it's plugged in. There's no stopping to refuel or recharge batteries.
As for features, this Remington chainsaw has a nice setup:
Lightweight at 9 pounds
Easy-turn Screw Chain Tensioning System for fast chain adjustments
Automatic (Fixed Flow) Oiler
Bar and Chain Oil Level Indicator
If you want a really cheap 16 inch chainsaw, this one is hard to beat.
Corded Electric
My final recommendation is for someone who wants a pro-quality chainsaw in a corded electric version.
It's engineered for faster cutting than other corded electric chainsaws and has a chain speed of 2,900 FPM.
The motor also has a built-in current limiter to protect itself from burnout.
All of that power does come at a cost though. It's about 3X more expensive than the previously reviewed WORX model.
Notable features include:
Lightweight at 14 pounds
Tool-Less Chain Tensioning System
Automatic (Fixed Flow) Oiler with an oil level view window
Rubberized grip handles
Large throttle trigger for more comfortable use
If you want a 16 inch corded chainsaw that can handle endless work, this may be the right one for you.
---
Additional Chainsaw Information
What Can You Do with the Best 16 inch Chainsaws?
Since you're on this page, you likely already have specific cutting jobs in mind.
But it's also good to know the full range of tasks you can handle with at 16″ chainsaw.
That way, you can get more value out of the machine and not feel like your stuck just doing specific jobs with it.
With a chainsaw of this size, you can do the following:
Tree Pruning — The process of removing dead and loose wood. This improves tree health so it can better flourish and gets rid of the hazard of falling branches.
Tree and Bush Trimming — The process of shaping and tidying up the appearance of woody plants. A 16 inch chainsaw lets you speed through this task and doesn't get stopped by thicker limbs as a standard trimmer tool would.
Tree Felling — The process of cutting down a tree.
Log Splitting — The process of cutting up a fallen or felled tree into manageable size logs that you can then haul or slice into firewood.
Firewood Cutting — The process of cutting logs up into pieces of firewood. A chainsaw of this size makes the process so much easier and faster than using an axe.
Chainsaw Maintenance and Care
All chainsaws, regardless of how they're powered, will require maintenance to keep them operating well.
Gas chainsaws require the most attention since they have the most moving parts. Plus, an engine that operates with a mixture of gasoline, oil, and air, is much more complex than an electrical-driven motor that's found on battery and corded electric models.
When it comes to chainsaw care, follow these tips:
All Chainsaws
Clean off any dirt, sawdust, or other debris after each use.
Keep the bar and chain well oiled when storing the chainsaw.
Fill up the bar and chain oil reservoir after each use.
Cover the blade with a sheath to protect it from the elements.
Sharpen the chain as soon as it takes extra downward pressure to make a cut. (See my best manual chainsaw sharpener list)
Ensure that the chain brake works before each use.
Related Post: Best Homeowner Chainsaw Reviews
Gas Chainsaws
Empty the fuel tank after each use.
Clean the air filter after a long day of use or multiple short jobs.
Check the spark plug for damaged electrodes or discoloration each month if you use the chainsaw often.
Related Post: Best Gas Chainsaw Reviews
Battery and Electric Chainsaws
Ensure there is no significant lag between the chain spinning and pulling the throttle trigger. If so, have the chainsaw serviced.
Remove the cord and battery from the chainsaw when storing.
Related Posts: Best Battery Chainsaw Reviews and Best Electric Chainsaw Reviews
Closing Thoughts on My 16 inch Chainsaw Reviews
As you can see, there are a number of good options when it comes to buying the best 16″ chainsaws.
In the past, you were limited to just gas powered chainsaws, but now you can also get a high-quality battery or electric model that can compete just as well as those fuel guzzlers.
This length of this chainsaw also makes this a great all around tool because you can do so much with it. By investing in a 16″ chainsaw you can not only cut down trees but prune and trim other woody plants in your yard.
However, this list is really just the beginning when it comes to comparing chainsaws.
There are so many different lengths, models, and brands out there to meet every person's individual needs.
Clearly, you landed on this page because you were looking for a specific 16″ chainsaw; however, if you're also interested in adding other size chainsaws to your kit, I invite you to check out my other free buying guides.
I have a popular guide on the top chainsaws available that includes machines of all sizes broken down into the same categories as we had on this page.
I also have a dedicated post on the best all around chainsaw that includes some of the models reviewed above and a few others you may be interested in.
If price is your top concern, I have a post on the best value chainsaw to help you find a product that fits within your budget.
So, take a look at those links to see what other chainsaw options are available.
I hope you enjoyed this guide on finding the best 16 inch chainsaw.
Happy sawing!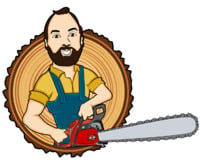 Your Pal,
Chainsaw Larry