So, you want to buy a chainsaw?
But, you don't want to spend a lot of money.
I understand.
Not everyone has the budget to spend hundreds of dollars on a chainsaw. And not all of us need a big burly machine that can take down giant oak trees.
If you're looking for the best cheap chainsaw for light trimming jobs or cutting down smaller trees, then you've come to the right place.
On this page, you'll find the best budget chainsaw across different types and models.
There's something for everybody. And most importantly, they're inexpensive.
But that's not all you'll find here.
In addition to a list of the best value chainsaws, I've included some things for you to think about before making a purchase so you can ensure you get the top product for your needs.
You'll also find answers to the common questions people have about cheap chainsaws such as how much do they cost, what can you expect out of them, and which type should you get.
So, let's get started.
Your dream chainsaw—that fits within your budget—awaits.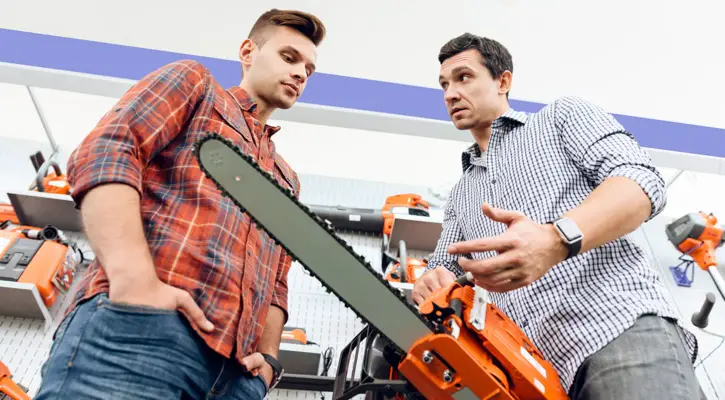 Disclosure: The chainsaws recommended below are my top favorites because they have a great combination of quality and features. As an Amazon Associate, I earn from qualifying purchases made through the links as a way to support this site. If you buy a qualifying product, you're not charged anything extra, but I'll get a small commission to help pay for my expenses. I hope you find my advice helpful and discover the best chainsaw for your needs on this list.
Best Cheap Chainsaws Reviewed in This Guide
Here's a quick comparison chart showing the top budget chainsaws. I'll go in depth about each one later in this guide, but this gives you a sense of what's available and a simple way to quickly compare them.
Choosing the Best Value Chainsaw
Before we jump into my list of the best cheapest chainsaws, there are a few things you should consider that will help you pick the right one.
Clearly, all of my chainsaw reviews below are top quality machines, but not going into the list with the right frame of mind could cause you to end up with a chainsaw that you're not totally happy with.
Therefore, I want you to ask yourself these three simple questions to help narrow down your choice:
How Much Do You Really Want to Spend on a Chainsaw?
Cheap chainsaws range between $70 to $200. What's your realistic budget for a new chainsaw?
Why Types of Projects Will You Be Using the Chainsaw for?
Think seriously about this. Do you want to cut down trees, split firewood, or trim limbs? Is your purpose for a chainsaw very specific or do you want the ability to do everything with it?
Are There Any Must-Have Features You Need in a Chainsaw?
Budget chainsaws come in all types and include a variety of features. Is there anything in particular that it must have? Examples include gas powered, electric, or battery operated; a manual chain brake for safety; lightweight design under 10 pounds, an automatic chain oiler, etc.
If you don't have all of those answers right now, don't worry. Just keep those questions in the back of your mind as you read the rest of this guide.
What Can You Expect from a Budget Chainsaw?
The truth is you can expect a lot of out cheaper chainsaws.
You're not just stuck with small, weak machines that can't handle tough jobs.
Chainsaw technology has advanced rapidly over the last few years and you now have a wider selection than ever before to find the right tool for your needs.
Here are some of the top things you can expect from the best budget chainsaws:
6 to 18-inch Bar Lengths — Giving you the option for branch trimming, tree cutting, log splitting, and more.
Automatic Bar and Chain Oilers — For hands-free oiling of the most important parts of the chainsaw. Ensures proper lubrication of the bar and chain so your tool doesn't get damaged.
Tool-Less Chain Tensioning Systems — A simple way to loosen or tighten the chainsaw chain that doesn't require any special tools.
Safety Chain Brakes — An important safety feature for protecting yourself against accidental cuts during a chainsaw kickback (e.g. the blade thrusts upward). Kickback can occur when the tip of the chain nicks a hard object or the chain becomes pinched between the wood.
Anti-Vibration Technology — This allows you to hold the chainsaw for longer periods of time without getting fatigued. The chainsaw is engineered in a way that separates the engine from the handles so those parts don't vibrate as much.
What Type of Cheap Chainsaw Can You Get?
There used to be a time when only gas powered chainsaws existed. And along with that, the guide bar and chain lengths on those machines would only go so small (12 inches).
These days, you have a wider range of chainsaw types (and lengths) to choose from, including:
Corded Electric — This type uses electricity and plugs into a standard power outlet. You're just limited by the length of the cord for how far away you can take the chainsaw from the power source.
Battery Operated — This type runs on rechargeable batteries. You have no restrictions for where you can take the chainsaw; however, total cutting time can span between 30 minutes to one hour on one charge.
Gas Powered — This type runs on fuel that's mixed with oil. It's the most powerful type of chainsaw and offers the least number of limitations. You can also operate it as long as you have fuel to fill it.
Best Budget Chainsaw Reviews & Buying Guide
I hope you enjoyed that quick primer on what you can expect when shopping for the best cheap chainsaw.
With those things in mind, we can now move onto the list of the best value chainsaw models available.
What you'll notice below is that I tried to include something for everybody.
You'll find a high-quality chainsaw for every size budget within the three categories of tools: gas, electric, and battery operated.
Some of these models are also featured on my best rated chainsaws guide. That page includes the top 10 chainsaws where the price is not a factor.
As for this page, I'm giving you a list of the best chainsaws for the least cost.

Best Cheap Chainsaw List
Use these links to jump to a specific chainsaw. Or, just keep scrolling.
---
Cheapest Gas Chainsaws
Prices Range Between $100 to $160
When it comes to gas chainsaws, the smallest you're going to get for non-professional use (regardless of price) is 14-inches. Anything smaller is made for tree professionals who do cutting high up in the trees while strapped into a harness.
You can tell that a chainsaw is made for a true arborist when it only comes with a top handle. Chainsaws that are designed for ground use have both rear and top handles which is what you'll find (and want) below.
14-inch Bar and Chain
If you want the best cheap chainsaw that's powered by gas, this is going to be your top choice.
In many ways, the 14-inch length makes it perfect for most homeowners and casual lumberjacks. With it, you can trim tree branches, clean up brush, and cut down smaller sized trees.
And, if you're feeling truly adventurous, you can also take down a tree that's two feet thick (24 inches) if you attack it from both sides.
However, what you'll like even more about this budget chainsaw is that it includes some of the most sought after features available today, including:
Quickstart Technology for smoother starts.
Automatic (Adjustable Flow) Oiler for lubricating the bar and chain. (The best kind available.)
5-point Anti-Vibration System that takes all of the stress out using it.
Tool-Less Chain Tensioner for quick chain adjustments while out in the field.
Manual Chain Brake for safety against kickbacks.
Bucking Spikes for digging into tree logs and helping you cut through them easier.
If you're looking for the most inexpensive gas chainsaw that you can use season after season, this is it.
18-inch Bar and Chain
Perhaps you need a longer chainsaw for heavy duty jobs, like thicker log cutting and bigger tree felling, but you don't want to spend a ton of money on it.
If so, then this is going to be the best value chainsaw for you.
It's practically identical to my last review except it includes a longer 18-inch bar.
With it, you'll enjoy all of the features listed for the previous RM4214 model, such as Quickstart Technology, Automatic (Adjustable Flow) Oiler, 5-point Anti-Vibration System, Tool-Less Chain Tensioner, Manual Chain Brake, and Bucking Spikes.
This model also weighs just around 16 pounds which is a great weight for a gas chainsaw this big.
When compared to other 18-inch chainsaws, you won't find another model that packs in as many features for a cheaper price.
Cheapest Electric Chainsaws
Prices Range Between $70 to $85
When it comes to corded electric chainsaws, things start to get cheaper and your options for guide bar and chain lengths widen up.
In fact, you can find a cheap chainsaw that's as small as 6 inches (for delimbing and trimming) or just spend a few dollars more to get a bigger chainsaw that has an 18-inch blade (for logging and tree felling).
Either way, you can find exactly what you want at a really low cost if you go with an electric chainsaw.
10-inch Bar and Chain
Are you a suburban homeowner and need a chainsaw that can handle a variety of jobs?
Or maybe you just need a smaller tool in your kit for tackling those hard to reach places?
Either way, this chainsaw may be exactly what you need.
What makes it the best value chainsaw for many homeowners is the fact that it's a 2-in-1 tool. You get both a handheld chainsaw and pole saw in one package.
This lets you change quickly from cutting trees on the ground to going high up in the branches without much effort. Plus, the low weight of 10 pounds makes it easy to hold for long periods of time without a lot of stress on your muscles.
Some additional features you'll enjoy include:
Tool-Less Chain Tensioner that also prevents accidental overtightening.
Automatic (Fixed Flow) Oiler for hassle-free bar and chain oiling.
Removable 8-foot extension pole.
Ergonomic comfort grip for easier handling when extended high up in the trees.
All-in-all, this multi-use budget chainsaw is hard to beat.
18-inch Bar and Chain
This next pick is the longest electric chainsaw you'll find for the cheapest price.
It's made for people who have heavy duty tree cutting jobs and want a machine that can last all day without having to refuel. Once it's plugged in, this tool will run forever.
You can use it to cut down medium-sized trees, chop up logs, and split your firewood into perfect quarters.
As for notable features, it includes the following:
Patented Auto-Tensioning Chain System that takes the guesswork out of proper chain tension.
Automatic (Fixed Flow) Oiler for a perfectly lubricated bar and chain with every cut.
Manual Chain Brake to keep you safe from accidental kickbacks.
You won't find a cheaper, longer chainsaw than this. If a combination of large size and low cost are what you're after, then look no further than this tool.
Cheapest Battery Chainsaws
Prices Range Between $130 to $160
Battery chainsaws are all the rave these days.
That's because they offer the same conveniences of a gas chainsaw but without the burden of carrying, mixing, or buying fuel.
However, the advantages of using batteries do come at a cost; it takes a lot of juice to power a chainsaw and Lithium-Ion batteries don't come cheap.
While you can buy almost any size battery chainsaw (8 to 18 inches), only the 8 to 10-inch models are considered "cheap". Going any longer than 10 inches will bump the price up to $250 or more.
If you're interested in seeing all of your options for battery powered chainsaws (regardless of price), check out my best battery chainsaw list. It includes all of the top models you'll find today.
As for the two chainsaws reviewed below, you'll find that they're both priced under $160 which is why I've included them on my cheap chainsaw list.
8-inch Bar and Chain
If you want a small chainsaw for delimbing and trimming that runs on batteries, this is a fantastic choice.
The telescoping pole only takes a few simple twists to extend your reach an extra 8 feet in the air to cut branches at a distance. It also weighs around 8 pounds which makes it one of the lightest pole style chainsaws you can buy.
The best part, however, is that you can get a full one hour of cutting time on each battery charge. That's more than enough time for most users. And recharging takes equally as long at one hour.
The other benefits you'll enjoy with this budget pole chainsaw include:
Automatic (Fixed Flow) Oiler to ensure lifetime durability of the bar and chain.
Tool-Less Chain Tensioner to fine-tune the chain without using any special tools.
Interchangeable Battery with other Greenworks Power Tools
If you're looking for a cheap chainsaw with an extendable pole that doesn't have to be plugged in, this battery operated version is a great option.
10-inch Bar and Chain
Perhaps you want a cordless budget chainsaw that's more multi-dimensional than my last review.
If so, this model is the cheapest, best chainsaw you can buy that runs on batteries.
With this model, you can tackle small jobs from the ground, like cutting up fallen trees, pruning low branches, splitting firewood, and more.
The weight is ideal for most users too—at 7 pounds—and it makes the tool easier to maneuver in tight locations.
As for cutting time, you'll get between 30-45 minutes on each charge with a two-hour recharge time.
Additional features include:
Tool-Less Chain Tensioner for easy chain adjustments.
Manual Oiler that requires you to push a small rubber button to oil the bar and chain.
Front Hand Guard to protect against flying debris.
Although this chainsaw doesn't come with a ton of advanced features, it's one the best budget chainsaws you'll find that's powered by a battery.
If you need something that you can grab quickly for small jobs around the house, this might just be the machine for you.
---
Additional Information on the Best Value Chainsaws
Which Best Cheap Chainsaw Should You Choose?
If you reached this point of my guide and are still not sure which is the best budget chainsaw for you, the following information can help you narrow down your decision.
I'll go over the three types of chainsaws and point out the pros and cons of each one.
Gas Chainsaws
Here's what you can expect out the best gas powered chainsaw.
Pros:
Go-to version for professionals.
Most powerful. (The engines handle the heaviest work.)
Extremely portable. (No limits on where or when you can use it.)
Long cutting times. (

As long as you have fuel, it will continue to run.

)
Most rugged and tough. (Can take a beating.)
Long life span. (If maintained well.)
Repairs are simplest. (DIY tutorials are plentiful and any small engine shop can help fix it.)
Cons:
Requires the most maintenance.
Must mix fuel with oil at the proper ratio.
Can be harder to start over the years as engine parts get worn.
Produces fuel emissions.
Heaviest type.
Loudest (Even when idling.)
Limited bar and chain lengths. (14 to 18 inches.)
Electric Chainsaws
Heres what you can expect out of the best cheap electric chainsaws that use a cord.
Pros:
Least amount of maintenance.
Easiest to use.
Starts with the push of a button.
Unlimited cutting times.
Lightest type.
Quietest (Overall and only makes noise when you pull the trigger.)
Clean (No fuel emissions.)
Cheapest type to buy. (Most cost less than $80.)
Has the widest range of bar and chain lengths for an affordable price. (6 to 18 inches.)
Cons:
Requires a power outlet to plug into.
Least portable. (Reach is limited by the length of the extension cord.)
Extension cord can get in the way (or tangled) while using.
Can't be used during a power outage.
Repairs require electrical knowledge. (i.e. professional servicing.)
Best for light to medium-duty tasks. (Not as powerful as gas engines.)
Battery Powered Chainsaws
Here's what you can expect out of the cheapest battery chainsaws.
Pros:
Extremely portable. (Just as much as gas chainsaws.)

Starts with the push of a button.

Low maintenance.
Quiet (Only makes noise when you pull the trigger.)
Clean (No fuel emissions.)
Batteries are interchangeable with other tools in the same brand's product line.
Cons:
Cutting times vary by manufacturer. (i.e. 30 minutes to one hour.)
Recharging times vary by manufacturer. (i.e. 20 minutes to two hours.)
Can't use when batteries are recharging. (Solved by buying multiple batteries.)
Repairs require electrical knowledge. (i.e. professional servicing.)
Best for light to medium-duty tasks. (Not as powerful as gas engines.)
Most expensive type to buy. (Most cost $200 or more.)
Most limited in bar and chain lengths for an affordable price. (8 to 10 inches.)
Common Questions About Cheap Chainsaws
What is the best cheap chainsaw?
The best cheap chainsaws are the models reviewed on this page. Each one offers great value for a budget price:
Remington RM4214 Chainsaw
Remington RM4618 Chainsaw
WORX WG309 2-in-1 Chainsaw
WORX WG304.1 Chainsaw
Greenworks 20672 Pole Chainsaw
BLACK+DECKER LCS1020 Chainsaw
What is the best chainsaw for the money?
The best chainsaw for the money you'll find here is the WORX WG309 2-in-1 chainsaw. This model can be used as a regular handheld chainsaw as well as a pole saw. You can cut on the ground (small trees, logs, firewood) and reach into the trees (trim limbs, remove branches).
How much is a good chainsaw?
You can buy a good chainsaw between $50 to $200. The WORX WG304.1 chainsaw is a great low-cost electric chainsaw under $100. The Remington RM4618 chainsaw is a top gas chainsaw under $200. And the Remington RM4214 chainsaw is a good gas chainsaw for around $120.
What is the best chainsaw for a homeowner?
The best chainsaw for a homeowner really depends on the needs of the user. You can literally choose any bar size (6" to 24") and type (gas, battery, or electric) to find the perfect chainsaw for your home. All of the chainsaws reviewed on this page are great for homeowners as well as these models:
Remington RM4214 Chainsaw
Husqvarna 440e II Chainsaw
Greenworks CS40L210 Chainsaw
DEWALT DCCS690M1 Chainsaw
Remington RM1425 "Limb N Trim" Chainsaw
WORX WG303.1 Chainsaw
What is the best chainsaw small chainsaw to buy?
The best small chainsaw to buy would either be the BLACK+DECKER LCS1020 chainsaw or the WORX WG309 2-in-1 chainsaw. Both models offer exceptional performance at a cheap price. They're also lightweight and can handle most smaller cutting jobs around your house and yard.
Chainsaw Maintenance Tips
What's the secret to a long-lasting chainsaw?
Proper maintenance.
A cheap chainsaw can run forever if you keep it well maintained. And that's not just good for the machine, but it's also good for your wallet.
The process of cutting through wood and running the engine components at high speeds can be taxing on your chainsaw. So, if you want your new tool to last, here are some things you can do to keep your chainsaw in great condition.
Sharpen the Chain
Cutting with a dull chain causes excess wear on your chainsaw's engine or motor and causes it to consume more fuel, electricity, or battery juice. All of which increase your long term cost of owning the machine.
If you're buying a budget chainsaw for the long haul, it's a good idea to invest in a chainsaw sharpening kit. It comes with everything you need to keep your chain sharp.
See my best electric chainsaw sharpener list.
But how often should you sharpen the chain?
The general rule of thumb is that if you have to apply pressure when sawing, it's time for a quick sharpening.
Clean the Bar and Chain
A dirty guide bar or chain also causes excessive wear on your chainsaw.
A good routine to get into is to clear off any dirt or debris that's on the guide bar or chain teeth after each use. Just make sure that the power is turned off so you don't accidentally get cut.
Ensure Proper Tension on the Chain
A chain that's too tight can cause stress on the engine or motor. It can also cause the chainsaw to stall.
If the chain is too loose, it can fall off while cutting and cause serious injuries.
Therefore, you should check the chain tension before each use and periodically if you're sawing for a long period of time.
A good rule of thumb here is to have about 1/8 of an inch of play in the chain when you pull up on it. It should also snap back into place when you let go.
Some cheap chainsaws include an auto tensioning system that takes all of the guesswork out of this process.
Keep the Bar Oil Level Full
If the guide bar is considered the heart of your chainsaw then the bar oil is the blood that keeps it in good working condition.
Without proper lubrication, the guide bar and chain can become damaged and will then have to be replaced.
So, ensure that the bar oil level is always topped off before each use so that you don't run into any costly repair issues.
Cover the Blade
Moisture and dust are a chainsaw's worst enemy because they can lead to corrosion.
Covering the blade with a sheathe can help protect your chainsaw against uncontrollable elements. And they're pretty cheap too—around $5-10.
If you're storing the chainsaw for a long period of time, you may want to consider taking the chain off and spraying it with a protective coating to keep it in pristine condition.
Clean the Air Filter (Gas Models Only)
Gas chainsaws use air mixed with fuel to power the engine.
Therefore, an air filter is required to protect the internal components from dirt, dust, and other debris.
Make it a habit to clean the air filter after each use and when it gets noticeably dirty, replace it.
Clean Out the Fuel Tank (Gas Models Only)
Over time, mixed fuel that has been sitting can start to thicken up and create sludge.
And sludge that passes through the engine can degrade performance.
The best thing you can do to prevent that is to run all of the gas out of your chainsaw after each use.
If you can't do that, then set aside some time before the next cutting job to empty the fuel tank and fill it with fresh gas.
Closing Thoughts on My Best Budget Chainsaws Reviews
As you discovered, you don't have to spend a ton of money to get a high-quality chainsaw.
There are many options available for less than $200 and several you can get for under $100.
What's also nice is that you're not just stuck having to choose between a certain type of chainsaw for a cheap price. There are choices available for every kind of machine (gas, electric, and battery powered).
I hope that you found the best budget chainsaw for your needs on my list and that it'll serve you well for years to come.
By the way, the two gas chainsaws I reviewed above offer the most value and versatility; however, if you want to see all that's available (regardless of budget), check out my other guide on the best gas chainsaws for the money.
As for electric chainsaws, there are even more great options that cost just as cheap as my reviews on this page. If that type interests you, take a look at my guide the best corded electric chainsaws.
And finally, if you're looking for a small or lightweight chainsaw, regardless of price, my best small chainsaw reviews is a good page to visit.
This concludes my guide on finding the best cheap chainsaw.
Happy cutting!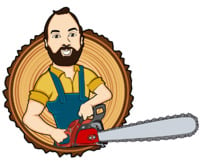 Your Pal,
Chainsaw Larry