I want to prepare you ahead of time…
This guide is jampacked with the best chainsaw safety gear available.
In fact, you'll find a list of the 38 best chainsaw protective gear and equipment you can buy today in these 8 categories:
Safety Glasses
Hearing Protection
Chaps
Pants
Gloves
Boots
Helmets
Jackets, Vests & Sleeves
Chainsaws are incredibly powerful and useful cutting machines.
They make tackling any tree-cutting job easy and stress-free.
However, because of their power and capabilities, the chances of getting injured while using this tool are high.
That's why it's crucial that you have the right chainsaw safety gear, which is also referred to as "personal protective equipment".
Adding the right products to your chainsaw kit can help reduce the chances of an accident or injury occurring when using your tool.
And please, don't be like this guy…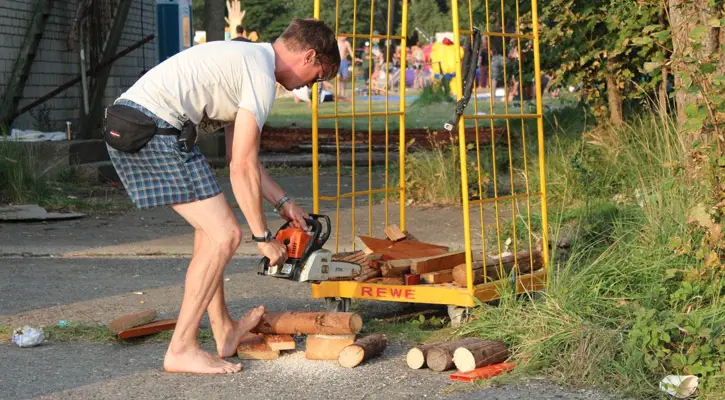 …using a chainsaw like this is reckless in so many ways.
However, it's important to keep in mind that chainsaw protective gear won't completely eliminate all hazards or injuries, but it can reduce the seriousness of the situation.
In many cases, the best chainsaw safety equipment is the only thing that stands between a fatal scenario and a non-fatal one.
How Chainsaw Safety Equipment Protects You
When it comes to chainsaw protective gear, it's designed to protect the six main areas of your body.
These include:
Hands
Head
Eyes
Ears
Legs
Feet
I recommend that you wear chainsaw protective clothing every time you use your chainsaw.
By wearing chainsaw gloves, jackets, pants, chaps, and boots, these articles of clothing can protect you by stopping the chain or preventing it from cutting you. This gives you enough time to move away from the saw.
When you wear face shields or glasses, they can protect you from flying wood chips, which can damage your eye and cause vision loss.
Chainsaws can be incredibly loud, and when you are exposed to this sound for long periods of time, it can impact your hearing.
You can't reverse the damage that is done to your ears, so chainsaw hearing protection is vital when using this tool.
Finally, a chainsaw helmet will protect your head from any projectiles that might fly at you when cutting or if limbs or branches suddenly fall from the tree you are cutting down.
To ensure that you are always safe when operating your chainsaw, I've compiled this list of the best chainsaw protective equipment so that you can find the right gear to wear when you're cutting wood.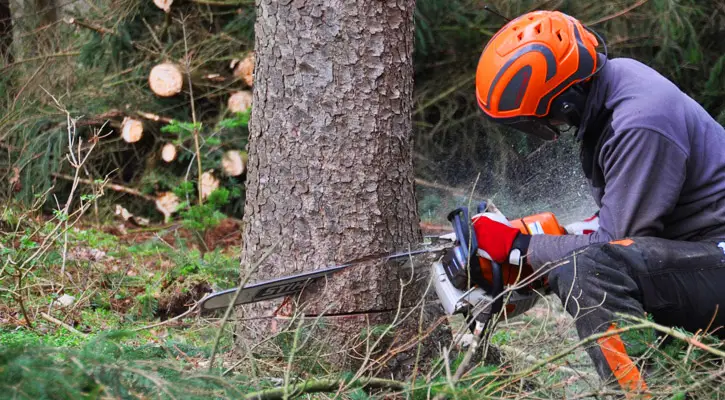 Disclosure: The chainsaw items recommended below are my top favorites because they have a great combination of quality and features. As an Amazon Associate, I earn from qualifying purchases made through the links as a way to support this site. If you buy a qualifying product, you're not charged anything extra, but I'll get a small commission to help pay for my expenses. I hope you find my advice helpful and discover the best chainsaw stuff for your needs on this list.
Chainsaw Protective Gear Reviews & Buying Guide
What you'll find below is a detailed list of the top chainsaw safety and protective gear.
What I tried to do in these reviews is to recommend several high-quality pieces of equipment in each category so you can make the best choice for your needs and budget.
As I mentioned before, this is a long list.
So, take your time going through it and pick the best items for your chainsaw safety kit.
Best Chainsaw Safety Gear & Equipment List
Chainsaw Safety Glasses
While I hope you strongly consider adding other protective clothing to your chainsaw kit, if you only get one piece of chainsaw safety gear, safety glasses should be it.
This equipment is invaluable when it comes to preventing vision loss.
Some of the things you want to look for in a pair of chainsaw safety glasses include:
Side shields or wraparounds for extra protection.
Stainless steel wire mesh lenses.
Scratch-resistant coatings.
UVA/UVB protection against the sun's rays.
These Bugz-Eye safety goggles are truly the best for chainsaw work.
Among professional arborists and chainsaw operators, these Sight Shield spectacles are the most trusted brand to own.
In fact, this safety gear was developed for eye protection against large particles in the most hostile environments, such as logging, wildland fire fighting, landscaping, and even mining.
So, you know these glasses are going to give you the most protection when operating your chainsaw.
The real secret behind these spectacles is the high tensile strength, stainless steel wire mesh lenses.
That unique design, along with the open cell foam around the eyes, stops flying wood chips from entering your eyes.
Finally, these goggles will never fog up from hight heat or humidity when you're cutting wood in the beating sun. And the comfortable polyester strap will hold these safety glasses in place, no matter what position.
If you liked the idea of my #1 protective eyewear but weren't a big fan of the "bug-eye" look, then this is your next best option.
These Elvex chainsaw safety glasses offer a modern design with the type of protection—stainless steel mesh wire lenses.
That means these glasses can stop flying wood from damaging your eyes.
They're also good in the heat and cold because the wire mesh design won't fog up from humidity or sweat.
The wrap-around frame design with foam face seal gives you excellent eye socket protection when you're using your chainsaw. And, the elastic fabric headband is adjustable for a comfortable, secure fit.
Here's another pair of protective eyewear that uses wire mesh to stop flying particles from entering into your eyes.
These Pyramex low profile googles offer a nice blend between my #1 and #2 picks.
They're not too "buggy" looking, nor do they look like regular "sunglasses".
This pair of safety glasses has a similar appearance to snow goggles.
They won't fog up and give you a good level of protection when using your chainsaw.
Plus, the wide elastic strap provides a secure, comfortable solution for long days of chainsaw cutting work.
This pair of safety equipment offers modern styling with high impact protection.
These DEWALT safety glasses are full frame lenses that give you excellent coverage against flying chainsaw dust.
The rubber tipped temples and nose piece provide a non-slip comfortable fit for long, comfortable wear outdoors.
The UV protection also protects against 99.9% of harmful UV rays.
If you want an inexpensive pair of chainsaw glasses, these are a good purchase.
How would you like to choose the frame color and lens tint for your new pair of chainsaw glasses?
If that sounds like a good deal, then you'll want to check out this Uvex Hypershock eyewear.
These glasses come in three colors: black, white, and clear.
You can also choose between more than 15 tints and coatings to meet your specific needs.
With so many different options to choose from, you might even want to buy several pairs to have on hand to meet various work environments (i.e. chainsaw cutting, welding, construction, etc.)
Most styles also provide maximum UVA/UVB protection unless otherwise noted.
You really have to see these glasses for yourself to fully understand how beneficial they can be for you.
---
Chainsaw Hearing Protection
Another piece of chainsaw protective gear that I highly recommend using is hearing protection.
The most common types of hearing protection for chainsaws are earmuffs and earplugs.
No matter which one you choose, make sure it has the proper noise reduction rating (NRR) of at least 24db.
If you're looking for hearing protection that provides you with the most protection for excessive noise, then I suggest you look into earmuffs. The over-ear design offers some of the highest levels of NRR available. Plus, they're extremely comfortable.
When it comes to earplugs, these can be standard-issue or have a cord or band that connects them together.
If you want to add an additional layer of hearing protection, you can always wear earplugs and earmuffs together.
You're going to see the Husqvarna brand mentioned a lot of this page.
Why?
Because Husqvarna is the top brand you can buy for the best chainsaw protective gear without going through a dealer.
And these hearing protectors are a testament to the brand's reputation for high-quality gear.
They're made specifically for high-powered outdoor equipment, like a chainsaw, and give you the full protection you need to protect your hearing.
This model is very lightweight, has a flexible padded headband, and gives you 25dB(A) NRR of noise protection.
Use them for every outdoor job, including mowers, blowers, and trimmers.
If you've ever purchased any type of outdoor gear, then you've already come across the 3M brand.
In fact, 3M makes accessories for practically everything you can imagine.
It's a trusted brand by both homeowners and professionals, and you can never go wrong with using their stuff.
And these earmuffs are no different.
This equipment has been engineered to protect your hearing from the most demanding noise environments where sound levels can reach as high as 105 dBA (i.e. a roaring chainsaw).
The double-shell earcup design contains two cups that are connected by an inner foam layer.
That special design helps reduce noise throughout the full range of sound frequencies (high and low) up to 30dB NRR.
The wrapped stainless steel headband is comfortable to wear; however, it doesn't include as much padding as the Husqvarna ear protectors mentioned above.
But, that small tradeoff does open up three options for you:
Just pick the type that's right for you.
How would you like to listen to music while you're out ripping through wood with your chainsaw?
With a simple pair of hearing protectors like this one, you can infuse more fun into your workday.
This WorkTunes model (and the next review) gives you that kind of outdoor luxury.
With this wired model, you get two choices for listening to your favorite tunes:
Using the built-in AM/FM radio to find your favorite station.
Using the 3.5mm auxiliary input jack to connect your smartphone, iPod or MP3 player. (Cable not included.)
As for the noise reduction rating, you're getting the industry standard of 24dB NRR.
So, whether you're spending all day cutting down trees, slicing up firewood, and doing some light trimming around the yard, you can protect your hearing–and have a great time while you're at it.
If you liked the idea of our my #3 review, but would rather have gear that doesn't come with a wire, then this WorkTunes model is right for you.
With this model, you get Bluetooth technology that allows you to connect wirelessly to any smartphone or mobile device.
That means you can stream your favorite music from any music service, like SoundCloud, Pandora, iTunes, etc. while you're outside working.
Plus, this model includes an integrated microphone.
So, while your out using your chainsaw, you can still make and receive phone calls without having to remove your hearing protection.
There's really nothing else you can ask for in a set of high-quality chainsaw hearing protection gear.
This pair of chainsaw earmuffs is very similar to my #3 pick.
If you choose this equipment, you're getting the same level of hearing protection, 25dB NRR, but a few added bonuses:
The cable for connecting your music device is INCLUDED.
There's an LCD display on one of the earmuffs that shows the current AM/FM radio station.
It's the DEWALT brand, so if you have a DEWALT chainsaw or other outdoor equipment, this gear will match your setup.
Other than that, both products are good for protecting any chainsaw user.
My last pick for chainsaw hearing protection gear is this brand right here.
If you'd rather have earplugs than over-the-head earmuffs, then Decibullz is the top brand you can choose.
That's because Decibullz takes earplugs to the next level.
These earplugs are custom molded to fit the exact shape of your ear.
This unique design creates a perfect fitting earplug that will never hurt, never fall out, and provides superior noise reduction up to 30dB NRR.
Check out the reviews so see more pictures and videos of how these things actually work, but essentially all you have to do is place them in boiling water, let them cool for a bit, and then shape them to your ears.
These earplugs can also be reshaped and remolded at any time.
And, they give you the pleasure of listening to music through wireless Bluetooth technology.
---
Chainsaw Chaps
When it comes to protecting your legs from getting hit by the chainsaw's chain, you can wear chainsaw chaps over your pants.
This gear protects you by jamming the flywheel, which reduces the chances of the chainsaw cutting through your leg.
You may still get bruised from the force of the equipment hitting your body, but you won't lose a limb or need stitches.
When it comes to chainsaw chaps, there are two different types to choose from: full-wrap chaps and apron chaps.
If you're looking for full coverage of your legs, including the rear calf region, then you'll want to look into full-wrap chaps.
Apron chaps only cover the front of your upper leg.
I always suggest you wear full-wrap chaps since they offer the most protection against the chainsaw.
Husqvarna offers tough gear for tough jobs.
And these chainsaw chaps will make sure you operate safely, like a pro.
This orange and gray safety chap is adjustable for waist sizes up to 42 inches, so you'll have to problem getting the perfect fit.
If you're curious about the science behind this chainsaw protective gear, here's how it works:
The chaps contain PVC coated denier polyester with Tek warp protective layers that are designed to pull apart when the chainsaw chain comes into contact with them.
This special technology clogs up the sprocket system of the chainsaw to slow or stop the chain from spinning depending on the speed and angle of contact.
These chainsaw chaps are and quick and easy to put on and take off and go right over your existing pants.
In my opinion, these chaps are the best and are very affordable.
But most importantly, they'll protect your legs while you're cutting and hopefully save you a trip to the emergency room.
Here's another version of my number #1 pick.
The only difference is that these chainsaw chaps come in black and gray color.
You still get the same high level of Husqvarna protection with cut retardant material.
So, depending on the style you like best, you can choose either the previous orange and gray color or this black and gray option here.
Either way, you're getting a superior level of safety protection against accidental chainsaw cuts.
How would you like a chainsaw apron that's UL listed and meets all of the OSHA requirements for safe operation?
What about a pair of universal chainsaw chaps that fit every waist size between 28″ to 44″?
And on top of that, how about getting a choice between 7 different colors and designs to meet your individual tastes?
If that's exactly like what you're looking for in this kind of safety gear, then this Forester chainsaw chap is what you need.
You get top-of-the-line protection as well as a choice between green, orange, brown, denim, safety yellow, standard camo, and tree camouflage designs.
Just note that these chainsaw chaps are not suitable protection for use with electric chainsaws, due to the high-torque nature of electric motors.
But for gas chainsaws, this safety gear is as good as it gets.
Labonville is another top brand for chainsaw chaps.
And this safety chap is fully UL tested and classified to meet the strict safety operations for chainsaw use.
What I like most about them is the 5-ply blend of Kevlar and Polyester which makes this chainsaw chap much lighter than other products but still just as tough.
Another benefit of these chaps is that the sewing in padding can jam the chainsaw's drive sprocket if the chain gets too close to your legs.
That feature can instantly stop the chain from spinning to protect you from serious cuts and injuries.
Additionally, these chainsaw chaps have an adjustable waist size up to 48″, so they'll fit any size chainsaw user.
The only downside of this protective gear is that it's more expensive than my first 3 reviews. However, they offer excellent protection for serious arborists, which is why these chaps come with a higher price.
My final recommendation for chainsaw chap protective gear is this Oregon product right here.
You may already be familiar with the Oregon brand because they make some of the best chainsaw blades and chains.
But Oregon also offers protection you can trust.
These chainsaw chaps, in particular, have 8 layers of breathable, protective material with a durable 600 denier oxford shell.
That combination of materials is specifically designed to bind with the chainsaw chain upon contact and stall the chainsaw motor to keep you safe.
This chainsaw chaps has an adjustable waist up to 46″ and adjustable length up to 36″ to meet every height and weight of chainsaw users.
It's also the most affordable gear you can choose to protect your legs.
---
Chainsaw Pants
If you're looking for an alternative to chainsaw chaps, you can always put on protective chainsaw pants.
The biggest difference between these two options is that chainsaw pants can be worn for longer periods of time, while chaps allow you to put them on and take them off with ease.
If you plan on using your chainsaw all day, then you'll probably want to wear pants.
If you only have a quick, 30-minute chainsaw job, then a pair of chaps may be the better option for you.
If you're looking for professional-grade protection in the form of chainsaw pants, then these are your top choice.
Pfanner combined a special blend of four materials to keep you safe during the toughest chainsaw work:
Dyneema fiber is 15x stronger than steel at the same weight, making these chainsaw pants ultra-strong and ultra-lightweight.
Gladiator material that's extremely tear-resistant, protects against snags, and repels water, dirt, and oil.
StrechAIR material is a 5-way stretch material that makes the pants feel soft and comfortable while also being breathable to keep you cool while you work.
Overall, these chainsaw pants are perfect in every outdoor environment.
No matter if you're working in dense woods, where brush and thorns could destroy traditional work clothing, or you're just working around the yard, the Pfanner Gladiator's give you the comfort and protection you need when operating a chainsaw.
And finally, waist sizes range from 33″ to 41″ to accommodate the widest range of chainsaw users.
If you're doing any type of professional chainsaw work, then you'll likely need a pair of chainsaw pants that are in accordance with EN 20471 for hi-visibility workwear.
If that's the case, then these Pfanner Hi-Vis orange chainsaw pants are the perfect fit.
Chainsaw Protection Class 1
They meet chainsaw protection Class 1 safety standards by having fluorescent and reflective safety materials.
Everything else about them is the same as my #1 review.
You get the same blend of high-quality gear for maximum all-day comfort, safety, and protection when using a chainsaw.
Notch is another top brand for chainsaw protective equipment.
And these pants are made for serious homeowners and professional arborists.
The 5-layer Avertic Engtex protective fabric provides excellent chainsaw stopping power to keep you safe on the job.
These chainsaw pants come with Class 3 protection which gives you peace of mind against the fastest tested chainsaw speeds.
The high stretch fabric, elastic waistband, and large cooling vents also make these chainsaw pants extremely comfortable for climbing trees and working on the ground.
The available waist sizes are a bit more limited than other brands, you can choose between 32″ to 38″, but each pair is covered by Notch's lifetime guarantee.
Are you looking for the most affordable pair of chainsaw pants?
Ones that can keep you warm in the winter, cool in the summer, and don't let snow or sawdust stick to the material?
Then this pair of chainsaw gear will fit well inside your budget.
These pants offer 9 layers of protection that are comfortable and breathable while meeting Class 1 safety standards.
They're made with a quality blend of polyester and cotton fabric with a water repellent finish.
Portwest also includes many practical features in these chainsaw pants, including inset pockets, a back zip pocket, belt loops on the waistband and an elasticated waistband.
For a low-cost pair of chainsaw pants, you can't do any better than this product.
SIP Protection is another popular brand among tree professionals.
And these chainsaw pants are equally as good for casual chainsaw operators and homeowners.
The SIP Progress chainsaw pants provide superior Class 1 chainsaw protection using high-tech Dyneema fibers.
Elastic Texxion upper material gives you excellent flexibility while out working.
Reinforced Armortex knee guards keep these pants from tearing on sharp bark or thorny bushes.
Ventilation zippers at the back of legs help keep you cool.
And, the integrated gators with lace hooks to keep sawdust out of your boots.
If you're looking for a pair of chainsaw pants that are lightweight, very maneuverable and well ventilated for those hot summer days, these SIP Protection Progress chainsaw pants are a good pick.
Available waist sizes include 30″ to 44″ which covers just about everyone out there.
---
Chainsaw Gloves
Another type of chainsaw safety gear that should always be worn when using this power is chainsaw gloves.
A good pair of gloves can protect you from cuts and scrapes during operation of the chainsaw, and they can also protect your hands from splinters and other injuries while picking up wood pieces.
Chainsaw gloves also prevent your skin from coming in contact with oils and fuels.
Here we are again with another Husqvarna product that tops the chainsaw protective charts.
This time, it's a pair of chainsaw gloves.
The left-hand glove is intentionally beefier to make it cut-resistant since it's closest to the chainsaw blade.
The backs of both gloves are made of stretchable spandex fabric for a comfortable fit.
The palms are made of durable goatskin protect against penetration.
And this version here is made with high-visibility colors and a reflective logo so you can see where your hands are at all times, even when the sun goes down.
There's not much else you can ask for in a pair of high-quality chainsaw gloves.
Like Husqvarna, Oregon is another top brand for chainsaw safety equipment.
And these gloves are an inexpensive option for anyone who's on a tight budget.
Also similar to the Husqvarna gloves mentioned above, the left glove of this Oregon brand has additional padding to protect against contact with the chainsaw chain.
Both gloves have reinforced leather palms to help reduce chainsaw vibration.
A bright orange color also offers high visibility while working out in the field with your power tool.
All-in-all, these chainsaw gloves are made exactly for what they need to do—protect your hands for serious cuts—without a high cost.
These chainsaw gloves are an absolute must for any serious homeowner or professional arborist.
While they are the most expensive chainsaw glove gear on this list, they deserve every penny of the price.
This pair of chainsaw safety gloves is certified to the world's leading standard: CE EN 388:4244 and CE EN 381-7 with Design B and Class 1:20 (m/s).
The material and design offer pro-level protection against chain brakes and accidental nicks from the blade.
The standard EN 381-7 Design B for gloves describes protection on the back of the hand and 4 fingers.
The Class 1:20 (m/s) corresponds to the chain speed with which the tests have been done.
So, you can rest assured that you're in good hands with these Elvex Prolar chainsaw gloves.
While these gloves were made more for firefighters, rescue extraction, and heavy machinery, they're also good for chainsaw operators too.
The Flexible TPR impact protection on the knuckles and fingers is what really makes these Endura gloves stand out.
The Kevlar stitched padded palm offers cut-resistant protection for your hands in all situations.
And the special KevLoc grip system on the palm and fingers enhances grip on the chainsaw under the toughest conditions.
High visibility and reflective details are also included for increased safety for those who need it.
If you're looking for a pair of gloves that can be used for more than just chainsaw work, this is a good option to consider.
These Youngstown gloves have an interior that's completely lined with a strong synthetic fiber called Kevlar.
The Kevlar material greatly increases the cut and puncture resistance of this glove so you can be protected while operating any type of heavy-duty power equipment.
The outer part of the glove is similar to other types of utility gloves.
It features non-slip reinforcement, a supportive cuff, padded knuckle, and soft terry cloth brow wipe on each thumb.
The result of these materials is a chainsaw glove that's very versatile and can give you protection for all types of cutting jobs and yard work.
---
Chainsaw Safety Boots
When it comes to logging boots, not all of them have the ability to protect you from chainsaw cuts.
Therefore, when it comes to the best chainsaw safety equipment, you want to look for safety boots that have been specifically designed to protect you from chainsaw injuries.
Some of the features to look for chainsaw safety boots include:
Steel Toes – These can't be cut through and will also prevent impact injuries.
Non-Slip Soles – To ensure that you have stable footing to reduce your chances of falling while holding a chainsaw.
Steel Anti-Penetration Plate – This is generally located on the outsole of the boot and will protect your foot from sharp, penetrating objects.
If you want the best of the best when it comes to chainsaw boots, this pair won't disappoint.
Viking Footwear makes several high-quality boots for chainsaw users.
My #2 pick below is also from this brand.
What I like most about the Viking Class 2 chainsaw boots are two things:
The full-frontal protection of the lower legs against chainsaw cuts.
A full tread of spikes on the bottom of the boots.
Another nice feature you'll enjoy is the air-cushioned heel for maximum shock absorption.
The chainsaw boots upper are made from Styrene Butadiene Rubber (SBR) blended with Natural Rubber (NR) to ensure longevity.
The boot upper is also lined with cotton canvas for high absorbency and user comfort.
A reflective strip has also been added for visibility in low-light conditions and to meet common safety standards.
And it has a Grade 1 Steel toe and plate.
And although these chainsaw boots were made arborists, log quality inspectors, and harvesters in mind, they'are also a good choice for non-professional chainsaw users who care about their utmost safety as well.
This is another top-selling pair of Viking Footwear chainsaw boots.
The slip-on design makes it easy to put these boots on and take them off when you're done working for the day.
The single lace in the back allows you to sinch the top tight for a snug fit around the calves so no dirt, debris, snow, or ice falls into your boots.
Another added perk of this chainsaw gear is the electric shock-resistant material. If you're ever working around electrical equipment, like downed powerlines, these boots could be the thing that saves your life.
Additionally, the Viking Bushwacker chainsaw boots offer the highest level of safety for daily chainsaw users.
This footwear is rated with Class 3 protection for chainsaw speeds up to 28m/second and has a Grade 1 Steel toe and plate.
If you do a lot of outdoor work, you may already have a pair of Caterpillar boots in your closet.
And they may already be good enough to use with a chainsaw.
But if you don't own a pair of CAT's, then you'll want to check out this pair right here.
These CAT Second Shift work boots are perfect for all types of heavy-duty jobs and not just limited to protecting you when operating a chainsaw.
The performance features include:
Steel Toe for front foot protection against cuts and heavy objects.
Electrical Hazard construction that protects you against open circuits up to 14,000 volts in dry conditions.
Slip Resistant soles for optimal stability on low traction surfaces.
As for the color choices, you get to pick between:
The rugged styling and quality leather of these boots make this footwear a good everyday choice regardless of the work at hand. Plus, they're comfortable to wear on and off the job.
Thorogood has been making quality work boots since 1892.
And this pair of Thorogood GEN-FLEX boots is one of their most popular styles.
And for good reasons too.
These composite safety boots were made for people who are on-the-go and don't want to switch footwear between home, work, and play.
They're lightweight, comfortable, and most importantly offer superior protection, which is why I recommend them as good chainsaw safety boots.
As for the top benefits of this footwear, you'll get:
Composite Safety Toe that provides the same level of protection as a Steel Toe, but these are non-metallic and corrosion-resistant.
Electric Hazard resisting soles and heels that can withstand open circuits up to 18,000 volts.
Excellent rating for oil resistance, chip resistance, slip resistance, and abrasion resistance.
These GEN-FLEX boots come in two color choices:
So, if you're looking for a pair of chainsaw boots that are good in rough environments, but also look good if you want them for everyday wear, then these may be exactly what you need.
What I like most about the Georgia Boot brand is that they're all about empowering the unsung heroes—the people who take pride in building real value with their hands.
Georgia Boot also believes that every pair of boots should work as hard as the people wearing them.
And that's why this pair of chainsaw boots are so highly recommended.
The top features of these logger boots include:
Full-grain leather
Steel Toe
Steel Shank
Waterproof
Full lace-up enclosure
Every part of these safety boots is designed to protect you in harsh conditions while also being super comfortable to wear when you're working around trees.
---
Chainsaw Helmets
Since your head is an essential part of your body, I highly recommend you protect it with the right chainsaw protective gear.
Especially when you're cutting down trees or working in a wooded area.
Having the right headgear can reduce the chances of getting a serious head injuring, including a concussion.
You have the option of wearing a chainsaw safety helmet or hard hat, and the goal of this personal protective equipment is to keep you safe from falling branches or flying projectiles while you're cutting.
These days, the best chainsaw safety helmets come as a package that includes the headgear, a face shield, and hearing protection so you don't have to buy these things separately.
At the top of this list for head safety gear is the Husqvarna Pro Forest chainsaw helmet.
It checks all of the boxes for being a good piece of protective equipment for any level of chainsaw operator—beginner to professional.
This model is a sturdy yet lightweight protective helmet with everything you need to keep your head, eyes, and ears protected from outside elements, including:
Adjustable 6-point suspension with a ratchet system.
25 dB (A) NRR hearing protectors.
Face shield with rain neck protector.
Hi-Viz orange color for improved visibility.
Husqvarna offers pro-level products at an affordable price.
And this chainsaw helmet is too of a good bargain to pass up.
Now, if you want a professional arborist chainsaw helmet, this is the one to get.
The Pfanner Protos Integral Arborist Helmet is the best of its kind and is suitable for climbing as well as cutting on the ground.
It's modern and sleek, and both the hearing protectors and face shield are integrated into the shell of the helmet to prevent snagging on branches and protruding objects.
The special design of this chainsaw head gear also allows cool air to flow in from all sides and to escape through the ventilation gate.
I could go on and on about this awesome chainsaw helmet, but for time's sake, I won't.
Here are the only other things you need to know about this helmet that make it a clear winner:
Hearing protection of 26 dB NRR.
It can be adjusted with only two fingers.
The face shield and earmuffs are removable.
It comes in multiple color choices, including:

Black
Black and White
Green and Gray
Red and Yellow
White and Gray
Seriously, what more could you ask for in this type of protective gear?
Like the other Oregon products listed on this page, this chainsaw helmet is also a great piece of safety gear.
What I like most about the Oregon brand is that it offers excellent products at a budget price.
In many ways, you get the same level of protection as more expensive brands but for a fraction of the price.
And this chainsaw helmet is no different.
Just look at the specifications:
6 ventilation holes for keeping your head cool.
6-point adjustable harness to find the right fit.
Stainless steel face shield that can be flipped up and down.
Fully adjustable earmuffs with 24 dB NRR protection.
If you want high quality at a low price, this helmet is a good choice.
If you've never heard of the brand TR Industrial before, it's a company that's most well-known for their safety vests and demolition gear.
But, this brand makes an exceptional chainsaw safety helmet as well.
And, it's quite cheap too.
What you'll like most about this head gear package is that it comes with two types of face shields:
Metal mesh visor
Plastic visor
Having both types of visors offers dynamic protection for any wood cutting job.
Another nice feature on this chainsaw helmet is the 6-point adjustable system.
Unlike other helmets with the standard ratchet system, this one comes with a convenient dial knob that makes adjustments quick and easy.
The only drawback to this safety equipment is the level of hearing protection.
This model only has 22 dB NRR which is a bit lower than you'll find in other products.
My last recommendation for a chainsaw helmet is also the least expensive option that's out there.
It's a good choice if you want the lowest-priced gear that can keep you safe.
Inside this package, you get everything you need to protect your head, eyes, and ears:
UV protected hard hat
Adjustable 4-point suspension
Steel wire mesh face shield
30 dB NRR earmuffs
For a less than perfect fit and no air cooling vents for your head, you do get a boost in hearing protection.
In fact, this chainsaw safety equipment has the highest decibel rating protection than most any other chainsaw helmet kit that you'll find.
---
Chainsaw Jacket, Vest & Sleeves
My final review for chainsaw safety equipment is focused on finding a way to protect your body and arms.
Wearing a chainsaw jacket is a good way to ensure that the entire front of your body and your arms are protected from flying debris, branches, and thorns.
A jacket will also keep you warm if you're working outside with a chainsaw in cold weather.
A chainsaw vest, on the other hand, has the ability to only protect your torso and it's a good option if you're working in hot weather where a full-size jacket wouldn't make sense.
And finally, cut-resistant chainsaw sleeves are a third option if you decide that you don't want to wear a chainsaw jacket or a vest.
Chainsaw sleeves cover your arms and hands (but not the fingers) and protect you from cuts and scrapes from branches and brush as well as accidentally cutting yourself with the chainsaw chain.
Here's the thing about chainsaw jackets…
There really are not that many options for you to choose between.
Only a handful of brands make chainsaw jackets, with Husqvarna being one of the best.
When it comes to protecting your body against a chainsaw, you don't want to cheap out on this purchase.
Nor do you want to choose a brand that doesn't have a strong reputation for chainsaw protective equipment.
So, if you want to get a chainsaw jacket, then stick with this Husqvarna model.
It's logger and arborist tested and approved and includes the following features:
4-Way stretch material and pre-bent arms for optimum movement.
Reflective tap and logos.
HI-viz Orange color for high visibility.
Front chest pockets.
Ventilation under the arms and on the back for breathability.
All of those benefits are what make this a must-have item for heavy chainsaw users.
If you're looking for a chainsaw vest, this is your top choice.
The Elvex JE-70 Provest II is the industry's best-selling vest and was designed using the feedback of professional chainsaw users.
All of that input resulted in a high-quality chainsaw vest with the following features:
Prolar padding to protect your upper chest and shoulders from dangerous chainsaw kickbacks.
Convenient productivity pockets.
Breathable outer fabric.
Mesh back panel and open sides for cooling in hot weather.
Adjustable side straps.
Water-resistant material.
You can also wear this vest underneath another outer layer during the winter.
Making it one of the most versatile and best chainsaw safety gear items you can own.
Last but not least on this list are these protective arm sleeves.
While they're not made specifically for chainsaw operators, they can give you an extra layer of protection while out in the field working.
These cut-proof sleeves have good tear resistance, cut resistance, and abrasion resistance to help keep your arms protected from the outside elements.
If you're working in the woods, around brush, or even just cutting up firewood with your chainsaw, then you might want to consider wearing these protective sleeves.
Like other safety equipment mentioned on this page, these sleeves include Kevlar material to provide a good level of protection while ensuring breathable and heat insulation.
They're also super simple to put on and take off.
---
Safety Standards Disclaimer
When looking for the right chainsaw safety equipment, including protective clothing, you need to ensure that it meets the safety standards for the region in which you live.
If you don't take this necessary step, there's no guarantee that the protective gear will be as safe as the manufacturer says it is.
It's important to realize that safety standards may vary by country.
In the U.S., the standards for chainsaw protective gear are set by the National Standards Institute (ANSI) for helmets and protective eyewear. The American Society for Testing and Materials (ASTM) also sets standards for various articles of chainsaw protective equipment. And finally, the Underwriters Laboratories (UL) organization has been testing and approving products for consumer safety since 1894.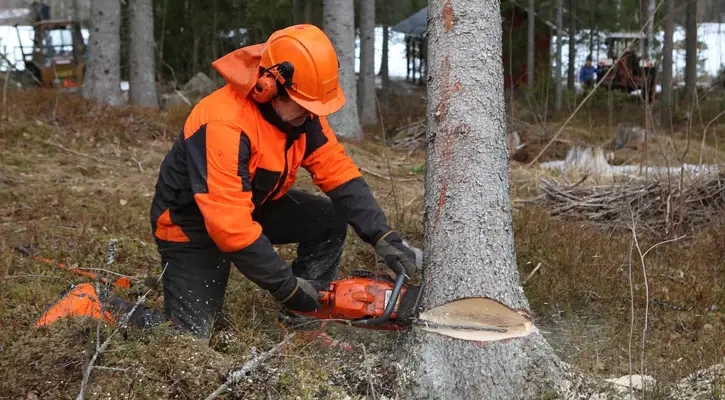 More Chainsaw Guides
Now, if you're in the market for a new chainsaw, be sure to check out these other guides too:
Chainsaw Protective Gear Summary
If you reached this part of my guide, then hopefully you feel more comfortable shopping for the best chainsaw safety gear and making the right decision.
Having a good set of protective equipment, like the best chainsaw chaps and the best chainsaw gloves are essential for every chainsaw user, regardless if you're a professional arborist or just a casual homeowner who's doing occasional cutting work.
A chainsaw accident can easily rip your legs, arms, face, or body to pieces in a split second, so wearing the best chainsaw protective gear is essential for staying safe.
Now, all you have to do is narrow down which of the best chainsaw safety equipment above is right for you and your budget.
Happy sawing!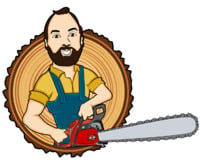 Your Pal,
Chainsaw Larry