I want to prepare you ahead of time…
This guide is jampacked with the best chainsaw safety gear available.
In fact, you'll find a list of the 38 best chainsaw protective gear and equipment you can buy today in these 8 categories:
Safety Glasses
Hearing Protection
Chaps
Pants
Gloves
Boots
Helmets
Jackets, Vests & Sleeves
Chainsaws are incredibly powerful and useful cutting machines.
They make tackling any tree-cutting job easy and stress-free.
However, because of their power and capabilities, the chances of getting injured while using this tool are high.
That's why it's crucial that you have the right chainsaw safety gear, which is also referred to as "personal protective equipment".
Adding the right products to your chainsaw kit can help reduce the chances of an accident or injury occurring when using your tool.
And please, don't be like this guy…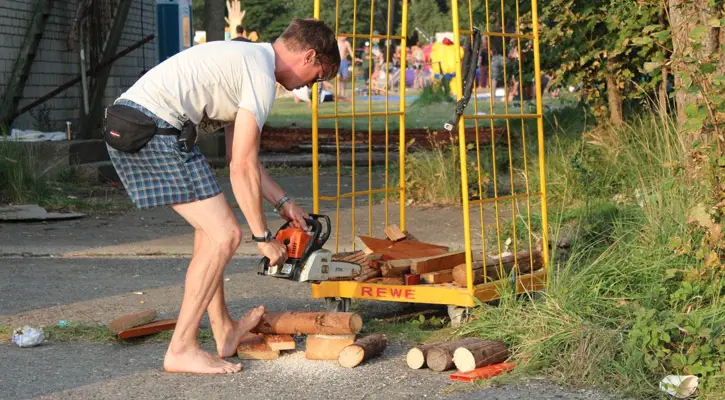 …using a chainsaw like this is reckless in so many ways.
However, it's important to keep in mind that chainsaw protective gear won't completely eliminate all hazards or injuries, but it can reduce the seriousness of the situation.
In many cases, the best chainsaw safety equipment is the only thing that stands between a fatal scenario and a non-fatal one.
How Chainsaw Safety Equipment Protects You
When it comes to chainsaw protective gear, it's designed to protect the six main areas of your body.
These include:
Hands
Head
Eyes
Ears
Legs
Feet
I recommend that you wear chainsaw protective clothing every time you use your chainsaw.
By wearing chainsaw gloves, jackets, pants, chaps, and boots, these articles of clothing can protect you by stopping the chain or preventing it from cutting you. This gives you enough time to move away from the saw.
When you wear face shields or glasses, they can protect you from flying wood chips, which can damage your eye and cause vision loss.
Chainsaws can be incredibly loud, and when you are exposed to this sound for long periods of time, it can impact your hearing.
You can't reverse the damage that is done to your ears, so chainsaw hearing protection is vital when using this tool.
Finally, a chainsaw helmet will protect your head from any projectiles that might fly at you when cutting or if limbs or branches suddenly fall from the tree you are cutting down.
To ensure that you are always safe when operating your chainsaw, I've compiled this list of the best chainsaw protective equipment so that you can find the right gear to wear when you're cutting wood.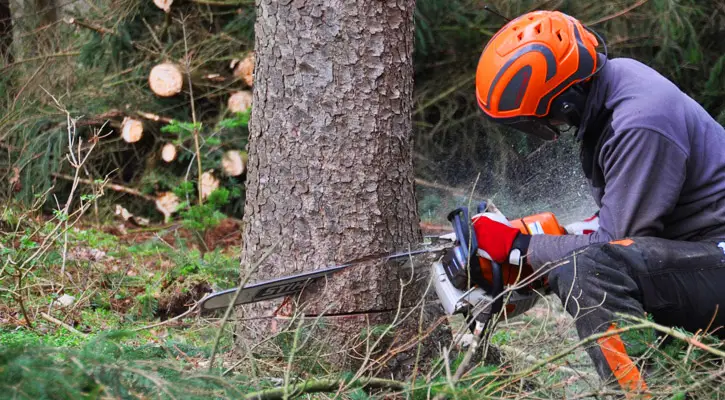 Chainsaw Protective Gear Reviews & Buying Guide
What you'll find below is a detailed list of the top chainsaw safety and protective gear.
What I tried to do in these reviews is to recommend several high-quality pieces of equipment in each category so you can make the best choice for your needs and budget.
As I mentioned before, this is a long list.
So, take your time going through it and pick the best items for your chainsaw safety kit.
Safety Standards Disclaimer
When looking for the right chainsaw safety equipment, including protective clothing, you need to ensure that it meets the safety standards for the region in which you live.
If you don't take this necessary step, there's no guarantee that the protective gear will be as safe as the manufacturer says it is.
It's important to realize that safety standards may vary by country.
In the U.S., the standards for chainsaw protective gear are set by the National Standards Institute (ANSI) for helmets and protective eyewear. The American Society for Testing and Materials (ASTM) also sets standards for various articles of chainsaw protective equipment. And finally, the Underwriters Laboratories (UL) organization has been testing and approving products for consumer safety since 1894.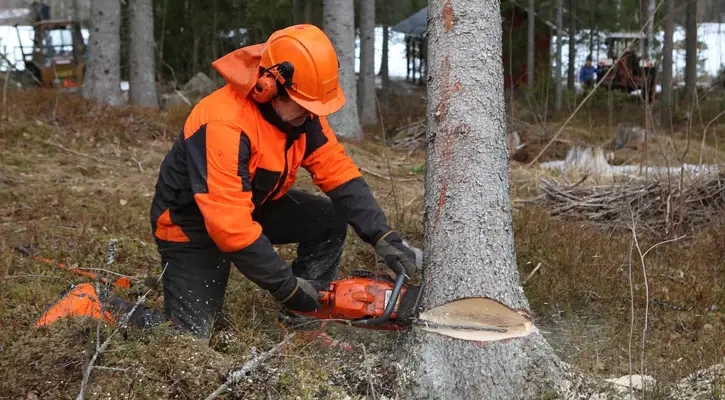 More Chainsaw Guides
Now, if you're in the market for a new chainsaw, be sure to check out these other guides too:
Chainsaw Protective Gear Summary
If you reached this part of my guide, then hopefully you feel more comfortable shopping for the best chainsaw safety gear and making the right decision.
Having a good set of protective equipment, like the best chainsaw chaps and the best chainsaw gloves are essential for every chainsaw user, regardless if you're a professional arborist or just a casual homeowner who's doing occasional cutting work.
A chainsaw accident can easily rip your legs, arms, face, or body to pieces in a split second, so wearing the best chainsaw protective gear is essential for staying safe.
Now, all you have to do is narrow down which of the best chainsaw safety equipment above is right for you and your budget.