Interested in the STIHL MS 261?
If so, you're on the right page.
The STIHL MS 261 is widely renowned as the best all-rounder chainsaw out there, making it a favorite of several heavy chainsaw users and arborists. It is unequivocally one of the best-selling STIHL chainsaws. The MS 261 boasts considerable chatter about its features in Facebook groups and chainsaw forums.
But is the STIHL 261 worth the hype? Why is it cited as the best chainsaw out there? Let's find out everything about it!
This STIHL 261 review covers everything you need to know about this model, its features, and its pros and cons. I'll help you decide if you have found the best chainsaw for yourself or need to continue the search!
If you're interested in learning more about other Stihl chainsaws, check out my review of The Best Stihl Chainsaws.
Let's dive in!
STIHL MS 261 Chainsaw Specifications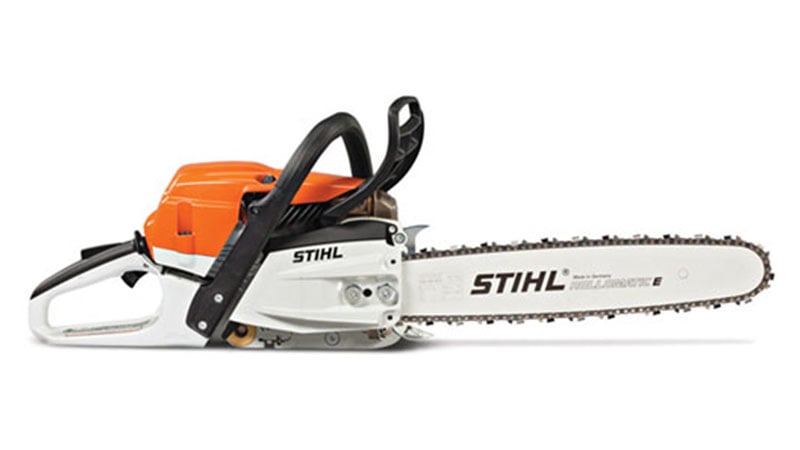 | | |
| --- | --- |
| Model | STIHL MS 261 |
| Engine Type | Single-cylinder Two-stroke |
| Fuel Tank Capacity | 0.5 liter |
| Fuel Mixture | 50:1 with STIHL two-stroke air-cooled engine oil |
| Weight | 4.9kg to 5.2kg (feature dependant) |
| Engine Power | 3.0kW, 4.1bhp |
| Engine Capacity | 50.2cc, 3.06cu.in |
| Ignition Type | Electronic Breakerless Magneto  |
| Cylinder Bore | 44.7 mm, 1.76 in |
| Piston Stroke | 32 mm, 1.26 in |
| Spark Plug Gap | 0.5 mm, 0.02 in |
| Spark Plug Type | Bosch WSR6F NGK BPMR7A |
| Carburetor Type | Zama C1Q-S178B Zama C1Q-S179B Zama C1Q-S180B Zama C1Q-S229B (M-Tronic) |
| Chain Lubrication Type | Automatic oil pump with manual adjustment |
| Oil Tank Capacity | 0.27 liters |
Let us look at a few positive features of this chainsaw type based on the STIHL 261's reviews:
Excellent power-to-weight ratio.
Equipped with an M-Tronic system that autotunes the chainsaw to optimal levels.
Ideal for limbing, felling trees, and bucking wood.
Comes in a magnesium case as opposed to a polymer or plastic one.
Equipped with a captive bar nut that prevents misplacement.
Suitable for felling small to medium trees and firewood.
Right chainsaw for "grab and go" cutting.
The MS 261 chainsaw has high fuel efficiency, offers professional-level performance, and delivers reduced emissions. It boasts a redesigned and innovative ergonomic cylinder housing that provides an excellent power-to-weight ratio at just 10.8 lbs. Its advanced anti-vibration features make it highly suitable for large-volume cutting, along with certain other convenience features such as a redesigned spiked bumper and a pre-separation air filtration system.
Features of the STIHL MS 261
Adjustable Automatic Oiler
The MS 261's adjustable automatic oiler allows efficient adjustments to the guide bar and saw chain's lubricant for various cutting conditions and bar lengths.
Reduced Emission Engine Technology
The STIHL Inc. "Caring for Nature" seal categorizes its powered products as producing low or zero exhaust emissions and is thus more environmentally conscious. STIHL Inc. identifies its "low exhaust emissions" as more environmentally friendly than CARB or EPA exhaust emission standards.
Anti-vibration System
This chainsaw's innovative anti-vibration system effectively minimises vibration levels in handheld outdoor power equipment, allowing users to overcome operator fatigue and benefit from a more comfortable work experience.
STIHL ElastoStart™
STIHL chainsaws boast their innovative ElastoStart™ starter handle with a built-in shock absorber in the starting grip, which helps reduce strain when pulling the starter cord. The ElastoStart™ starter grip considerably reduces the sudden compression or peak forces generally felt during cranking. It smooths out compression forces after the first compression stroke at the grip.
Side Access Chain Tensioner
The side access chain tensioner offers saw chain adjustment with a bar wrench instead of the typical guide bar adjustment screw.
IntelliCarb™ Compensating Carburetor
The IntelliCarb™ Compensating Carburetor adjusts the air/fuel ratio automatically when the air filter becomes partially clogged or restricted and manages the correct RPM rate for the engine. The IntelliCarb™ feature brings in air from the air filter's clean side to control the fuel's flow and diaphragm. It then adjusts the fuel flow when less air becomes available for the carburetor, and the air filter becomes dirty as compensation for air flow decreases. This feature contrasts the typical carburetors that use air from the "dirty" side of the air box.
STIHL Quickstop®
STIHL chainsaws use their in-built chain-stopping system – the STIHL Quickstop® chain brake – to reduce injury risk in particular kickback situations. When activated by the operator's hand or inertia (if the saw kicks back with considerable force), it is designed to hamper the chain's rotations. In particular working positions, the STIHL Quickstop® chain brake gets activated by inertia and stops the chain within fractions of a second.
Ematic™ Lubrication System
When used in conjunction with the STIHL OILOMATIC® saw-chain, the Ematic™ guide bar provides less oil consumption and efficient lubrication than traditional methods. This system is highly efficient because of the two ramps strategically placed in the guide bar rail and helps manage the oil flow by directing all lubrication to the sliding faces of the chain links and bar, including driver holes and rivets, consequently reducing bar oil consumption by 50%.
Decompression Valve
Also known as the "deco" or "deco valve," the decompression valve eases by venting compression in the cylinder. It also temporarily decreases the combustion chamber's compression during cranking, reducing the effort needed to pull the starter rope. It opens manually and closes automatically immediately after the engine fires. 
Master Control Lever™
The Master Control Lever™ is a relatively easy-to-use single lever that starts the throttle lock, operates the choke, and turns the switch on and off. Users must pull the throttle trigger before moving the Master Control Lever™ to the choke position.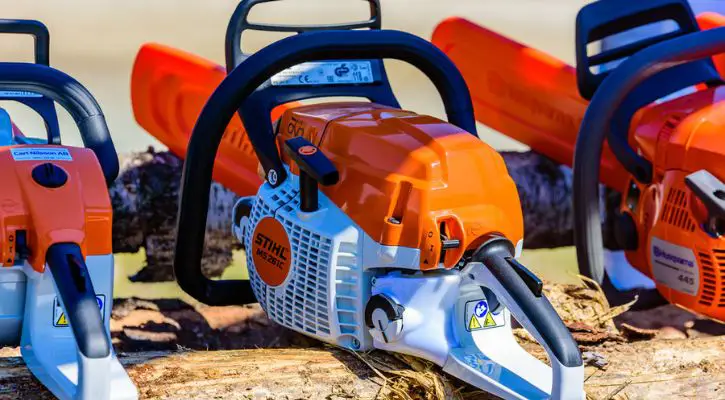 Pros and Cons of the STIHL MS 261 Chainsaw
Pros
The STIHL MS 261 is undoubtedly a heavy-duty, high-quality equipment piece with several pros: it is not only extremely powerful but also durable and easy to start. It is also lightweight and highly maneuverable, making it a suitable choice for professionals and homeowners who need a powerful saw without additional weight.
Durable and robust design
The STIHL MS 261 is a durable chainsaw with a robust design and low emission rate. It delivers an efficient and smooth cutting performance and is suitable for felling trees and light pruning. Its innovative features, such as a strong magnesium case and durable pull cord, place it higher than previous STIHL models. Thus, it is more apt for professional use than other STIHL models and resists damage like a champion.
Excellent power output yet lightweight.
The STIHL 261 is one of the lightest chainsaws on the market and is still a powerhouse despite not looking like it. Its ergonomic, sleek, and slender design helps users resist fatigue when working long and hard days in the woods. Its 10lb weight may initially deceive you, but its built-in captive nuts, decompression button, and easy access chain tensioner are just some of the features that make its use as convenient as you can imagine.
Brand name
Chainsaws can be quite dangerous, especially when bought from untrustworthy brands. STIHL is, however, a chainsaw manufacturing company widely renowned for producing high-quality saws for professional and personal use. The company also offers a variety of options to choose from and manufactures chainsaws perfect for all kinds of applications. The MS 261 is no exception: STIHL's warranties, reliability, and excellent customer service place it relatively high on the desirability list.
Cons
Although the STIHL 261 is suitable for professional and home use, it has a few cons compared to other chainsaw models.
Tricky fuel and oil caps
The fuel and oil caps in this chainsaw can be relatively tricky to open and close, which may be frustrating for those who like to work quickly. Although it comes with a toolless oil and fuel cap, the STIHL 261's reviews suggest that this can still be quite a hassle.
Additionally, the engine may also be difficult to start if it has been sitting around for a while without getting due and diligent maintenance. Since this problem is common with small engines, proper maintenance is the best option. The silver lining is that the saw boasts several features, including an easy access chain tensioner, that make maintenance relatively easy.
Relatively expensive
The MS 261 is a professional-grade chainsaw that costs relatively more than other non-professional chainsaws. Although its innovative features make it considerably attractive for professionals, one of its potential drawbacks is its price. Since STIHL is one of the most renowned brands in the chainsaw manufacturing industry, users also have to pay a higher price.
Not suitable for use in suburban areas
The MS 261 is certainly not a quiet, flimsy electric saw: it is professional-grade model equipment that is not too quiet in densely populated areas. It isn't quiet, so it is not the most suitable choice if you wish to do some limbing work in a crowded suburban area.
Why Should You Buy the STIHL MS 261 Chainsaw?
The STIHL 261 is one of the best chainsaws on the market, perfect for everyone who requires a powerful, durable saw for heavy-duty use. The MS 261 boasts a low-emission engine that is 20% more fuel-efficient than all other models. This means that you will save money on gas and play your part in conserving the environment while getting the power you need. This chainsaw is also equipped with an advanced vibration reduction system, making it more comfortable for people who need a chainsaw for long-term use.
Therefore, the STIHL 261's superior features and performance make it a suitable choice for anyone needing a high-quality chainsaw, especially for homeowners who wish to manage their tree removal jobs.
How Much Does the STIHL MS261 Chainsaw Cost?
The STIHL MS261 chainsaw is a heavy-duty, high-quality piece of equipment with features built to last. It supports a robust low-emission engine that offers considerable power, making it highly suitable for cutting through thick brush or felling trees. Because of its innovative features, this chainsaw generally retails for about $580 to $650, depending on where you buy it. The price variation is typical because of the differences between retailers or any promotions that particular retailers may offer.
Despite its relatively high cost, the STIHL MS 261 chainsaw is a solid investment for all those looking to take their outdoor matters into their own hands and use a reliable but powerful chainsaw to get things in order.
Although this chainsaw's impressive display of features and robustness make it a perfect choice for professionals and homeowners alike, try it out for yourself and witness how your next project can go by like a breeze with this lightweight powerhouse!
Comparing the Features of the STIHL 261 with the STIHL 271
The STIHL 261 is suitable for professional use, whereas the STIHL 271 tilts more toward the homeowner's chainsaw type. Let us compare a few features of the two: 
| | |
| --- | --- |
| STIHL MS 261 | STIHL MS 271 |
| Decompression button | No decompression button |
| Magnesium case | Polymer case |
| 4 HP | 3.5 HP |
| Lightweight and slim | Heavyweight and thicker |
| Captive nuts | Loose nuts |
| Better pull cord | Standard pull cord |
Conclusion
The STIHL MS 261 is a lightweight, high-power chainsaw equipped with a low-emission engine, making it highly suitable for felling trees or cutting through thick bushes. It is equipped with several innovative features that make it a great fit for professionals and homeowners alike, such as an advanced vibration reduction system and a fuel-emission engine. This makes the STIHL MS 261 a good choice if you are looking for a robust outdoor chainsaw for more extended work durations and efficient power usage.
FAQs
Is the STIHL 261 a professional chainsaw?
The STIHL MS 261 is a professional-grade chainsaw that delivers low emissions at high fuel efficiency. Its innovative, redesigned ergonomic and cylinder housing is highly effective for professional use because of its excellent power-to-weight ratio.
Where is the STIHL MS 261 made?
The STIHL MS 261 chainsaw is made in the USA and adds STIHL's M-Tronic engine management system to the low exhaust and fuel efficiency features.
Is the STIHL MS 261 a good chainsaw?
The STIHL 261 is a good chainsaw primarily because of its great fuel efficiency, optimized power-to-weight ratio, and high convenience.
Which STIHL chainsaw oil is suitable for maintenance?
You can effectively maintain your STIHL MS 261 chainsaw by using the STIHL Platinum Bar and Chain Oil, formulated with a special oil base that prevents pitch and sap from sticking to the bar and chain. This product's formulation reduces wear and offers optimal lubrication.
Thank you for reading my review of the STIHL MS 261 chainsaw. I hope I've been able to answer any questions you might have had!
Your pal,
Chainsaw Larry