Interested in a Remington pole saw?
If so, you're on the right page.
You will likely come across the name Remington when you walk into a store selling power tools. This American personal care brand is a household name in the power and classic tools industry.
Remington initially came into being with Arthur Mall's power tool company in Wisconsin in 1921. It is now a well-established brand with hundreds of reliable and easy-to-use tools. You can count on Remington to perform any outdoor yard tasks that you may have. Have to do some minor tree trimming? Remington has a specialized tool for that. Need help transforming your overgrown yard into a well-trimmed, immaculate space? Remington comes in hand there as well.
Unfortunately, many Remington pole saws have been discontinued. In this article, I'll go over the features of each Remington pole saw and which chainsaws are the best alternatives to them.
I understand that finding a suitable pole saw may be challenging, with the market versatility making it even more challenging to decide. Therefore, I will delve into the best pole saws you can choose, some of which can also be converted to chain saws to cut tree limbs further.
What Makes Remington Pole Saws Unique?
Remington has an impressive collection of electric and gas pole saws, each with particular attributes and advantages. They have easy flip and lock clamps that can help you quickly achieve your desired pole length.
Their adjustable aluminum upper poles offer additional strength and reach. With a non-slip grip, you will likely get your yard work done swiftly and efficiently. Several Remington pole saws also offer anti-rotation pole design features, so you no longer have to worry about wobbly hands or sloppy cuts!
If you are curious to see if Remington pole saws are as stable as they seem and can help you get on with your required tasks, this guide may prove highly beneficial for you.
Run Down
Best For Yard Work: Remington RM1025SPS Ranger
Best For Power-Requiring Jobs: Remington RM1035P Ranger II
Best For Beginners: Remington RM2599 Maverick
Best Professional: Remington RM4050
The Top Four Discontinued Remington Pole Saws and Their Alternatives
I have used and encountered many pole saws models over my life and have compiled my experiences in this guide. I have also augmented my knowledge by observing the experiences of pole saw users, reading reviews online, and conversing with pole saw enthusiasts. Let us look into the four best models that made the cut.
Best For Yard Work: Remington RM1025SPS Ranger

Length: 10"
Weight: 12.4 pounds
Extent: 10-15 feet
Handle Type: Dual Handle
Power Options: 8 Amp Motor
Power Source: Corded-electric
Material: Aluminum Pole with Steel Blade
Dimension: 39.8 x 8.4 x 9.2"
The Remington RM1025SPS can be your new best friend if you have tree limbs that are impossible to reach with other tools. If you are a yard and outdoor enthusiast, you may already be familiar with how hard it is to manage such tree limbs, especially during the fall months.
The Remington RM1025SPS Ranger's 2 in 1 design is its primary selling point. You can use the 2-in-1 feature to reach all those hard-to-reach branches and pull the pole saw down to a regular saw once you are done. It also boasts a strong and well-designed hand grip and thus can fix any problems you might be experiencing with your wrists when using it. If you still use old units, wrist inflammation is a common complication when it comes to handling the weight at the top. This model does not support too much weight at the top, eliminating this problem.
This particular Remington model also has flip and lock clamps that you can use to adjust your pole's length. What's best is that you don't need any extra tools to manage this pole saw; the lock clamps are very simple to use and made of plastic. You can also save yourself time and energy through this tool's effortless ignition and instant start system. You will appreciate its short start time if you have been using power tools from the old days.
Safety is the most important factor when it comes to equipment, especially the ones that can cut you instantly. In this case, the pole saw supports a low kickback bar with an anti-rotation system. You can use it as a safety measure since injuries can often occur because of unexpected saw rotations.
Pros
Versatile
Short Starting Time
Affordable
Easy to Use
Safe
Cons
Prone to Occasional Oil Leaks
Not Powerful Enough for Thick Branches
The use and portability of this model make it a suitable option for yard work. Since it is an electric saw, you do need to be around a power source. But that does not diminish its portability. All you need to do is choose a suitable extension cord, and you are good to go.
You can also detach this pole saw after dealing with those hard-to-reach branches and use it as a mini chainsaw.
Comparing Some Alternatives to the Remington RM1025SPS
Best For Power-Requiring Jobs: Remington RM1035P Ranger II

Bar Length: 10"
Product Weight: 12 lbs Motor: 8 Amp
Chain Tension: Manual
Reach Capability: 15 ft.
Oiling System: Automatic
Conversion: Detachable Saw
Warranty: One year
The Remington RM1035P Ranger II is a great fit if you need to cut down some of your yard's thick and hard-to-reach branches. This versatile 2-in-1 pole saw can be used both as a pole saw and a chainsaw and offers all the versatility you need while cutting. All you need to do is push a button to convert the pole into a chainsaw. This will allow you to cut up the branches you cut down into smaller pieces.
The pole's bottom also supports the cord and a sturdy hand guard that allows maneuverability, so you do not have to worry about snag hazards when cutting tree limbs. This model is suitable if you need to trim long-hanging branches dangling over your head.
This Remington model features a low-kickback bar and chain – measuring about 10 inches – allowing you to deal with those long branches without much kickback. The tool body is also adjustable; you only need to flip the lock clamps to adjust the poles.
The Remington RM1035P Ranger II's 8-amp motor is powerful enough to cut through most thick branches, effortlessly cutting through the smaller ones. You can extend its aluminum pole to about ten feet, easily reaching the high-up tree limbs no matter how tall or short you are.
Since it contains secure flip and lock clamps, you also do not have to worry about safety when using this pole saw option. You can disconnect the pole when you are done and turn it into a chainsaw to cut the logs scattered in your yard.
Pros
Electric powered.
Adjustable.
Features a quick button-push change to chainsaw.
Allows higher maneuverability.
Cons
Prone to oil leaks when not in use.
All in all, this Remington option can come in handy if you have some thick branches dangling from high up your tree limbs and are unable to reach them.
Comparing Some Alternatives to the Remington RM1035P Ranger II
Best For Beginners: Remington RM2599 Maverick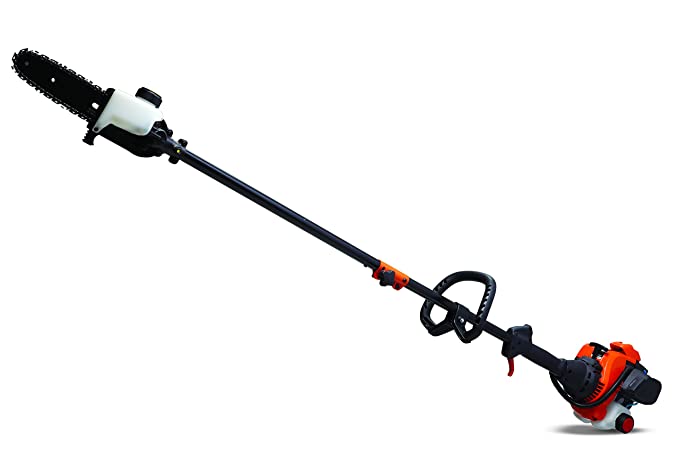 Product Weight: 13.9 lbs
Length: 8″ Bar
Oiling System: Automatic
Reach Capability: Up to 12 ft.
Handle: Contour
The Remington RM2599 Maverick is a heavy-duty gas-powered pole saw highly suitable for challenging yard work that other pole saws might not be able to do. Its 25cc 2-cycle motor and automatic oiling system can effectively replace your electric-powered saws. The powerful motor can cut through any branch you put it to, no matter the diameter and thickness.
This model has a relatively different alignment than electric saws since its weight is distributed when in use. Most pole saws have their weight concentrated towards the end of the pole, whereas this model puts a majority of the weight in the user's hand. This proves convenient since it does not impact your muscles much.
The Remington RM2599 Maverick supports a considerably long pole extending up to 12 feet in the air. So not only do you have to worry about thick branches to cut through but also the ones present high up for any pole saw. Although this model has premium features, its primary selling point is its design. Designed so you do not get tired when using it, this pole saw does not require you to lift it up in the air but rather hold it in your hands and carry out your work for whatever periods of time you wish.
The automatic oiler also continuously lubricates the chain, eliminating the hassle of manual lubrication. You can also use this engine with other Remington products, including blowers and mowers. This feature proves highly convenient since you can also use it for all kinds of indoor equipment instead of just cutting or trimming.
Safety comes first in this pole saw, as it supports an 8-inch bar with a low kickback. One thing that highly impressed me about this appliance is its simplicity: you do not have to fine-tune or adjust it: it is ready to use as soon as you pull it out of the box. All you need to do is adjust and lubricate the chain, and you are good to go!
Pros
Simple and easy-to-use functioning
Automatic lubrication
Powerful 25cc motor
8-inch supportive bar with low kickback for added safety
Suitable for heavy-duty tasks
Cons
Relatively more maintenance required
Noisy
Finding the right machine for your tasks can prove quite arduous in this global age of versatility. The key is to look into the features and choose the appliance if they work for you, not minding the noise!
Comparing Alternatives to the Remington RM2599 Maverick
Best Professional: Remington RM4050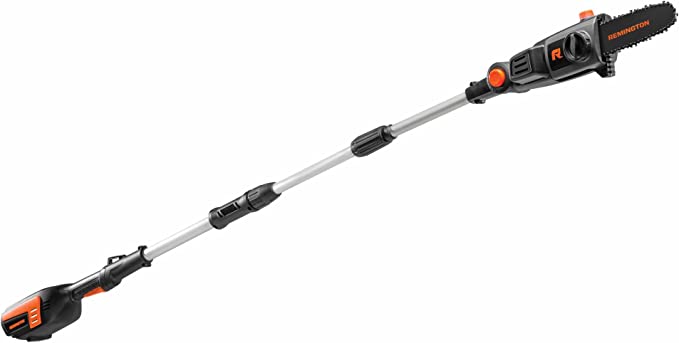 Height: 8-foot telescopic boom
Motor Engine: 40V
Energy Source: 40V battery powered
Battery: 2.5 Ah, 90 Wh battery
Warranty: 3 years
The Remington RM4050 is another professional pole saw you should keep at the top of your list for all kinds of heavy-duty yard work on your heightened tree limbs and branches. It boasts an 8-foot telescopic boom that can help you reach all parts of your trees, with the adjustable 7-position head allowing several cutting angles. You can use the seven-position adjustable head to reach all the difficult branches that are making your yard work frustrating.
This tool is battery powered and comes with a 40V Max/36V Nominal Capacity 90 Wh battery with a 1.8A charger that is also 4 Ah and 5 Ah compatible. The pole saw's automatic oiler supports continuous performance by efficiently lubricating both the bar and chain. Since the Remington RM4050 pole saw supports tool-free chain tensioning, you do not have to worry about any interruptions. It also comes with a comfortable handle and loop for shoulder straps for added efficiency.
This tool's 24cc 2-cycle engine gives some powerful thrusts, capable of dealing with whichever thick logs you put it to. The Remington RM4050 works with almost all kinds of attachments, meaning that you can turn it into an edger, hedge trimmer, blower, and so on.
Pros
Allows multiple cutting angles
Powerful battery source
Comfortable because of the handle and shoulder straps
Supports tool-free chain tensioning
Cons
Relatively lesser reach capacity
Comparing Alternatives to the Remington RM4050
Conclusion
No matter which of the discussed pole saw options you choose, you are likely to rest with satisfaction as long as you select a Remington product. It is always one of the best yard and outdoor work choices and can make your life easier through its multiple effective features.
Features to Look Out for When Choosing Remington Pole Saws
Warranty
Although all Remington pole saws guarantee exceptional quality and manufacturing materials, they offer one to three years of warranty – from the purchase date – depending upon different products. Consumers can also get their appliances repaired in case of defective materials or workmanship.
Manoeuvrability and Efficiency
Pole saws can be tricky to manage, and Remington knows that. That is why all Remington pole saws are fitted with specialized technology that allows high maneuverability, allowing even beginners to use the appliances easily without compromising efficiency.
Safety
Safety is the prime concern when it comes to using pole saws. Even minor accidents can cause unprecedented damage due to the pole saw blades' high speed and strength. But you do not need to worry about this too much if you choose a Remington pole saw, as all of them are equipped with safety-augmenting features.
Durability
Remington pole saws are durable even in harsh outdoor conditions. Remington pays extra attention to this feature since these appliances are meant to be used outdoors and thus use materials that make their equipment resistant to dust, water, and debris.
FAQs
Who makes Remington pole saws?
Remington Power Tools exclusively manufactures Remington poles and chain saws.
Where are Remington pole saws made?
Remington pole and chain saws were previously manufactured in the United States, but their units have since shifted to Mexico and China. The products are now manufactured and assembled in these locations.
Why is my Remington pole saw not working?
Your Remington pole saw may fail to work if the throttle lockdown is engaged. In that case, you need to hold the throttle lockout down and squeeze it. You may also want to check for any problems with your power cord and GFCI, as it may have tripped.
Are Remington pole saws worth it?
Remington pole saws are powerful and versatile tools that can help you undertake all outdoor tasks. They are also quite adaptable and affordable compared to other outdoor power tools.
For more than a decade, I have had the opportunity of testing out multiple outdoor appliances and equipment options for all possible functions. My advanced knowledge in the field and experience with appliances of all kinds is why you should trust the information I put up on this site for all your chainsaw-related needs.