Do you want both affordability and efficiency in a chainsaw? Look no further, as Poulan has got what it takes to satisfy your requirements.
Husqvarna owns Poulan Pro, so you get a lot of the high-quality features of this brand, only at a lower cost. Although Poulan Pro has several outdoor power tools, its chainsaws and lawnmowers are the best and most widely used.
What Makes Poulan Pro Chainsaws Unique?
Poulan Pro chainsaws hold global recognition in affordability, reliability, and efficiency, which owes to the brand's 50-year history. Poulan Pro chainsaws are designed explicitly for non-professional and home use, thus offering greater safety, higher ease, and easy starting.
Despite being considerably cheaper than heavy-duty professional chainsaws, they hold the potential to keep up with modern consumer demands. If you are interested in learning more about the features Poulan Pro chainsaws, boast or wish to buy an innovative model, keep reading this guide!
The RunDown
Best Overall: Poulan Pro PR5020
Best Value: Poulan Pro PR4016
Best For Beginners: Poulan Pro PPB4014
Best Professional: Poulan Pro PR4218
Disclosure: The chainsaw items recommended below are my top favorites because they have a great combination of quality and features. As an Amazon Associate, I earn from qualifying purchases made through the links as a way to support this site. If you buy a qualifying product, you're not charged anything extra, but I'll get a small commission to help pay for my expenses. I hope you find my advice helpful and discover the best chainsaw stuff for your needs on this list.
Top 4 Poulan Pro Chainsaws
After years of keen interest and research in outdoor heavy and medium-duty equipment, I have narrowed down the top 4 Poulan Pro chainsaws that are worth considering if you are a chainsaw enthusiast or are looking to buy one.
Best Overall: Poulan Pro PR5020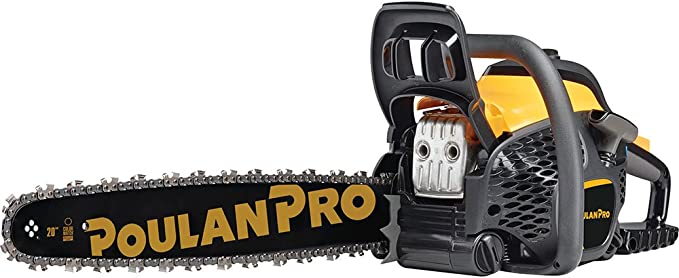 Weight: 13.01 lb
Assembled Length: 35.51 in
OxyPower Engine Technology
Easy-Pull Start System
Integrated Combi Tool
Purge Bulb
Double-Post Chain Brake
The Poulan Pro PR5020 boasts a highly durable 51cc two-stroke engine and an efficient manual tensioning chain adjustment feature. This model's best-selling characteristic is the effective air cleaning system that removes all dust and debris from the air intake before touching the air filter.
Its soft-start feature, along with the "purge and integrated" stop/choke controls, makes it one of the most straightforward machines to start. The PR5020's effective pull-start system reduces the pull force by about 30%.
The OxyPower engine is incredibly lightweight, fuel efficient, and has the lowest emission rates for any chainsaw. It complies with even the strictest international standards, with 20% less fuel consumption and 70% fewer emissions. Because of the lightweight engine, the PR5020 weighs only 10 lbs, excluding the chain and bar.
The engine is also two-stroke, meaning the lubrication mixes with the fuel. The 20″ bar chain is a feature found on most highly acknowledged chainsaws, making the Poulan Pro PR5020 a highly economical option for medium-duty outdoor work.
Pros
Easy pull-starting system.
On-Board adjustment, including efficient carrying case.
Highly functional clean air filter system.
Robust 50cc "DuraLife" engine.
Automatic chain oiler.
Cons
The gas caps are prone to swelling.
Pull action may make you irate during long use.
Comparing Alternatives to the Poulan Pro PR5020
| | | |
| --- | --- | --- |
| Product | Pros | Cons |
| Greenworks 40V 16″ Cordless Chainsaw   | 12", 40v Chainsaw Cordless Powerful and smaller in size Affordable   | Proves difficult to handle for beginners |
| Echo CS 271T | Professional 2-stroke gas-powered engine Easy to start and equipped with built-in cleaner Lightweight: 11lbs | Relatively expensive |
| Remington RM4218 Rebel | Equipped with 42cc full crank engine QuickStart technology for easy start Lightweight | Not suitable for heavy-duty outdoor tasks |
Best Value: Poulan Pro PR4016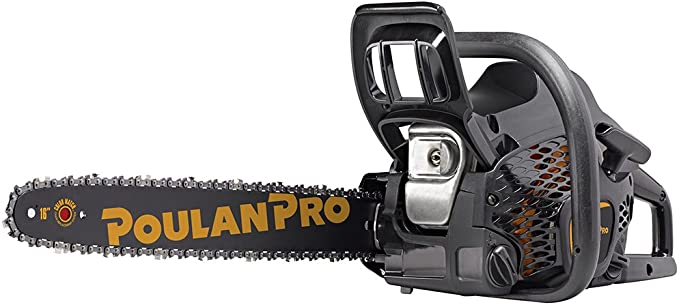 Length: 16"
Maximum Cut Diameter: 32"
Weight: 13lb
Power Type: Gas
Handle Type: Rear Handle Chainsaw
Engine: OxyPower with automatic oilers
Features: Tool-less Chain Tensioning, Anti Vibration, Chain Brake
The Poulan Pro PR4016 is quite similar in features to the PR5020. With a smaller 14″ chain and bar, the PR4016 requires less power to drive and thus uses a 40cc 2-stroke OxyPower engine.
However, it also uses the SuperClean air filtration system like its larger counterpart. Thus, it does not require extensive air filter replacement or cleaning like other gas chainsaws. The SuperClean air filter also extends its life. The PR4016 has a spring-assisted recoil starter that is as easy to start as other top Poulan Pro models. It also has a purge bulb to prime the fuel before starting.
The Poulan Pro PR4016 is incredibly lightweight – weighing only 13 lbs – and is very easy to use because of its conveniently placed soft grip handles. Since the machine is smaller, you do not need too much effort to use it. The machine's vibration is also barely noticeable, making it efficient for long-term use.
The Poulan Pro PR4016 also has an automatic chain lubrication system with a transparent window through which you can see the oil level. It has an innovative storage position for the advanced chain tensioning wrench, which clips into the rear handle's back lest it gets lost. The shorter chain bar in this model is ideal for general work, such as trimming dead tree branches, cutting wood, cleaning up medium storms, or cutting up fallen trees.
Pros
On-board wench for convenient tool-chamber access.
Robust power technology with efficient fuel consumption.
An advanced cleaning air filter that allows longer engine life.
Advanced anti-vibration system.
Carrying case included.
Effortless pull start system (EPS).
Cons
Not suitable for larger trees due to their small size.
Comparing Alternatives to the Poulan Pro PR4016
Best For Beginners: Poulan Pro PPB4014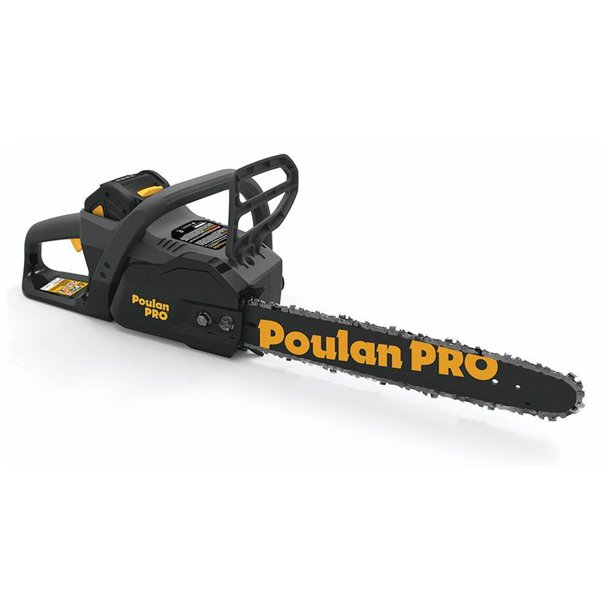 Unfortunately, this Poulan Pro model is unavailable in most stores. Check out my list of similar alternatives in the chart below!
Length: 14" Bar and chain
Diameter: 6"
Energy: 40 V Battery-Powered
Features: Automatic oiler, electronic brake chain, oiler level indicator window, brushless motor
The Poulan Pro PPB4014 is a battery-powered chainsaw comparable with smaller gas saws in functionality. It uses a 40V lithium-ion battery and supports a 14″ bar and chain structure. Users can choose between 2AH or 4AH variants of their battery.
The brushless, efficient motor offers users an extended working time than other similar-sized battery-powered chainsaws. The battery used in this model is the same as in some other Poulan battery-powered garden tools, which means you can use the same battery for various appliances.
The battery also has LED charge indicators that help monitor the battery level while working. The PPB4014's oil reservoir and automatic chain lubrication offer an easy-view window, so you can always check the oil level. It also supports a durable chain guard and an audible-warning-equipped electronic chain brake, offering higher safety.
The safety on-and-off switch also safeguards users against accidental starting. The machine shuts down once you release the trigger, improving safety and battery time. These functionalities make the Poulan Pro PPB4014 a safe and easy option for beginners who do not have much experience when it comes to the technicalities of outdoor appliances.
The PPB4014's 14″ bar limits your cutting tasks but is still suitable for a battery chainsaw. You can use it conveniently on branches and trees 6″ to 8″ in diameter and even try for larger tasks: trees up to 12″ in diameter. Although the Poulan Pro PPB4014 may be able to do the job, it may take longer, and the battery power may run out before you finish.
Pros
Ideal for beginners.
Equipped with an electronic chain brake with audible warning.
Battery-powered.
Brushless, efficient motor.
Automatic chain lubrication.
Cons
Not suitable for heavy-duty outdoor tasks.
Comparing Alternatives to the Poulan Pro PPB4014
Best Professional: Poulan Pro PR4218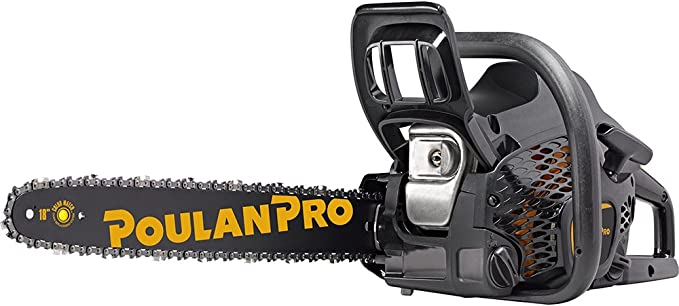 Bar Length: 18"
Weight: 13.25 pounds
Energy: 42cc, 2-stroke gas-powered engine
Handle Type: Standard
Starting: Effortless Pull Starting (EPS) System
Features: Super clean air-filtering system, anti-vibration system with ergonomic design
The Poulan Pro PR4218 is a mid-duty gas-powered 42cc 18" 2-stroke chainsaw. It is a popular choice for non-commercial use but can also be convenient for non-commercial or medium-duty jobs. Its 18″ chain bar proves ideal for general jobs, including cutting fallen trees, cleaning up a medium story, or cutting up wood. This chainsaw holds the potential to provide a professional output if used aptly.
This model boasts the OxyPower engine feature known for its robust power and efficient fuel consumption. It also saves fuel costs and reduces harmful carbon emissions. Furthermore, the Poulan Pro PR4218 comes equipped with a Super Clean Air Filter System that augments the filter's life and keeps it clean. It also helps keep fuel consumption in check.
The PR4218's automatic chain oiling features make oiling convenient and easy. Automatic gear-driven oiling keeps the chain sharp, and the bar lubricated, increasing the machine's life. It also minimises maintenance and reduces wear.
The Poulan Pro PR4218 also offers users an effortless pull-starting system (EPS). The spring-assist pull cord allows the machine to start easily, and its advanced anti-vibration features help reduce operator fatigue. Therefore, you can make precise, clean cuts and carry your saw in its carrying case wherever you need it.
Pros
OxyPower technology offers exceptional power and efficient fuel consumption.
On-board scrench to allow convenient tool access.
Advanced anti-vibration system.
Super clean air filter to increase engine life.
Spring-assist effortless pull-start system.
Cons
Not suitable for professional commercial use.
The chain may rust or dull fast.
Comparing Alternatives to the Poulan Pro PR4218
Features that Make Poulan Pro Chainsaws Stand Out
Warranty
Although all Poulan Pro chainsaws boast high durability and exceptional quality, they carry a 1 to 3-year warranty starting from their purchase date. This develops a connection of trust among buyers, making them choose this brand because of its durability.
Specially designed for beginners
You must have noticed that most Poulan Pro chainsaws are suitable for medium-duty non-commercial jobs, making them easy to use and convenient for beginners.
They also come equipped with multiple safety-augmenting features that ensure efficient and safe use. Poulan Pro chainsaws allow those inexperienced in outdoor appliance use to make clean and solid cuts.
Durability
Since Poulan Pro chainsaws are made for outdoor use, they are equipped with features that help them overcome harsh environmental conditions and work efficiently in all cases. The company's latest models are dust, water, debris, and oil-resistant.
Allrounder features
Poulan Pro chainsaws are exceptionally convenient to use. The best thing about them is that their ease-inducing features also increase the appliance's durability, such as an automatic oiling system, advanced anti-vibration, an effortless pull starting system, and OxyPower patented technology.
These features also make Poulan's appliances sustainable by reducing carbon emissions.
To Sum Up
Poulan Pro chainsaws share several advanced features with their Husqvarna counterparts but are less expensive than them, making them an excellent choice for money and durability.
Because of its exceptional features, Poulan Pro is rightly known as the best name in the market for medium to light-duty outdoor work. If you are a homeowner looking for a durable outdoor machine that won't empty your pocket, Poulan Pro chainsaws can be a good option to get the job done.
FAQs
Why won't my Poulan Pro chainsaw start?
It is highly likely that your Poulan Pro chainsaw won't start because of a clogged carburettor. A clogged carburettor is generally caused by leaving the fuel in your chainsaw for long periods.
Where are Poulan Pro chainsaws made?
Even though the labels may say "Made in the USA" or "Made in Sweden," Poulan Pro chainsaws may be made in various countries, including China, Germany, France, and Brazil.
Are Poulan Pro chainsaws any good?
Poulan Pro chainsaws are a good option for average homeowners who wish to undertake low to mid-range yard work.
Who makes Poulan Pro chainsaws?
Poulan is the brand name of Husqvarna AB, a Swedish manufacturer that makes these chainsaws.
For over a decade, I have taken opportunities and turned them into experiences to understand the intricacies of outdoor appliances and equipment, which is why you should trust the information on this website for all your chainsaw needs!