Are you looking for the best chainsaw gloves that can keep your hands safe?
Would you like a good pair of gloves that offer excellent cut-resistance and protection against chainsaw blades?
If so, you've come to the right place.
In this guide, I'll show you how to find the best gloves for chainsaw work.
With so many different brands and types of chainsaw gloves out there to choose from, it can be hard to cut through the clutter to find the best gear for your needs.
So, you'll find everything you need here to make a good choice.
First, we'll go over how chainsaw gloves work to protect you, then we'll move on to a list of the best chainsaw gloves you can buy today.
I can't wait to help you find the best chainsaw protective equipment for your needs!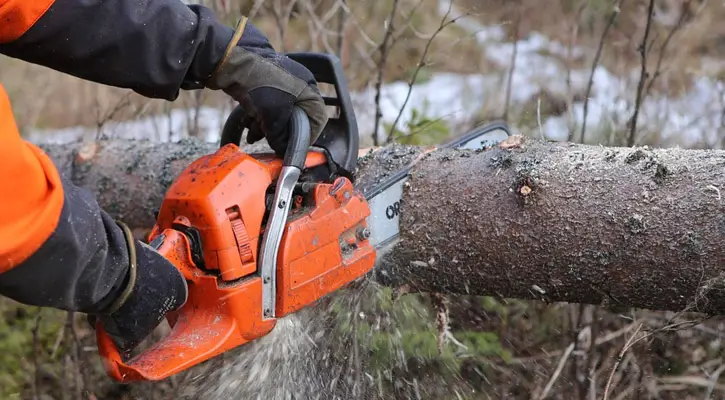 Disclosure: The chainsaw items recommended below are my top favorites because they have a great combination of quality and features. As an Amazon Associate, I earn from qualifying purchases made through the links as a way to support this site. If you buy a qualifying product, you're not charged anything extra, but I'll get a small commission to help pay for my expenses. I hope you find my advice helpful and discover the best chainsaw stuff for your needs on this list.
Best Chainsaw Gloves Reviewed in This Guide
Here's a quick comparison chart showing the top chainsaw gloves. I'll go in depth about each one later in the reviews section, but this gives you a sense of what's available and a simple way to quickly compare them.
How Do Chainsaw Gloves Work?
When it comes to the personal protective equipment (PPE) you wear when operating a chainsaw, chainsaw gloves are extremely important.
These gloves consist of multiple layers of protective fabric that keep you safe by working on two principles:
The Outer Layer
The outermost layer is in place to protect the gloves from trivial damage that could impact the inner (filler) material. The outer layer is also in place to protect you against environmental hazards, and it is often abrasion, tear, puncture, and cut resistant.

The Inner Layer
The inner layer of chainsaw gloves is composed of long, loose fibers that protect your hands from getting damaged by the chainsaw chain. The fibers used in the best chainsaw gloves are derived from materials like Prolar, Kevlar and nylon.
Should the chainsaw chain come in contact with the glove, it will automatically cut through the outer layer, exposing the inner fibers.
The inner fibers will then wrap around the drive sprocket of the chainsaw to create a solid lock and stop the chain from running.
This simple, yet powerful, design can drastically reduce the severity of an injury that might occur to your hand.
Keep in mind that after the chainsaw glove has been cut and the fibers have stopped the chain, you'll need to buy new gloves.
In addition, the chainsaw will have to be field stripped so that the fibers can be removed from the sprocket and chain. That's the only way to ensure that the chainsaw will continue to run properly.
As you can see, chainsaw gloves are an especially useful piece of personal protective equipment that can stop you from losing a limb or needing stitches to repair deep cuts in your flesh.
Top Features to Look for in Chainsaw Gloves
When it comes to the best gloves for chainsaw work, some of the top features you want to look for include strength and durability that don't impact dexterity or flexibility.
In essence, you want gloves that can take a beating but still allow you to grip the chainsaw.
Different brands will use a variety of materials to create the outer and inner layers of their gloves so that they can be strong, durable, and flexible—and each brand will offer something a little different.
When looking at the various chainsaw glove options, you'll want to consider a few particular materials.
Keep in mind that not all of the gloves you look at will have these features mentioned below, but this will give you an idea of what exists so you can find the gloves that will work best for you.
Leather – This is a naturally tear-resistant material that's ideal for heavy-duty work. If the chainsaw gloves are made from leather, it will provide a higher level of protection. Leather also has the ability to maintain a high grip level in wet conditions, which means that if you're exposed to snow or rain while using your chainsaw, leather can reduce the occurrence of accidents and injuries.
Prolar – This inner glove material explodes on contact with a chain and jams in the sprocket to stop the chain fast. There's no other material quite like it when your safety is concerned.
Kevlar – This popular cut-resistant material is often found in the stitching of chainsaw gloves and reinforces the seams and joints. It has more than twice the tensile strength of polyester or nylon.
Nylon – This material is found in the inner layer of chainsaw gloves and it's composed of long fibers that tangle with the chain to stop the chainsaw from running. Some form of nylon is "ballistic" which makes it even more durable and abrasion-resistant.
Goatskin – The palms of many chainsaw gloves are made from goatskin because it has a strong resistance to cuts. This material is also incredibly comfortable and has the ability to wick away moisture, which is beneficial if your palms get sweaty while working.
TPR – TPR stands for "Thermoplastic Rubber," and this material has properties of both rubber and plastic. It's used in chainsaw gloves to provide impact protection for the hands and fingers. It also has some chain stopping power when it comes in to contact with the chainsaw blade. TPR is incredibly lightweight and abrasion-resistant. It is also resistant to various weather conditions and electricity as well as has good tear strength.
Spandex – Having spandex on the back of chainsaw gloves or around the wrists makes them stretchy so that they are easy to put on and take off. If they feature a knitted hand inlet, this can provide comfort as well as keep out debris.
Hydrophobic (Water Resistant) – If a chainsaw glove is hydrophobic, that means that it repels water so it doesn't get soaking wet. Many brands now treat their gloves so that they can repel both oil and water effectively.
High-Visibility (Hi-Viz) – Hi-viz chainsaw gloves have bright colors that ensure you're hands are visible when working in areas with a lot of environmental hazards or at night so you can remain safe.
Choosing the Right Size Gloves for Chainsaw Work
When it comes to finding the right size chainsaw gloves, you'll size them like you would any other pair of gloves.
Chainsaw gloves come in different size options, including:
Small
Medium
Large
Extra large
Extra extra large
Your goal should be to choose chainsaw gloves that fit you just right, which means they shouldn't be too big or too small.
Gloves that are too big could slip while using the chainsaw, causing an accident in the process.
Gloves that are too small could cut off the circulation to your fingers or just be uncomfortable to wear, making it difficult to grip and use the chainsaw safely.
Note on the Left Hand Size
Since your left hand is usually closer to the blade, the left glove from many brands is thicker.
This extra thickness is to provide maximum protection for your hand and fingers against cuts.
However, this extra padding has no impact on the size of the glove you should choose. Just buy what you would normally wear.
When it comes to the best chainsaw gloves, they should fit you…well…like a glove.
Chainsaw Gloves Reviews & Buying Guide
Now that you know how chainsaw gloves work to protect you, we can move on to the list of the best gloves for chainsaw work.
What I tried to do in these chainsaw glove reviews is to recommend high-quality options for every person's needs.
What you'll find below is a detailed list of the top protective gear for every budget, style, and taste.
Some of these gloves are also featured on my chainsaw safety gear guide which also includes glasses, helmets, boots, and hearing protection.

Best Chainsaw Gloves List
Husqvarna is a top brand for chainsaws and protective gear that always tops the charts.
In fact, this brand is the best you can get without going through a dealer.
What makes these chainsaw gloves the best overall are several things:
They're made of leather with Kevlar lining.
The left-hand glove is intentionally beefier to make it cut-resistant since it's closest to the chainsaw blade.
The backs of both gloves are made of stretchable spandex fabric for a comfortable fit.
The palms are made of durable goatskin protect against penetration.
They're made of high-visibility colors and a reflective logo so you can see where your hands are at all times, even when the sun goes down.
Most importantly, these chainsaw gloves meet the EN 381-7 Class 0:16 (m/s) standards.
There's not much else you can ask for in a pair of high-quality chainsaw gloves.
Like Husqvarna, Oregon is another top brand for chainsaw safety gear.
And these gloves are an inexpensive option for anyone who's on a tight budget.
Also similar to the Husqvarna gloves mentioned above, the left glove of this Oregon brand has additional padding to protect against contact with the chainsaw chain.
Both gloves have reinforced leather palms to help reduce chainsaw vibration.
A bright orange color also offers high visibility while working out in the field with your power tool.
As for the safety rating, these gloves meet the EN 381-7 Class 0:16 (m/s) standard.
All-in-all, these chainsaw gloves are made exactly for what they need to do—protect your hands for serious cuts—without a high cost.
These chainsaw gloves are an absolute must for any serious homeowner or professional arborist.
While they're the most expensive chainsaw gloves on this list, they deserve every penny of the price.
This pair of chainsaw gloves for chainsaw work is certified to the world's leading standard:
CE EN 388:4244 and CE EN 381-7 Class 1:20 (m/s)
That's the highest safety rating you'll find for chainsaw gloves without special ordering a new pair.
The leather material and Prolar lining offer pro-level protection against chain brakes and accidental nicks from the blade.
If you want total peace of mind, you can rest assured that you're in good hands with these Elvex Prolar chainsaw gloves.
While these gloves were made more for firefighters, rescue extraction, and heavy machinery, they're also good for chainsaw operators too.
The Flexible TPR impact protection on the knuckles and fingers is what really makes these Endura gloves stand out.
The Kevlar stitched padded palm offers cut-resistant protection for your hands in all situations.
And the special KevLoc grip system on the palm and fingers enhances grip on the chainsaw under the toughest conditions.
High visibility and reflective details are also included for increased safety for those who need it.
What also makes these gloves stand out for chainsaw work is the built-in anti-vibration reinforcement.
So, you can use your tool for longer periods of time without hand strains.
And most importantly, these gloves meet the EN 381-7 Class 0:16 (m/s) standard.
If you're looking for a pair of gloves that can be used for more than just chainsaw work, this is a good option to consider.
These Youngstown gloves have an interior that's completely lined Kevlar.
The Kevlar material greatly increases the cut and puncture resistance of this glove so you can be protected while operating any type of heavy-duty power equipment.
The outer part of the glove is similar to other types of utility gloves.
It features non-slip reinforcement, a supportive cuff, padded knuckle, and soft terry cloth brow wipe on each thumb.
The result of these materials is a chainsaw glove that's very versatile and can give you protection for all types of cutting jobs and yard work.
These gloves meet the following ANSI standard: Cut Level 3 and ANSI Puncture Level 4. No EN standard rating is provided.
---
Additional Information on Gloves for Chainsaw Work
I did my best to give you a list of the top chainsaw gloves you can buy today.
If you're interested in learning more about what makes a pair of gloves good for chainsaw work, the following information explains the various safety standards for this type of personal protective equipment.
EN and ANSI Safety Standards
The most critical factor when it comes to protecting your hands from injuries while operating a chainsaw is to ensure that you are wearing the right glove.
Not all chainsaw gloves can stand up to the use and abuse you may be putting them through.
To ensure that you're staying safe, several manufacturing safety standards have been put into place, especially when it comes to personal protective equipment such as chainsaw gloves.
The standards include:
EN Standard (European Union)
ANSI Standard (American National Standards Institute)
If the chainsaw gloves want to earn an EN rating, they have to be rigorously tested by one of the three European Standardisation Organisations (ESOs), which include the CEN, ETSI, or the CENELEC.
These ESOs have the required technical knowledge and impartiality to test a wide range of products.
Not only do they test chainsaw gloves, but they test other items as well, including chainsaw chaps, pants, glasses, helmets, and boots.
If you have multiple products you're interested in buying that have EN ratings, this makes it easier to compare them to one another.
You can also rest assured knowing that they've all been independently tested to adhere to the same standards.
When it comes to the best gloves for chainsaw work, there are some EN standards that you want to look for.
These include EN 381-7 and EN 388 which I'll cover next.
EN 381-7 Standard
The EN 381-7 standard is in place to test how well the gloves are at stopping the chainsaw chain at certain speeds.
If the gloves have a higher class, that means they offer better protection.
The EN 381-7 ratings and classifications are as follows:
EN 381-7 Classifications Chart
| Test Class | Rating (Meters per Second) |
| --- | --- |
| Class 0 | 16 m/s chain speed |
| Class 1 | 20 m/s chain speed |
| Class 2 | 24 m/s chain speed |
| Class 3 | 28 m/s chain speed |
EN 388 Standard
When it comes to the EN 388 standard, it tests the glove's resistance to common mechanical hazards, including cuts, punctures, abrasion, and tears.
If you're like most people who wear chainsaw gloves, you're going to be using them in harsh environments.
Thus, it's crucial that they are able to withstand general wear and tear.
Just like the EN 381-7 standards, when it comes to the EN 388 standard of chainsaw gloves, the higher the performance level, the more protective and durable the gloves are.
The various performance levels and tests that are used for the EN 388 standard include the following:
EN 388 Rating Chart
Test
Performance Level
 
1
2
3
4
5
Abrasion Resistance (Cycles)
100
500
2000
8000
N/A
Blade Cut Resistance (Cycles)
1.2
2.5
5
10
20
Tear Resistance (Newton's)
10
25
50
75
N/A
Puncture Resistance (Newton's)
20
60
100
150
N/A
ANSI/ISEA 105-2000 Standard
The ANSI/ISEA 105-2000 standard is the one used in the U.S. to provide information about how resistant chainsaw gloves are to cuts, punctures, heat, cold, abrasions, chemical permeation, and flames.
The most recent update to this standard is the ANSI/ISEA 105-2005 standard.
When it comes to cut resistance (which is one of the major factors you need to consider in chainsaw gloves), the ANSI/ISEA 105-2005 ranks gloves on a scale from 0 to 5.
The test looks at how much weight is required for a straight blade to cut through various materials traveling at 25 millimeters (1 inch).
As the weight requirement increases, the rating of the glove also increases.
When it comes to the ANSI-ISEA mechanical ratings, the items tested and the levels are as follows:
ANSI/ISEA 105-2005 Rating Chart
Test
Performance Level
 
1
2
3
4
5
6
Abrasion Resistance (Cycles)
100
500
1000
3000
10000
20000
Blade Cut Resistance (Cycles)
200
500
1000
1500
4500
N/A
Puncture Resistance (Newton's)
10
20
60
100
150
N/A
Safety Standards Summary
With all of this talk about EN and ANSI/ISEA standards, you may be wondering, "Which standard should I look for?"
The truth is that chainsaw glove manufacturers only pick one or the other to base their safety standards on.
So, when you're shopping for chainsaw gloves, you'll either see EN 381-7 and EN 388 standard ratings or ANSI/ISEA 105-2005 standard ratings.
Rarely, you'll come across a pair of gloves that has both EN and ANSI ratings.
When it comes to getting the right chainsaw gloves, you can feel safe by getting a pair with either the European or American standard ratings.
More Chainsaw Safety Protective Equipment
When operating a chainsaw, you should protect every part of your body.
Not just your hands.
All it takes is an unexpected chainsaw kickback, flying chips of wood, thick brush, or a falling branch to cause a serious injury.
You can find a full list of the best chainsaw protective equipment on my chainsaw safety gear guide.
It includes:
Safety Glasses
Hearing Protection
Chaps
Pants
Gloves
Boots
Helmets
Jackets, Vests & Sleeves
I also have several chainsaw buying guides if you're looking for a new power tool.
Take a look at these pages if you're interested:
Closing Thoughts on My Best Gloves for Chainsaw Work Reviews
If you reached this part of my guide, then you should feel comfortable shopping for the best chainsaw gloves for your needs.
Having a good pair of safety gloves is essential for every chainsaw operator, regardless of whether you're a professional arborist or just a casual homeowner.
Chainsaw accidents can happen when you least expect them and these tools can easily rip apart your hands in less than a second.
So, wearing the best protective gloves available is the key to keeping your hands safe.
It's also a good idea to wear a pair of chainsaw chaps or pants to keep your legs protected.
You can visit my best chainsaw pants list to find out what's available.
Now, all you have to do is narrow down which of the best gloves for chainsaw work are right for you and your budget.
Happy sawing!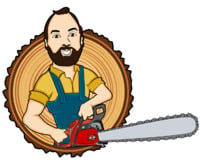 Your Pal,
Chainsaw Larry