Are you interested in a McCulloch chainsaw?
If so, you're on the right page. I'll review whether McCulloch is a good option and cover some of the best chainsaws McCulloch offers.
McCulloch chainsaws are actually one of the most popular brands in the world. They've been manufacturing chainsaws for over 70 years and have built a reputation as a trusted and reliable brand.
There are a lot of McCulloch chainsaw reviews out there, but most of them haven't been updated in a few years, and the information is outdated.
I'll review whether McCulloch is still around and makes the quality products the brand is known for or if there are better options.
McCulloch Chainsaw History
I wrote a little bit about where McCulloch chainsaws were made in my article Where Are Chainsaws Made (By Each Manufacturer). I'll go into a little more history here.
Founded by Robert McCulloch, McCulloch Motors has been making chainsaws for over 70 years. With the introduction of their first chainsaw in 1943, they became one of the first companies to produce a quality product at a reasonable price. Their first product was based on an old design and had some flaws, but it was still a good start.
McCulloch designed the first light chainsaw to be powered by an internal combustion engine, which was introduced in 1949. The one-person chain saw design was an instant success, becoming the best-selling model saw in the world.
In 1999, the European division of the company was sold to Husqvarna AB, and subsequently, the North American division nine years later. Today, the company has an excellent range of gas and electric-powered chainsaws, with many improvements and innovations being made over time.
If you want to buy a McCulloch, they will most likely be shipped from Europe and the U.K. Fortunately, some sites offer free international shipping. You might have to wait a bit longer to receive your chainsaw if you're in the U.S.
If you want to stick to U.S. shipping, check out my article on the Top 10 Best Rated Chainsaws article for domestic shipping.
Best Features of McCulloch Chainsaws?
Soft Start
The McCulloch chainsaw comes with a soft start system, designed to reduce the force needed to start the saw by up to 40%. This feature means that you don't have to apply as much downward pressure when starting your chainsaw, which can be problematic for beginners.
Oxypower
The Oxypower technology is a crucial feature of the McCulloch chainsaw. The system reduces carbon emissions from its engine by up to 60%. This efficiency is achieved by reducing emissions during combustion, reducing fuel use, and increasing the maximum airflow.
Anti-Vibration System
The McCulloch chainsaw also features an anti-vibration system, which can help improve your comfort while using the saw. This system uses rubber dampers that absorb vibrations from the engine and transmission, so you don't feel them as much when using the saw.
12 Months Warranty for Private Use
McCulloch provides a 12-month warranty for private use. That means the company will repair or replace the product if it fails to work within 12 months from the date of purchase. If a product is not under warranty at this point, you can also ask them to deduct it from your refund or replace the product.
The warranty covers all parts of the chain saw, except for accessories such as handles and screws. It also covers damage caused by abuse, misuse, or accident.
Which McCulloch Chain Saw is Right for You
Just because you've decided to get a McCulloch chainsaw doesn't mean it's easy to know just where to start. In fact, it can be overwhelming when you consider that there are roughly 20 different models available. But fear not! I'm here to help. Here's a brief overview of the most popular McCulloch chainsaws available on the market today: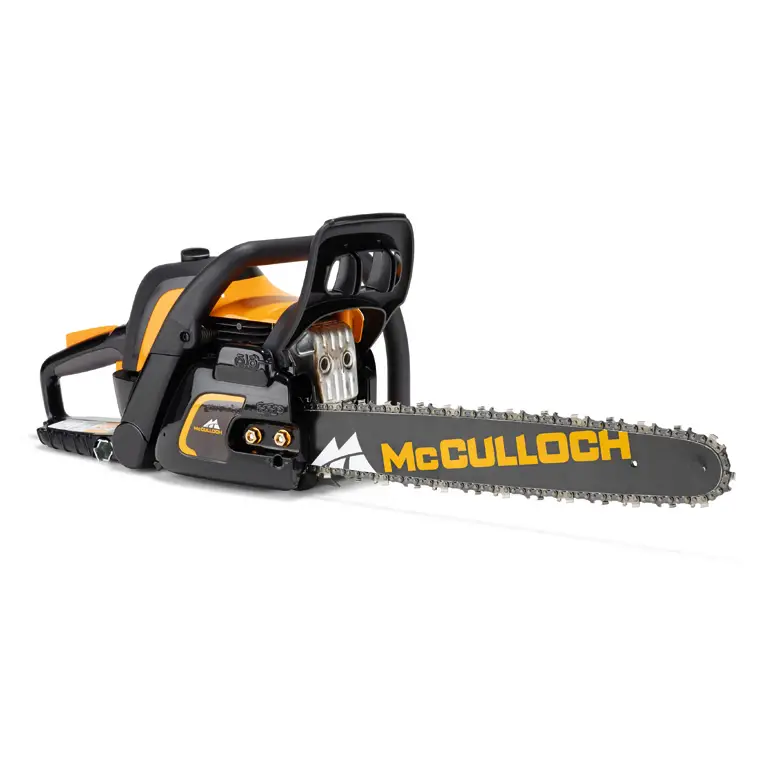 The McCulloch CS 50S is an excellent all-around chainsaw ideal for both professionals and semi-professionals. This option has solid features and outstanding build quality, making it one of the best gas-powered chainsaws on the market today.
This chain saw is the most powerful one from McCulloch yet and comes equipped with a powerful 2.1kW motor, capable of handling 15 to 18-inch bar lengths, and a manual side chain tensioner. With the handy E-Shift system, this option has strong features and build quality, making it one of the best gas-powered chainsaws on the market today.
At $335.91 for a 15-inch chain saw, this product indeed delivers good value for the price. The only con with the McCulloch is it's currently unavailable in the US, and you might have to pay a little extra in shipping if you're buying from the United States.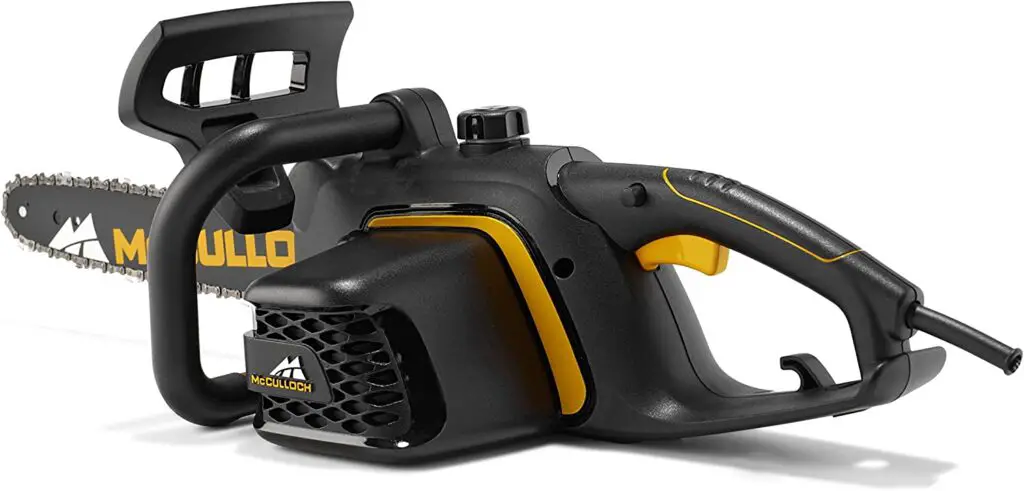 The McCulloch Electric Chainsaw's Powerplus electric motor drives the bar at 23.2V, which provides more power than a standard petrol-driven chainsaw. In addition, this model has a durable chain pitch of 3/8" and weighs only 3.7kg, allowing you to reach speedier cutting times quickly.
The CSE 20 40S is built to last with its durable parts; the saw body is constructed from steel and PVC coated for maximum durability. You will also benefit from a toolless chain tensioner for quick and easy tensioning and assembling the bar and chain.
However, this electric model option is not designed for constant or heavy-duty usage, so that's something to consider before paying just under £150 and a little extra shipping fee for this electric McCulloch saw.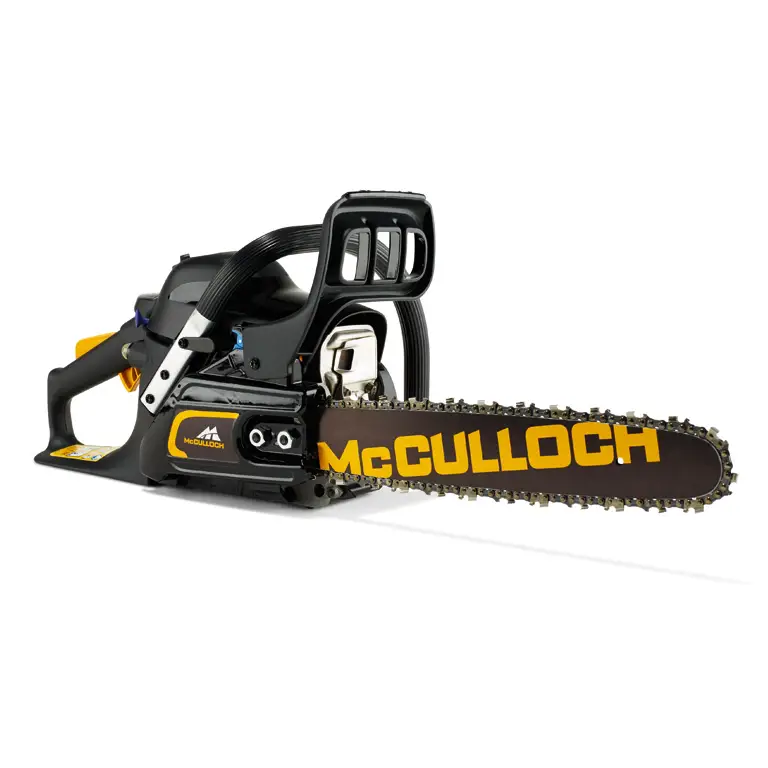 McCulloch's CS is the perfect chainsaw for occasional use. The McCulloch Combi Tool can be used for many tasks, from pruning to felling and splitting. It features an integrated saw carriage and chain mounted on a side release tensioner giving it power and simplicity of operation.
Its simple chain adjustment system makes it easy to maintain over time, and its CCS chain guard keeps your skin safe while providing comfort when getting through challenging work such as felling trees or clearing vegetation. And like any other McCulloch chainsaw, it also boasts OxyPower technology, Soft Start, and an integrated combi tool to make life easier outdoors.
You can get this model on the European market at just under €190, so another excellent product for the price. It does, however, tend to go through chains more frequently than usual should you subject it to heavy-duty work like using it for heavy winter logging, so you might always want an extra saw chain or two handy.
Conclusion
So, it turns out that McCulloch chainsaws are amazingly fun to use and can make all kinds of things happen. If you're looking for an excellent entry-level chainsaw, then we recommend the McCulloch CS340. It's cheap enough that you don't have to worry about damaging it or getting frustrated if you nick a finger or two.
And while these aren't the cheapest or most expensive chainsaws on the market by any means, you can't do much better than the McCulloch brand at this point if you're looking for good value in your next chainsaw.
Happy sawing!
Your pal,
Chainsaw Larry