Want to learn if a Worx chainsaw is worth all the hype?
Or perhaps you are interested in Worx models and are looking to get one that covers all your housing needs.
With this review, I've got you covered.
Worx is a unique brand for its innovation and product versatility, evidenced by its cutting-edge mechanism. A vivid example would be how unlike other cordless, some of the Worx chainsaws have a functional auto-tensioning system, and others, integrated chain tightening/cover and bar tensioning, obvious as a single knob. Regardless of the quality machinery, I have also observed that their chainsaws are generally compact and comfortable for the users.
WORX, owned by the Positec Tool Cooperation, has its factory base and distribution unit in Suzhou, China. There's a company's headquarters in North Carolina. Before you back off and start questioning the worth of their products, remember that in the multitude of less-than-average products from this region, there are still manufacturers with up-to-standard products.
In this guide, I have reviewed, in length, three Worx chainsaws I consider best in 2022 from their catalog in the market. Depending on your cutting needs, at least one of the chainsaws presented here is bound to check your list
What Makes the Worx Chainsaws Distinct?
For every chainsaw category, the company made sure to leave us with one or more product perks to distinguish them from other competitors. That doesn't mean that if you own a GreenWorks Pro 80V or perhaps the Husqvarna 450 Rancher power tools, you should dump them and come running at Worx.
In the lawn and garden industry, there's been technological evolution of battery-operated (cordless) chainsaws. As I mentioned earlier, the Worx auto tension and lubrication system did leave an impression.
What's more?
The electric (corded) Worx chainsaw WG303.1, WG304.1, and WG305.1 have made the top of the list of viable options for many homeowners in 2022. Short and straightforward reason; budget-friendliness. Of course, it begs to reason that we want value at a lesser cost, especially since homeowners are occasional users- trimming and delimbing trees or shredding firewood. If you're planning on doing yard work for an extended period, the electric choice is one of the easiest-to-use models.
The gas-powered models suit a professional's needs just fine. Making it more likable is the Worx Nitro which shows advanced technology. This innovation allows the machines to outperform their peers. They have longer run times, long life spans, and DIY recovery measures.
Disclosure: The chainsaw items recommended below are my top favorites because they have a great combination of quality and features. As an Amazon Associate, I earn from qualifying purchases made through the links as a way to support this site. If you buy a qualifying product, you're not charged anything extra, but I'll get a small commission to help pay for my expenses. I hope you find my advice helpful and discover the best chainsaw stuff for your needs on this list.
The Top 3 Worx Battery Chainsaws
After trying several Worx chainsaws, evaluating the performance of each, and seeing what other experts think, I've concluded that picking the best Worx chainsaw depends on what you wish to use them for. However, here are the top 3: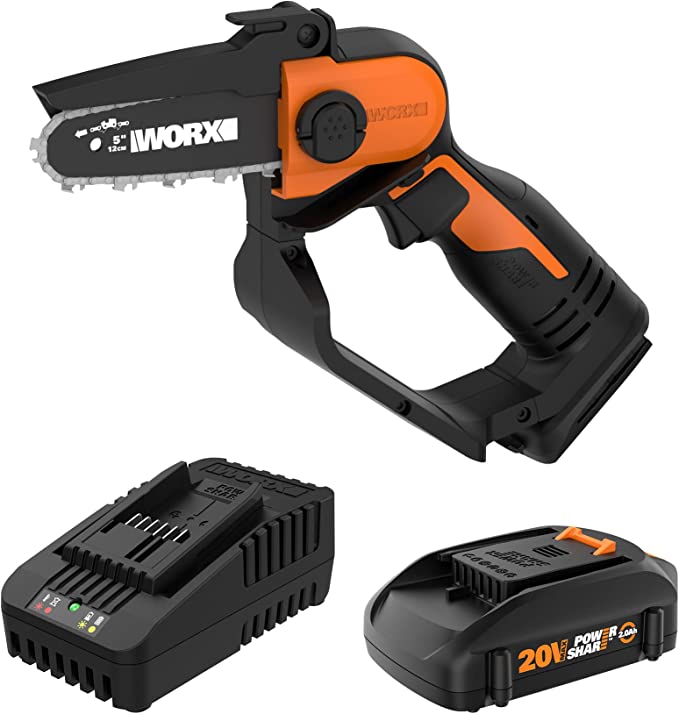 Weight: 4 lbs. (with battery but without chain oil)
Dimensions: 6.93 x 3.54 x 13.31 inches
Bar Length: 5″ (12.7cm)
Chain Cutting Speed: Approx. 18.4 ft./sec
Battery/Charger: 20V/2.0Ah (Amp hours)
Charging Time: 5 hours
Oil Tank Capacity: 4.5 ounces
I like to describe the Worx WG324 Cordless Chainsaw as 'functionality in child's play. Seeing the product in pictures doesn't serve justice to the live experience when you feel it in your arms. It has this unusual lightweight for a cordless chainsaw. No wonder its compactness and one-handiness are significant selling points.
To be honest, it could feel a little odd for an expert who has had to work with chainsaws, even as heavy as 13 lbs., using ‌both hands all their life. With modern enhancement and extraordinary features, the chainsaw is a suitable around-the-yard tool, making DIY and lawn and garden maintenance more manageable. It's perfect for a first-time user, and I even thought of getting one for my disposer wife.
The tool has an extensibility option with a pole (6.1 x 2.68 x 26.18 inches), improving maneuverability. The extension pole makes it an excellent choice for pruning purposes. You'd, however, have to get this pole separately and trust me when I say getting it could be a real hassle.
The saw is designed ergonomically and with safety as a priority. The battery is super efficient, and the Worx chainsaws have a power share trademark because the same battery types can be used through all their tools of different voltages. One battery for the 20V tools, two for 40V, and so on.
Comparing some Alternatives to the Worx WG324 Pruning Saw
Related: Top 10 Best Rated Chainsaws for 2022 (Reviews & Buying Guide)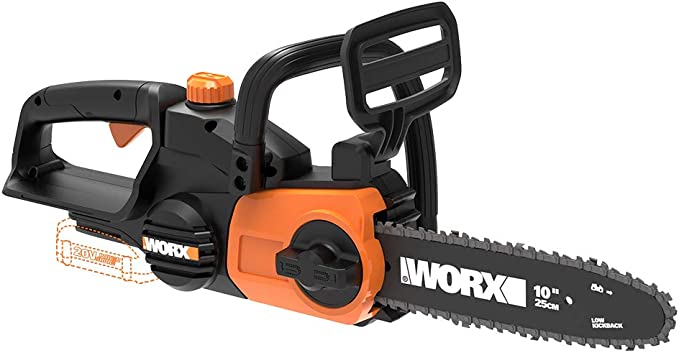 Weight: 6.2 lbs. (with battery)
Dimensions: 25 x 7.5 x 9.5 inches
Horsepower: 3.2hp
Bar Length: 10 (25.4 cm)
Chain Cutting Speed: Approx. 12.5 ft/sec
Battery/Charger: 20V/2.0Ah (Amp hours)
Charging Time: 5 hours
No fuss or muss. The WG322 20V Powershare comes in a classic style, is portable, and is easy to operate, giving a quiet and satisfying cutting experience. This Worx is a good substitution for its gas-powered chainsaws, providing a clean, excellent trim and cut without the accompanying fuel stress.
Unlike most other cordless chainsaws that present you as a lumberjack, this tool is quite portable. I don't mean to startle you but imagine the big batteries and long bars typical of regular battery-powered chainsaws. Only one thing comes to mind, bulky. Worx WG322 20v chainsaw has done away with that, leaving you with a whooping 6.2lbs cordless. Speaking of the batteries span time, it's averagely okay but doesn't do spectacularly well compared to its contemporaries.
The oil tank filler is strategically located at the top of its body, making it accessible. This, amongst other features, proves its ease of use. With optimal lubrication, the chainsaw performed reasonably okay for the size. However, I had to deal with some oil leakage.
Comparing some Alternatives to the Worx WG322 Cordless Chainsaw
Related: Most Important Chainsaw Tool | 10 Essential Tools You Need
Best Overall: Worx Nitro 40V 16″ Cordless Chainsaw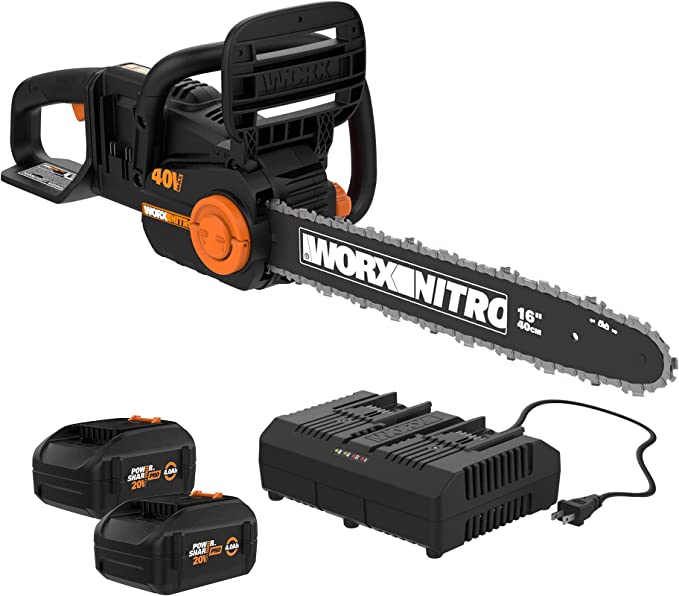 Weight: 15.3 lbs. (with battery)
Dimensions: 25 x 7.5 x 9.5 inches
Horsepower: 2.3hp
Motor: Brushless
Bar Length: 16 inches
Chain Cutting Speed: Approx. 45 ft/sec
Battery/Charger: 40V/4.0Ah (Amp hours)
If you want a medium-duty chainsaw perfect for clearing out the wood in your backyard, maybe after a storm, for example, or as a professional DIY-er, Worx Nitro 40Vwould be suitable.
It's effortless to use and even has an auto-tension system in place but beware. It's not always going to be as efficient as the traditional tension adjuster that you!d find in other cordless chainsaws. There's also the auto lubrication system, so all you have to do is fill the oil tank(the messiest thing you have to do).
I particularly enjoy the Nitro saw because the 'little to no maintenance needed' makes it as practical as gas-powered saws but as stressless as battery-powered saws. I like to cut but hate to clean. Tell me I'm not the only one.
Its outstanding performance and better battery are accounted to the brushless motors and 40V Li-ion. The battery lasts better than other chain saws, but I expected it to do better, considering the nitro hype.
Comparing some Alternatives to the Worx Nitro 40V 16″ Cordless Chainsaw
Related: The Best Mini Table Saw: Top 3 Reviewed
Final Verdict
The  Worx Nitro 40V 16″ Cordless Chainsaw makes for my top pick because of its efficiency and durability. It's a reasonable splurge to get the job done. However, the  Worx WG322 20V Powershare works as a pocket-friendly option that still serves for usefulness.
What Technical Features can you Expect from Purchasing a Worx Chainsaw?
Worx remains one familiar brand in the lawn and garden industry. Like any other brand, they've also got perks and quirks. Let's delve into some specific features of the brand's chainsaws.
Improved Bar & Chain Mechanics
All Worx chainsaws usually come with a long steel bar with a powdered coating finish. These two components help to produce smooth cutting lines and have been a solid faction of all Worx chainsaws worldwide. Most chainsaws are also often auto-lubricated; hence it's just as rugged as it needs to be.
Chain Brake and Handguard
Some of their saws, for example, the WG303.1, have the chain brake, while a few others, like the WG322, have a hand guard instead. The chain brake is a safety feature that protects from kickback, preventing accidents. With a pull at the trigger, the chain stops moving. Handguards are there to provide protection, but they don't suffice.
Ironically, the smaller saws can be the riskiest for injuries from kickbacks because the lightweight allows them faster and more unrestricted movements.
Easy Maneuverability
One thing about Worx Chainsaws is they are super handy and suitable for use at any time of the day. They build the machine with an ergonomic structure that settles comfortably in the hand while in use.
They are a modern brand that has incorporated exchangeable batteries for all branded tools. I think a power share is an economical approach, which means they still put us, customers, first as much as they want to increase sales.
Customer Service
Picking up from where I stopped, I think I'd be wise to inform you about their customer service. From my experience, it was unbelievably poor, but I considered a broader consumer base review for a good balance. The majority report it as average.
Value for Money
Then there's the overall quality of chainsaws, which is generally fair and designed to ensure users' comfort with use. The tools are good value for money; however, some are pricey.
Warranty
Worx chainsaws have a warranty service of an average of two years, whereas a customer you are eligible to get free repair of a defective saw or parts of the saw. They also guarantee replacement if necessary.
5 Frequently Asked Questions
  Do Worx chainsaws make any noise?
Yes, but definitely quieter than other chainsaws. The gas-powered chainsaws are usually noisy, but using the Worx gas-powered chainsaw left me stunned by how minimal the noise it produced was.
Are Worx chainsaws any good?
The mechanism adapted by the manufacturers is worthy of note. Using a brushless motor improves the performance; of smooth and seamless woodcuts.
Can I replace the chain on my Worx cutting saw?
Yes, depending on the model. The Oregon model 91PX chain, 57 drive links, is an accessible alternative. You'd find it at hardware and home improvement stores.
  Can I purchase a pruner without a battery or charger?
Yes, you can.
Does the 20V cordless chainsaw allow for Nitro?
No, the nitro model includes a 40V brushless motor. Thus, it is strictly for those.
Why Trust Chainsaw Larry?
For over ten years, I have had the luxury of trying out all chainsaw types as a user, primarily for all their possible functions. My vast experience and growing chainsaw collection are why you can trust the information on this site for you and your chainsaw needs.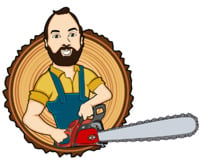 Chainsaw Larry
Related: 8 Essential Chainsaw Accessories Every Chainsaw Owner Needs