Are you interested in getting a Makita chainsaw?
Want to know more about your options?
If so, you're on the right page.
Unless you're a tree surgeon living under a rock or a beginner to wood cutting, chances are you've heard of Makita. The Japanese company is a well-established household name in the classic and power tools industry.
Makita has an experience of over 100 years as an electric tools manufacturer. Today, Makita is a global brand in over 40 countries. It is an industry innovator known for manufacturing reliable products. The quality and durability of Makita products are driven by the company's strong belief in safety, durability, and effectiveness. While Makita has various power tools, its chainsaws are among the best.
Makita is a brand I love and have in them in many of my buying guides, like The Best Professional Chainsaw Brands and Top 10 Best Rated Chainsaws.
Let's dive in!
Disclosure: The chainsaw items recommended below are my top favorites because they have a great combination of quality and features. As an Amazon Associate, I earn from qualifying purchases made through the links as a way to support this site. If you buy a qualifying product, you're not charged anything extra, but I'll get a small commission to help pay for my expenses. I hope you find my advice helpful and discover the best chainsaw stuff for your needs on this list.
What Makes Makita Chainsaws Unique?
Whether you want a chainsaw for professional or domestic use, Makita's products are some of the best available on the market. Makita chainsaws have the latest brushless motor technology, which allows their electrical products to have the same amount of efficiency and power as their gas-powered counterparts. You won't come across a work site that doesn't have a couple of Makita chainsaws.
If you're curious whether Makita is worth the hype I've built or are interested in one of their innovative models, this guide to Makita chainsaws will narrow down your options and answer your questions!
The Rundown
Best Overall: Makita XCU03PT1 Cordless Chainsaw
Best Mid-Range: Makita EA4300FRDB 16″ 42cc Chainsaw
Best Light-Weight: Makita EA5600FREG 18″ 56cc RIDGELINE™ Chainsaw
Best Professional: Makita EA6100PRGG 20″ 61cc Chainsaw
The Top 4 Makita Chainsaws
I've tried out many chainsaws over my life and have encountered many Makita models. After evaluating each model's performance, talking to other chainsaw enthusiasts, and reading reviews online, I have found the best four models offered by Makita.
These models are from Makita's gas and battery-powered ranges and cover casual, professional and heavy-duty uses. They're all also exceptionally lightweight compared to models at similar price points and performance in the market.
Best Overall: Makita XCU03PT1 Cordless Chainsaw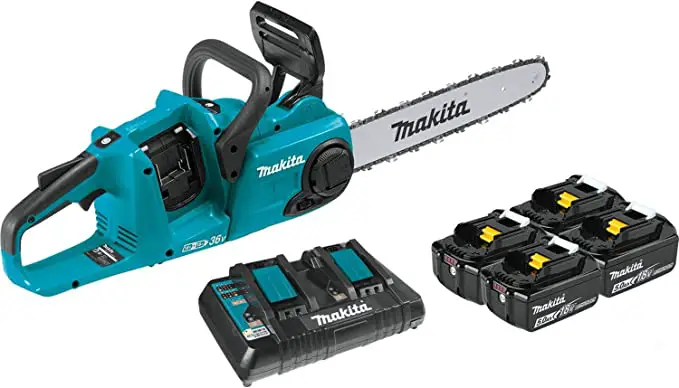 Weight: 22 lbs
Dimensions: 10.63 x 22.24 x 10.59 inches
Bar Length: 14″
Horse Power: 3.2
Chain Cutting Speed: 940 FPM
Battery/Charger: Rechargeable battery
The Makita XCU03PT1 is THE chainsaw to have if you're into any work that requires heavy tools and landscaping. The XCU03PT1 is Makita's best-selling model, and there are several reasons for this. You also get four fast-charging 18V LXT Lithium-Ion 5 0Ah batteries & an efficient 18V Dual Port Rapid Optimum Charger as part of this kit.
The XCU03PT1 is a high-quality chainsaw that will get you through whatever project you're undertaking. It cuts smoothly and elegantly through everything you'd want it to.
The defining feature of this model is its long battery life. The four lithium-ion batteries are a godsend when you're in the middle of a long project, and the power runs out. All you have to do is switch the battery pack out and keep cutting!
Besides this, the XCU03PT1 comes with a variable speed trigger and a high chain speed of 940 FPM. These features give you more control and improved performance. It also comes with a built-in lock that prevents accidental start-up.
This model contains Makita's BL Brushless motor direct-drive system that allows it the efficiency of a 32cc gas chainsaw. The XCU03PT1 is the ultimate solution for your household cutting uses with no emissions, lower noise levels, with practically no maintenance needed.
On top of that, it's perfect for inexperienced people. You won't have to change the engine oil, replace any spark plugs, clean the air filter or drain the fuel before storing.
Two of my favourite features on the Makita XCU03PT1 are the Extreme Protection Technology (XPT) which increases dust and water resistance in harsh working conditions. There's also no need to wear hearing protection because of the reduced noise feature!
Pros
Brushless motor technology
Variable trigger speed
Reduced sound
Zero emissions
Reduced maintenance
Tool-less chain adjustment
Dust and water-resistant
Long battery life
Cons
The automatic shut-off switch powers the chainsaw down after only a few seconds of non-activity.
Comparing some Alternatives to the Makita XCU03PT1 Cordless Chainsaw
Best Mid-Range: Makita EA4300FRDB 16″ 42cc Chainsaw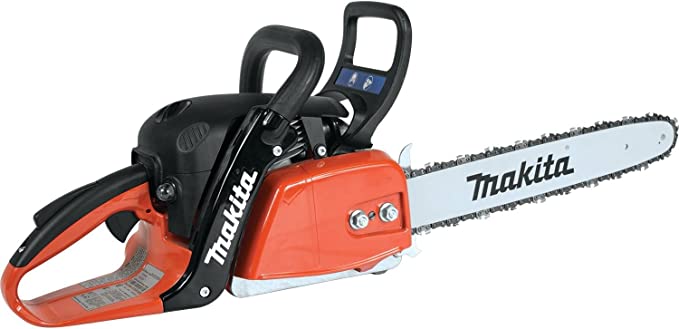 Weight: 10.8 lbs
Dimensions: 11 x 16.5 x 12.6 inches
Horsepower: 3 HP
Motor: Brushless
Bar Length: 16"
Chain Cutting Speed: 13,500 RPM
This is the perfect model for you if you're looking for a mid-range chainsaw that performs all the basic functions at a professional level. The EA4300FRDB is Makita's best-in-class mid-sized chainsaw with several professional features.
This model differs from others on this list due to its reduced weight and increased durability. It has an industrial-level 2-sided magnesium (not aluminium) crankcase and a spring-assisted starter with optimised engine management.
The spring starter allows faster and easier starts by reducing the required force. This model also includes Makita's easy start technology, which combines spring-aided engineering and a new low-spark ignition coil with Memory-Power-Ignition (MPI).
I did have issues with the low quality of the chain sprocket compared to other models. The bar of this chainsaw model is also narrower than expected, so keep that in mind before buying.
Pros
Cons
Low-quality chain sprockets
Narrow bar
Comparing some Alternatives to the Makita EA4300FRDB 16″ 42cc Chainsaw
Best Light-Weight: Makita EA5600F 18″ 56cc RIDGELINE™ Chainsaw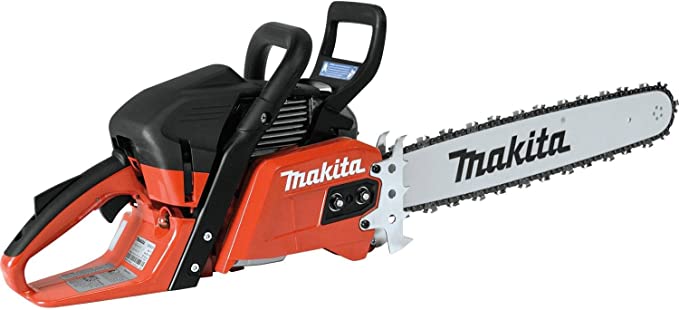 Weight:12.8 lbs
Dimensions:10.63 x 21.65 x 12.6 inches
Horsepower: 4.1 hp
Bar Length: 18"
Chain Cutting Speed: 13,800 RPM
Battery/Charger: 20V/2.0Ah
Because of its high power-to-weight ratio, simple start, and low vibration, the Makita EA5600FREG 18″ 56cc Chainsaw can handle various tasks. The heavy-duty cartridge filters also increase durability while requiring less maintenance.
The EA5600FREG includes a chain compartment that is easy to clean, even when ripping. The advanced vibration-dampening system also reduces the noise level significantly. The EA5600FREG is a versatile trimming and snipping tool that works well in agricultural and ranching environments.
It features a powerful 4.1 horsepower stratified air scavenging engine that enhances fuel efficiency while delivering high-cutting performance. The design is also compact (12.8 lbs), resulting in a more efficient cutting process.
It is possible to shut off the engine using a single lever that controls the touch-and-stop system. If you have baffles that slide out, you can arrange them to make them more effective in cold weather. The chain brake is two-pointed, long-lasting, mechanical and inertia-based.
Pros
Well balanced
Vibration dampening
Two-pointed chain brake
Cons
Comparing some Alternatives to the Makita EA5600FREG 18″ 56cc RIDGELINE™ Chain Saw
Best Professional: Makita EA6100PRGG 20″ 61cc Chainsaw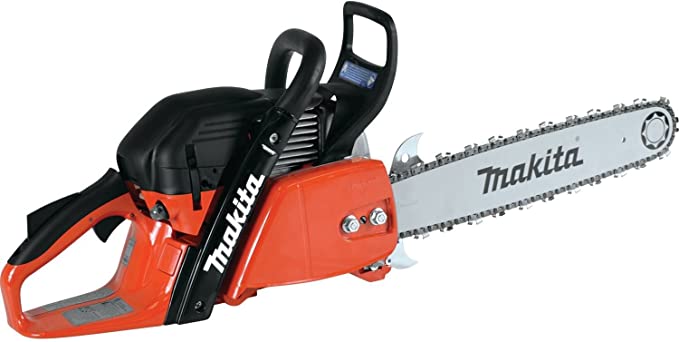 Weight: 10.8 lbs
Dimensions: 11 x 16.5 x 12.6 inches
Horsepower: 3 HP
Motor: Brushless
Bar Length: 16"
Chain Cutting Speed: 13,500 RPM
The Makita EA6100PR 20-inch 61cc professional chainsaw has a high power-to-weight ratio, is easier to start, and generates less vibration than comparable models. The 61cc engine has 4.6 HP and a heavy-duty filtration system for improved durability. The spring-assisted starter makes starting the engine a breeze.
The single-lever touch & stop operation allows you to turn it off quickly in case of emergencies. The innovative vibration-dampening system is also effective in reducing the chain's noise. The chain compartment in the EA6100PR is also simple to clean for fast chip removal.
This spring-assist starter is easy to use, and the engine management is optimised for fast, easy starting. The housing is made of magnesium, which is stronger and lighter than most steel variants.
The compact design provides ease of cleaning and comfort for the operator. The baffle can be slid out to accommodate different configurations for optimal performance in cold weather.
Pros
High power: weight ratio
Easy maintenance and start
Durable
Cons
The easy start mechanism glitches occasionally
Expensive
Comparing some Alternatives to the Makita EA6100PRGG 20″ 61cc Chainsaw
Final Verdict
Out of all the Makita chainsaws I've tried, the Makita XCU03PT1 Cordless Chainsaw takes the cake in every aspect. It has the best horsepower, overall weight, speed, and bar length combination. However, if you're looking for a mid-range professional option, the Makita EA4300FRDB 16″ chainsaw is your best bet.
Outstanding Features of Makita Chainsaws
Warranty
While Makita guarantees that all its chainsaws are free of all material and workmanship defects, they carry a 1-year warranty (from the purchase date). Additionally, if the issue is caused by defective workmanship or materials, Makita will repair or replace the part(s) free of cost.
Customer Service
Makita's customer service is touted as responsive and effective though the reviews I've gone through describe it as average-good. While the company doesn't have as many customer care centres as Worx or Stihl, they provide a range of replacement parts and accessories on their website.
Design and Maneuverability
Makita chainsaws are incredibly lightweight compared to their counterparts due to their magnesium outer casings. The auto brake in the models I've listed above is also a handy safety feature. The rear handle of Makita chainsaws also has a very high grip that allows you to keep cutting without fatigue.
Durability
Makita chainsaws are also highly durable in harsh weather conditions. Makita incorporates its Extreme Protection Technology in its latest chainsaw models to make them resistant to water, dust, and debris.
FAQs
Are Makita chainsaws worth it?
Makita chainsaws are some of the best on the market right now. The Makita XCU03PT1 Cordless Chainsaw is definitely a top contender in the chainsaw market.
Are Makita chainsaws loud?
Makita chainsaws have reduced noise pollution technology, so they're so quiet you don't even need hearing protection. This is my favourite feature since I find it much easier to work without the distraction of hearing protection.
Are Makita chainsaws durable?
Yes, Makita chainsaws are very durable. They have many features, like brushless motors and current limiters, which can help prolong the life of your model.
Will my Makita chainsaw run out of power?
That depends on the type of Makita chainsaw you're using. Electric chainsaws need a running electrical connection. Battery and gas-powered chainsaw models have limited running time before recharging or refilling. The XCU03PT1 includes 4 lithium-ion batteries, so you can always have a pre-charged backup pair to pop in as soon as one runs out.
For over ten years, I have had the luxury of trying out all chainsaw types as a user, primarily for all their possible functions. My vast experience and growing chainsaw collection are why you can trust this site's information.