Are you looking to cut your own firewood?
And need a chainsaw that can handle the job?
If so, you've come to the right place.
On this page, I'll show you how to find the best chainsaw for cutting firewood so you can speed through this task with ease.
The last thing you want is to buy a chainsaw that won't meet the demands of cutting hard firewood. Not only is it frustrating but you could also burn out the tool, or worse, suffer from a serious injury.
And that's why this guide exists.
To help you pick the best chainsaw for firewood that'll make your life much easier and keep you safe.
So, let's get into it!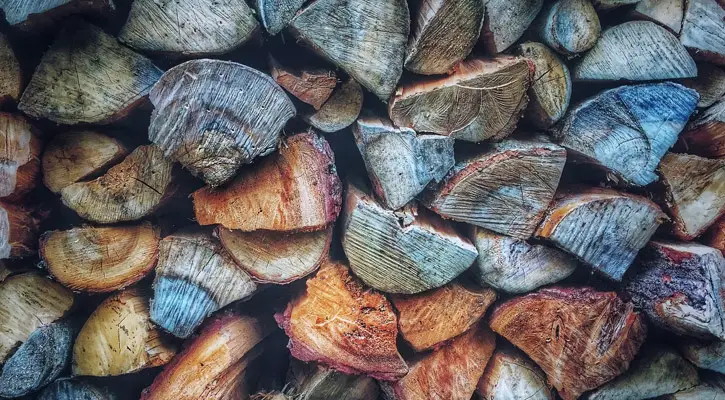 Disclosure: The chainsaws recommended below are my top favorites because they have a great combination of quality and features. As an Amazon Associate, I earn from qualifying purchases made through the links as a way to support this site. If you buy a qualifying product, you're not charged anything extra, but I'll get a small commission to help pay for my expenses. I hope you find my advice helpful and discover the best chainsaw for your needs on this list.
Chainsaws Reviewed in This Guide
Here's a quick comparison chart showing the top chainsaws for firewood. I'll go in depth about each one later in this guide, but this gives you a sense of what's available and a simple way to quickly compare them.
What is the Best Size to Cut Firewood?
Before we jump into the list of chainsaws, it's important for you to know the best size for cutting firewood.
That way, you'll understand why certain chainsaws are better than others for this task.
When you're using a chainsaw for cutting firewood, you'll most likely find yourself splitting a log into halves or quarters.
There are two general rules of thumb for cutting the right size for each piece of firewood:
Cut it no longer than 18 inches, with 16 inches being the most ideal for indoor fireplaces.
Cut it no thicker than 8 inches, with 3 to 6 inches being the most ideal size for indoor fireplaces.
You basically want each piece to be easy to hold with one hand without having to stretch your fingers. And, depending on where you intend to use the firewood (indoors or outdoors) will determine how big each piece should be.
What is the Best Size Chainsaw for Cutting Firewood?
Now that you have that basic understanding of the best size to cut firewood, we can move on to explaining what the best length for the chainsaw is.
When choosing a chainsaw for cutting firewood, you first want to think about the width of the trees you're going to be cutting most of the time.
If you're cutting down average size trees that are between 14 to 16 inches in diameter, then you'll want a 16 to 18-inch chainsaw. However, if you're taking down massive trees that span 20 to 24 inches wide, then a chainsaw of that length won't cut it for the long haul. You'll want something longer so you can slice it in one pass.
For most people, an 18-inch chainsaw is the best length to buy because it can handle 90% of the trees you're likely to cut up.
For that other 10% of jobs, you'll want a 20 to 24-inch chainsaw, if you plan on cutting wood that thick.
How to Cut Firewood with a Chainsaw
I'll get into the list of the best chainsaws for cutting firewood next, but if you've never cut a log into firewood before, then you'll want to read this short section.
Cutting firewood with a chainsaw is different than using an axe.
With an axe, you set the tree log down so it's standing up vertically. Then, you come down on the wood with an axe to split it in half and into quarters.
Not so with a chainsaw.
In the previous section, I explained how it's best to cut a piece of firewood into 16 to 18-inch lengths. Not only is this to accommodate the size of a fireplace but it also makes the job of cutting the firewood easier
Heres why:
With a chainsaw, it's much safer and faster to set the tree log on a stump horizontally. You prevent it from rolling away by wedging two smaller pieces of wood on each side of the log.
Then, you take the chainsaw and cut through the full length of the log in one pass to make two halves. Once that's done, you take each half and repeat the process to cut those pieces in half again to make quarters.
If you take my advice and initially cut your logs into 16 to 18-inch pieces, you can rip through the full length of the log in one pass with an 18, 20 or 24-inch chainsaw.
That's why those are the most recommended sizes for the best chainsaws for firewood.

Complete Chainsaw Reviews & Buying Guide
Now that you know how to properly cut firewood with a chainsaw and which lengths of blades to buy, we can now move onto the list.
Below, you'll find the top chainsaws for cutting firewood in 18, 20, and 24-inch lengths.
If you want power and speed, go with a gas chainsaw.
If you want to save money, go with a corded electric chainsaw. They're the cheapest but do take longer to get through a piece of wood.
If you want convenience, go with a battery powered chainsaw; however, they do have limited cutting times on each charge so you may want to consider buying a one or two extra batteries with your purchase.
Note: Electric and battery chainsaws don't come any longer than 18 inches. That's because the internal motors cannot drive a longer guide bar and chain. If you want a 20 or 24-inch chainsaw for firewood, you'll need to choose a gas powered model like the ones reviewed below.
Best Chainsaws for Cutting Firewood List
18-inch (Gas Powered
)
If you're looking for the overall best chainsaw for cutting firewood, this is the top model you can buy today.
Husqvarna is one of the leading brands in the chainsaw market and has been around since 1689. You can't go wrong purchasing one of their products but they do come at a higher price than other budget brands.
What makes this chainsaw a top winner is the fact that it's the lightest gas powered tool you'll find for cutting firewood. It only weighs 11 pounds which is about half the weight of most other chainsaws in this class.
Other features you'll come to enjoy include:
X-Torq Engine that lowers emissions by 60% and reduces fuel consumption by 20%. This saves you money on fuel and lets you cut for longer periods of time on each tank.
Inertia-Activated Chain Brake. This is the best version available for stopping the chain during a sudden kickback.
Automatic (Adjustable Flow) Oiler. This lubricates your bar and chain automatically with the additional option of adjusting that flow for tougher jobs.
Centrifugal Air Cleaning System. This keeps large sawdust out of the air filter which results in fewer cleanings and a longer-lasting chainsaw.
For the money, this is the most advanced chainsaw ripping through firewood you can buy today. If you want a top-grade tool for life, you should try this model.
18-inch (Gas Powered
)
If you want to save a bit of cash and still get a gas chainsaw for firewood, this is your next best choice.
While it's less than half the cost of the Husqvarna model I previously reviewed, this Remington chainsaw is still a great tool for slicing through wood.
The engine may not be as powerful as the Husqvarna chainsaw but you do get these high-performance features:
Quickstart Technology. This makes starting easier.
Automatic (Adjustable Flow) Oiler. Same method as the Husqvarna model.
5-point Anti-Vibration System. This takes the vibration out of the handle to make it easier to handle for long periods of time.
Tool-Less Chain Tensioner. This allows for super-quick chain adjustments while you're out cutting firewood.
Manual Chain Brake. This is the standard method for protection against kickbacks.
If you want the second best chainsaw for firewood, this model is the most affordable option out there.
18-inch (Battery Operated)
Battery chainsaws are the next best thing to gas chainsaws when it comes to cutting firewood.
They offer all of the conveniences of gas powered models but without the hassle of mixing fuel, cleaning air filters, changing spark plugs, or maintaining a carburetor engine.
If that appeals to you, then this Greenworks model is one of the top chainsaws you can buy for firewood.
It offers solid performance that delivers professional-level results.
As for features, you'll get:
Super lightweight design at just 10 pounds.
30-45 minutes of actual cutting time on each battery charge.
30 minutes to recharge each battery.
Aut

omatic (Fixed Flow) Oiler. This keeps the bar and chain well lubricated at all times

.
Tool-Less Chain Tensioning System. This lets you adjust the tension of the bar and chain without any special tools required.
For anyone who wants a powerful chainsaw without the hassle of gas, fumes, or heavy gear, this is a clear winner.
18-inch (Corded Electric
)
Perhaps you want to spend the least amount of cash on a chainsaw to cut your firewood.
If that's the case, then a corded electric chainsaw like this one is what you need. The only tradeoff is that you'll be tied to an extension cord.
However, if you don't take your tool longer than 100 feet from the house (the common length for a chainsaw extension cord), that limitation won't be a big deal for you.
Also, this machine does cut slower than the other chainsaws reviewed on this page. But, if you're not in a time crunch to slice up your firewood, then that speed doesn't matter.
The most notable features include:
Patented Auto-Tensioning Chain System. A one-of-a-kind system that keeps the chain properly tightened for hundreds of cuts. It also prevents over-tightening

which can damage your tool.
Automatic (Fixed Flow) Oiler. This provides effortless bar and chain lubrication.
Unlimited cutting times.

As long as it's plugged in, you can cut forever without stopping to refuel or change batteries.
If you want the least expensive and best chainsaw for firewood in a corded electric model, this machine is a great choice.
20-inch (Gas Powered)
If you need a gas chainsaw that has a tad more reach, this model won't disappoint.
For the money, it's one of the most affordable and toughest 20-inch chainsaws for cutting firewood out of thicker trees.
The best features include:
OxyPower Engine Technology produces 70% fewer emissions and has 20% lower fuel consumption. A similar advancement to the more Husqvarna chainsaws reviewed on this page.
Inertia-Activated Chain Brake. This is the best version available for stopping the chain during a sudden kickback.
Side-Mounted Chain Tensioning System. This allows you to make chain adjustments while in the field. The special tool is integrated into the rear handle.
Automatic (Fixed Flow) Oiler. This keeps your bar and chain well lubricated at all times.
If you live in an area that has slightly larger than normal trees, this is a good chainsaw to buy. The 20-inch blade should give you that extra bit of reach you need to slice logs in one pass.
24-inch (Gas Powered)
My final recommendation for the best chainsaw for cutting firewood is this Husqvarna model here.
If you've got huge logs to split into firewood, then a 24-inch chainsaw is the machine to use.
What's great about this model is that it offers all of the same powerful features as my #1 review, but comes in a 24-inch bar and chain.
If you need a beast of a machine for slicing up big piles of firewood, then look no further than this tool. This gas chainsaw has the length and power you need.
Features are the same as my #1 review:
X-Torq Engine that lowers emissions by 60% and reduces fuel consumption by 20%.
Inertia-Activated Chain Brake.
Automatic (Adjustable Flow) Oiler.
Centrifugal Air Cleaning System.
Heavier, at 25 pounds.
All-in-all, there are not too many other chainsaws of this size that can compete with this brand when it comes to cutting firewood.
---
Additional Information on Chainsaws and Firewood
If you're new to cutting, seasoning, and storing firewood, then the following information can help.
It goes over the most common things you need to know about those processes so you can ensure you have the best firewood possible when it comes time to actually burn it.
What are the Best Types of Wood for Firewood?
The truth is that any type of wood can be used for firewood; however, each species of wood burns at a different rate.
Depending on the length of time you're looking for in each burn will determine the type of wood you should use for firewood.
In general, hardwoods are denser than softwoods, and therefore, hardwoods burn longer.
For example, a hardwood of the same size as a softwood may burn for several hours while the softwood could burn up in under one hour.
Here's a list of tree species that are most commonly used for firewood. Species at the top of the list are the hardest woods and the species at the bottom of the list are the softest woods.
As you go down the list, the species in the lower half are best for spring and fall since they are faster burning and easier to control. They also don't overheat your house as much as harder woods in the top half of the list.
Hardest Wood (Longest Burning)
Ironwood
Rock Elm
Hickory
Oak
Sugar Maple
Beech
Yellow Birch
Ash
Red Elm
Red Maple
Tamarack
Douglas Fir
White Birch
Manitoba Maple
Red Alder
Hemlock
Poplar
Pine
Basswood
Spruce
Balsam
Softest Wood (Shortest Burning)
Seasoning Your Firewood
No matter which type of wood you use for firewood, it must be properly seasoned to get the best burn out of it.
"Seasoning" your firewood is just another way of saying "drying" your firewood.
On the surface, wood may seem dry; however, the interior retains a lot of hidden moisture. When a tree is freshly cut, it can contain up to 50% moisture. And, wet wood is not very good for burning since it can smoke or smolder and it produces less heat than seasoned wood.
Properly seasoned firewood should have around 15-20% moisture content.
How do you season firewood?
By letting it sit out to dry.
In general, hardwoods need about 1 to 2 years of drying time for proper seasoning while softwoods only need between 6 to 12 months.
Also, split wood dries quicker and burns better than uncut round logs.
How do you know when firewood is properly seasoned?
There are a few things you can look for in your firewood to tell if it's dry enough to burn well. Use as many of the clues below to judge the dryness of your firewood.
When you bang to logs together, a hollow sound is heard as opposed to a thud
Split a piece of firewood. If the interior feels damp to the touch, it's still too wet to burn.
Look for cracks on the ends of the wood.
Check the coloring of the wood. Wet wood is white, cream, or light brown while dry wood is gray, yellow, or deep brown.
Feel the weight. Dry wood is much lighter than wet wood.
If after testing your firewood you're still in doubt, the easiest solution is to burn some of it. Wet wood is hard to light and will hiss in the fire while dry (seasoned) wood ignites easily and doesn't make a hissing sound.
Stacking and Storing Your Firewood
After you've cut up your firewood with a chainsaw, the next step is to stack and store it.
Following a few guidelines here will keep your wood in great condition until it's ready to be used.
Stacking Firewood
Don't let the cut firewood lay on the ground. Raise it a few inches off the ground by stacking on lumber rails, pallets, or poles.
Stack cut firewood in separate rows so air can reach all sides.
Don't stack firewood against a wall.
Stack the wood in an open location where the sun can reach it to dry it out.
The top of each stack can be covered with a tarp to keep the rain off of it but don't cover the sides.
Storing Firewood
After your firewood has been well seasoned, you can then move it to a new location to store it for future use.
Never store firewood next to or inside your home. It could have termites or carpenter ants and you don't want to bring those pests into your house.
The best places to store your firewood is in a shed or under a covered area that's protected from rain and snow.
If you don't have a shed, cover the pile of wood with a tarp and weigh it down with stones or bricks. Just don't cover it too tightly since the wood needs some ventilation to prevent moisture build-up and mold.
The bulk of your firewood should be stored outside. Only bring enough firewood indoors to last one or two days of burning.
Common Questions About Chainsaws and Firewood
Can I use a chainsaw to split wood?
Yes, you can use a chainsaw to split wood. Just make sure that the blade is at least 2″ longer than the wood you're splitting. That length will give you enough clearance to make a full cut in a single pass.
The best chainsaws for firewood and tree cutting are 18-24″ in length, as explained in the guide above.
What is the best length to cut firewood?
The best length to cut firewood is 16″ for indoor use and 18″ for outdoor use. However, you can cut firewood any length you choose. Just keep in mind that firewood for indoor use can't be too long or it won't it inside a fireplace.
Can you cut wet wood with a chainsaw?
Yes, you can cut wet wood with a chainsaw. The additional moisture in wet wood won't hurt your chainsaw and it doesn't take longer to cut. However, the sawdust from cutting wood will stick to the chain more than dry wood. Each of the chainsaws reviewd on this page can work for wet wood.
What size chainsaw do I need to cut down a tree?
The best size for cutting down a tree with a chainsaw is 2″ longer than the tree's diameter. So, if you want to cut a 16″ tree in one pass then an 18″ (or longer) chainsaw is ideal. The extra 2″ of space helps to prevent kickback. To cut down a tree that's larger than the chainsaw's blade, you can make two opposite passes.
Can I put a larger bar on my chainsaw?
Yes, most chainsaws allow you to use up to three bar sizes, but you need a bar that's designed to fit on your chainsaw. The bar must match the hole spacing where it attaches as well as the chain/sprocket configuration.
Usually, you only want to go up one bar length when changing to a larger bar. For example. if you buy an 18″ chainsaw, then swapping out a 20″ bar should work fine but a 24″ inch bar may not.
As you increase bar size, the performance of your chainsaw goes down. Each size engine and electrical motor is built to handle a specific bar size. So, check your individual model and owner's manual for guidance.
Some common power to size bars include:
| Power Size | Bar Size (Inches) |
| --- | --- |
| Gas: 32cc – 42cc | 14-16″ |
| Gas: 45cc – 50cc | 18-20″ |
| Gas: 51cc – 60cc | 20-24″ |
| Battery: 18-24 Volt | 10″ |
| Battery: 36-40 Volt | 12-16″ |
| Battery: 56-80 Volt | 16-18″ |
| Corded Electric: 8-10 Amps | 10-14″ |
| Corded Electric: 12-15 Amps | 16-18″ |
Closing Thoughts on My Best Chainsaws for Firewood Reviews
As you learned, the best chainsaw for firewood is an 18-inch machine because it's one of the most versatile tools for this task.
With that size chainsaw, you can cut down average size trees and slice it up into useable firewood pieces without having to grab another tool.
However, for bigger trees, a 20 or 24-inch chainsaw may be necessary to get through the job at a faster rate.
On this page, I reviewed the top chainsaws for firewood that span between 18 to 24 inches. I hope you found the tool you need and it serves you well for years to come.
However, cutting firewood is just one way to use a chainsaw. And because there are so many other things you can do with these tools, I've put together additional guides to help you find the right chainsaw for those needs.
If you're in the market for buying more than one chainsaw, I encourage you to check out my best rated chainsaws page. It includes the top chainsaws for every purpose and length to get a multitude of jobs done around the yard.
I also have another post that includes the best all around chainsaw models which come in 14 to 16-inch lengths. These are great sizes for a number of common outdoor tasks.
Some other good guides include the best homeowner chainsaw list and the best value chainsaw list.
And finally, if you like the idea of having a gas chainsaw and also want something a bit smaller in your kit, take a look at this post on best lightest chainsaws here. It has several recommendations for small and lightweight chainsaws to meet that particular need.
So, take a quick look at those links to see what other options you have.
I hope you enjoyed this guide on finding the best chainsaw for cutting firewood.
Happy sawing!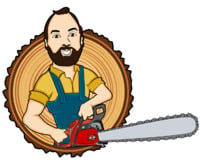 Your Pal,
Chainsaw Larry