Are you looking to buy a chainsaw?
But don't want to deal with mixing gasoline or the hassle of a power cord?
If so, you've landed on the right page.
In this guide, I'll show you how to find the best battery-powered chainsaw that'll meet all of your wood cutting needs.
You'll find everything from the best cordless chainsaw that's cheap (for trimming and limbing) to big burly battery-operated chainsaws that can easily take down a tree.
If you've got any wood to cut, my list of the best battery chainsaws is exactly what you need.
But that's not all you'll find here.
In addition to my battery chainsaw reviews, you'll also find the top features you need to look for in a high-quality tool, as well as get answers to the most common questions you might have about these machines.
So, let's get started.
I can't wait to help you find the best battery-operated chainsaw for your needs!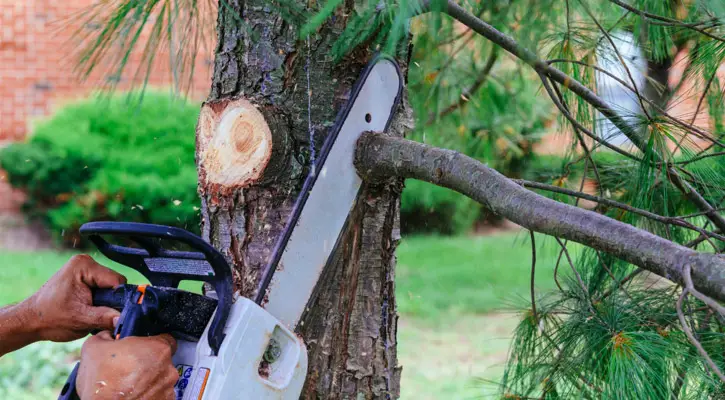 Disclosure: The chainsaws recommended below are my top favorites because they have a great combination of quality and features. As an Amazon Associate, I earn from qualifying purchases made through the links as a way to support this site. If you buy a qualifying product, you're not charged anything extra, but I'll get a small commission to help pay for my expenses. I hope you find my advice helpful and discover the best chainsaw for your needs on this list.
Best Battery Chainsaws Reviewed in This Guide
Here's a quick comparison chart showing the top battery chainsaws. I'll go in-depth about each one later in my cordless chainsaw reviews, but this gives you a sense of what's available and a simple way to compare them quickly.
Advantages to Using a Cordless Chainsaw
Before we jump into my list of the best cordless chainsaws, I wanted to go over the advantages these tools have to offer.
Traditionally, chainsaws have been powered by gasoline, but the noise, emissions, maintenance, and heavyweight doesn't make them ideal for every operator.
So, seeing all of the benefits of battery-powered chainsaws laid out in front of you will help you enjoy the tool you buy even more.
Quiet — Cordless chainsaws are much quieter than gas chainsaws. Plus, battery chainsaws only make noise when you pull the trigger. That'll keep your neighbors happy and makes it easier for you to communicate with others around you.
Non-Polluting — Since battery powered chainsaws don't use gasoline, there are no fuel emissions to worry about. That's good for both your health and the environment.
Less Engine Maintenance — The fact is gas chainsaws have fragile engines and require constant maintenance. Plus, transporting and mixing gasoline with oil is a real chore. With cordless chainsaws, there are fewer parts to wear out and all it requires is popping in a fresh battery to start cutting.
Cheaper to Own — With no fuel to buy and less maintenance, battery chainsaws are cheaper to own over the years.
Long Cutting Times — The best battery chainsaws last up to one hour for total cutting time. In reality, you're not pulling the trigger every second, so you'll likely get several hours out in the field on one battery charge.
Universal — One thing that makes cordless chainsaws even more perfect is that the batteries can be used with other products of the same brand. Once you invest in a machine, you can power other things blowers, mowers, trimmers, and more.
The Best Battery Powered Chainsaw Features
Now that you know the benefits of owning a cordless chainsaw, here are some of the top features you should look for when comparing products.
Battery Life
The number one feature you should consider is how long the battery lasts on your chainsaw.
If it has a short run time, you'll get frustrated using it out in the field. Nothing's worse than having to stop what you're cutting to swap out batteries every 10 minutes.
Ensure the battery-operated chainsaw you choose gives you enough time to finish the jobs you need to get done.
To make things easy for you, my battery chainsaw reviews below include the actual cutting time you can expect out of each chainsaw.
Battery Charging Time
In addition to battery life, the charging time is also a crucial element of concern.
You don't want to wait 3 hours for a battery to recharge for it to only last 15 minutes.
The best balance I've found in a battery-powered chainsaw is a 20 minute charge time for one hour of cutting time. (You'll find it in my #3 best battery-powered chainsaw review below.)
Bar Length
Another top feature you need to consider is the length of the chainsaw's guide bar.
The length of this bar will determine the size of trees, logs, and branches you can cut.
Although you may be tempted to buy the longest chainsaw out there, that's not always the smartest thing to do.
In fact, the rule of thumb is to use a chainsaw bar length that's 2 inches longer than the wood you want to cut. That gives you enough clearance to prevent dangerous kickback (a sudden thrust of the saw blade back towards the operator).
So, choose the best battery-powered chainsaw with a bar length appropriate for the cutting you intend to do.
For example, if you're doing a lot of delimbing and trimming, go for a small 8-12 inch cordless chainsaw (like my #1-3 picks below). If it's a lot of tree cutting and firewood chopping, choose a 16-18 inch chainsaw (like the #4 and #5 best battery chainsaws below).
Oiling System
Every chainsaw needs to be properly lubricated or burn up the motor and destroy the bar and chain.
Therefore, all chainsaws come with a way to oil these important components. But, the method each chainsaw uses can be vastly different.
When it comes to battery-operated chainsaws, I recommend that you buy one with an Automatic (Adjustable Flow) Oiler if it's available or an Automatic (Fixed Flow) model as a second choice.
Here's how each type works:
Manual Oiler – Operates with a push button. You control the amount of oil and when the flow occurs with every pump. Some people don't mind this, but it's not ideal if you want a maintenance-free chainsaw.
Automatic Oiler (Fixed Flow) – Self-lubricates everything with a fixed rate of oil flow. You never have to touch a thing to ensure your chainsaw bar and chain are being properly oiled.
Automatic Oiler (Adjustable Flow) – Self-lubricates at a constant rate, but gives you the option to adjust the rate of flow. It's the best type of oiler you can get.
Tool-Less Chain Tensioning System
The truth is chainsaw chains need to be adjusted almost every time you fire up the tool.
New chains stretch out rather quickly and need to be readjusted on the guide bar several times before they're broken in.
There are two designs out there for how you can adjust a cordless chainsaw's chain: using a scrench (screwdriver/wrench combination tool) or a tool-less adjustment knob.
When it comes to battery-powered chainsaws, I recommend that you opt for the tool-less chain tensioning system. It's easy to use, doesn't require a special tool, and lets you quickly adjust the tension of your chain on the fly while you're out cutting wood.
Best Cordless Chainsaw Reviews & Buying Guide
Now that you know some of the key features to look for in a battery chainsaw, we can move on to the list of the best cordless chainsaws you can buy today.
To make it easier for you to find the right tool, I've started with the shortest chainsaw and worked my way up.
If you need a chainsaw for trimming and pruning, the first two cordless chainsaw reviews are going to be your best options. If you need something to take down trees, the last two suggestions are what you'll want. For everything in between, review number three is a good choice.

Best Battery Powered Chainsaws List
8-inch Bar and Chain
If you're looking for a small, lightweight, cordless chainsaw that can reach high up into the trees, this might be the best deal for you. 
Not only is this battery-powered chainsaw low cost, but it takes the difficulty out of trimming high overgrown branches. With a few twists of the telescoping pole, you can reach an extra 8 feet in the air to cut limbs at a distance.
Additionally, this chainsaw weighs around 8 pounds, so you shouldn't have any trouble holding it for long periods of time.
As for cutting time, you're getting a generous one hour on each charge. That's more than enough for most people. However, it does take an equal amount of time (one hour) to recharge it.
Since you're using this chainsaw at higher altitudes, the Automatic (Fixed Flow) Oiler is a perfect system for taking the guesswork out of oiling the bar and chain to ensure lifetime durability.
The Tool-Less Chain Tensioning System is also a great addition to an already decent power tool, allowing you to fine-tune the chain without any additional tools.
If you're looking for the best battery-operated chainsaw with an extendable pole, you'll be pleased with this one.
10-inch Bar and Chain
If you need a chainsaw with a bit more length, this is the best battery-powered chainsaw you can find with a 10-inch bar.
You'll find that it works great for simple jobs around the yard, like pruning branches and cutting up smaller trees. For those scenarios, you can't go wrong with this chainsaw.
It's very lightweight too—at 7 pounds—and easy to maneuver in close-quarter settings and awkward situations.
The cutting time is perfect for the tasks it's made to handle (30-45 minutes). However, it does take a much longer time to charge (up to 2 hours). So, you may consider picking up an extra battery or two if you plan to do some all-day jobs.
As for bar and chain adjustments, you can make speedy changes thanks to the Tool-Less Chain Tensioning System.
I do want to point out, though, that BLACK+DECKER calls this a self-oiling chainsaw. But the truth is, it actually has a Manual Oiler. You have to push a small rubber button to oil the chain. So, keep that in mind when you're using it.
All in all, this is a great chainsaw for anyone who needs a small battery chainsaw with a decent cutting length. It's also good for someone who wants to fill out their collection with something they can grab quickly for small jobs around the house.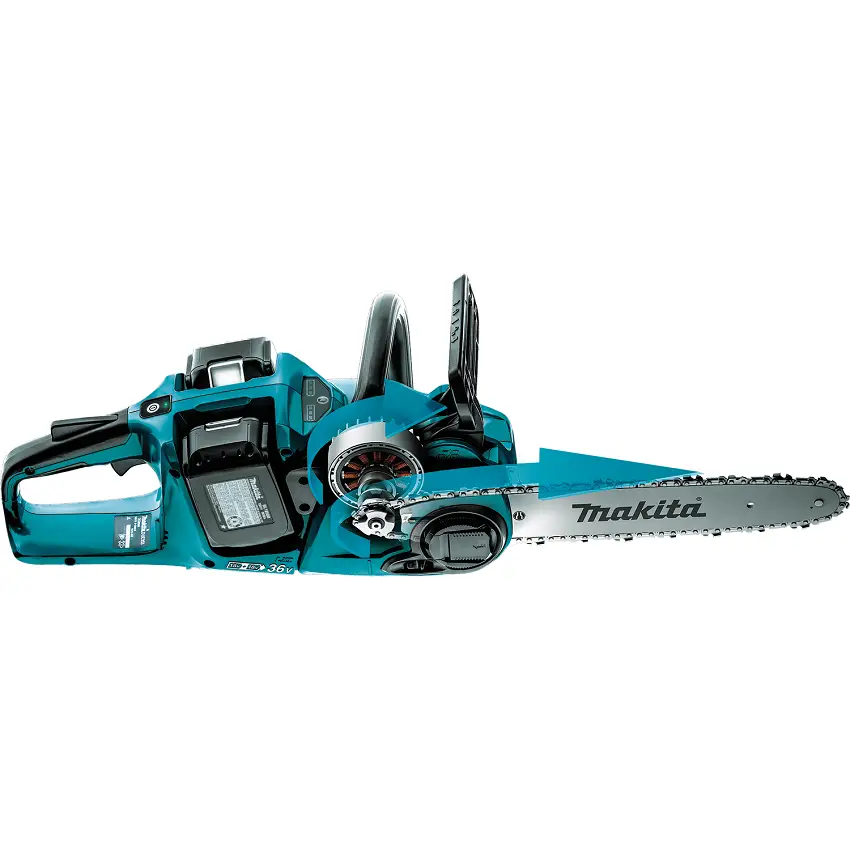 If you're looking for the best battery-operated chainsaw that offers convenience, efficiency, and productivity, this is it.
The Makita XCU04PT1 is a cordless chainsaw that's been done right.
Not only does it cut wood up to 16 inches thick, but it also weighs just over 10 pounds with two batteries attached. That's a fantastic weight for a medium-sized chainsaw.
However, the best part is that this machine can last for two full hours of cutting time when you purchase the 4-battery kit. And it only takes 20 minutes for each battery to charge.
A 2-battery charger is included, so you can get 1 hour of cutting time on a charged set, or you can upgrade to the 4-battery charger to have everything fully charged in under a half-hour.
Another standout feature is the Automatic (Adjustable Flow) Oiler for bar and chain lubrication. This is the best-of-the-best type that self-lubricates while also giving you additional control over the oiling process when you need it.
Like every other chainsaw on this list, it also includes a Tool-Less Chain Tensioning System for convenient operation and maintenance.
This is the best battery chainsaw to use for a wide assortment of residential projects, like trimming jobs, cutting down small trees, clearing brush, etc.
16-inch Bar and Chain
Perhaps you want the best chainsaw that delivers the performance of a gas-powered model but offers the convenience of running on batteries.
If so, this is going to be one of your top choices.
With a 16-inch guide bar, you can get a lot done—and fast.
You can use it for cutting down medium-sized trees, slicing up firewood, clearing brush, and even doing some pruning along the way without having to pick up another chainsaw.
What's also nice is that even though this is a bigger chainsaw (weights 17 pounds), the battery has enough juice to support it. Overall, you get a generous one hour of heavy cutting time, and it takes just over 60 minutes to recharge it.
As for chain oiling, the Automatic (Fixed Flow) Oiler keeps it properly lubricated at all times without any buttons to mess with. That's great news if you want a maintenance-free machine without any worries about the bar or chain getting damaged.
Finally, this model also includes a Tool-Less Chain Tensioning System for fast chain adjustments while you're out in the field.
There's not much else you can ask for.
18-inch Bar and Chain
This model is the best cordless chainsaw available because it offers extreme performance with a long guide bar.
At 18 inches (and only 10 pounds), this chainsaw is a beast for tackling those heavy-duty jobs around the house and yard.
With it, you'll be able to tackle the toughest cutting jobs without any hassle. You can cut down thick trees, cut up fallen deadwood, chop up firewood, and more.
The 80V battery gives you around 30-45 minutes of cutting time, and it only takes about 30 minutes to charge.
Another great feature on this chainsaw, which other battery-powered chainsaws don't have, is Bucking Spikes. These metal spikes let you dig the base of the chainsaw into a log so you can make a more precise cut. They also act as a safety measure by securing the saw to prevent kickback if the chain gets pinched or the tip nips a hard object.
While an Automatic (Adjustable Flow) Oiler would have been a nice bonus on this machine, it has the Fixed Flow version to keep your saw well lubricated 100% of the time.
It also has a Tool-Less Chain Tensioning System for quick and easy chain adjustments.
This is the best battery-operated chainsaw you can buy for a serious user.
---
Additional Things to Consider On a Battery Chainsaw
While I tried to point out all of the top features for each product in my battery chainsaw reviews above, there are a few additional items you may want to consider regardless of the tool you choose.
The accessories and features mentioned below can help you get the most out of your tree-cutting experiences.
Bar Oil
Every chainsaw needs bar oil. Bar oil is a specially formulated oil designed to stick to the chain and guide the bar of the chainsaw.
You can't just use motor oil as a replacement for bar oil because it will sling off the chain at too fast of a rate. Using motor oil can also burn up your chainsaw's bar and chain, which will spell disaster for your tool.
Unfortunately, new chainsaws don't come with bar oil in the box.
When you read the owner's manual of each manufacturer, you'll find that they recommend a specific type of bar oil to use on their chainsaw. Often, they have a proprietary oil that they want you to buy to make extra money.
However, you can usually get away with using "Oregon 54-026 Premium Bar and Chain Oil" since it's a high-quality product.
So, plan to pick up a cheap quart along with your chainsaw purchase.
Related Post: Best Chainsaw for Home Use Guide
Tip Guard
A Tip Guard, Nose Guard, or Kickback Guard are all terms related to the same safety mechanism.
These guards are bolted onto the tip of the chainsaw and designed to protect you against rotational kickback that can happen when the tip of the chain makes contact with logs and branches.
Sudden kickback is a real and serious threat for chainsaw operators. Therefore, you may want to add on this accessory when purchasing your battery-powered chainsaw so you can ensure maximum safety while cutting.
Blade Guard
Blade guards are another optional upgrade.
These are plastic sleeves that you slide over the bar and chain of your chainsaw. This not only protects the chain when not in use but also prevents accidental injuries when you're carrying the saw or storing it for long periods of time.
Bucking Spikes
If you're going to be doing some serious log cutting with a battery chainsaw, you may want to consider a model that includes Bucking Spikes.
Other common terms for Bucking Spikes are "Bumper Spikes," "Felling Spikes," or "Dogs."
No matter what they're called, these spikes serve two purposes: first, to anchor the chainsaw against the wood so you can pivot through a cut more easily; and second, to prevent kickback and loss of control if the chain gets pinched or the nose nicks an object.
By no means are Bucking Spikes required for using a chainsaw safely, but they are something that some people like to use for better stability and control.
Weight
While the weight of the cordless chainsaws reviewed above is quite comfortable—between 7 to 12 pounds—this is something you may want to consider if you're working for long periods of time.
Carrying around and positioning a heavy chainsaw is obviously taxing, no matter how strong you may be.
So, if you want a lightweight battery chainsaw, my top picks above are good choices.
Related Post: The Best Small Chainsaw Guide
Best Battery Chainsaw Safety Tips
Before I end my cordless chainsaw reviews buying guide, I felt it important to share a few safety tips.
Although you may be attracted to battery chainsaws because of their lighter weight, less noise, and ease of maintenance, the fact is these tools are still just as dangerous as even the best gas-powered chainsaw for the money.
To ensure your safety, it's best to follow the tips below every time you fire up the chainsaw.
Doing so may prevent a serious injury or save a life.
Never wear loose-fitting clothing as it could get caught in the spinning chain.
Always wear a sturdy pair of work boots (steel-toed boots are the best for protection). See my best chainsaw safety gear list.
Consider using a pair of chainsaw chaps to shield your legs from flying debris and accidental cuts.
Always protect your hands with a set of gloves (cut resistant chainsaw gloves are the best).
If you're cutting down trees, wear a hard helmet and for all cutting jobs wear a face shield.
Consider wearing ear protective covers to protect your hearing. Even though cordless chainsaws don't have a gas engine, they can still produce sounds above 80 decibels, which could damage your ears with long exposure.
Check the tension of the chain, and adjust it if needed, before each use.
Check the bar oil level before each use. Never use the chainsaw without bar oil or when the reservoir is low. Otherwise, you could damage the guide bar and chain.
Always keep a firm grip on both handles while cutting and never use the chainsaw one-handed.
Never use the tip of the blade to make a cut. This is considered the "kickback zone" and could cause the chainsaw to suddenly rotate back toward you and cause an injury.
Don't cut alone if you don't have to. It's good to have a "buddy" with you in case something goes wrong or you become injured.
Always keep a first-aid kit nearby.
Never cut wood that's being held by somebody else.
Never climb a tree with your chainsaw. If you have to cut branches that are high up, consider purchasing a pole saw or hiring a professional for the job.
Related Post: The Best Homeowner Chainsaw Guide
Closing Thoughts on My Battery Chainsaw Reviews
If you've reached this part of my guide, then you're already well versed on how to choose the best battery-powered chainsaw for your needs.
I hope that you found the perfect chainsaw for your needs through my cordless chainsaw reviews and that it'll serve you well for years to come.
However, if you're wondering what other chainsaws are available in gas and electric models, check out my other guide on top-rated chainsaws. It reviews the top 10 chainsaws you can buy today. Or, if you want to see how corded electric models compare, take a look at my best electric chainsaw reviews.
Aside from my battery chainsaw reviews, I wanted to mention that there's an added advantage to investing in one of the chainsaws on this page—you're also buying into a system.
That means you can pick up other power tools from the same manufacturer and use the same batteries that come with your chainsaw. That's great news for anyone who wants to build a collection of outdoor tools because you can save on the cost of new pieces of equipment.
The cost for batteries can be quite expensive, so once you have a set from your initial battery-operated chainsaw purchase, you won't need to pay for that extra cost. You can buy other power tools of the same brand without the battery for a lower price.
For some users, even the best cordless chainsaw may be a secondary tool compared to the hours spent using other machines like a battery-powered lawnmower, trimmer, or edger.
Hopefully, that short bit of information helps.
This concludes my guide on finding the best battery chainsaw.
Happy cutting!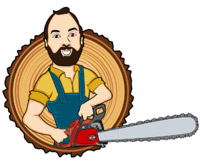 Your Pal,
Chainsaw Larry