So, you want a chainsaw?
But not just any chainsaw.
You want a machine that can handle anything you throw at it?
Both heavy-duty jobs and small yard projects.
If that sounds like what you're looking for, then you landed on the right page.
In this guide, I'll show you how to pick the best all around chainsaw for your needs.
I'll go over the top cutting lengths you should consider, the various ways chainsaws can be powered, and most importantly, offer my honest reviews of the best chainsaws for everyday tasks.
If a chainsaw can't handle a multitude of cutting jobs, you won't find it on this page. And, if the tool is too big to do anything other than cut down a tree, it won't be listed here either.
What you will find are the top chainsaws that can help you clean up your property in the most effective and efficient manner.
So, let's get to it.
Your perfect all around chainsaw awaits.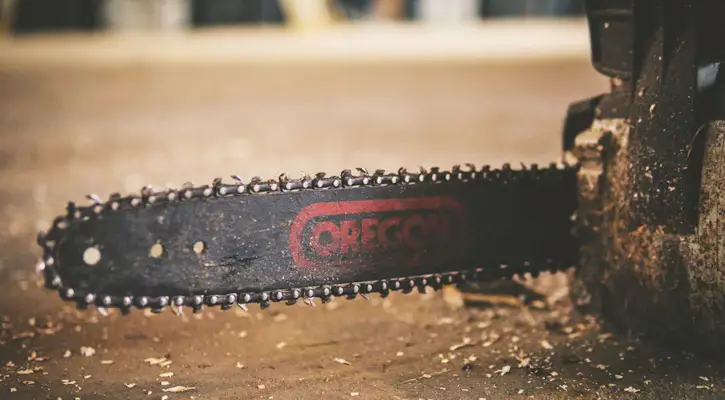 Disclosure: The chainsaws recommended below are my top favorites because they have a great combination of quality and features. As an Amazon Associate, I earn from qualifying purchases made through the links as a way to support this site. If you buy a qualifying product, you're not charged anything extra, but I'll get a small commission to help pay for my expenses. I hope you find my advice helpful and discover the best chainsaw for your needs on this list.
Chainsaws Reviewed in This Guide
Here's a quick comparison chart showing the top all around chainsaws. I'll go in depth about each one later in this guide, but this gives you a sense of what's available and a simple way to quickly compare them.
What Size Chainsaw Should You Get?
When you're shopping for a chainsaw, you'll quickly discover that each model comes in a different length.
In fact, chainsaws can be as small as 6 inches and go all the way up to 72 inches (or 6 feet).
With so many options to choose between, how do you decide which one to get?
Well, since you're looking for an all around chainsaw, you can actually narrow down your choices quite a bit.
The best chainsaw for every day use is one that has a 14 to 16-inch guide bar and chain.
14 to 16-inch chainsaws offer the perfect mix of length and power to do a majority of cutting jobs around the yard.
As you can see in the chart below, by choosing a 14 or 16-inch chainsaw, you can do everything from trimming up trees and brush, to cutting down smaller sized trees, and splitting firewood.
The only thing you can't do is cut down very large trees (see note below).
But, for most people who want an all around chainsaw that's not a problem because they don't find themselves doing that type of heavy-duty work on a regular basis.
Chainsaw Cutting Lengths and Common Tasks
Pruning limbs – 6″ to 10"
Removing braches – 8" to 12"
Felling small trees – 12" to 14"
Splitting firewood – 14″ to 16"
Felling medium trees – 16" to 18"
Felling large trees – 20″ and larger
Now, you may be wondering, "Should I buy a 14 or 16-inch chainsaw?"
And the answer depends on the types of jobs that you think you'll be doing the most.
If you'll be pruning and cleaning up trees with the occasional firewood splitting, then go with a 14-inch chainsaw. If you think you'll be cutting down trees and splitting cords of firewood more than trimming, then go with a 16-inch chainsaw.
Note: Every chainsaw can actually cut up to double its length. For example, a 14-inch chainsaw can cut down a 28-inch tree. To do this, you'll need to make two passes that are opposite of each other.
While that sounds simple enough, the rule of thumb for safety is to only cut wood that's 2 inches thinner than your chainsaw blade's length. So, for a 14-inch chainsaw, you'd want to cut wood that's 12 inches thick.
The 2 inches of extra space acts as a safety measure to prevent chainsaw kickback, which is a sudden rotational thrust of the blade back toward the operator. Kickback can occur when the tip of the chain nicks a hard object.
Having 2 inches of clearance can eliminate kickback from happening.
Can you cut the occasional 28-inch thick tree with a 14-inch chainsaw? Yes. But, don't make it a habit since safety should be your first priority. For cutting thick trees, it's best to use the proper length tool.
What Type of Chainsaw is Best for You?
These days, you can buy three types of chainsaws:
Gas Powered
Battery Operated
Corded Electric
As you'll see below, each type has its pros and cons, but for the most part, you can't go wrong with either tool. Every type of chainsaw will get the job done; however, there's always a tradeoff between power, weight, speed, and cost.
Here's how each chainsaw version compares so you can make a more informed decision.
Gas Chainsaws
Pros:
Most powerful

and fast cutting
Extremely portable
Long cutting times on a single tank of fuel
Most rugged and tough
Simple to repair
Cons:
Requires the most maintenance
Fuel must be mixed at the proper ratio with 2-cycle oil
Can be harder to start over the years

Heaviest

type
Loudest type
Battery Operated Chainsaws
Pros:
Extremely portable
Push-button start
Low maintenance
Only makes noise when you pull the trigger
Doesn't burn fuel
Cons:
Cutting times vary by manufacturer (i.e. 30 minutes to one hour)
Recharging times also vary by manufacturer. (i.e. 20 minutes to two hours)

Not as powerful as gas chainsaws

and takes longer to make the same cuts

Most expensive to buy
Corded Electric Chainsaws
Pros:
Least amount of maintenance

Unlimited cutting times

Lightest type
Only makes noise when you pull the trigger
Cheapest type to buy
Cons:
Must be plugged into an electrical outlet to work
Least portable since your reach is limited by the cord length
Extension cord can get in the way while cutting
Equally as powerful as battery chainsaws

Best All Around Chainsaw List
Now that you know what the optimal chainsaw lengths are for the most common cutting tasks and have a better idea about the type of chainsaw you prefer, we can now move onto the list of the best all around chainsaws.
What you'll find below are my reviews of the top chainsaws for everyday use.
I've divided them into three categories: gas powered, battery operated, and corded electric, and offer two recommendations for each (14 and 16-inch chainsaws).
14-inch Bar and Chain (Gas)
If you want a gas chainsaw and don't have a lot of larger trees on your property, then this is an excellent choice.
This chainsaw is ideal for clearing brush, cutting tree branches, chopping up firewood, and taking down the smaller trees.
What makes it the best all around chainsaw for the money are the following features:
Lightweight (15 pounds)
Quickstart Technology makes starting very simple
Automatic (Adjustable Flow) Oiler oils your chain with precision
5-point Anti-Vibration System takes all of the stress out of handling this machine
Tool-Less Chain Tensioner System makes chain adjustments fast and easy
Bucking Spikes help you cut logs safer and with better control
In fact, it's hard to find another 14-inch gas chainsaw with as many benefits at an equally low price.
16-inch Bar and Chain (Gas)
If you want a gas chainsaw that's a reliable workhorse, then this is the next best model you can buy.
With a 16-inch cutting length, it slices through wood like a hot knife through butter.
There are not many tree cutting projects this machine can't perform. And it tackles them faster than any other chainsaw on this list.
What you'll enjoy most, besides its immense power and speed, include:
Super lightweight for its size (9.8 pounds)
X-Torq Engine that lowers emissions by 60% and reduces fuel consumption by 20%
Automatic (Fixed Flow) Oiler for perfect chain lubrication
Inertia-activated chain brake for automatically stopping the chain during a kickback
Quick-release air filter for easier cleaning
Flip-up tank caps (Seriously, why don't other brands have this?)
If you want a high-quality chainsaw for all around tasks, this Husqvarna model won't disappoint you.
14-inch Bar and Chain (Battery)
While all of the chainsaws on this list are great, this model (and the next) offers you the most convenience possible.
Since this is a battery operated chainsaw, you get all of the perks of a gas powered machine but without the hassle of mixing fuel, maintaining engine components, or breathing in exhaust emissions.
It's also much quieter since this model only makes noise when you pull the throttle.
Additional things you'll like about this 14-inch chainsaw include:
Weight of 9.8 pounds (the lightest you can buy at this length)
Long cutting times, up to 40 minutes of continuous use
Push-button start
Automatic (Fixed Flow) Oiler for hands-free chain lubrication
No spark plugs or air filters to change
Overall, this is a mighty tool that competes well against gas chainsaws of the same size.
If you want a clean machine that can be used in an instant, this is a good option for you to try.
16-inch Bar and Chain (Battery)
If you want a bit more length out of a battery chainsaw, this is going to be your next best choice.
DEWALT is a top brand for battery powered tools and this chainsaw dominates the 16-inch chainsaw class.
With this machine, you can cut down trees, slice up firewood, clear brush, and even do the occasional tree branch pruning without having to pick up another tool.
Other perks include:
Lightweight (17 pounds)
60 minutes of continuous cutting time
Automatic (Fixed Flow) Oiler for protecting the chain with every pass
Tool-Less Chain Tensioning System for fast chain adjustments
For a powerful all around chainsaw, there's not much else you can ask for.
The only downside is that it's a bit pricier than the other 16-inch chainsaws on this page. But, the convenience, portability, and low maintenance make it worth every penny.
14-inch Bar and Chain (Electric)
If you're looking for the cheapest chainsaw you can buy that can handle the widest range of tree cutting projects, this is it.
For anyone who doesn't need a heavy-duty machine or extreme portability, this is the best all around chainsaw that uses an extension cord.
It's the perfect tool for small jobs around the house, like pruning, cutting tree limbs, slicing up logs, and cutting firewood.
What makes it so attractive for many homeowners include:
Super lightweight (8 pounds)
Compact design
Cheapest chainsaw available
Quiet (only makes noise when you pull the throttle)
Tool-Less Chain Tensioner for quick—and reliable—chain tensioning without needing a special tool
Automatic (Fixed Flow) Oiler
Fully assembled and ready to cut right out of the box
For the price, you really won't find a better deal for a 14-inch electric chainsaw.
16-inch Bar and Chain (Electric)
My final recommendation is a chainsaw that was built for the casual lumberjack who needs something a bit more powerful than my last review.
For someone who doesn't plan to use a chainsaw too often, this is a great buy.
You can do all of the same yard projects as any other 16-inch chainsaw on this list, such as clearing brush, trimming tree branches, cutting firewood, etc.
The only difference is that this model runs off of electricity and must be plugged into a power outlet. If that doesn't bother you, then it's one heck of a deal.
With this chainsaw, you'll also get:
Lightweight (9 pounds)
Easy-turn Screw Chain Tensioning System for fast chain adjustments while cutting out in the field
Automatic (Fixed Flow) Oiler is for effortless chain lubrication
Wraparound hand guard to protect your top hand from flying debris

Gas-free and battery-free operation
If you want a corded electric chainsaw that can do it all for a low price, this is a great investment.
---
Additional Information on Chainsaws
Chainsaw Terms and Definitions
When you're shopping for a new chainsaw, you'll come across a variety of chainsaw-specific terms.
While many of those terms are self-explanatory, some of them don't have implied meaning.
To make the research process easier for you, I've put together a list of the most common chainsaw terms with their definitions below.
Use this list to get the meaning behind a word that may be in a chainsaw's product description.
Guide Bar — The blade of the chainsaw. It holds the chain in place while it spins.
Chain — This performs the actual cutting of wood.
Chain Oil Reservoir — A small tank that houses the chain oil.
Chain Oil Bulb — A button used for manually applying oil to the chain.
Manual Oiler — Requires the operator to push a chain oil bulb to deliver oil onto the chain.
Automatic (Fixed Flow) Oiler — An automatic method for oiling the chainsaw chain. It does so at a fixed rated that can't be changed.
Automatic (Adjustable Flow) Oiler — A more advanced method for oiling the chainsaw chain. It does so at a fixed rate and can be adjusted for faster or slower flow.
Handguard — A wraparound enclosure that protects your hand from flying debris.
Chain Brake — A safety mechanism that stops the chain from spinning during a kickback. Manual chain brakes are a lever that sits in front of the top handle and gets pushed by the wrist to stop the chain. Inertia-activated chain brakes stop the chain when upward force is experienced on the blade.
Top Handle — The upper handle of the chainsaw that you hold with your left hand.
Rear Handle — The back handle of the chainsaw that you hold with your right hand. It houses the throttle button (or trigger).
Trigger (or Throttle Control) — A button on the rear handle that makes the chain spin.
Throttle Lockout — A safety mechanism that prevents the chainsaw from accidentally starting.
Bucking Spikes — Metal or plastic spikes that sit at the base of the blade. Used to stabilize the chainsaw when cutting logs.
Tool-Less Chain Tensioner — A knob or other mechanism for loosening and tightening the chainsaw's chain. It eliminates the need for a special tool.
What You Can Do with an All Around Chainsaw
As you learned earlier in this guide, an all around chainsaw allows you to do a multitude of tasks around the yard.
The most common jobs include pruning, trimming, felling, splitting logs, and cutting firewood.
If these concepts are new to you, you'll find a clear explanation of each one below.
What some people discover is that they initially buy a chainsaw for a particular reason and then find themselves using it for so much more than they imagined. In many ways, a chainsaw can replace other yard tools you may own. So, you may find yourself not needing to rely on those tools anymore if the chainsaw can serve the same purpose.
Pruning
Chainsaws are a great tool to use to prune trees. These machines allow you to quickly get rid of dead and loose wood.
Over time, some limbs and branches on trees and bushes will die or become loose. This happens because of pest infestations, disease, or as a natural response to let new growth occur.
Unfortunately, dead or loose limbs and branches can post a hazard people and their property since they can fall off without warning.
Removing dead and loose wood not only prevents those hazards but also allows a tree's flowers and fruit to flourish.
Trimming
A chainsaw is the fastest way to trim though lighter pieces of wood on trees and bushes.
While pruning is done for tree health, trimming is the process of tidying up the shape and appearance of all woody plants.
With a chainsaw, you can zip through the process of trimming a bush or tree since these machines cut so fast.
Felling
Felling is the technical term for cutting down an individual tree.
Chainsaws make the process of felling trees much faster than using an axe or hand saw.
With the all around chainsaws listed on this page, you can cut smaller trees all day long. For trees that are no thicker than double the chainsaw blade's length, you can still fell them, but you'll have to make two passes on either side of the trunk.
Splitting Logs
After you've cut down a tree, or discovered one that's already fallen, the next step is to split it into manageable logs.
With a chainsaw, you can cut logs of practically any thickness to any length.
The most common reason for splitting logs is to make the wood easier for transport or to cut up into firewood.
Cutting Firewood
After felling a tree and splitting it into logs, many people take the extra step of cutting it into smaller pieces for firewood.
A chainsaw is a speedy tool for cutting firewood into the right size for your fireplace.
These smaller logs also dry better which is important because damp wood doesn't burn as well. It can also create excess soot and smoke.
Common Questions About Chainsaws
What is the best chainsaw for homeowners?
The best chainsaw for homeowners depends on the needs of the user. A gas, battery, or electric chainsaw are all good for cutting wood, but you may find that you prefer one type over another. The chainsaws reviewed on this page are all great for homeowners.
Remington RM4214
Husqvarna 440e II
Greenworks CS40L210
DEWALT DCCS690M1
Remington RM1425 "Limb N Trim"
WORX WG303.1
Is Husqvarna better than STIHL?
Some people find the low-end torque of STIHL chainsaws better for tough cutting jobs; however, Husqvarna chainsaws are still just as good for the average user. Professionals tend to use STIHL chainsaws while homeowners use Husqvarna; mainly because STIHL must be bought from a dealer and Husqvarna can be bought online or in a store.
What are the top 10 chainsaws?
The top 10 chainsaws you can buy today are:
Remington RM4214 Chainsaw
Remington RM4216 Chainsaw
Poulan Pro PR5020 Chainsaw
Husqvarna 460 Chainsaw
Makita XCU02PT1 Chainsaw
DEWALT DCCS690M1 Chainsaw
Greenworks Pro GCS80420 Chainsaw
Remington RM1425 "Limb N Trim" Chainsaw
WORX WG303.1 Chainsaw
WORX WG304.1 Chainsaw
What is the easiest chainsaw to start?
The easiest chainsaw to start is a battery operated or corded electric chainsaw, which start with the push of a button. The easiest chainsaws to start that are reviewed on this page include: Greenworks CS40L210, DEWALT DCCS690M1, Remington RM1425 "Limb N Trim", and WORX WG303.1.
What is the best brand for chainsaws?
The best brands for chainsaws include:
BLACK+DECKER
Craftsman
Dewalt
Echo
Green Works
Hitachi
Husqvarna
Makita
Poulan Pro
Remington
Ryobi
Stihl
Tanaka
Worx
Chainsaw Safety Tips for New Users
Before each use, check that the chain has the correct tension. 1/8 of an inch of play when pulling up on the chain and it snaps back into place when let go.

Test the chain brake to make sure it's functioning properly.

Always protect yourself by wearing a helmet; safety glasses; cut-resistant gloves, chaps, and boots; a long-sleeved shirt; and hearing protection. You can find the best chainsaw protective gear here.
Never cut one-handed.

Never cut with the tip of the chain. This area is prone to kickbacks.

Never cut above shoulder height.
Never cut when you're standing on an unstable surface.
Chainsaw Maintenance
Sharpen the chain teeth when you feel like you have to add pressure to the blade during cuts. Here's my best electric chainsaw sharpener guide.
Clean the bar and chain after each use.
Top off the chain oil reservoir after each use.
Clean the air filter after each use (gas chainsaws only).
Cover the blade with a sheathe when storing the chainsaw.
Empty the fuel tank (gas chainsaws only).
Recharge the batteries (battery chainsaws only).
Closing Thoughts on My All Around Chainsaw Reviews
As you discovered, finding a good all around chainsaw is not that tough of a battle.
In fact, there are many options out there for you to choose from that can handle a multitude of tree cutting tasks.
One thing I'd like to point out before we end this guide is that the chainsaws listed on this page are just a small sample of the top chainsaws you can buy today.
If for some reason you didn't find what you were looking for, I encourage you to check out my other free chainsaw buying guides.
I have a dedicated page on the top chainsaws as well as individual reviews for each category (gas, battery, and electric). I also have guides on the best small chainsaw models and the best cheap chainsaw options.
So, take a look at those links to see what else is available.
I'm sure you'll find the perfect chainsaw for your needs in one of those posts.
I hope you enjoyed this guide on finding the best all around chainsaw.
Happy sawing!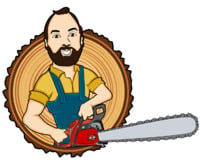 Your Pal,
Chainsaw Larry