Do you need a new chainsaw?
But don't want something that's too big?
Then, you've landed on the right page.
In this guide, I'm going to show you how to find the best small chainsaw for your needs.
This advice also applies to anyone looking for the best lightweight chainsaw since those two things go hand in hand.
These days, mini chainsaws come in a variety of types (gas, electric, and battery powered) and it can be hard to know which one to choose.
But don't worry.
I'll go over everything you need to know to find the smallest and lightest chainsaw that works well for projects around your yard.
So, regardless if you're looking for the best small gas chainsaw, electric chainsaw, or battery powered model, you'll find the top rated products on this page.
I'd also like to add this great article for you on the best portable table saw. Portable table saws are lighter and more compact so it fits into the small and lightweight saw category.
Let's get started.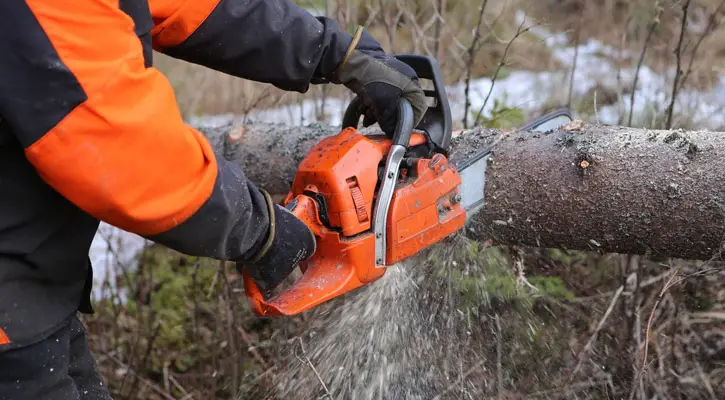 Disclosure: The chainsaws recommended below are my top favorites because they have a great combination of quality and features. As an Amazon Associate, I earn from qualifying purchases made through the links as a way to support this site. If you buy a qualifying product, you're not charged anything extra, but I'll get a small commission to help pay for my expenses. I hope you find my advice helpful and discover the best chainsaw for your needs on this list.
Best Small Chainsaws Reviewed in This Guide
Here's a quick comparison chart showing the top small chainsaws. I'll go in depth about each of these power tools and their features later in this guide, but this gives you a sense of what's available and a simple way to quickly compare them.
What Can You Use a Small Chainsaw For?
The fact that you're reading this chainsaw guide means that you already have some tree or bush cutting projects in mind.
But, did you know you can do a whole lot more with a small chainsaw?
Before we get into my reviews of the best small and lightweight chainsaws, here are some of the top things you can do with these little power tools:
Prune Limbs — Small chainsaws are the perfect size for work like removing limbs off small trees. The truth is you don't want to use big chainsaws for this task because it makes the work more dangerous (and they're heavy).
Trim Bushes — Hedge clippers and electric trimmers can only get you so far when trimming bushes. Especially when you have thicker branches to cut. A small chainsaw can tackle bushes with ease and make the work go much faster.
Fell a Tree — "Felling" is the technical term for cutting down a tree. Lightweight chainsaws are good for felling smaller diameter trees since they're easier to hold at low heights.
Cut Logs — After felling a tree, you can also use a small chainsaw to cut it up into manageable logs. The same thing is true for cleaning up after trees that have fallen down in your yard unexpectedly.
Split Firewood — One of the most popular reasons for owning a lightweight chainsaw is that it makes the work of splitting firewood a breeze. Small chainsaws eliminate the aches and pains you feel when using an axe for this purpose.
What Type of Lightweight Chainsaw Should You Get?
When you're selecting the best chainsaw for your needs, you'll have to choose between a gas powered, corded electric, or battery powered tool.
You'll also need to decide if you just want a standard handheld chainsaw, a pole saw, or a dual-purpose machine.
To help you make the most informed choice, here's an overview of the different types of lightweight chainsaws with their features.
Power Source
Gas Powered Chainsaws — Use a mixture of fuel and oil; Most powerful; Fastest cutting machine; Long cutting times; Pull-cord start; Simple repairs; Rugged; Moderate price; Heaviest; Loudest; Produces emissions.

Requires gasoline and 2-cycle oil mixed at 40:1 or 50:1 per the manufacturer's recommendations.

Electric Chainsaws — Powered through an extension cord; Second most powerful type; Cuts slower than the best gas chainsaws; No limit on cutting times (always runs); Push-button start; Repairs require professional service; Cheapest price; Lightest; Quietest; Cleanest (no emissions).

Requires an extension cord. A 100-feet 10AWG version is the best choice.

Battery Powered Chainsaws — Uses rechargeable batteries; Similar power to electric chainsaws; Cutting time is limited by battery juice (30 mins to one hour); Push-button start; Repairs require professional service; Most expensive; Heavier than electric chainsaws; Quiet; Clean.

Comes with a battery. Consider buying extras so you have less downtime when cutting.
Design
Handheld Chainsaws — These are your standard chainsaws that are used for a multitude of work. You hold these power tools with two hands: one hand goes on the top handlebar to guide your cuts and the other holds onto the back handle which has the throttle trigger.
Pole Saws — These are a special type of saw that has a small chainsaw attached to the end of a pole. This design allows you to reach high up in the air to cut tree limbs from that are at a distance with a little blade.
2-in-1 Chainsaws — These chainsaws transform between a handheld chainsaw and a pole saw. This gives you the luxury of owning one power tool that can do it all; cut wood on the ground and in the air.
How Small Should You Go When Choosing the Best Lightweight Chainsaw?
Every chainsaw has a specific size called the "guide bar length".
The chainsaw bar length refers to the metal blade that holds the chain.
A 14-inch chainsaw, for example, has a bar that measures 14 inches long. This means you can technically cut a piece of wood up to 14 inches thick.
As for the types of tree cutting projects you can perform with smaller size bar lengths, here's a general guideline:
6″ to 8″ inches – Pruning limbs and clearing brush.
10″ to 12″ inches – Removing tree branches and cutting up smaller tree logs.
14″ inch – Cutting down small trees, slicing up logs, and splitting firewood.
Now, you may be tempted just to get a 14-inch chainsaw so you can perform all of the cutting tasks listed above; however, that's not the smartest thing to do.
When you're using a chainsaw, you want to try and match the guide bar length to the general thickness of the wood you're cutting. For example, it's not safe to hack away at a bush with a 14-inch chainsaw.
The safest way to use a chainsaw is to leave 2 inches of clearance at the end of the blade when cutting. So, for a 14-inch chainsaw, it's best to cut wood that's 12 inches in diameter or smaller.
Following that advice will reduce your chances of "kickback" which is a sudden backward rotation of the blade when the chain nicks an object with the tip.
Will cutting an occasional tree limb or thin branch be fine with a 14-inch chainsaw? Yes. But, if you're going to be doing a lot of that type of work, then it's safer to use a smaller 6″ to 8″ chainsaw for that purpose.
Smallest & Lightest Chainsaw Reviews & Buying Guide
Now that you know how to choose the best small chainsaw for your needs, we can now move onto the list of reviews.
Below, you'll find the smallest and lightest chainsaws available in each type: gas, electric, and battery powered.
This list will save you countless hours of searching for small chainsaws and allow you to easily compare all of the top models and their features in one place.
I'll start with the smallest size, 6 inches, and work my way up to the largest, 14 inches.
Note: The smallest length you can choose for the best gas chainsaw is 12″ inches. Only electric and battery chainsaws offer the smaller 6″ to 10″ inch lengths as you'll discover in my reviews below.

Best Small Chainsaw List
6-inch Bar Length (Electric)
Do you want the smallest chainsaw possible?
One that's easy to use to get a ton of tree pruning done in the shortest amount of time?
If so, this little chainsaw lopper will be your go-to machine.
You use it just like a pair of scissors and it makes super-fast cuts that are easy and safe.
This chainsaw also has an Automatic (Fixed Flow) Oiler to keep the bar and chain well lubricated at all times. Plus, it only needs a few drops of oil in the reservoir to keep those parts from overheating.
The best part, however, is the Automatic Tool-Less Chain Tensioning System that sets the proper tension for the chain. This prevents over or under-tightening, both of which can cause damage to your chainsaw or injury to the operator.
If you want one of the best power tools to speed through tasks like tree pruning and brush cutting, this small one-of-a-kind chainsaw is the perfect choice.
8-inch Bar Length (Electric)
Are you looking for a lightweight chainsaw that you can use to cut limbs that are out of reach?
Then this electric pole saw is right for you.
It's good for one thing and one thing only—cutting high tree branches.
And for work like that, you want an easy to use lightweight pole saw like this one. It only weighs 7 pounds which makes it easy to maneuver and hold for long periods of time.
As for height, the pole extends 8.7′ feet. That gives the average person who's between 5′ to 6′ feet tall a total reach of 14′ to 15′ feet into the trees.
This little chainsaw also includes an Automatic (Fixed Flow) Oiler to lubricate the bar and chain. So, you don't have to touch a thing to keep those parts properly maintained.
A Tool-Less Chain Tensioner makes chain adjustments quick and easy, and only takes a simple turn of a screw.
If you want a dedicated pole saw for trimming tall trees, this is the least expensive choice since it runs off electricity—not gas or batteries.
8-inch Bar Length (Battery Powered)
If you liked my previous small chainsaw review but weren't a fan of using an electrical cord for power, then you'll be much happier with this product here.
This little pole saw offers all of the same advantages of the last review; however, it runs on rechargeable batteries.
With this battery powered pole saw, you can move freely without any restrictions. The only downside is that you're limited to one hour of cutting time before you have to recharge. If that sounds too short, just pick up an extra battery with your purchase.
As for weight, this chainsaw is slightly heavier—at 8 pounds—since it does include a battery.
If you want one of the best pole sales for trimming high tree branches, this is a great option.
10-inch Bar Length (Electric)
As we enter the 10-inch size for a new chainsaw, your choices start to open up.
With this power tool, you actually get the benefits of a pole saw and a handheld chainsaw wrapped up into one convenient mini chainsaw package.
This 2-in-1 tool is easy to use and gives you the freedom to tackle both limbs that are high up and small trees on the ground. The blade is also long enough to cut up smaller size trees into workable logs.
The extension pole has a great reach at 8 feet long.
For anyone looking for a small multi-use chainsaw, this deal with dual features is hard to beat.
10-inch Bar Length (Battery Powered)
Perhaps you like the length of a 10-inch chainsaw but don't need the addition of an extension pole like my previous reviews.
Or maybe you really want a small battery powered chainsaw that can be used anywhere, any time, without being tied to a cord or fuel tank.
If that's the case, then you can't go wrong with this lightweight chainsaw.
This 7-pound chainsaw is perfect for pruning small trees, clearing brush, and cutting thicker tree branches from the ground. The small size also makes it easy to handle and get into tough spots.
One thing to keep in mind though is that the Lithium-ion battery only lasts around 30-45 minutes for actual cutting time. That's a common trade-off for the luxuries of using a battery powered tool. Picking up a second battery is a must if you plan to do any time extensive work.
While the Tool-Less Chain Tensioning System makes the guide bar and chain adjustments a snap, the Manual Push-button Oiler does require you to consistently lubricate those parts. It's not a big deal but is something worth knowing in advance.
For the price, you can't get any cheaper for a small chainsaw that runs on batteries with those features.
12-inch Bar Length (Gas Powered)
At the 12-inch size, we now move into small gas powered chainsaw territory.
And this model is considered the best gas chainsaw of its kind.
I have to warn you up front though, this is a professional-grade tool that's meant for arborists and seasoned chainsaw users. It's not meant for beginners.
The reason being is that it only has a top handle.
A top handle design makes this chainsaw easier to use when climbing trees. However, some skilled operators also use it on the ground to split firewood and slice up tree logs.
Extra caution is advised since this chainsaw is less stable without a back handle for support. But, it does include a safety chain brake to stop the chain from spinning if a kickback does occur.
An Automatic (Fixed Flow) Oiler delivers perfect chain lubrication and the Anti-Vibration System makes it much easier to control.
While it would've been nice to have a Tool-Less Chain Tensioner for effortless chain adjustments, the Side Access Chain Tensioning System (tool included) is still a good alternative.
12-inch Bar Length (Battery Powered)
If my last review was a bit intimidating, don't worry, this 12-inch chainsaw is safe for all experience levels: beginners, casual lumberjacks, and professionals.
What makes this the best lightweight chainsaw in its class is the combination of convenience, efficiency, and productivity.
Since this is a small battery powered chainsaw, you can use it just about anywhere like a gas powered machine. It's also very light at 10 pounds so holding it for extended periods of time shouldn't be an issue.
The 12-inch bar and chain is a good length that allows you to do almost every tree cutting task. The only things you may not be able to do with this machine is cut down larger trees and split logs thicker than 10 inches into firewood.
What makes this chainsaw stand out from the competition is that it can last up to two full hours of cutting time when you choose the 4 Lithium-ion battery kit.
Plus, it has the fastest recharge time out there at 20 minutes to a full charge.
It also has one of the best bar and chain lubrication systems available—Automatic (Adjustable Flow) Oiler—which self-lubricates and gives you the ability to adjust the flow of oil when you need it.
A superior Tool-Less Chain Tensioning System is also included as well as a safety chain brake.
For many people, this is the best small chainsaw they can get that doesn't use gasoline or require electricity through a cord.
12-inch Bar Length (Electric)
I'll keep this review short and to the point.
If you're looking for a 12-inch chainsaw that's super cheap and can run all day, this is the best and lightest chainsaw you'll find.
Since this is an electric model that plugs into a power outlet, it has unlimited cutting times. With a squeeze of the trigger, you can slice through all sorts of wood without any downtime.
The weight is also fantastic at 7 pounds and the Automatic (Fixed Flow) Oiler takes all of the guesswork out of bar and chain lubrication.
Like my #2 review, this chainsaw also has a small screw for chain tension adjustments.
To be honest, there are not many options for lightweight 12-inch electric chainsaws. So, if this sounds like the kind of machine you want, this is going to be your top pick with the best features.
14-inch Bar Length (Gas Powered)
This last set of reviews includes 14-inch chainsaws which are the longest you can get until you move out of the small chainsaw category.
As you know, gas chainsaws are the best type you can choose for all-around performance and power.
And for most people, this is the best small gas powered chainsaw brand for their needs. The length makes it perfect for cutting down trees, splitting logs, slicing up firewood, and doing occasional limb pruning and brush clearing.
Sure, there are other gas chainsaws in this size available, but what makes this best lightweight chainsaw you can get are these features:
Ultra-low price.
Quickstart Technology for smoother starts.
Automatic (Adjustable Flow) Oiler that's the best of its kind.
5-point Anti-Vibration System for easier handling and comfort.
Tool-Less Chain Tensioner System for fast chain adjustments.
Bucking Spikes for digging into logs to support the machine through long cuts.
Chain brake for safety.
If you're looking for a high-quality chainsaw that you can use season after season, this is it.
14-inch Bar Length (Battery Powered)
If you don't like the idea of owning the best small gas powered chainsaw, then this 14-inch battery chainsaw is your next best choice.
You can do all of the same tree cutting tasks I mentioned in the last review but you don't have to mix fuel, clean out air filters, or maintain engine components.
With this chainsaw brand, you just turn it on, pull the trigger, and get to work.
The Lithium-ion battery lasts about 40 minutes for continuous cutting time, but in reality, it ends up being more like two hours with intermittent use. You can also use the battery with other Greenworks products which will save you money on the purchase of other yard tools.
At 9.8 pounds, this is one of the lightest weight chainsaws you can choose at this length.
The Automatic (Fixed Flow) Oiler is a convenient chain lubricating system and the Side Access Chain Tensioner (tool included) is simple to use.
A safety chain brake is also included to protect you against kickbacks.
Overall, this is a good new chainsaw for anyone who wants to get a lot of work done fast.
14-inch Bar Length (Electric)
My last recommendation for a chainsaw is the popular Greenworks model.
It's small size and lightweight design—8 pounds—makes it easy for anyone to use for long periods of time.
Plus, the electrical cord for power means that you can cut wood non-stop without any interruptions.
Most people who get their hands on this brand of tool love it. And the price makes it even more attractive (often found for less than $60).
The Automatic (Fixed Flow) Oiler is also a good feature to have so you don't have to worry about oiling your bar and chain while cutting.
Finally, the Tool-Less Chain Tensioner offers quick chain tensioning without the need for a special tool.
For the price, ease-of-use, and power, this chainsaw offers more than enough features for many homeowners. Perhaps it's exactly what you've been looking for?
---
Additional Information on the Lightest Chainsaws
Best Small Chainsaw Budget Considerations
When people hear the words "small" or "lightweight", they often associate them with "low cost" power tools.
But, when it comes to chainsaws, that's not always the case.
For example, there are some small gas powered chainsaws that cost more than $400 and are marketed to professional tree workers. For example, Husqvarna makes one of the lightest chainsaws you can buy in every size bar length. but those machines are not the cheapest.
If you're looking for the best small gas powered chainsaw or lightweight gas chainsaw that's also inexpensive, your best bet is to select one of the brands that are on my list of reviews above. I've done my best to give you the top smallest chainsaws for the lowest prices.
Additionally, if you want to save the most amount of money on a chainsaw purchase, then you'll want to pick an electric chainsaw. These models are cheapest you can buy (less than $80) because they don't require expensive Lithium-ion batteries to run or complex gasoline engines.
Finally, shorter is always cheaper on a little chainsaw. A 6-inch chainsaw will always cost less than the 14-inch version. That's because it costs less to manufacture a 6-inch bar and chain than it does to produce 14 inches of metal.
So, if you're on a tight budget, go for a shorter chainsaw length.
Small Chainsaw Maintenance
Whether your chainsaw is small or large, cheap or expensive, there are a few essential things you need to do to keep your tool functional and long-lasting.
Perform these steps after each use of your chainsaw and with it turned off.
Using a rag or compressed can of air, remove any dust, dirt, or wood chips from the bar and chain.
Remove the chain and clean any debris from the bar groove with a thin screwdriver.
After the chainsaw has cooled, wipe down the chassis and engine.
Refill the bar and chain oil reservoir.
For small gas chainsaws: Drain any leftover fuel from the gas tank and store it in another container. Also, clean the air filter.
For battery powered chainsaws: Put the batteries on the charger so they can recharge.
For all types of chainsaws: Cover the bar and chain with a blade cover to protect it from the elements and to prevent accidental injuries.
Lightweight Chainsaw Safety Tips
Safety should always be your number one priority when using a small or lightweight chainsaw.
Although these machines may seem less threatening because of their little size, they are, in fact, just as dangerous as bigger chainsaws.
To keep yourself and others around you safe, follow these tips whenever using the chainsaw:
Wear a helmet and safety glasses (or a helmet with a face shield).
Wear cut-resistant gloves and boots, chainsaw chaps, and a long-sleeve shirt.
Wear hearing protection. See my best chainsaw safety equipment guide.
Never cut one-handed. Always hold the chainsaw with two hands.
Never cut above shoulder height with a handheld chainsaw. Only use a pole saw.

Never cut with the tip of the chain. This is the "kickback zone" and can cause the blade to rotate backward unexpectedly and injury you.

Stand with your body to the left of the chainsaw. This puts your body out of the direct path of a kickback.
Closing Thoughts on My Best Lightweight Chainsaw Reviews
As you learned, the best smallest and lightweight chainsaws comes in a variety of types. You're not just stuck with buying a small gas powered chainsaw. You can also choose an electric or battery powered version.
Having a lightweight chainsaw in your toolkit is great for a number of reasons; however, if you're interested in seeing what else is available in bigger sizes, take a look at the best chainsaw reviews here.
That guide shows the top 10 chainsaw brands you can buy today for every size bar length.
As for the best lightweight chainsaw, you can't go wrong with any of the mini chainsaw options recommended on the list above. They offer the most versatile functions for the lowest prices and allow you to tackle all sorts of tree cutting projects.
I hope you enjoyed this guide on the best small chainsaw and lightest chainsaw models.
Happy cutting!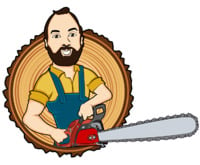 Your Pal,
Chainsaw Larry