Looking to buy a gas chainsaw for 2023?
But don't know where to start?
If so, you've landed on the right page.
In this guide, I'll show you how to find the best gas chainsaw for all of your yard projects that also fits within your budget.
The truth is, there's a whole world of gas chainsaws out there, but once you're done reading this page, you'll know how to cut through the clutter to find the best gas powered chainsaw for your needs.
Guaranteed.
First, we'll start with the advantages that gas chainsaws have over the competition (electric and battery powered), then move onto some top features you should look for, and end with a list of the top gas chainsaws you can buy today.
Along the way, you'll also find answers to common questions you may have about these machines so you walk away knowing everything there is about these tools.
It's also beneficial to know how to take care of your gas chainsaw to prevent it not starting up. You can check out these preventative measures in my guide Chainsaw Won't Start? 10 Most Common Reasons With Solutions.
So, let's get started.
I can't wait to help you find the best gas chainsaw for the money!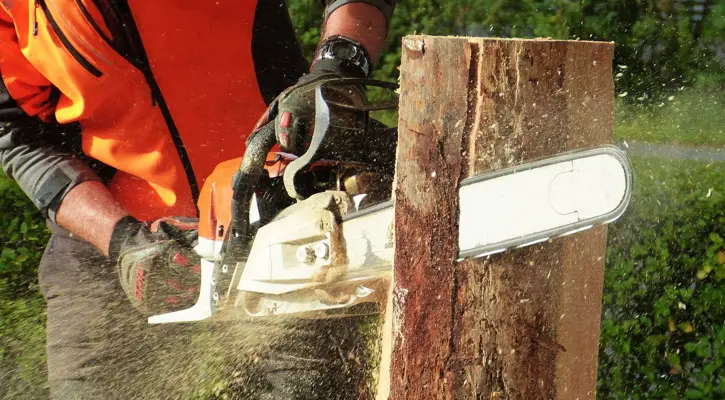 Disclosure: The chainsaws recommended below are my top favorites because they have a great combination of quality and features. As an Amazon Associate, I earn from qualifying purchases made through the links as a way to support this site. If you buy a qualifying product, you're not charged anything extra, but I'll get a small commission to help pay for my expenses. I hope you find my advice helpful and discover the best chainsaw for your needs on this list.
Best Gas Chainsaws Reviewed in This Guide
Here's a quick comparison chart showing the top gas chainsaws. I'll go in depth about each one later in the gas chainsaw reviews section, but this gives you a sense of what's available and a simple way to quickly compare them.
Advantages to Using a Gas Chainsaw
If you're already dead set on buying a gas powered chainsaw, then you can skip this first section.
However, if you're not completely sure why gas chainsaws outshine electric and battery powered chainsaws, then keep reading.
The information below will help you better understand the top benefits you'll enjoy.
Power — Gas chainsaws are the most powerful type you can buy. The chain spins faster—and is tougher—and cuts through wood at a faster rate.
Guide Bar Length — These chainsaws come in all sorts of lengths. This gives you the flexibility to match the guide bar and chain to any job. The longest blade you'll find on a gas powered chainsaw is 72 inches (or 6 feet)!
Mobility — Gas powered chainsaws allow you go cut wherever, whenever. Unlike electric chainsaws that are restricted by the length of an extension cord and battery chainsaws that need a power source to recharge, gas chainsaws have no such limitations. As long as you have a tank of fuel, you're good to go.
Safety — Although these chainsaws are more powerful, they also have more advanced safety features to keep your protected. Some models include an Inertia-Activated Chain Brake to stop the chain from spinning when a kickback occurs. (More on this in the next section.) Features like this are hard to find in other types of chainsaws.
More Options — Since gas chainsaws are the most popular type, they simply have more options to choose between. You can find a gas model that meets your specific needs without having to give up on any particular features. There are only a few brands that make electric and battery models, so your range of picks are more limited.
The Best Gas Powered Chainsaw Features
When you're shopping for a gas powered chainsaw, you'll undoubtedly come across a mix of included features.
However, there are a few basic things you want to look out for when comparing chainsaws that will help you get the best one that matches your needs.
Guide Bar (Blade) Length
This is the most important feature you should consider when buying a gas chainsaw.
Why?
Because the length of the guide bar and chain will determine how thick of a piece of wood you can cut. Which, in turn, affects the types of woodcutting projects you can perform, such as taking down trees, slicing up firewood, cutting down branches, etc.
The guide bar is sometimes referred to as the "blade". And this blade is what the chain is connected to and spins around to cut wood.
Guide bars come in a variety of lengths, but on gas chainsaws, you'll likely find a range between 12 to 72 inches. For the casual lumberjack and homeowner, a size between 12 to 20 inches is ideal. Anything above 20 inches is considered a "professional-grade" chainsaw. (My #4 review below includes a 24-inch chainsaw for heavy duty work).
When it comes to selecting the right size chainsaw for your tree projects, you'll want a machine that has the correct blade length for cutting and ensuring your safety.
A general rule of thumb is to use a chainsaw blade that's at least 2 inches longer than the wood you want to cut. That gives you the proper clearance to prevent injuries from kickback (a sudden thrust of the saw blade back towards the operator).
Here are common gas chainsaw lengths and their associated tasks:
12 to 14 inches — Pruning and trimming branches
16 to 18 inches — Cutting up firewood and felling small trees
20 to 24 inches — Felling large trees and slicing thicker logs
My gas chainsaw reviews below include the top options for each of these types of projects.
Oiler Type
All chainsaws require you to lubricate the guide bar and chain. This oiling process keeps those components from getting overheated and damaged.
The way you oil the bar and chain will differ depending on the chainsaw you select. There are three oiling methods and no one method is better than the other. It really comes down to the style you like best.
I personally like the third option below, Automatic Oiler (Adjustable Flow), because it offers the best of both worlds: a steady flow of oil to the bar and chain, and the ability to increase or decrease the amount of oil based on the job at hand.
Here's how each type of oiler works:
Manual Oiler – Uses a button to oil the bar and chain. You control when the oiling happens and the amount of lubrication.
Automatic Oiler (Fixed Flow) – Self-oiling system that delivers a constant flow of lubrication to the chainsaw components. Flow cannot be increased or decreased.
Automatic Oiler (Adjustable Flow) – Self-oiling system that also allows you to adjust the amount of lubrication up or down.
Chain Brake System
At some point and time, even the most careful chainsaw operator will experience "kickback".
Kickback is a sudden rotational thrust of the chainsaw blade back toward the operator that can cause an accidental cut to the upper regions of the body, including the face.
It occurs when the tip of the chain catches on a hard object or the chain gets pinched between wood while cutting.
A chain brake is a safety mechanism that stops the chain from spinning when kickback happens and it comes in two types: Manual and Inertia-Activated.
Here's how each type of chain brake works:
Manual Chain Brake – The chain stops spinning when physical contact is made with a wide bar that's situated in front of the top handlebar. Usually, this bar will hit your wrist to trigger the chain brake.
Intertia-Activated Chain Brake – The chain stops spinning when a sudden upward force of the bar is encountered. Operates from an internal mechanism and doesn't require physical contact to trigger the chain brake.
Both types of chain brakes are safe for operating a gas powered chainsaw; however, an Intertia-Activated Chain Brake is the more advanced option of the two. This added feature does often increase the price of the chainsaw.
Chain Tensioner Type
Chainsaw chains take a beating. And that means they have to be adjusted from time to time.
This is especially true with new chainsaws since the chain is fresh off the assembly line and hasn't been broken in yet. New chainsaw chains have a tendency to stretch.
Therefore, all chainsaws have a way for you to adjust the chain tension.
There are two popular types of chain tensioners: one that uses a special tool and one that doesn't.
I prefer the Tool-Less ChainTensioner type since it's, well, tool-less. But, here's how each method works:
Scrench Chain Tensioner – This type is performed by hand using a special tool called a "Scrench" which is a combination of a screwdriver and wrench. It's used to turn a bolt or screw on the chainsaw to tighten or loosen the chains.
Tool-Less Chain Tensioner – This type doesn't require a tool. Instead, the chain tension is adjusted with a knob. Hence the word "Tool-Less" in the name.
Bucking Spikes
If you're buying a gas chainsaw, chance are you're doing some serious tree cutting work.
And for that reason, Bucking Spikes are a good thing to look for.
Bucking Spikes are sharp metal spikes that are connected to the body of the chainsaw and located at the base of the blade. You dig them into the trunk of a tree log to support the machine while you're cutting.
Bucking Spikes make it easier for you to cut thick trees, perform straighter cuts, and add a source of protection against kickback.
Gas Chainsaw Reviews & Buying Guide
Now that we've covered how some of the most important features work on a chainsaw, we can move onto the list of the best gas chainsaws you can buy.
What I tried to do in these gas chainsaw reviews is to recommend a high-quality tool for every person's needs.
What you'll find below is a detailed list of the top chainsaws for each size guide bar and chain. I'll start small at 12 inches and work my way up to the longest gas powered chainsaw for semi-professional use at 24 inches.
Some of these models are also featured on my top rated chainsaws page which also includes electric and battery powered models.
But you'll find the best gas chainsaw for your money here.

Best Gas Powered Chainsaw List
12-inch Bar and Chain
If you're an aspiring arborist who wants to cut trees for a living, this is a handy chainsaw to have in your toolkit.
One thing you'll notice is that it only has a top handle.
That feature makes it a commercial-grade chainsaw that's designed for pruning and shaping trees while high up in a harness. But others have also used it for bucking tree trunks to make the job of splitting firewood easier.
This chainsaw is clearly for experienced users, but I felt it was a good option to have on this list because some of you may want to take your chainsaw skills to the next level.
Additionally, it's really hard to find a 12-inch (or smaller) gas chainsaw. You have to go with an electric or battery operated chainsaw to get a smaller blade.
However, if this looks like the tool for you, you'll be happy to know that it has a Pure Fire Engine that produces ultra-low emissions, an Automatic (Fixed Flow) Oiler for perfect chain lubrication, Anti-Vibration System for easier handling, a Manual Chain Brake, and a built-in lanyard ring for climbing high up in the trees with it.
A Tool-Less Chain Tensioner would've been nice on this model, but the Side Access Chain Tensioning System is not hard to use and the required tool comes included in the box.
14-inch
Bar and Chain
For most homeowners and casual suburban lumberjacks, a 14-inch gas chainsaw is all you really need.
The trees in suburb life are usually not thick enough to warrant a bigger chainsaw.
The 14-inch length makes it an excellent tool for trimming small to medium-sized limbs and cutting down smaller trees. However, it's still capable of felling or bucking a large 28-inch trunk if you take two opposite passes with the blade.
The best parts of this machine are the Quickstart Technology for smoother starting, a top-of-the-line Automatic (Adjustable Flow) Oiler for perfect chain lubrication, and a 5-point Anti-Vibration System for taking all of the stress out of handling this tool.
A convenient Tool-Less Chain Tensioner System is included for fast chain adjustments as well as a Manual Chain Brake and Bucking Spikes for the safest operation.
If you're looking for one of the best gas powered chainsaws you can use season after season, this is it.
16-inch Bar and Chain
Now, you may be wondering why I'm recommending another Remington chainsaw next on this list.
Of course, there are other manufacturers of chainsaws out there that offer 16-inch machines but what makes this one of the best chainsaws of this size are all of the features mentioned in the last review.
This Remington model packs everything you need for safe and sturdy operation and comes with a longer blade size. It's also one of the cheapest gas chainsaws you can buy.
No other chainsaw at this price point offers an Automatic (Adjustable Flow) Oiler and a 5-Point Anti-Vibration System.
If you want a great middle-of-the-road chainsaw that can tackle a variety of wood cutting tasks, this is a clear winner.
18-inch
Bar and Chain
Husqvarna is a top brand of chainsaws and has a strong reputation for making high-quality tools.
Chances are if you've seen someone using a brightly-colored orange chainsaw from afar, it was likely a Husqvarna.
What makes this 18-inch gas powered chainsaw ideal for most homeowners and landowners is that it's a high powered, heavy duty machine that's super light and easy to use.
In fact, the 455 Rancher weighs less than 11 pounds which is half the weight of the previous (smaller) 16-inch gas chainsaw review at 22 pounds.
In addition to power and maneuverability, this machine is packed with an upgraded X-Torq Engine that lowers emissions by 60% and reduces fuel consumption by 20%. This allows you to cut for longer periods of time and save cash on fuel.
Another standout feature is the Centrifugal Air Cleaning System that keeps large dust out of the air filter which results in fewer cleanings and longer-lasting chainsaw.
If you weren't already impressed with this machine, the Inertia-Activated Chain Brake, Bucking Spikes, and Automatic (Adjustable Flow) Oiler may be the only other features you needed to hear about to convince that this is a great buy.
Overall, I'd consider this the best gas chainsaw for the money that delivers professional-level results at a reasonable price.
20-inch Bar and Chain
If you're looking for something a bit mightier than my last review, this chainsaw won't disappoint.
In fact, the 20-inch guide bar is the biggest size chainsaw you can get before entering into the territory of professional-grade saws.
If you want a gas powered chainsaw that's perfect for felling trees, bucking trunks, and splitting firewood that's not too expensive, this is a great choice.
The special OxyPower Engine Technology will also save you money in the long run because it produces 70% fewer emissions and has 20% lower fuel consumption. It also makes working with the tool easier since the air around you is cleaner.
The best part, however, is that it's one of the only chainsaws that includes an Inertia-Activated Chain Brake—the safest type available.
A Side-Mounted Chain Tensioning System does require a special tool for quick chain adjustments. But fortunately, it's integrated into the rear handle.
I also wish it had an Automatic (Adjustable Flow) Oiler for more precision oiling but the Fixed Flow version does get the job done by keeping your bar and chain well lubricated at all times. And that's all that really matters.
14 and 20-inch
Bars and Chains
Although this is not a well-known brand when compared to the other best gas powered chainsaws, I added it to my list for two reasons:
You get two blades in one kit (14 and 20-inches)
The price is a steal for the casual user
Obviously, there's a big difference in the quality of the parts in this machine compared to Husqvarna and Poulan Pro, but for someone who plans to only do occasional yard work, it's a heck of a deal.
A 14-inch bar is a great size for most tree trimming projects, but the included 20-inch bar is what makes it so attractive. You can tackle tougher jobs without skipping a beat.
Like most of the other gas powered chainsaws on this list, this model includes the necessary Bucking Spikes, Manual Chain Brake, and Automatic (Fixed Flow) Oiler.
If you want a deal, don't plan on felling massive amounts of trees—and like the color— give this one a try.
24-inch
Bar and Chain
This last chainsaw is a monster machine.
And its bar length just crosses the line into being a professional-grade tool.
If you liked the look and features of my #4 chainsaw review but wanted something a bit beefier, this is going to be your top choice.
This Husqvarna 460 gas chainsaw includes everything that the 455 model has but comes with a 24-inch bar and chain. That makes it a beast for tackling the toughest tree cutting jobs.
If you need a workhorse of a tool for taking down large Oaks, Maples, and Pines, then look no further. This gas chainsaw has all of the power you need without worrying about any hiccups.
Just be prepared. Once you try it, it may be hard to put down.
---
Additional Things to Consider On Gas Chainsaws
Carbide Tip Chain
One of the most frustrating things you can encounter when using a chainsaw is accidentally dulling the chain.
And once that happens, the chainsaw will cut much slower or not at all.
Even if you're extremely careful, it's still quite easy to dull a chainsaw chain.
All it takes is a fraction of a second for the teeth to hit the dirt, saw dirty wood, or hit a nail and then you have to either manually sharpen each tooth or purchase a replacement.
A good investment for any chainsaw user is to upgrade their existing chain with one that has Carbide tips. Carbide chains can better withstand those unfortunate encounters with dirt, nails, and other objects that dull a chain fast, and still stay sharp enough to keep cutting.
Carbide tipped chains don't come cheap.
You'll pay about $50 or more for a chain with Carbide tips. But if you're going to be cutting tree stumps, dirty wood, or timber with any chance of having nails (or metal) in it, Carbide chainsaw chains are well worth the investment.
When upgrading your current chain to a Carbide one, just make sure you get the proper match of length, pitch, and gauge of your existing chain.
Even with this type of chain, it's a good idea to buy a chainsaw sharpener. That way, you can get more longevity out of the chain.
See my best electric chainsaw sharpener reviews for a few ideas.
Fuel Gauge
When comparing gas chainsaw, you may come across some models that indicate they have a fuel gauge.
While this may sound like a fancy feature, it's nothing more than a plastic window that lets you see the level of the fuel inside the gas tank without removing the cap.
Is it a nice feature to have?
Sure.
But is it worth choosing one chainsaw over another that includes it?
Not really.
Chainsaw Body Width
Some arborists and professional chainsaw operators will tell you to get the thinnest body chainsaw you can.
The reason being is that compact gas powered chainsaws are easier to work with.
A narrow body means less overall weight, an easier tool to carry, and potential to maneuver in tight cutting spots.
However, for a regular homeowner or farmer, body width is not usually a huge concern. Since you're most likely only using the chainsaw occasionally, you can often put up with a wider body.
But if you do want the thinnest chainsaw you can find, it's good to shop around. My top gas chainsaws listed above range between 9 to 12 inches in width. That's a standard length for high-quality, affordable chainsaws.
What is a Choke?
If you've never used a machine with 2-cycle engine before, then the act of using a "choke" may seem foreign to you.
Every 2-cycle gas powered chainsaw uses a choke to help it get started.
The purpose of the choke is to restrict airflow while starting the engine. This enriches the fuel-air mixture when starting a cold chainsaw and helps it stay running while it warms up.
Once the chainsaw has been running for a few minutes, you can then turn off the choke since it's not needed anymore.
Engine Size
Gas powered chainsaw engines are measured in cubic centimeters (CC).
The higher the CC number, the more powerful the engine.
Examples of engine sizes for chainsaws include 46 cc, 55.5 cc, 59.8 cc, and 61 cc.
Horsepower
The power of a chainsaw's engine is measured in horsepower (HP).
Horsepower is simply a measurement of power that indicates the rate at which work is done.
The higher the HP number, the mower powerful the engine.
Examples of horsepower for chainsaws include 2 hp, 3.5 hp, 4 hp, and 4.7 hp
Speed
The speed of a chainsaw's chain is measured in revolutions per minute (RPMs).
RPMs indicate how fast the chain can spin in a given unit of time time.
The higher the RPM number, the faster the chain rotates.
Examples of revolutions per minute for chainsaws include 9,000 rpm, 10,500 rpm, 12,000 rmp, and 13,500 rpm.
Bar Length
A longer chainsaw guide bar is not necessarily better.
It's always best to match the guide bar and chain length to the task at hand.
For example, if you're just doing some light pruning of thin branches, then a 12 to 14-inch gas chainsaw is a perfect match. If you're cutting down a thick tree, then a 20 to 24-inch chainsaw may be what's required.
For most homeowners and casual operators, a 14 to 16-inch chainsaw is plenty long enough for most jobs around the house and yard.
The fact is, the longer the bar, the more likelihood of dangerous kickback can occur. Plus, these bigger chainsaws are harder to control and maneuver.
Price Matters (But Not Much)
Generally speaking, the more expensive a gas powered chainsaw is, the better quality parts it includes. This means it will last longer than a cheaper substitute.
However, most people who are not cutting trees every day of their life (i.e. professionally) will never wear out a cheaper priced chainsaw.
Keep that in mind when you're making your selection for the best gas chainsaw for the money.
Related Post: Best Cheap Chainsaw List
Special Features Can Be Found
In some cases, you can buy the same chainsaw with or without specific features.
This can increase or decrease the price of the chainsaw to meet your budget.
Don't care about a Tool-Less Chain Tensioner?
Prefer to have a Manual Oiler instead of an Automatic (Adjustable Flow) Oiler? Want an Inertia-Activated Chain Brake instead of a Manual version?
You may just be able to get the exact chainsaw you want if you dig around a bit.
My gas powered chainsaw reviews above include the best combination of features for most users.
Hopefully, you like what each machine has to offer.
Related Post: Best Homeowner Chainsaw List
Safety Gear Is Not Optional
Safety should always be your top priority no matter how small or large the cutting task.
It's never a good idea to use your chainsaw in just a t-shirt and jeans.
The proper protection includes a helmet, pair of safety glasses (or helmet with a face shield), hearing protection, leather or cust-resistant gloves, and special chain saw chaps to protect your legs.
Related Post: Best Chainsaw Safety Equipment
Closing Thoughts on My Best Gas Chainsaw for the Money Reviews
If you reached this part of my guide, then you should feel well equipped for how to find the best gas chainsaw for your needs.
As you learned, gas is still king.
When it comes to quality, performance, and functionality, the best gas powered chainsaw models can't be beat.
However, I know that gas tools are not for everyone.
If after reading my gas chainsaw reviews you're still not sure if you want to purchase a gas tool, then take a look at these other two guides I wrote. One shows you how to pick the best electric chainsaw models that plug into any standard power outlet and the other shows you how to find the best battery chainsaw model that doesn't need a cord.
I'm sure you'll uncover the perfect chainsaw for your needs in one of those posts.
I hope you enjoyed this guide on finding the best gas chainsaw for the money.
Happy cutting!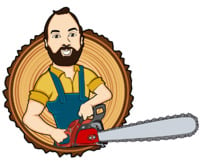 Your Pal,
Chainsaw Larry