Are you a homeowner?
And need a chainsaw that's not outrageously expensive or tough to handle?
Then you've come to the right place.
With so many different products out there, it can be hard to know which is the best chainsaw for home use.
But don't worry.
I'll help you sort through all of the clutter and show you how to get the best homeowner chainsaw for your needs.
The truth is that the best home chainsaw varies for each person; however, I'll go over all of the details you need to consider to make the right purchase.
Whether you just need a cheap chainsaw to maintain your yard, a handy tool to make splitting firewood easier, or a heavy-duty machine to cut down trees, you'll find it here. Guaranteed.
So, let's get started.
Your top chainsaw for the home is just a scroll away.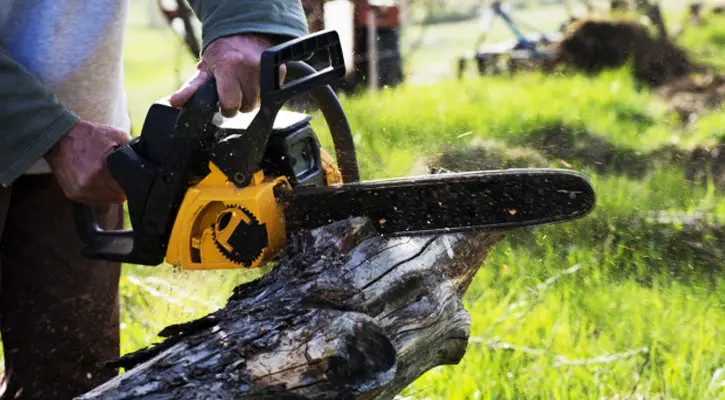 Table of Contents
Use these links to jump to a specific section of the page. Or, just keep scrolling.
Disclosure: The chainsaws recommended below are my top favorites because they have a great combination of quality and features. As an Amazon Associate, I earn from qualifying purchases made through the links as a way to support this site rather than filling it with ads. If you buy a qualifying product, you're not charged anything extra, but I'll get a small commission to help pay for my expenses. I hope you find my advice helpful and discover the best chainsaw for your needs on this list.
Best Homeowner Chainsaws Reviewed in This Guide
Here's a quick comparison chart showing the top homeowner chainsaws. I'll go in depth about each one later in this guide, but this gives you a sense of what's available and a simple way to quickly compare them.

How to Find the Best Chainsaw for Home Use
Here's the thing…
One chainsaw does not fit all.
There are so many different types of chainsaws available today, with various sizes and features, that the combinations for the power tools are endless.
However, trying to put together a home chainsaw buying guide like that would be impossible—and take days for you to read through—so we won't be doing that.
Instead, my goal here is to help you find a great chainsaw for your needs, fast. And skip all of the unnecessary information that you don't need to make a good choice.
Ask Yourself a Few Questions
The questions below will help narrow down the best chainsaw for you to buy.
Read through them and think about your answers. The next section will then help you match your needs to the right size and type of home chainsaw.
Why do you want a chainsaw?
Will you be using it solely to prune trees, clear brush, split firewood, cut down trees, or a combination of those types of things? For example, trimming jobs only need a small chainsaw (6 to 12 inches) while cutting down large trees demands something bigger (18 to 20 inches) and more powerful.
How often will you be using the chainsaw?
If you plan to use a chainsaw a lot throughout the year, then you'll want something more heavy-duty, like a gas powered model. But, if you're only going to use it a few times a year, then it's better to get an electric or battery operated version. Those models are easier to store and don't require as much maintenance.
Does noise matter?
Are there noise ordinances where you live or can you be as loud as you want without repercussions? If noise is an issue, then an electric or battery powered chainsaw is the better option because they're much quieter than gas models.
What's your level of experience with a chainsaw?
This is an important question that most people don't consider. If you've never used a chainsaw before, then it might be better for you to start out with a smaller, less powerful model so you can get the hang of it. Then upgrade to a bigger model if you desire. However, if you do have experience with using a chainsaw around the home, then you can take your pick of the one you like best on my list below, no matter how big it is.
Choosing a Chainsaw Size (Picking a Bar Length)
The guide bar on a chainsaw is the long blade that the chain spins around.
When someone says they have a "20-inch chainsaw", they're referring to the length of the guide bar and chain.
Choosing the right chainsaw size is important because it determines the type of cutting jobs you can do.
Bigger doesn't necessarily mean better when you're looking for the best chainsaw for home use. You really want to match the guide bar length to the thickness of the wood you're cutting.
For example, you wouldn't use a large 20-inch chainsaw to prune tiny tree limbs. Neither would you use a small 8-inch chainsaw to cut down a massive oak tree.
Below is a general overview of chainsaw guide bar lengths and the types of tasks you'd use each size for.
Note: The term "felling" is another way of saying "cutting down" a tree.
Pruning limbs – 6″ to 10"
Removing braches – 8" to 12"
Felling small trees – 12" to 14"
Splitting firewood – 14″ to 16"
Felling medium trees – 16" to 18"
Felling large

trees – 20″ and larger
As you can see, if you're looking for the best home chainsaw to do light tasks like pruning, removing branches, and felling small trees, then a smaller guide bar (6″ to 14″) is the best way to go.
However, if splitting firewood and cutting down large trees is your goal, a larger guide bar (14″ to 20″ or larger) is what you'll need.
Choosing a Chainsaw Type (Power Source)
After selecting an ideal guide bar length, then next thing you'll want to consider is how the chainsaw is powered.
You have three options here: gas, battery, and electric.
Here's a quick summary for each one:
Gas Chainsaws are the most popular type. They use fuel that contains a mixture of gasoline and oil and have no limits to their portability. They're also the most powerful. The downsides are that they're the heaviest and loudest types of chainsaws. Also, the shortest bar length for homeowner use is 14 inches which makes them more ideal for moderate to heavy-duty wood cutting jobs.
Battery Chainsaws are the second most favorite type. They run on batteries that can last anywhere between 30 minutes to one hour of cutting time, depending on the model. They're less powerful than gas chainsaws but offer just as much portability and are lighter and quieter. Bar length options span between 8 to 18 inches, giving you a choice for all types of cutting tasks. The downside is that these are the most expensive types of chainsaws.
Electric (Corded) Chainsaws are the cheapest type. They're less powerful than gas chainsaws but can run all day without stopping when they're plugged into an electrical outlet. The extension cord does limit its portability, however. On the upside, these models are the lightest and quietest. And, they come in the widest range of lengths for all sorts of cutting tasks, 6 to 18 inches.
Best Home Chainsaw Reviews & Buying Guide
As you've seen, there are literally hundreds of different chainsaw brands, types, and lengths out there for you to buy.
However, to keep things simple—and not overwhelm you with too many choices—I've put together a list of the best chainsaws for homeowners for each bar length.
By choosing any of these tools below, you can feel confident that you're getting a high-quality chainsaw for an excellent value.
Here's a list of the best homeowner chainsaws you can buy today. I'll start with the smallest size (6 inches) and work my way up (20 inches).

Best Homeowner Chainsaws List
6-inch Bar and Chain (Electric)
Do you have a lot of tree pruning to do around the house?
If so, this electric lopper chainsaw can help you get the job done quickly.
The wrench handle design allows you to cut through limbs like you're using a pair of scissors. And the razor-sharp teeth make cuts easy and safe.
To keep the chain lubricated, it includes an Automatic (Fixed Flow) Oiler that only needs a few drops of oil in the reservoir before each use to keep the chain in excellent cutting condition.
Like all chainsaws, however, the chain can get loose over time. So, BLACK+DECKER included a special Tool-Less Chain Tensioning System that automatically sets the correct chain tension for you each time you loosen the two chain cover nuts.
For a small handheld chainsaw made for light duties around the house, this lopper can help you speed through the tasks fast.
8-inch Bar and Chain (Electric)
Perhaps you need a chainsaw that can reach high up into the trees.
If that's the case, then this pole chainsaw is what you need.
Its sole purpose is to cut tree limbs and thinner branches that are out of reach. The telescoping pole extends 8.7 feet in the air which gives the average height person a total reach of 14 to 15 feet from the ground.
The weight of this chainsaw is perfect too, at 7 pounds. That's light enough for anyone to use without getting fatigued too quickly.
Like the last chainsaw review, this tool also includes an Automatic (Fixed Flow) Oiler to lubricate the bar and chain. That means you never have to touch a thing to keep your chainsaw chain from getting overheated.
The Tool-Less Chain Tensioner is also effortless and takes just a simple turn of a screw to tighten or loosen the chain.
If you need a dedicated chainsaw to use around the home for trimming tall trees, this is a cheap and useful choice.
10-inch Bar and Chain (Electric)
I included this chainsaw review because it gives you the best of both worlds.
You get a 2-in-1 tool that transforms from a regular handheld chainsaw to a pole chainsaw without much effort at all.
This means you can do a lot more than just trim tree limbs that are high in the air. You can also cut thicker branches and wood that's closer to the ground. Smaller trees that have fallen can also be cut up into manageable logs.
The extension of the pole is also comparable to my last review at 8 feet long, giving you just about the same amount of reach with this tool.
For the money, this multi-use chainsaw is hard to beat. It's good just to have on hand as an additional power tool even if you're considering a larger chainsaw on this page.
12-inch Bar and Chain (Battery)
At 12 inches long, you're now moving into the territory of felling smaller trees and splitting smaller logs of firewood.
What makes this one of the best chainsaws for homeowners is that it offers convenience, efficiency, and high productivity.
In fact, this battery chainsaw has a considerable number of positive customer reviews to back it up.
The most attractive aspect of this chainsaw is that it can last up to two full hours of cutting time when you use the 4-battery kit. And, the recharge time is the fastest you'll find at 20 minutes.
It's also a really light chainsaw. Even with the batteries installed, it's just over 10 pounds.
The best part, however, is the Automatic (Adjustable Flow) Oiler for bar and chain lubrication. You can't get any better than this. This type of oiler self-lubricates the essential parts but also gives you the option to increase the amount of oil when tougher jobs are at hand.
A final advantage of choosing a battery chainsaw for your home projects is that the batteries are interchangeable with other power tools in the product line.
That means you can save a substantial amount of money if you stick with the Makita brand for other yard tools, like trimmers, mowers, edgers, etc.
14-inch Bar and Chain (Gas)
For the best 14-inch home chainsaw, I have to recommend this gas version here.
When it comes to price, power, and features, no other model can compete.
And for most homeowners, this size chainsaw is really all you need to tackle the majority of cutting jobs around the yard. It's good for tree trimming, smaller tree felling, slicing up firewood, splitting logs, and more.
Plus, if you do come across a larger tree (up to 28 inches), you can still cut it down by making a double pass on each side of the trunk.
As for features, this chainsaw has everything you'll need (and more), including:
Quickstart Technology for smoother starts.
Automatic (Adjustable Flow) Oiler for optimal chain lubrication.
5-point Anti-Vibration System for reduced fatigue and longer holding times.
Tool-Less Chain Tensioner System for easy chain adjustments.
Bucking Spikes for digging the tool into tree logs for easier and more precise cuts.
If you want the best chainsaw for home use that you can use season after season, this is going to be your top choice.
16-inch Bar and Chain (Battery)
If you want a chainsaw that can do more consistent sets of heavy-duty work, like firewood cutting, and felling medium-sized trees, a 16-inch chainsaw is a good size to choose.
This length is a step below an 18-inch chainsaw, which I'll review next, but this model can save you a considerable amount of money if you go with it.
The best part of this chainsaw is that it delivers the performance of a gas powered model with the convenience of running on batteries. Not only does that protect you from breathing in fuel emissions, but it also eliminates the hassle (and cost) of using gasoline.
Over the long term, battery powered chainsaws are a more economical choice.
With each charge, you get one hour of heavy cutting time and it takes just over 60 minutes to recharge the single battery.
The Automatic (Fixed Flow) Oiler is a good feature for anyone who likes a maintenance-free machine when it comes to oiling the bar and chain. And the Tool-Less Chain Tensioning System allows super-fast chain adjustments while you're out in the field.
For a homeowner chainsaw of this size, there's not much else you can ask for.
18-inch Bar and Chain (Gas)
When it comes to an 18-inch chainsaw for homeowners, you won't find anything tougher than this Husqvarna model right here.
Not only is it extremely powerful but it's also the lightest chainsaw of this size at less than 11 pounds. Other comparable chainsaws are 20 pounds or more.
With this tool, you can perform the heaviest of tasks: cutting down large trees, slicing through thick logs, and splitting up firewood.
The most impressive features, however, include the following:
X-Torq Engine that lowers emissions by 60% and reduces fuel consumption by 20%. You can cut for longer periods of time and save more money on fuel.
Centrifugal Air Cleaning System keeps large dust out of the air filter which results in fewer cleanings and longer-lasting tool.
Inertia-Activated Chain Brake automatically stops the chain from spinning when a kickback is experienced.
Automatic (Adjustable Flow) Oiler is the best of its kind for bar and chain lubrication.
Bucking Spikes help support the machine when cutting through thick logs.
If you want the best home chainsaw that delivers professional-level results at a reasonable price, this is the machine you'll want.
20-inch Bar and Chain (Gas)
This is the largest chainsaw you can buy for homeowner use. Any bigger, and you'll be getting into what's considered a professional-grade chainsaw.
The reason I recommend this Poulan Pro model is because it offers all of the power you need for heavy-duty jobs, like felling trees, bucking logs, and splitting firewood.
Electric and battery chainsaws can't compete at this level.
While the Husqvarna 455 Rancher I reviewed previously also comes in a 20-inch model, the truth is this Poulan Pro version is half the cost. That makes it a much better value.
With this chainsaw you're getting:
OxyPower Engine Technology that lowers emissions by 70% and reduces fuel consumption by 20%. That's good for the environment and your wallet.
Inertia-Activated Chain Brake for the safest operation against kickbacks.
Automatic (Fixed Flow) Oiler for perfect bar and chain lubrication.
If you want a great deal on a home chainsaw that can tackle the toughest jobs, this model has everything you need at the most affordable price.
---
Additional Chainsaw Information on Home Chainsaws
Now, if you prefer a particular type of home chainsaw, like gas, battery, or electric, and the ones I reviewed above don't meet your needs for a specific length (e.g. 14 or 18 inches), then feel free to check out my other chainsaw buyer guides.
I have a dedicated resource for each type of chainsaw that gives you the top options for every bar and chain length:
Best Home Chainsaw Brands
When you're shopping for a homeowner chainsaw, you'll come across a large number of chainsaw brands. But, just like with any power tool, there are certain brands that stand out among the competition.
Below, are the best chainsaw brands out there. These are trusted names that you can depend on when buying a chainsaw for home use.
BLACK & DECKER – Established in 1910 by S. Duncan Black and Alonzo G. Decker as a small machine shop in Baltimore, Maryland, this brand merged with Stanley Works in 2010 to become Stanley Black & Decker. In 1957, the brand created the first outdoor electric tool and between 1961-62 it released the world's first cordless power drill and trimmer. The company prides itself on offering the best corded and cordless chainsaws for homeowners. Chainsaws come with a 3-year limited warranty.
Craftsman – Established in 1927 by Sears, this company was acquired by Stanley Black & Decker in 2017. The brand prides itself on the fact that before any chainsaw arrives in stores, they're tested in real-world situations to make sure they exceed customer expectations. The company makes gas, cordless, and corded models. Chainsaws come with a 3-year limited warranty.
DeWalt – Established in 1924 by Raymond DeWalt with the first product being an electric universal woodworking machine known as the "Wonder-Worker" that could be configured in 9 different ways. In 1992, this company introduced its first line of portable electric power tools and ever since then it has been improving upon their high capacity lithium-ion batteries. With this brand, you're getting batter operated chainsaws that can handle the toughest situations. Chainsaws come with a 3-year limited warranty.
Echo – Established in 1972 as Kioritz Corporation of America and later changed to Echo in 1978. This company is dedicated to giving you a trouble-free life with your chainsaw. The Pro-Fire® ignition system ensures fast starts and smooth operation. The brand only produces gas chainsaws. Chainsaws come with a 5-year consumer warranty and 2-year commercial warranty.
Greenworks – Established in 2007, this company is on a quest to be the leading lithium-ion technology and outdoor power equipment provider. The brand only offers corded and cordless chainsaws which are some of the most affordable options you'll find. Chainsaws come with a 4-year warranty.
Husqvarna – Established in 1689 as a weapons foundry in Sweden and later acquired by Electrolux in 1978 when the outdoor product range comprised mainly of chainsaws. This is one of the most trusted brands of chainsaws in the world for both professionals and homeowners. This brand offers gas, electric, and battery chainsaws. Standard 2-year chainsaw warranties can be extended to 3 and 4 years by purchasing Husqvarna pre-mixed fuel and oil.
Jonesered – Established in 1832 in Sweden and later bought by Electrolux in 1979. Today, it's part of Husqvarna Group. The main difference between the two brands of chainsaw products are the color and handle angles. Also, Jonesered only produces gas and cordless models. Standard 2-year chainsaw warranties can be extended to 3 and 4 years by purchasing Jonesered pre-mixed fuel and oil.
Makita – Established in 1915 in Japan as an electric motor sales and repair company and later became an electric power tool manufacturer between 1958-59. Prides itself on offering cordless chainsaws that deliver gas performance and has the best homeowner chainsaw with the longest-lasting battery. This brand offers gas, electric, and battery chainsaws. Gas and electric chainsaw come with a 1-year limited warranty and battery chainsaws come with a 3-year limited warranty.
Poulan Pro – Established in 1946 by veteran lumberjack Claude Poulan. The company first manufactured two-man chainsaws. Then in the early 1950s, Poulan developed a series of remarkably fast, powerful, and innovative one-man chainsaws. This company became one of the first brands that appealed to casual users. This brand offers gas, electric, and battery chainsaws. Standard 2-year chainsaw warranties can be extended to 3 years by purchasing Poulan Pro pre-mixed fuel and oil.
Remington – Established in 1921, with the release of electric chainsaws and pole saws in the 1990s. This company offers some of the best and most affordable chainsaws you can use around the home. Advanced features are packed into a low price. This brand offers gas, electric, and battery chainsaws. Chainsaws come with a 2-year limited warranty.
STIHL – Established in 1926 by Andreas STIHL in Germany. This company was an important innovator in early chainsaw production and built the first two-person electric chainsaw. Chainsaws are only sold through authorized local STIHL dealers, not big box stores. This brand offers gas, electric, and battery chainsaws. Gas and electric chainsaw come with a 1-year limited warranty and battery chainsaws come with a 3-year limited warranty.
Sun Joe – Established in 2004 with one product, an electric snow shovel. Now, offers an expansive line of outdoor power equipment which includes chainsaws. This brand is pushing the limits for gas-free tools and offers both electric and battery chainsaws. Chainsaws come with a 2-year warranty.
WORX – Established in 1994 by Don Gao in China with North American headquarters in North Carolina. This company is dedicated to protecting our atmosphere by producing electric and battery-operated chainsaws that provide the same power and capabilities of gas tools. This brand offers some of the best and cheapest chainsaws for homeowners. Chainsaws come with a 3-year limited warranty.
Safety Tips for Home Chainsaw Users
Inspect the Chainsaw Before Each Use
Before you start the chainsaw and use it around your home, there are several things you want to check:
Chain has the correct tension. 1/8 of an inch of play when pulling up on the chain and it snaps back into place.
Bar oil reservoir is full.
Chain teeth are sharp.
No loose parts or bolts.
Air filter is clean.
Throttle lock works and is not damaged.
Chain brake is functioning.
Gas tank is full, batteries are fully charged, or electrical extension cord is plugged into a power outlet.
Protect Yourself
Safety should always be your first priority when using a chainsaw around the home.
Accidents do happen, and the following list of protective equipment can keep you safe from flying wood chips and accidental kickbacks:
Helmet
Safety glasses (or helmet with face shield)
Cut-resistant gloves
Long sleeved shirt
Chainsaw chaps
Cut-resistant boots
Hearing protection
Reduce Your Chances of Kickback
No matter how careful you are, a chainsaw can still unexpectedly kickback towards you. A kickback is when the chainsaw blade uncontrollably arcs back towards you and can cause serious cuts to your head, neck, or body.
Fortunately, most chainsaws come with a Chain Brake to stop the chain from spinning during a kickback. However, there are some additional things you can do to lower the chances of a kickback occurrence:
Firmly hold the chainsaw with both hands. Never cut one-handed.
Only cut wood that's 2 inches thinner than your chainsaw's guide bar. For example, a 20-inch chainsaw should only be used on 18-inch or thinner trees.
Never use the tip of the blade to make a cut. This is the considered "kickback zone" since hitting a hard object can push the tip backward.
Use caution when re-entering an existing cut.
Stand with your body to the left of the chainsaw. Never cut while hovering above the blade in case a kickback does occur. That way you won't be in the direct path of the chain.
Never cut above shoulder height.
Never cut when you're standing on an unstable surface. Ensure both feet are planted firmly on the ground.
Maintaining Your Chainsaw
After using your chainsaw around the house or yard, you should take these final few steps to keep it well maintained.
Note: Always turn off the chainsaw before performing these tips.
Remove any dust, dirt, or wood chips from the bar and chain.
Clean the guide bar groove.
Wipe down the chainsaw chassis and engine once it's cooled down.
Cover the chain with a blade cover to protect it from the elements.
Remove any existing fuel from the gas tank and store it in another container.
Closing Thoughts on My Best Chainsaws for Home Use Reviews
As you discovered, the best home chainsaw really boils down to your personal preferences and tastes.
While I did my best to share with you the top chainsaws you can use around the house, this is by no means an exhaustive list.
In fact, you can check out my best chainsaw reviews and buying guide to see an additional 10 chainsaws that are also great buys for anyone who is serious about the chainsaw craft.
As for the best homeowner chainsaw, the products on this list are your best options when it comes to gas, electric, and battery powered tools. Depending on the size you need, you can tackle all sorts of cutting projects to keep your house and yard tidy from overgrown trees and brush.
I hope you enjoyed this guide on the best chainsaw for home use.
Happy cutting!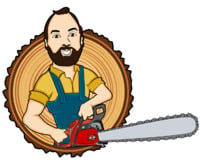 Your Pal,
Chainsaw Larry