Do you need a chainsaw?
But don't want to deal with the hassle—or expense—of a gas-powered saw?
If so, you've come to the right place.
In this guide, I'll show you how to find the best electric chainsaw that'll get your yard projects done—fast— just as well as a gas-guzzling machine.
There's something for everybody too.
You'll find everything from small corded chainsaws (for light trimming jobs) to big powerful electric chainsaws that can take down trees and slice up logs.
If you have any size project to handle, my list of the best corded chainsaws is perfect for you.
But, that's not all you'll get here.
In addition to my electric chainsaw reviews, you'll discover what the top features are you need to look for in a high-quality machine. You'll also find answers to common questions you may have about these tools.
So, let's get started.
I can't wait to help you find the best corded electric chainsaw for your needs!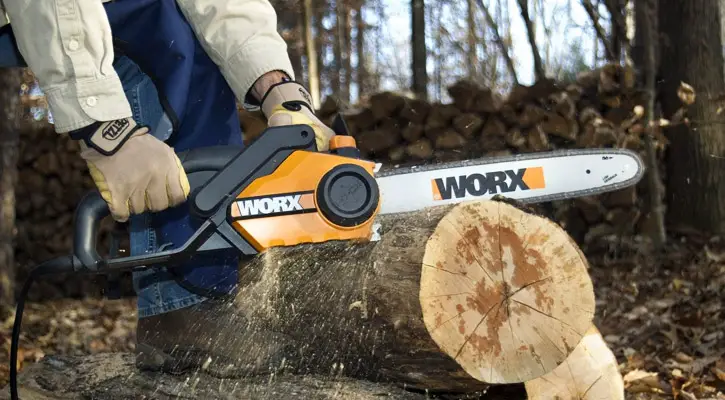 Disclosure: The chainsaws recommended below are my top favorites because they have a great combination of quality and features. As an Amazon Associate, I earn from qualifying purchases made through the links as a way to support this site. If you buy a qualifying product, you're not charged anything extra, but I'll get a small commission to help pay for my expenses. I hope you find my advice helpful and discover the best chainsaw for your needs on this list.
Best Electric Chainsaws Reviewed in This Guide
Here's a quick comparison chart showing the top electric chainsaws. I'll go in depth about each one later in this guide, but this gives you a sense of what's available and a simple way to quickly compare them.
Advantages to Using an Electric Chainsaw
If you're looking to buy a corded electric chainsaw, chances are you already know why.
However, before we jump into my list of the top electric chainsaws, I wanted to share with you some of the top advantages these machines have to offer.
When most people think of chainsaws, they imagine a heavy, loud, roar-ripping machine that puffs out clouds of blue smoke. But today, there are actually more user-friendly options that are better for both the operator and environment that run on electricity.
When you buy a corded chainsaw that plugs into an electrical outlet, here are the top benefits you'll enjoy:
Quiet Operation — Electric chainsaws are powered by a motor, not an engine, and they only make noise when you pull the trigger. Therefore, corded chainsaws are much quieter than gas chainsaws, which is better for your ears and your neighbors.
No Fuel Emissions — Without the use of gasoline, corded electric chainsaws don't produce emissions. That's good news for the environment and your personal health.
Less Maintenance — Since electric chainsaws don't have an engine, there are fewer parts that need to be maintained. That makes these tools a better option for busy homeowners.
More Affordable — Aside from their lower price, corded chainsaws are also cheaper to own over the long-term. With less maintenance and no fuel to buy, these machines are easy on your wallet.
Infinite Cutting Time — As long as your chainsaw is plugged into a power outlet, you can cut forever. There is no stopping to refuel like there is in a gas chainsaw or having to recharge batteries when using a cordless chainsaw. You can work all day long without any hesitations.
Lighter Weight — These chainsaws don't have a gas tank, heavy engine components, or large batteries attached, making them the lightest type of chainsaw you can buy.
The Best Corded Chainsaw Features
When you're shopping for an electric chainsaw, there are certain features you want to look for when comparing products. That way, you can find a tool that best matches your needs.
Here are those features to consider:
Bar and Chain Length
Chainsaws come in a variety of sizes.
And they're measured by the length of the guide bar—the metal blade that the chain spins round.
The length of this bar is what determines the type of woodcutting jobs you can perform, such as trimming, pruning, taking down trees, slicing up firewood, etc.
For example, an 8-inch chainsaw can't cut down a 16-inch thick tree. Its length is made for trimming and pruning small branches.
Now, if you're thinking of just buying the longest electric chainsaw you can find so you can do all sorts of tasks, I would caution you against this.
When it comes to selecting the right size chainsaw for a project, you really want a tool that has the correct bar and chain length to ensure your safety.
A general rule of thumb is to use a chainsaw blade that's at least 2 inches longer than the wood you want to cut. That gives you the proper clearance to prevent injuries from kickback (a sudden thrust of the saw blade back towards the operator).
If you plan on doing a lot of delimbing and trimming, go for a small 6 to 12-inch corded electric chainsaw (like my #1-4 picks below). If you're going to be cutting down a lot of trees or cutting up firewood, then choose a 12 to 18-inch corded chainsaw (like the #5-7 best electric chainsaws below).
Oiling Method
No matter if you buy an electric, battery powered, or gasoline chainsaw, the same thing remains true: you need to keep the bar and chain well lubricated or those parts will burn up.
There are three methods for bar and chain oiling, and each chainsaw model comes with one type.
When it comes to corded chainsaws, I recommend that you buy one with an Automatic (Adjustable Flow) Oiler if it's available or at the very least an Automatic (Fixed Flow) version. The reason being is that the third type, a Manual Oiler, adds an extra layer of complexity to your saw—something most people who choose electric chainsaws don't want.
However, you may feel differently about which oiling method to choose. So, here's how each one works:
Manual Oiler – Oils the bar and chain at the push of a button. You control the amount of oil that's delivered and how often it happens.
Automatic Oiler (Fixed Flow) – Self-lubricating system that delivers a fixed amount of oil to the bar and chain at a steady rate. No user input required.
Automatic Oiler (Adjustable Flow) – Self-lubricating system that delivers a steady flow of oil to the bar and chain, but you can increase or decrease the amount at any time. This is the best type of oiler you can get.
Chain Brake
One of the dangers of operating a chainsaw is something called "kickback".
Kickback is a quick rotational thrust of the chainsaw bar back toward the operator that can cause serious cuts to the head or neck regions. It happens when the tip of the chain nicks a hard object or the chain gets pinched between the wood.
While the cause of most chainsaw injuries is due to improper use of the tool or poor judgment by the operator, chain brakes offer an added level of protection against accidents.
A chain brake is a mechanism that stops the chain from spinning when a sudden kickback occurs. There are two types of chain brakes: Manual and Inertia-Activated.
Here's how each type of chain brake works:
Manual Chain Brake – A wide bar that's located in front of the top handlebar. It stops the spinning chain when it's pressed forward.
Intertia-Activated Chain Brake – An internal mechanism that senses fast upward force on the bar. No physical contact required to stop the chain from spinning.
Clearly, an Intertia-Activated Chain Brake is the better option of the two; however, both types of chain brakes are efficient for safety. If you're comparing two different corded electric chainsaws with a similar price, and one has an Inertia-Activated Chain Brake, I'd suggest you pick that one.
Bucking Spikes
If you're buying a larger electric chainsaw to cut up logs, Bucking Spikes are a good feature to look for.
Bucking Spikes are metal or plastic spikes that sit at the base of the chainsaw blade and are used to help you support the tool while cutting. This makes it easier for you to perform deeper cuts since you can pivot the bar down in a straight line.
Bucking Spikes also help prevent kickback since the saw body is dug in tight to the wood.
Tool-Less Chain Tensioner
All chainsaw chains have to be adjusted from time to time. And if you're doing heavy-duty work, they may even need to be retightened throughout the workload.
To make things easier for you, chainsaw manufacturers have developed two systems for tightening the tension of the chain: a Scrench and a Tool-Less Tensioner.
Since most people choose corded electric chainsaws because of their ease of use and maintenance-free design, I'd recommended that you choose one that includes a Tool-Less Tensioner. That way, you can quickly adjust the chain's tension on the fly without the use of any tools.
But, here's how each chain tensioning method works:
Scrench – A screwdriver/wrench combination tool that's used to turn a bolt on the saw to loosen or tighten the chain. Many chainsaws have a compartment to store it in next to the handle.
Tool-Less Chain Tensioner – A knob that can easily be turned to loosen or tighten the chain. No tools required.
Best Electric Chainsaw Reviews & Buying Guide
Now that you know what to look for in an electric chainsaw, we can move onto the list of the best corded electric chainsaws available today.
As I mentioned earlier, there's something for everybody here.
I've reviewed every size for corded chainsaws, from small handheld loppers for quick jobs, to extendable pole saws for high up branches, to large chainsaws for cutting up logs, and everything in between.
Some of the models listed below are even featured on my best chainsaw reviews page that includes the top 10 models available.
I'll begin with reviewing the smallest chainsaw—6 inches—and work my way up to the longest electric chainsaw you can buy—18 inches.

Best Corded Electric Chainsaw List
6-inch Bar and Chain
At first glance, you may think that this is some type of heavy duty wrench and not a chainsaw. However, I assure you that it's one of the best electric chainsaws you can buy for smaller jobs.
It's "alligator" design takes all of the guesswork out of how to operate a chainsaw safely.
With this tool, you can cut through branches without any fear of kickback. Just grip the wood between the "jaws", pull the trigger, and squeeze the handles together like a pair of scissors for a super simple cut.
With this chainsaw, you can breeze through the task of delimbing trees or cleaning up fallen debris.
The Automatic (Fixed Flow) Oiler keeps the bar and chain well lubricated. All you need to do is add a few drops to the reservoir before each use.
It also includes a unique Tool-Less Chain Tensioning feature that automatically sets the correct tension after you loosen the two chain cover retention nuts.
BLACK+DECKER thought of everything when it came to this small corded chainsaw. Perhaps, it's exactly what you've been looking for.
8-inch Bar and Chain
Are you looking for a lightweight chainsaw that can extend high up into the trees?
If so, this might be the best corded chainsaw for you. It's called a "pole chainsaw".
Not only is it cheap, but it takes the hassle out of trimming overhanging limbs and logs up to 7.5 inches thick. And, with a few twists of the telescoping pole, you can extend your reach by 8.7 feet in the air. That amounts to about 14 to 15 feet of distance from the ground for a person of average height.
The best part, however, is that this chainsaw only weighs 7 pounds, so it's easy to manage overhead and for long periods of time.
Because this electric chainsaw is made for long reach, the Automatic (Fixed Flow) Oiler is the perfect method for lubricating the bar and chain. You never have to touch a thing.
The Tool-Less Chain Tensioner is also effortless, requiring just a simple turn of a screw.
If you're a looking for a chainsaw that takes the danger and difficulty out of trimming your overgrown trees, this is a top inexpensive choice.
10-inch Bar and Chain
If you liked the idea of my last review but would rather have a pole saw that can transform into a handheld chainsaw, then this is going to be a better option for you.
Personally, I consider it to be the best corded electric chainsaw for suburban homeowners.
This 2-in-1 tool gives you everything you need to maintain the trees in your yard. What's nice about this chainsaw is that after you remove high up limbs using the pole, you can then use it as a regular chainsaw to cut up the fallen branches.
It's a tad bit heavier than my last recommendation—10 pounds—but for the 2-in-1 function, it's well worth it. Pole reach is comparable to the last review (8 feet).
While WORX indicates that it has an "Automatic" Tool-Less Chain Tensioner, the truth is it uses a knob to adjust the tension of the chain; however, it does prevent accidental overtightening.
Another thing worth noting is that the chainsaw looks like it has a Chain Brake to protect the operator, but it's actually just a top handguard with no chain-stopping capabilities.
All-in-all, for a multi-use electric chainsaw, this one is hard to beat.
12-inch Bar and Chain
At 12 inches long, we're entering the territory of full handheld chainsaws.
Saws this large don't come with pole attachments since it can make them unsafe to use at high distances. Plus, they're made for tackling trees and wood at ground level.
With a corded electric chainsaw like this, you'll be able to slice through wood up 11.5 inches thick. A simple squeeze of the trigger is all it takes to zip through thick tree branches, chop up a pile of logs, and cut a cord of firewood.
The weight of this machine is ideal for long cutting sessions at just over 7 pounds. And the Automatic (Fixed Flow) Oiler takes all of the guesswork out of bar and chain lubrication.
One drawback to this machine is that it doesn't include a Tool-Less Chain Tensioner, but rather has a small screw that needs a screwdriver for adjustment.
Another thing you may want to know is that this model doesn't have a Chain Brake. The big plastic piece in front of the top handlebar is just a front handguard.
Truth be told, for a 12-inch corded chainsaw, you don't have many options to choose between. And if you want a saw of this length, this one is going to be your best corded chainsaw choice by far.
14-inch Bar and Chain
For many people, a 14-inch chainsaw is the perfect perfect size to own. And this Greenworks model is a top favorite.
What makes it so attractive is that it's one of the lightest corded chainsaws you can buy at this size—at 8 pounds—and has a compact design that's super easy to hold for long cutting sessions.
The fact is, for small projects around the house, like pruning, cutting up limbs, and taking down trees up to 12 inches thick, this chainsaw offers more than enough functionality for many homeowners.
Although it lacks a safety Chain Brake, it does include a wraparound handguard in its place which adds some protection against flying debris while cutting.
This model includes an Automatic (Fixed Flow) Oiler, so you never need to worry about oiling your bar and chain. And, the Tool-Less Chain Tensioner offers quick—and reliable—chain tensioning without needing a separate tool.
For the price, this electric chainsaw can't be beat. It also comes fully assembled and ready to cut right out of the box.
16-inch Electric Corded
Perhaps you're looking for an electric chainsaw that's a tad bit longer than the last review. Or maybe you want something with more automatic features.
If so, this may be the perfect chainsaw for you.
This 16-inch chainsaw was built with first-time users and casual lumberjacks in mind. It's meant to be your go-to tool for all sorts of jobs around the yard, such as clearing brush, trimming tree branches, cutting firewood, etc.
The part you'll like most about this machine is the Easy-turn Screw Chain Tensioning System. This helps you keep your chain properly tightened with fine precision.
An Automatic (Fixed Flow) Oiler is included for effortless bar and chain lubrication and it has a Wraparound Hand Guar to keep you safe during every job.
Bottom line: if you want a corded chainsaw that's really cheap and can do it all, this is a great choice.
18-inch Bar and Chain
This final review is for people who have heavy duty tree cutting jobs to tackle and want the longest electric chainsaw they can buy.
The truth is, corded chainsaws don't come any longer than 18 inches. The electric motors in these machines just can't handle any more length.
However, this machine is a powerhouse for the toughest jobs around the yard, like cutting down thick trees, slicing up fallen logs, and carving up piles of firewood.
As for features, it includes everything that my #6 review has: a Patented Auto-Tensioning Chain System, Automatic (Fixed Flow) Oiler, and a Manual Chain Brake. So, you're getting a great chainsaw that maintains itself without any chance of user error.
The best part, however, is that you can often find this WORX WG304.1 model for the same price—or just a few dollars more—than the WORX WG303.1. That makes it well worth the upgrade if you want to invest in a lifelong chainsaw.
---
Additional Information on Corded Chainsaws
How Do Electric Chainsaws Work?
Electric chainsaws are powered by electrical motors which is much different than gas chainsaws that are powered by internal combustion engines.
The biggest difference is that electric motors don't have moving parts like a gas (petrol) engine does. Instead, the motor (i.e. engine) draws power from electricity and the power-producing component called an "armature" converts the electrical power into mechanical power in the form of torque.
The torque (or twisting force) is then transferred to a shaft inside the chainsaw. The rotating shaft is what makes the chainsaw chain spin around the guide bar to cut wood.
Related Post: Best Budget Chainsaw List
Do Electric Chainsaws Need Oil?
Yes, but not for the motor. Electric chainsaws don't have internal combustion engines, so engine oil is not needed to lubricate those types of parts. However, electric chainsaws do need bar oil to lubricate the guide bar and chain.
Chainsaw bar oil protects the chain and guide bar against wear, rust, and corrosion. Not using adequate amounts of bar oil in a corded electric chainsaw can destroy the bar and chain, and cause excessive wear on the electrical motor.
Related Post: Best Chainsaw for Home Use List
Corded vs Cordless Chainsaw
When it comes to electric chainsaws, there are actually two types: corded and cordless.
As the name suggests, corded chainsaws required a power cord to operate the tool. And they work the same way as electric trimmers, drills, leaf blowers, etc. that run off of electricity.
A cordless chainsaw runs on batteries.
The internal components of the chainsaw are mostly the same, but these machines get their power from an onboard battery source.
If you're interested in seeing what types of battery powered chainsaws are available, take a look at my best battery chainsaw reviews. That page features buying tips cordless models and includes top products you can buy today.
Now, the main differences between corded and cordless chainsaws are the following:
Corded models run forever when plugged in while cordless versions only last as long as the battery can allow (30 mins. to 1 hour).
Corded models are much cheaper than cordless versions.
Corded models are lighter than cordless versions that have extra battery weight.
Corded models have more power than cordless versions.
Corded models are restricted by the length of the cord while cordless versions can have unlimited reach.
Choosing the Right Extension Cord and Length for an Electric Chainsaw
When you buy a corded electric chainsaw, you're going to need an extension cord to go with it. However, not all extension cords are created equal.
Buying the wrong type of extension cord can actually cause several things:
Not enough power to run the chainsaw
Damage to the chainsaw
Burn out of the extension cord
Electrical fire
By understanding a few simple qualities of an extension cord, you'll be able to operate your tool safely and maximize its performance.
I'll explain everything you need to know in a few brief points and then follow up with an easy-to-understand chart to help you get the right cord for your needs.
Extension cords have two classifications: indoor use (S) and outdoor (W) use. They look similar but the internal insulation is different. Always choose an outdoor-rated cord. Never use an indoor extension cord outdoors.
An extension cord is labeled by its wire gauge (or diameter). Measurements are based on the American Wire Gauge (AWG) standard. 16AWG is an example of labeling, where "16" is the gauge of the wire.
Each wire gauge can only power a chainsaw of a certain amperage up to a specific distance. For example, 16AWG can power a 5 amp chainsaw up to 100 feet.
As the length of an extension cord increases, the capacity to carry electricity decreases.
To determine the extension cord gauge you need, you'll first need to know the number of amps your chainsaw draws and the length of a cord you want. Fortunately, most electric chainsaws use less than 15 amps—like the ones reviewed on this page—so that makes things much easier.
The next step is to match the amps and cord length up to the correct wire gauge. That will ensure maximum performance and safe operation of your electric chainsaw.
I've included a chart below for each combination of amp rating, cord length, and wire gauge for you to get the correct extension cord.
Electric Chainsaw Extension Cord Chart
Note: You can always go lower in number for wire gauge and still be safe for a particular amp rating and cord length. The smaller the number, the thicker the cord. Never go higher in wire gauge than recommended in the chart above.
Common Parts Found on the Best Corded Chainsaws
When you're comparing electric chainsaws, you'll come across a variety of terms that related to the parts. Most are self-explanatory, but there are a few that do need some explanation.
Here's a list of those terms and definitions:
Guide Bar — The long blade of the chainsaw that holds the chain in place.
Chain — This does the cutting and has sharp teeth.
Handguard — Helps protect your hand from flying debris.
Top (or Front) Handle — Held with the left hand and used to guide the blade of the chainsaw through cuts.
Rear Handle — Held with the right hand for stabilizing the chainsaw and pulling the trigger.
Trigger (or Throttle Control) — A button on the rear handle that gets the chain spinning when pressed.
Throttle Lockout — Safety mechanism that prevents the chainsaw from starting accidentally.
Power Switch — Used to turn the electric chainsaw on and off.
Bucking Spikes — Located at the base of the guide bar and used to stabilize the chainsaw when cutting logs. Also, helps to prevent kickback.
Tool-Less Chain Tensioner — A knob for loosening or tightening the chainsaw's chain.
Chain Oil Reservoir — Houses the bar oil that's used to lubricate the bar and chain.
Chain Oil Cap — Remove this to pour bar oil into the reservoir and then put back on.
Chain Oil Bulb — Located on Manual Oiler chainsaws. Press it down to add oil to the bar and chain to prevent wear, overheating, and damage.
Oil Level Window — Gives you a visual indication of how much bar oil is left in the reservoir.
Power Cord Plug — The connection point for an extension cord that will power the corded chainsaw.
Closing Thoughts on My Best Corded Electric Chainsaw Reviews
If you made it to this part of my guide, then you now know everything there is about how to select the best corded chainsaw for your needs.
But before we part ways, I wanted to mention one last thing.
The most attractive aspect of the best corded electric chainsaws is their price. When comparing them to gas and battery powered chainsaws, they're one-third of the price.
That means you can get a high-quality chainsaw without spending a lot of money. For example, the 14-inch Remington "Limb N Trim" electric chainsaw reviewed on this page costs around $40. The cheapest you'll find in a battery or gas chainsaw of this size is $120.
If you'd like to do a side-by-side comparison of each type of chainsaw (gas, battery, and electric), check out my best chainsaw reviews page. Or, if you just want to see what gas models are available, take a look at my best gas chainsaw page.
You're sure to find the right tool for your needs on one of those pages if it's not already on this electric chainsaw reviews guide.
I hope you enjoyed this guide on finding the best electric chainsaw.
Happy cutting!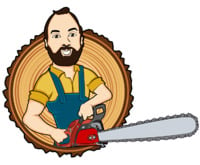 Your Pal,
Chainsaw Larry