The Echo CS310 chainsaw is one of the top-rated models you can purchase. It is an excellent choice if you are looking for a dependable, durable, and powerful saw for your budget.
This chainsaw offers many features that make it stand out as one of the industry leaders. It's compact and lightweight yet provides users the power they need when cutting through the toughest materials. And although you can use this tool for sawing, it's also suitable for trimming trees and shrubs. Another Echo model that is lightweight and durable is the Echo CS 400.
But like any good tool, many variables make this a great chainsaw. So, in this review, we'll look at some of this saw's features and key specifications, making it a fantastic choice for a first-time chainsaw buyer.
Disclosure: The chainsaw items recommended below are my top favorites because they have a great combination of quality and features. As an Amazon Associate, I earn from qualifying purchases made through the links as a way to support this site. If you buy a qualifying product, you're not charged anything extra, but I'll get a small commission to help pay for my expenses. I hope you find my advice helpful and discover the best chainsaw stuff for your needs on this list.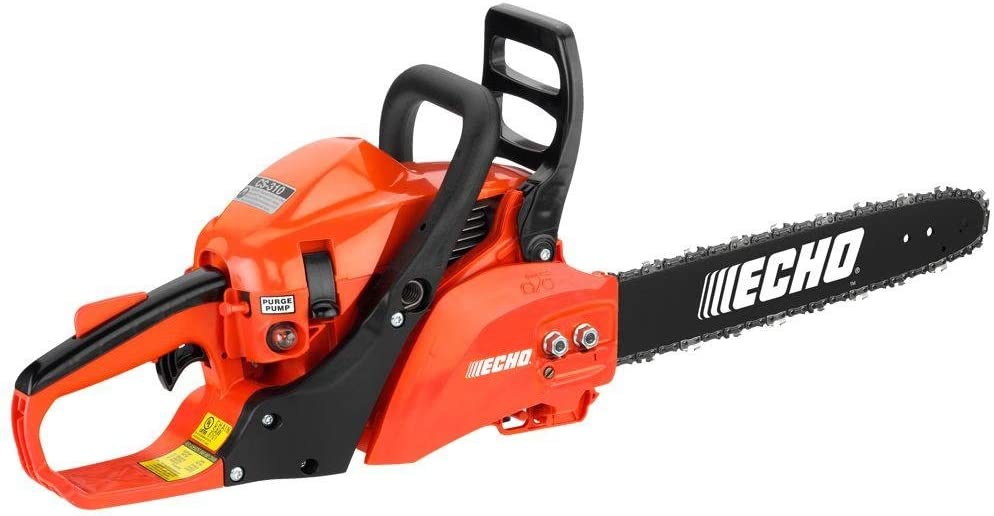 Features and Specifications
The Echo CS310 chainsaw is an excellent choice for professional and home use. It has a powerful 2-stroke engine that provides plenty of power and cuts through wood quickly. The bar length is 14 inches, the standard size found on most professional saws.
The side-access chain tensioner allows you to make quick adjustments without removing the saw from your belt or work surface. This saw also comes equipped with an oiler, automatically feeding oil into the engine when needed.
Two cool features we loved with this chainsaw from the Echo brand are the i-30™ starting system, which reduces starting effort by 30%, and the automatic clutch-driven oiler that operates only when the chain is moving to reduce oil consumption. This unique design prevents excessive oil loss and prolongs chain life.
These features are especially beneficial if you plan on using this saw for extended periods or if it's your primary source of income while working at home.
Performance
The engine in the Echo CS310 chainsaw has more power than a few other chainsaws we tested, but not so much that it overpowered our test logs or caused them to excessively vibrate while cutting through them.
It was still able to cut through my test logs at high speeds (about 5 seconds per cut), although I did have to make several passes to get through all of them — even after changing out the bar oil mid-cut, which can be done without removing the engine cover (it snaps right off).
The chain saw weighs just under 9 lbs, which is not heavy by any means but noticeable when swinging it around. The handle is made of plastic with rubber grip pads on either side and a rubber tip at the end, making it easy to hold onto even when your hand gets sweaty from holding the saw for long periods.
What You'll Like About The Echo CS310 Chainsaw
This saw has a few things going for it, but the biggest thing is that it's an entry-level saw. You can use it for light-cutting jobs or even small tree removal jobs. It's not built for serious work but will get you through most jobs without issues.
This chainsaw is pretty much a good all-around saw for the price. It has a powerful motor, excellent balance, and impressive power for its size. In addition, it's effortless to start and maintain. However, the key to starting this saw is fresh high-octane fuel—don't go cheap and use Echo oil.
The Echo CS310 chainsaw is also one of the only made-for-home saws with a five-year warranty on their motors and a one-year warranty on their cutters (the other two are Bosch and Makita).
What You Might Not Like About The Echo CS310 Chainsaw
There are no real negatives to this chainsaw, but there are some things you should be aware of.
The only major thing I don't like about this chainsaw is its repair costs. The chainsaw doesn't come with any spare parts or tools. You have to purchase these separately if you want them, and opting to repair damaged parts instead will only save you a little bit more than simply getting a complete replacement done.
You also need to know that this is not a chainsaw meant for bigger jobs. It has a power limit of 8,000 RPM and can only cut through 2×4 logs and not any larger. If you want something more powerful than this, then you should look elsewhere.
It's also worth mentioning that this chainsaw is only sold with a 12-inch bar, as any larger would make it pointless due to its power limit (8,000 RPM).
Comparable Echo CS310 Chainsaw Alternatives
The Echo CS310 chainsaw is still a top choice for customers who need reliable performance in their well-used or new home garages and workshops. But if you don't want to spend as much money or want something more powerful for your specific needs, I'll recommend some comparable chainsaws.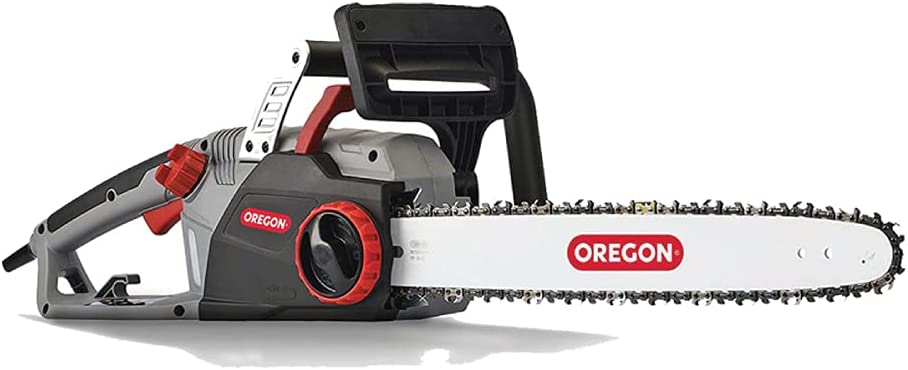 The Oregon CS1500 is an excellent chainsaw for those looking for an electric option. It's a reliable chainsaw that can handle most jobs. It has no trouble cutting through wood and has an 18-inch bar length, allowing you to cut branches up to 2 inches thick. In addition, the Oregon CS1500 is very quiet, making it ideal for use in the shop or around your home.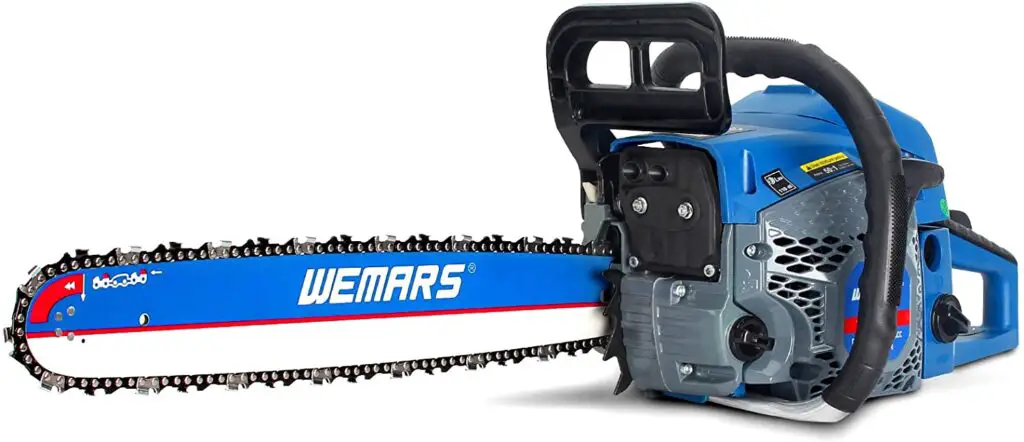 The WEMARS 62cc, 20 Inch Chainsaw is a good choice for those who want an affordable chainsaw that can handle most tasks. It offers a lot of power and has a 20-inch bar length, which is more than enough to cut through anything you would need it to. This chainsaw is also very lightweight and easy to use, making it the perfect tool for users of all experience levels.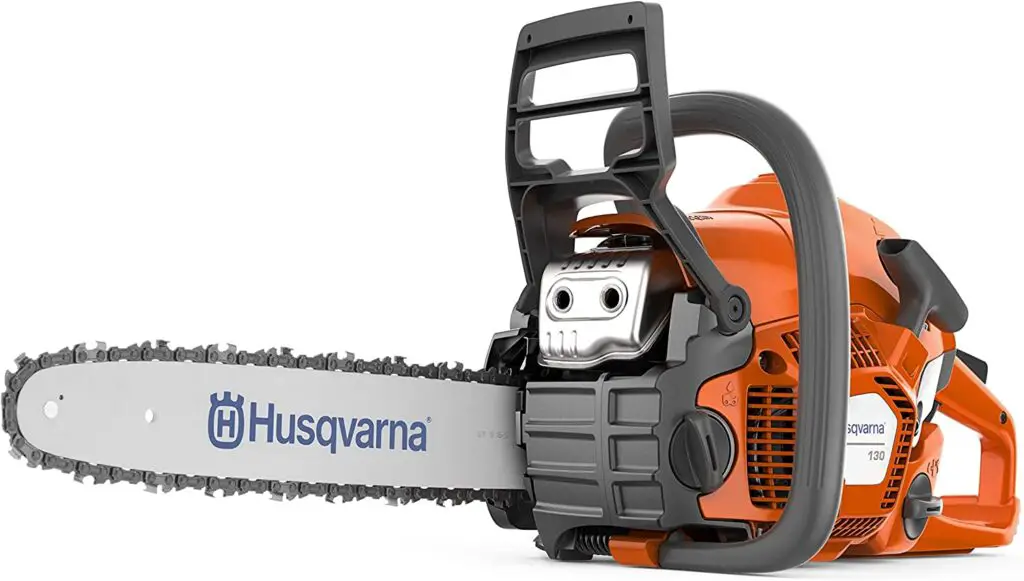 The Husqvarna 16 Inch Chainsaw is one of the best lightweight chainsaws on the market. This gas-powered chainsaw has an automatic chain oiler and comes with 2.6-ounce, 2-cycle fuel and oil in the box, so you don't have to worry about buying them separately.
This saw has an inertia-activated chain brake for operating safety and comes with a bar cover. You can also purchase additional bar oil separately if needed.
If you're more drawn to the Husqvarna brand, check out my list of the best Husqvarna Chainsaws on the Market.
Conclusion
Overall, if you need a cheap, budget chainsaw that won't let you down in the middle of the job, then the Echo CS310 chainsaw is probably the best choice. It has enough power to complete most jobs, and you don't have to worry about mixing gas and oil. This gas-powered saw is a great starter chainsaw for anyone that is just getting into wood cutting or needs a chainsaw for simple tasks around the house.
I hope you enjoyed my review!
Happy sawing!
Your pal,
Chainsaw Larry