Are you searching for the best chainsaws for women? 
Whether it's your first experience with a chainsaw or it's not your first rodeo, you've landed on the right page. 
Although chainsaws have been linked with being a manly job in the past, we'd like to leave it there- in the past. These days it can be just as much a woman's job and I'm happy to help you find the right chainsaw for yourself or for a special woman in your life. 
Below, you'll see a list of the top chainsaws I've picked for women- they are all top-rated and are lead sellers in the market.
This ensures that no matter which one you choose, you'll enjoy a great machine no matter which one you go with. 
Enjoy this list of the best chainsaws for women.
I'm sure you'll find the one that's right for you!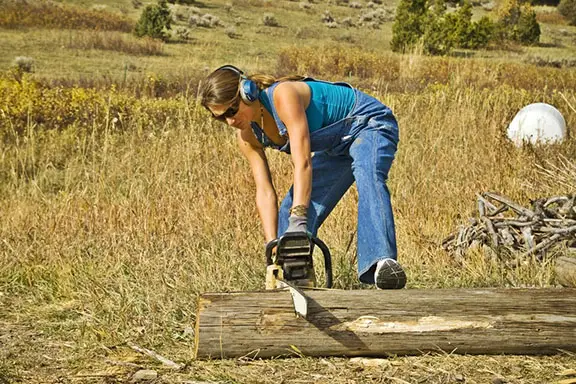 Disclosure: The chainsaw items recommended below are my top favorites because they have a great combination of quality and features. As an Amazon Associate, I earn from qualifying purchases made through the links as a way to support this site. If you buy a qualifying product, you're not charged anything extra, but I'll get a small commission to help pay for my expenses. I hope you find my advice helpful and discover the best chainsaw stuff for your needs on this list.
Top Chainsaw Picks and Buying Guide
1. Greenworks G-MAX 40V 16″ Cordless Chainsaw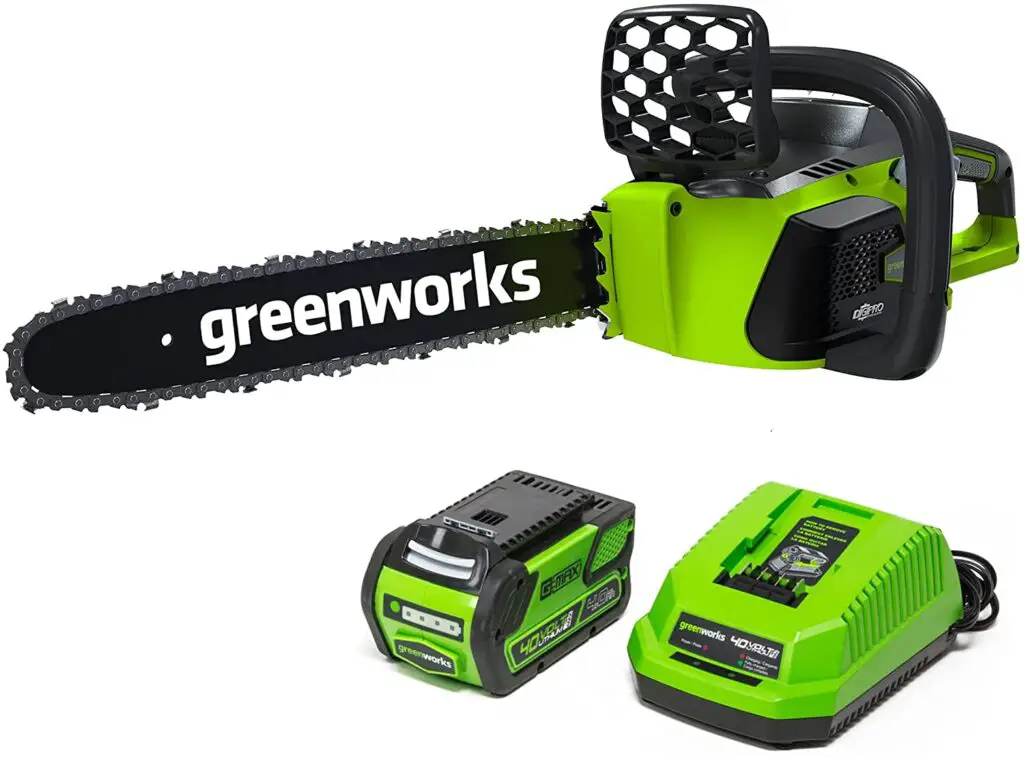 ⁃ Long run time 
⁃ Battery Operated
⁃ 10.36 lbs
⁃ 16-inch bar
This Greenworks G-MAX cordless chainsaw is one of the top rated chainsaws mainly for it's long run time and more torque and power- said to replace any gas chainsaw. Great chainsaw for any level of experience. 
This lightweight chainsaw has a brushless motor design that offers 70% less vibration for user comfort and has a low kickback chain for increased safety.  
Lightweight and added safety makes this a top pick for women. It has a 16" bar which makes it one of the bigger chainsaws on this list, so if you're looking for a more compact chainsaw, take a look at some of the other top picks I have here.  
2. Worx WG305.1 8 Amp 14" Electric Chainsaw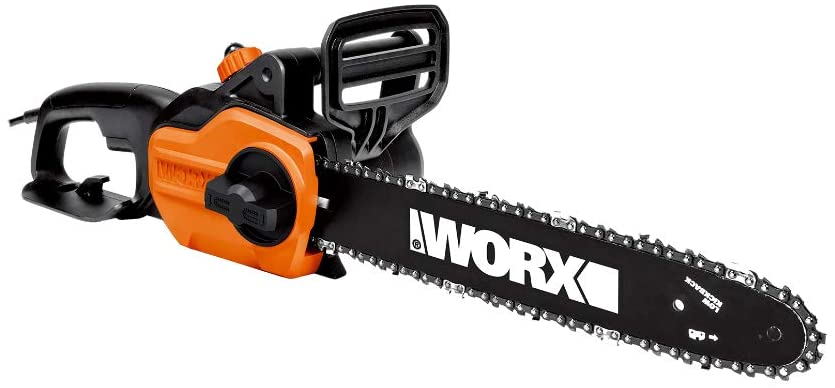 ⁃ Best budget-friendly
⁃ Corded
⁃ 6.6 lbs
⁃ 14-inch bar
This chainsaw made the list because it's a compact powerhouse. Its automatic, tool-free chain tensioning system makes it low maintenance and its weight makes it very easy to handle- coming in at 6.6 lbs, making it the lightest chainsaw on the list.  
3. BLACK+DECKER 20V Max Cordless Chainsaw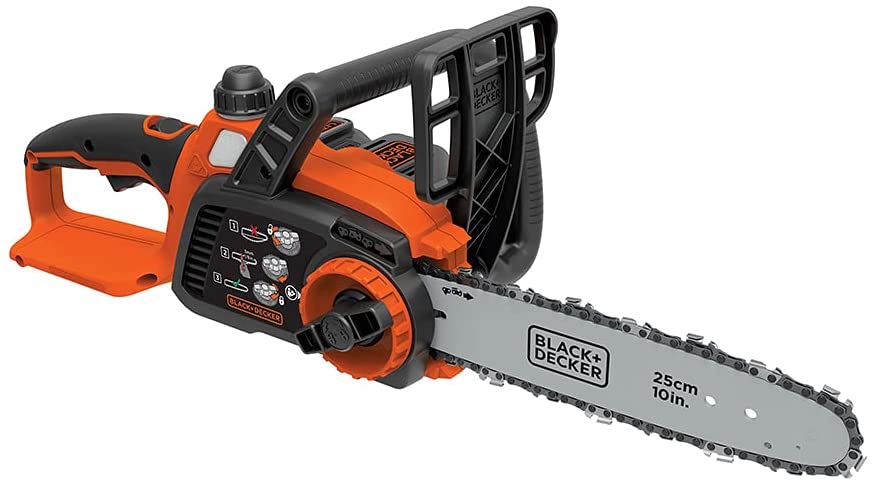 ⁃ Best lightweight and compact
⁃ Battery Powered
⁃ 7.59 lbs
⁃ 10-inch bar
Lightweight, compact, and easy to maneuver with being cordless. This chainsaw has been reviewed by many women and they love it. 
Easy to use and maintain. Ensures smooth and seamless cuts that make all jobs safe and easy. Best used for smaller jobs.
4. Sun Joe SWJ701E 18-inch 14.0 Amp Corded Electric Chainsaw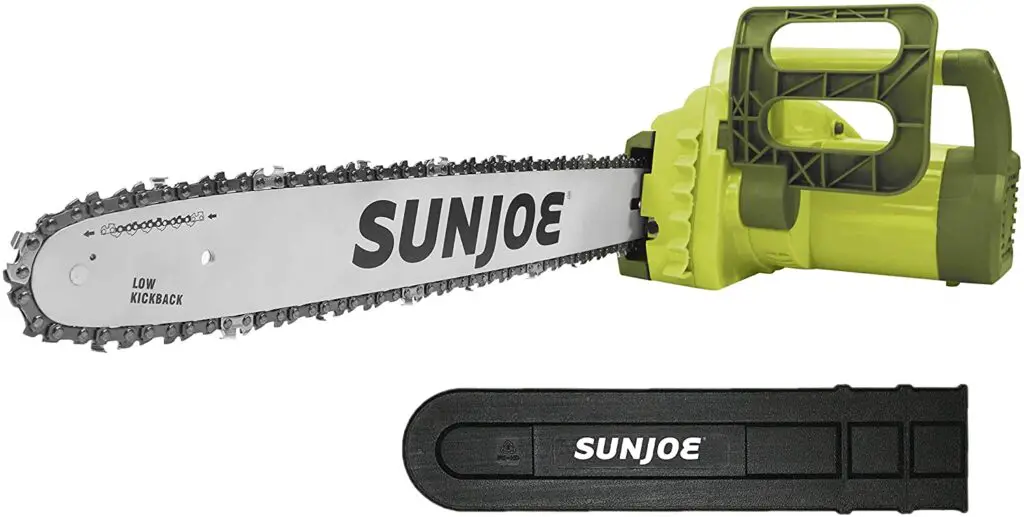 ⁃ Best low maintenance chainsaw
⁃ Corded Electric
⁃ 9.70 lbs
⁃ 18-inch bar 
This chainsaw comes in at the biggest on the list with an 18-inch bar and is best used for cutting through bigger projects such as logs and firewood but can also be used to trim limbs.
Although it may be larger, it's still pretty lightweight which makes it easy to handle.  It also has an ergonomic handle that can create more comfort while using. 
This Sun Joe electric chainsaw also features a handguard with a kickback brake and a switch to prevent accidental starting. 
5. Makita Lithium-Ion Brushless Cordless 10" Top Handle Chainsaw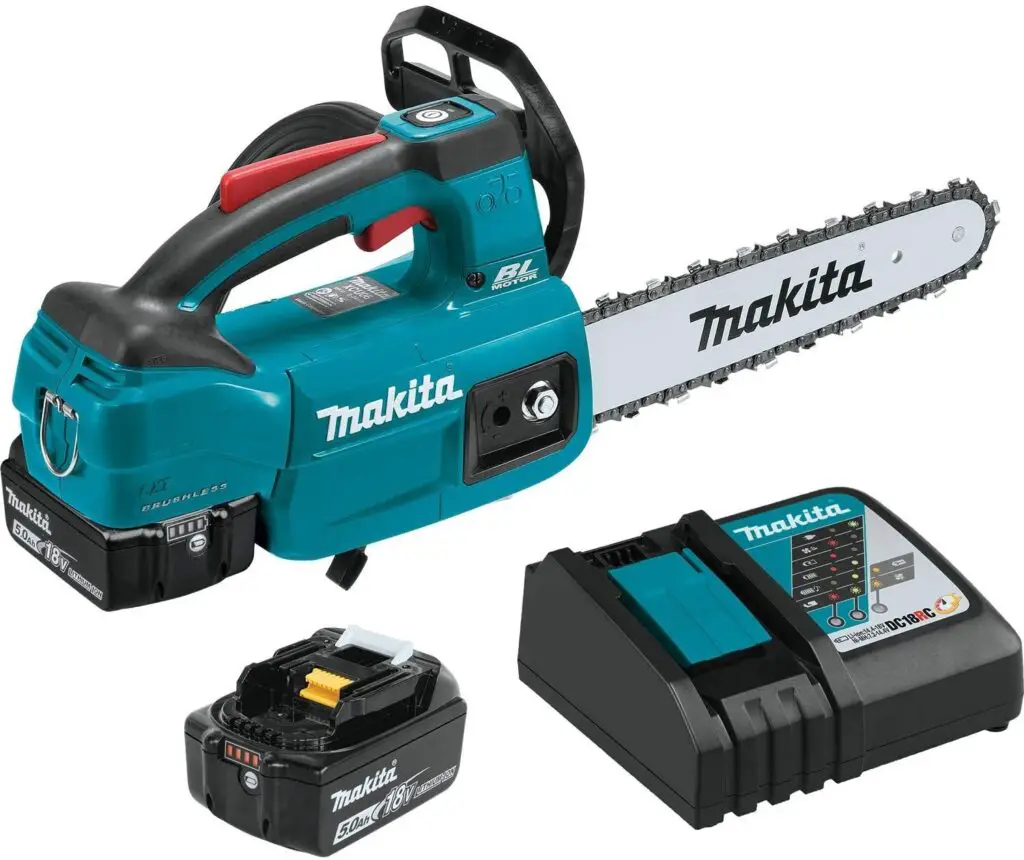 ⁃ Lightest weight chainsaw
⁃ Battery Powered
⁃ 7.19 lbs
⁃ 10-inch bar
Here's another compact and lightweight chainsaw with a 10" bar and a little over 7 lbs in weight.  This chainsaw is ideal for pruning, trimming, and limbing. Known as a cordless alternative to gas-powered chainsaws with its brushless motor direct-drive system which would be equivalent to a 22cc gas chain saw. 
With it being battery-operated and lightweight, this chainsaw has lower noise and is considerably less maintenance. This one has great power for such a small design and also has great safety features such as a built-in lock-off to help prevent the chain from accidentally engaging and an electric brake.
6. Remington Gas Powered 14-inch Chainsaw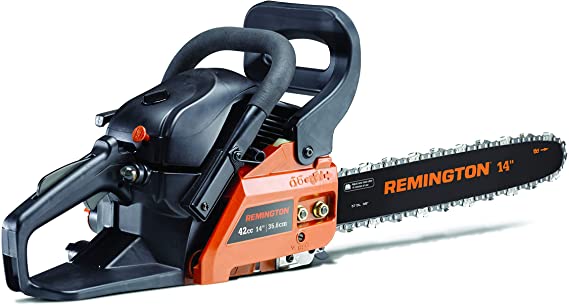 ⁃ Most comfortable gas powered chainsaw
⁃ Gas Powered
⁃ 14.98 lbs
⁃ 14-inch bar
This chain saw is the only gas powered chainsaw on our top list of chainsaws for women. I do feel that electric chain saws are less maintenance, lighter and easier to manage but I didn't want to leave any stone unturned. 
This would be my top pick for gas powered chainsaws for women because it's lightweight for being gas powered- coming in at almost 15 lbs. This chain saw offers a lot of power so it can be used for bigger tasks and has a 3-point anti vibrations system and an ergonomically-designed handle which makes it  more balances and more comfortable to operate.
If you're looking for a lot of power and are okay with putting a little more maintenance behind your chainsaw, this would be a good fit. 
So there we have it. 
I've listed 6 chainsaws I think would be best for women- whether your'e a beginner or seasoned with a chainsaw, there are options for you. 
It all depends on how comfortable you are with a chainsaw, what you'll be using your chainsaw for, how much maintenance you're willing to put into a chainsaw, and how you want the chainsaw to feel in your hands.
The best thing you can do is pick one of the top rated chainsaws above that has the features that meet your individual needs.
Once you do that, you'll be more than happy with any one of the popular and best chainsaws listed above since it'll satisfy your needs now, and into the future! 
Happy sawing ladies!
Your pal, 
Chainsaw Larry
Additional Info on Safety for Chainsaw Users.
Inspect the Chainsaw Before Each Use
Before you start the chainsaw and use it around your home, there are several things you want to check:
Chain has the correct tension. 1/8 of an inch of play when pulling up on the chain and it snaps back into place.
Bar oil reservoir is full.
Chain teeth are sharp.
No loose parts or bolts.
Air filter is clean.
Throttle lock works and is not damaged.
Chain brake is functioning.
Gas tank is full, batteries are fully charged, or the electrical extension cord is plugged into a power outlet.
Protect Yourself
Safety should always be your first priority when using a chainsaw around the home.
Accidents do happen, and the following list of protective equipment can keep you safe from flying wood chips and accidental kickbacks:
Helmet
Safety glasses (or helmet with face shield)
Cut-resistant gloves
Long sleeved shirt
Chainsaw chaps
Cut-resistant boots
Hearing protection
For specific recommendations for this type of equipment, check out my best chainsaw safety gear page.
Reduce Your Chances of Kickback
No matter how careful you are, a chainsaw can still unexpectedly kick back towards you. A kickback is when the chainsaw blade uncontrollably arcs back towards you and can cause serious cuts to your head, neck, or body.
Fortunately, most chainsaws come with a Chain Brake to stop the chain from spinning during a kickback. However, there are some additional things you can do to lower the chances of a kickback occurrence:
Firmly hold the chainsaw with both hands. Never cut one-handed.
Only cut wood that's 2 inches thinner than your chainsaw's guide bar. For example, a 20-inch chainsaw should only be used on 18-inch or thinner trees.
Never use the tip of the blade to make a cut. This is the considered "kickback zone" since hitting a hard object can push the tip backward.
Use caution when re-entering an existing cut.
Stand with your body to the left of the chainsaw. Never cut while hovering above the blade in case a kickback does occur. That way you won't be in the direct path of the chain.
Never cut above shoulder height.
Never cut when you're standing on an unstable surface. Ensure both feet are planted firmly on the ground.
Maintaining Your Chainsaw
After using your chainsaw around the house or yard, you should take these final few steps to keep it well maintained.
Note: Always turn off the chainsaw before performing these tips.
Remove any dust, dirt, or wood chips from the bar and chain.
Clean the guide bar groove.
Wipe down the chainsaw chassis and engine once it's cooled down.
Cover the chain with a blade cover to protect it from the elements.
Remove any existing fuel from the gas tank and store it in another container.
Test the Chain Brake to ensure it's still functioning properly.