Looking to buy a pole saw?
But not sure which one to pick?
If so, you've landed on the right page.
In this guide, I'll show you how to find the best pole saw for pruning trees that also fits within your budget.
With so many different types of pole saws available, it can be hard to know which one to choose.
That's why I've create this all-inclusive guide to help you make the right choice.
Whether you're looking for the best gas pole saw, best battery pole saw, or best electric pole saw, this page has everything you need.
So, let's get started!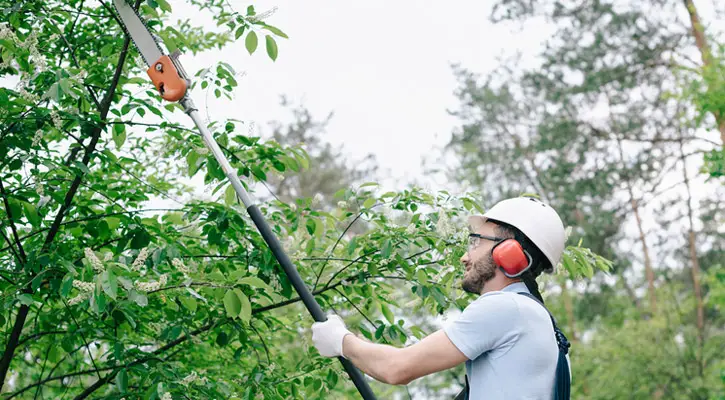 Disclosure: The chainsaws recommended below are my top favorites because they have a great combination of quality and features. As an Amazon Associate, I earn from qualifying purchases made through the links as a way to support this site. If you buy a qualifying product, you're not charged anything extra, but I'll get a small commission to help pay for my expenses. I hope you find my advice helpful and discover the best chainsaw for your needs on this list.
Best Pole Saws Reviewed in This Guide
Here's a quick comparison chart showing the best pole chainsaws. I'll go in depth about each one later in the pole saw reviews section, but this gives you a sense of what's available and a simple way to quickly compare them.
How to Choose the Right Pole Saw?
Having a pole saw (also called a pole chainsaw or pole pruner) is essential if you want to trim or prune trees.
But finding the right pole saw can be tricky.
These telescopic tree pruners come in a few different varieties, so you need to make sure you choose the one that meets the demands your yard.
Before we jump into the actual reviews of poles saws, let's first look at the different types of pole saws you can buy.
Gas Pole Saws
As the name suggests, gas pole saws are powered by gasoline.
And gas powered pole saws are the most powerful and versatile tool you can own for pruning trees.
These chainsaw pole pruners can run for hours at a time as long as you have enough fuel to operate them. And since they don't require electricity or a battery to make them run, they're the best option if you're working in a remote setting.
Note: Gas pole saws require a mixture of 2-stroke oil and gasoline, so you can't just fill it up with standard octane fuel.
If you have a large yard with lots of trees that need to be trimmed and pruned, then you'll need a pole saw that can take on this large task. Gas pole saws are excellent for heavy-duty work like this.
Gas powered pole saws weigh between 14 and 20 pounds and come with engine sizes that are between 20 and 40 cubic centimeters. And since they have engines, they can be quite loud.
The only downside when you're shopping for a gas pole saw is that you won't find too many choices available anymore. That's because gas powered tools of all types are now being replaced by more environmentally friendly options like cordless battery pole saws and electric pole saws.
Cordless Battery Pole Saws
A cordless battery pole is very similar to a gas powered pole saw but you don't have to mix or pour fuel.
You can also use cordless battery pole saws anywhere since you're not tied to an electrical cord. These tools are operated by rechargeable batteries.
One thing to keep in mind is that cordless pole saws are less powerful than gas pruners. So, it will take longer to cut through branches with them. However, they're very quiet tools with low noise levels since they have electrical motors and not engines.
Also, battery pole saws don't run as long as gas pole saws. These tools have a total cutting limit time of 30 minutes to 1 hour per battery charge. So, it's best to stock up on a few extra batteries if you have a lot of tree pruning work to do.
Cordless pole saws are on the lighter side and weigh between 13 and 15 pounds and their power is measured in volts. The typical volt range for these pole saws is between 40 and 80 volts and more volts means more power.
Corded Electric Pole Saws
A corded electric pole saw is your final option for a telescopic tree pruner.
These pole saws are powered by electricity and must be plugged into a wall outlet with an extension cord.
While being tied to a cord might not seem appealing, this design does offer a few advantages.
First, an electric pole saw runs forever. You never have to refuel or change out batteries.
Second, they're equally as powerful as battery pole saws.
Third, they're the cheapest pole saw you can buy.
Fifth, you can easily find 2-in-1 models that transform from being a pole saw into a standard chainsaw. That means you can go from pruning trees to cutting logs on the ground without having to own two power tools.
The biggest drawback; however, is that the length of the extension cord will determine how far you can move throughout your yard. Most often this distance is around 100 feet.
Corded electric pole saws are the lightest chainsaw pruners available at less than 15 pounds and their power is measured in amps. Most electric pole saws have between 6 and 10 amps and more amps equals more power.
Pole Saw Reviews & Buying Guide
Now that you have some background on the different types of pole saws you can buy, we can now move on to the pole saw reviews.
Below are the top 10 best pole saws you can buy today.
Every pole saw comes with slightly different features, so be sure to pick the one that's right or you.
When you choose from any of the pole saws on this list, you can feel good knowing that you'll be getting a high-quality tree pruner that can tackle the toughest tasks.

Best Pole Saws List
And this is my top pick because it's a 2-in-1 model that gives you the luxury of switching from pruning tree branches to cutting logs in a matter of seconds.
Plus, this electric pole saw has the longest cutting bar length at 10 inches.
It also has an extendable reach of 10 feet. That means you can actually trim and prune branches that are 15 to 18 feet above you since that telescopic measurement doesn't take your height and arm reach into account.
Some of the other features that come on this best electric pole saw include:
8-amp motor

Weighs 12.5 pounds

Push-button that allows you to convert to a chainsaw quickly without tools
Automatic oiler for lubricating the chain
Tool-free chain tensioner knob

No-slip grip and an anti-rotation pole that gives this chainsaw more stability and allows you to maintain better control

Branch hook for removing small limbs
Blade cover
This pole saw is also a 2-in-1 machine that has a 10-inch bar. Therefore, it's the most versatile electric pole pruner you can buy since it easily switches from a tree pruner to a handheld chainsaw within seconds.
The main reason this chainsaw slipped into second place is because it only has an 8-foot telescoping pole (2 feet shorter than my #1 pick).
As for the other features it comes with, you'll find:
8-amp motor
Weighs 10 pounds
Push-button conversion to use as a handheld chainsaw
Automatic oiler
P

atented auto tension chain system that extends the life of the bar and chain
If you're looking for the best deal, this chainsaw pole pruner is the cheapest option out of my top 3 picks.
It comes with an 8-inch bar and a telescoping pole that can extend up to 8.6 feet.
The other important features are as follows:
8-amp motor
Weighs 8.4 pounds
Push-button conversion to a handheld chainsaw
Automatic oiler
Tool-free chain tensioner knob
Safety switch to prevent accidental starting
This gas powered pole saw is one the most versatile pieces of equipment you'll find tackle all of your landscaping needs.
In addition to the powerful 10-inch cutting bar it also has the longest reach on this list at 11.4 feet. That means the actual working height with the telescoping pole is 16 to 19 feet.
You can also convert this machine into a number of other yard tools.
MAXTRA allows you to buy different attachments that turn this pole saw into a string trimmer, hedge trimmer, or a brush cutter. So, you can save space in your garage or workshop while still having multiple tools to keep your yard well maintained.
As another added bonus, this gas pole saw also comes with a bag for protective storage and easy transporting.
Note: You can also choose the upgraded MAXTRA multi-angle cutting head model of this pole saw which can rotate 90-180 degrees for more efficient cutting.
Some of the other features include:
Two-stroke, 42.7 cc engine
Automatic oiler for the chain
EPA certified that it creates less pollution
24-hour customer service
If that sounds like a good idea to you, then you'll love this pole saw attachment.
The TrimmerPlus TPP720 comes with a telescopic pole and chainsaw head only. There is no engine or motor included.
This unique design allows you to fit this attachment onto your existing trimmer, no matter if it's a gas, battery, or electric tool.
The full feature-set of this pole saw attachment includes:
8-inch bar and chain

Weighs 7.24 pounds

11 feet of pole extension
Automatic oiler
And it's compatible with the following brand of trimmers:
Bolens

Craftsman

Greenworks
Husqvarna
Kobalt
Murry
Poulan

Remington

Ryobi
Snapper
Troy-Bilt
Yard Machines
Yardman
And most other major brands
The powerhead coupler on this pole saw accepts a 1-inch diameter tube and the drive shaft connecter is square in shape. The female connector is .025 inches and the square shape is .200 inches.
So, if your existing trimmer can accept those measurements, then you can take advantage of this low-cost pole saw attachment.
This pole pruner has an actual length of 8.7 feet but a working height of approximately 13 to 15 feet off the ground with your height and arm reach taken into consideration.
The other important specifications include:
6.5-amp motor
Weighs 7 pounds
Automatic oiler
Plastic blade cover
Chains tensioning screw
Foam grip to make holding the tool easier and reduce the vibration and shock when in use
This cordless pole saw is equipped with an 8-inch bar and the telescopic pole can reach up to 8 feet. That gives you around 13 to 15 feet of working height to prune trees.
However, what really makes this battery pole saw stand out from the competition are these two features:
It comes with an angled power head to make horizontal cutting easier.
The battery on this unit can power more than 40 other Greenworks yard tools.
This really is the best cordless pole saw you'll find today and most people who get their hands on it don't want to put it down.
The other features you'll find include:
40V Lithium-Ion battery
2Ah charger
Weighs 8.36 pounds
Automatic oiler
Easy chain tensioning knob
A cushioned grip handle
Built-in battery indicator so that you know how much power you have left
This battery pole saw has an 8-inch cutting bar and the telescoping shaft can be extended up to 10 feet.
What makes this cordless pole saw unique; however, is the mid-mount motor design that makes it less bulky and more balanced than other battery pole saw tools.
It also has a branch hook at the base of the power head for small branch removal.
The other features include:
40 Volt Lithium-Ion batery
4Ah battery charger

Weighs 13.5 pounds

Automatic oiler
Comes with a shoulder strap for additional comfort
You can often find it for about half the price as my previous two recommendations.
The major difference; however, is that it has less power at 20 volts. So, you'll spend more time cutting through the same branch with this tool when compared to my #7 and #8 top picks.
But, for the cost-conscious buyer, it's still a good choice.
This battery pole saw has an 8-inch cutting bar and can extend up to 10 feet.
The other highlights of this pole saw include:
20 Volt Lithium-Ion battery
2Ah battery charger
Weighs 6.3 pounds
Manual oiler (This means you have to lubricate the chain by pressing a button.)
Can be disassembled into three parts, making it easy to transport from one place to another or to store
Battery is compatible with other Black & Decker 20 Volt Max lithium-ion cordless tools
Like many of the other pole saws on this list, this one also comes with an 8-inch cutting bar and the telescoping pole can extend to 10 feet. That makes the working height between 15 to 18 feet.
The other features included on this battery powered pole saw include:
40 Volt Lithium-Ion battery
4Ah battery charger
Weighs 11.8 pounds
Automatic oiler
Blade cover
2-stage safety trigger to prevent accidental starts
Shoulder strap
Foam grip handle for extra comfort
Additional Information on Pole Saws
If you want to learn more about pole saws, then this section can help.
Below, I'll cover some of the important concepts and terms related to pole saws as well as how to properly use them.
Working Height vs Actual Length
When buying a pole saw, you want to make sure that you're getting the right length tool for your needs.
In some pole saw reviews, you'll see you'll either see a number that refers to "working height" or "actual length" of the tool.
Working height can refer to two different things:
The length of the telescoping pole plus the length of your arm.
The length of the telescoping pole plus the length of your arm and height.
Typically, manufacturers factor in 2 to 3 feet of arm length. This will be in addition to the length of the pole saw.
So, if the specification states that a pole saw has a working height of 10 feet, it may actually mean that the saw from the tip of the blade down to the tip of the handle is approximately 7 to 8 feet long.
Other manufacturers will claim that a pole saw has a working height that's much longer, such as 15 feet. If you see a large number like this, then you'll want to question it. That's because most pole saws will max out at working heights of 10 to 12 feet.
The manufacturers that claim that a pole saw has a reach of 13, 14, or 15 feet are also taking into consideration the height of the person and the length of their arms. That can inflate the specification length of the pole saw by 5 to 7 feet.
So, when you're looking at pole saw reviews, be sure to uncover the "actual length" of the tool so you know exactly how long the telescoping pole is.
Cutting Bar Length
The length of the cutting bar determines the thickness of the branches that can be cut.
The most common bar length for chainsaw pole pruners is between 6 to 10 inches.
With a handheld chainsaw, it's recommended that the cutting bar should be at least 2 inches longer than the diameter of the branch you're cutting. That extra bit of clearance will help to prevent a kickback from occuring.
However, pole saw manufacturers often state that these tools are good for branches up to one-half inch smaller than the pole saw's bar size.
For example, if your new pole saw has a 10-inch blade, then the manufacturer might claim that it can work for branches up to 9.5-inches thick.
While that's technically true, you still want to exercise caution when using your new pole saw so that the tip of the chain doesn't get nicked accidentally and thrust the blade backward in the air.
Weight
Some of the heaviest pole saws can weigh up to 20 pounds.
On average though, these tools range between 7 to 15 pounds, with the best electric and cordless pole saws weighing much less than gas powered pole saws.
It's important to keep in mind that even though you might get a lightweight pole saw, you're still holding this tool above your head.
Even a 10-pound pole saw tree pruner will begin to feel heavy after a while.
So, to remain safe during your yard work, it's a good idea to take breaks every now and then to give your arms a rest.
Removable Chainsaw Head
There are some pole saw models that allow you to remove the chainsaw head.
This useful feature allows you to convert the tool from a pole saw into a handheld chainsaw.
If this is the case, the pole saw will be referred to as 2-in-1 model.
2-in-1 pole saws make tree trimming, tree pruning, and log cutting much faster and more convenient.
Once you have removed the branch from the tree with the pole saw, you can then convert the tool into a chainsaw and cut the branch into smaller pieces.
Whether you need to do this to make disposing of the branch easier or to cut them down to size to fit into a fireplace or fire pit, you'll be able to accomplish this with ease with a multi-functional tool.
Investing in a 2-in-1 model is a great way to save money because you won't have to buy separate pieces of equipment.
There are even some models that allow you to convert the pole saw into a hedge trimmer, yard trimmer, or a brush cutter.
That could be an even better investment for you as you could take care of all your landscaping needs with one powerful tool.
Oiler Type
Typically, there are two types of bar and chain oilers for pole saws: automatic and manual.
The automatic oiler oils the bar and chain for you to ensure that it's always well-lubricated. The vast majority of pole saw models come with this type of oiler.
If the pole saw has a manual oiler, you have to push a button to lubricate the chain. A variety of 2-in-1 models have this type of oiler since some chainsaw users prefer finer control over their chain oiling.
Pole Saw Use and Safety Tips
Pole saws use a fast-moving chain to cut through branches and they can easily cut through you too.
So, when it comes to using a pole saw safely, there are some steps you'll need to follow.
Using a Pole Saw
Make Sure Your Work Area Is Clear
The area in which you'll be standing should be free from people and property that might get hit from falling branches. It should also be free from trip hazards so that you don't fall while you move around the tree to trim and prune the branches.
Put a Plan in Place
Before cutting into the tree, you need to know exactly where you're going to cut. Take a few moments to step back and plan where you'll be making the cuts.
Remove the Lower Branches First
To make tree trimming and pruning as easy as possible, you'll want to remove the lower branches first. This will give you a clear path to safely access and remove the branches that are higher on the tree.
Stand in the Right Spot
When the branch falls out of the tree, you don't want to get hit by it. To ensure this doesn't happen, you need to stand off to the side of the branch as opposed to directly below it.
Hold the Pole Saw Correctly
In addition to standing in the right spot under the tree, you also want to make sure you're holding the saw correctly. The end of the pole saw should be held at chest level. To be able to reach higher branches, you need to adjust the length of the pole saw, not your body.
Adjust the Pole Saw to the Right Length
Once you have determined the perfect spot to stand under the tree and have the saw at chest level, you will then adjust the length of the pole to be able to reach the branch you want to cut down.
Get the Blade in the Right Position
Once the pole saw is at the right length, you'll want to use both hands to move the chain of the saw to the branch you want to cut. Before resting the blade on the branch, you'll want to stop and make sure that you have the weight of the saw under control. If you do, you can move the blade so that it's touching the branch.
Begin Cutting
You don't want to use the full speed of the pole saw to make the first few cuts. It's advised that you start with a slow speed and create some grooves in the wood. This will keep your blade from slipping and potentially causing injury.
Finish Your Cut
Once your grooves are in place, you can then speed up the chain and cut through the branch. Make sure to keep an eye on the branch. Even though you're standing off to one side, it may still fall in an unpredictable way. To stay safe, you may need to move quickly to prevent yourself from getting hit.
Move the Branch Out of the Way
After the branch has hit the ground, you should take a moment to move it out of the way. This keeps your work area free from trip hazards.
Pole Saw Safety Tips
In addition to following the steps listed above, there are some other safety tips that you should incorporate every time you use your pole saw.
These include the following:
Wear the Right Chainsaw Safety Gear
This includes boots, snug-fitting clothes, eye protection, hearing protection, a hard hat or helmet, and the best gloves for chainsaw work.
Only Cut During the Day
Being able to see the cuts you make is important, so it's advised that you only cut during the day when it's easy to see.
Don't Use Your Pole Saw in Wet Conditions
Wet wood can be incredibly slippery, so using your pole saw after a rainstorm can make the chain slip and increase the chance of injury. In addition, if you're using an electric pole saw while it's raining or pulling the cord through puddles in your yard, you increase the chances of getting electrocuted.
Cut One Branch at a Time
Since branches can fall unpredictably, it's in your best interest to only cut one branch at a time. Trying to cut more than one branch in a single pass increases the chances of injury or damage.
Remove Fallen Branches as Soon as Possible
The process of trimming and pruning branches requires you to move around the base of the tree. To do this safely, you need a clear walkway. Thus, it's in your best interest to remove the fallen branches before making your next cut.
Watch for Spring Back
If the branch you're trying to cut is under a lot of tension, this could cause it to snap in an unpredictable way. To stay safe, you might consider first making an undercut halfway through the wood before cutting from the top. This will reduce the tension and the possibility of getting injured by the limb.
Always Be Ready for Kickback
If the tip of your pole saw hits a hard object or the chain gets pinched, there's a possibility that it will kick back toward you. If this happens, it could cause serious injury or even death. Since you're working above your head, the chances of losing control over the pole saw are pretty high. However, if you're ready for kickback and prepared for it, you can reduce the chances of it happening.
Know When to Call a Professional
Knowing when to call a professional for trimming and pruning jobs is one of the safest things you can do. If the branches you want to cut are thicker than 8 inches it's best to bring in a professional. If the tree is near or above power lines, you'll definitely need to call a professional tree service company. Also, if you should find that your pole saw won't extend high enough to reach the branches you're trying to cut, you'll need to call a professional as well.
Closing Thoughts on My Best Pole Saw Reviews
If you reached this part of my guide, then you should feel well equipped for how to find the best pole saw for your needs.
You should also feel more comfortable using a chainsaw pole pruner if you followed my list of tips above.
As you discovered in the pole saw reviews section above, there are several 2-in-1 models that can double as a pole pruner and handheld chainsaw.
However, if you're looking for a dedicated chainsaw for more intensive tree cutting work, then check out my best chainsaw reviews list. It includes the top 10 chainsaws of every type: gas, battery, and electric.
Or, you can look at each individual buying guide to see the top models with every bar size: best gas chainsaws, best battery powered chainsaws, and best electric chainsaws.
I'm sure you'll find the perfect chainsaw for your needs in one of those posts.
I hope you enjoyed this guide on finding the best pole chainsaw!
Happy cutting!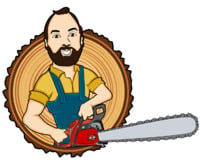 Your Pal,
Chainsaw Larry