So you're interested in buying a DeWalt chainsaw?
But you're not sure which one would be best for you?
If so, you've landed on the right page.
If you're familiar with DeWalt, you probably know them as one of the world's premier manufacturers of power tools. Their drills, hand saws, and other battery-operated tools have become extremely popular with contractors and homeowners alike.
But better battery technology has allowed companies to produce more and more powerful battery-powered tools. Nowadays, even some lawnmowers are running on battery power. So it makes sense that DeWalt would expand their product line to include some of these larger tools, including chainsaws.
In this article, we'll talk about the four main DeWalt chainsaw models. We'll also look at a couple of alternatives from similar brands. You can also check out the Top 10 Best Rated Chainsaws for 2021 for more options on chainsaws.
Enjoy this list of DeWalt chainsaws, I hope It could be of some help to you.
Let's begin!
Disclosure: The chainsaw items recommended below are my top favorites because they have a great combination of quality and features. As an Amazon Associate, I earn from qualifying purchases made through the links as a way to support this site. If you buy a qualifying product, you're not charged anything extra, but I'll get a small commission to help pay for my expenses. I hope you find my advice helpful and discover the best chainsaw stuff for your needs on this list.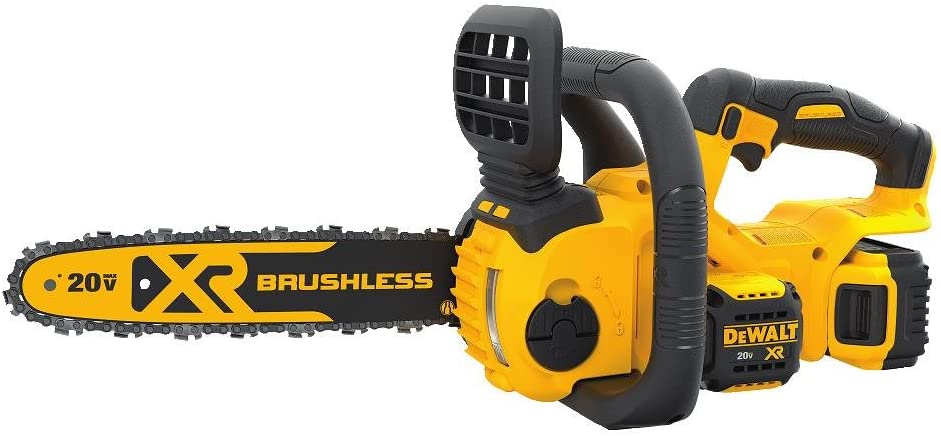 The DeWalt 20V Max XR is a popular choice for its small size and manageability. This is a petite, 12-inch saw with a weight of only 8.8 pounds. Even so, it's powered by a strong, 20-volt battery with a brushless motor that's sufficient for cutting through even the toughest of wood. Obviously, you're not going to be cutting through any large trees or thick branches, but you can cut through a small, rock-solid hickory bough without any trouble.
One thing you'll notice about this saw is that there's no tool required to tension the chain. Instead, there's a black knob by the base of the chain that doubles as a bar nut and a chain adjuster. This makes it easy to tighten the chain in the field, without carrying anything extra.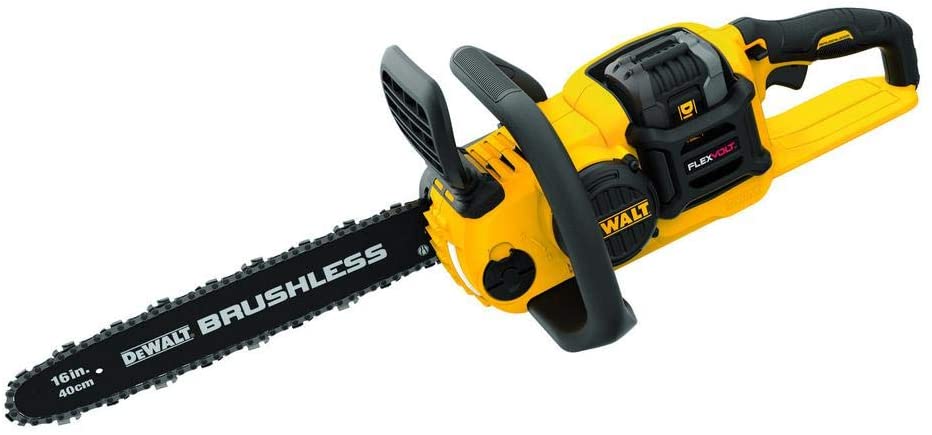 The DeWalt 60V MAX FLEXVOLT is part of DeWalt's new FLEXVOLT series of tools. The beauty of this system is that the batteries can output either 20 or 60 watts, so they can be used in a wider variety of tools. In this case, you get the benefit of a beefy, 60-volt brushless motor that's a lot stronger than the smaller, 20-volt saw. This makes the 60V variant a much better choice for the most demanding jobs.
Like the 20V MAX, you get a tool-free chain tensioner, which is easy to use. But with the 16-inch bar, you can cut through even larger trees and branches. As a result, the 60V saw is more versatile, albeit a bit beefier to carry around in the field. The only downside is that it runs through a lot of oil. You'll need to be well-stocked on bar and chain oil if you're planning on tackling a big job.

For all of the growth in battery power in recent years, there's still no battery-powered saw that will work as well as a corded saw. If you want the biggest, baddest DeWalt chainsaw, you need the DeWalt 15 Amp 18" Electric Chain Saw. With an 18-inch bar, it can tackle pretty much anything you can manage with a one-person saw. And despite the large size, it's still relatively easy to manage. The handle is crafted from soft rubber, which does a good job of absorbing vibrations.
That said, we need to address the elephant in the room; this is a corded saw. You'll only be able to use it if you're close enough to a power outlet or generator to run an extension cord.

A chainsaw is only any good if you can actually get the blade on the wood. To help you reach a branch that's high in the air, the DeWalt 20V MAX XR Pole Saw is an excellent choice. This is a small, 8-inch chainsaw mounted on a telescoping pole.  When fully extended, you can reach as high as 15 feet, so you can trim most low branches with ease.
Keep in mind that this is a pruning saw, designed for cutting branches, not entire trees. But for what it does, the 20-volt battery is more than powerful enough. Just keep in mind that this is a bare tool. You'll already need to own a 20V MAX battery and charger in order to use it.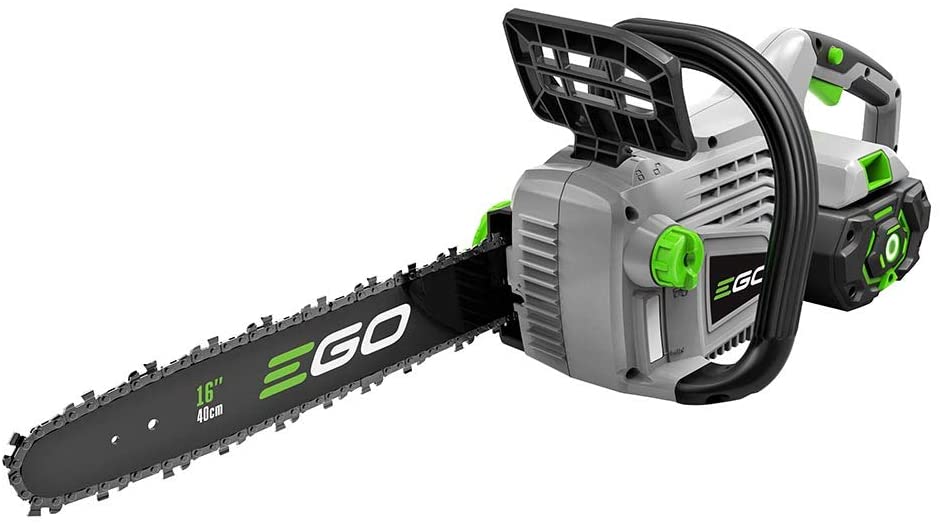 The EGO Power+ CS1604 is a 16-inch chainsaw that's designed to cut most trees and branches. It's exceptionally powerful, with a 56-volt battery that puts out a lot of juice. On the downside, an electric saw this powerful is going to have some heft to it. At 18 pounds, the CS1604 is a bit more unwieldly than most electric chainsaws.
The powerful, 56-volt battery is part of EGO's Power+ series, which includes a variety of tools, including leaf blowers and lawnmowers. Not only will it last for more cuts than an ordinary battery, but it's also easy to charge; it will fully charge in 40 minutes, even from a totally dead state.

Echo is known for its powerful gas tools, especially its chainsaws. Their 16 In Cordless Chainsaw represents a departure from this gas tradition, but not from their tradition of power. It's driven by a 58-volt battery, which is one of the strongest on the market and makes this saw almost as powerful as a comparably-sized gas saw.
This saw has a rugged design, with a sturdy handle that's meant to resist vibration. It sports a one-button start feature, which is very easy to use. And the battery is built to last for dozens of tough cuts. Not only that, but the oil tank is fairly large, enough to keep up with the battery.
So there you have it, 4 top DeWalt chainsaws plus a couple of my alternative picks.
I hope you've enjoyed this article and that it has helped you find the right chainsaw.
If you're in the market for electric chainsaws, my article on Best Electric Chainsaws for 2021 might be of some value.
Happy cutting!
Your pal,
Chainsaw Larry