So you heard that Stihl chainsaws are the best and you want to find the best Stihl chainsaw for yourself?
If so, you've landed on the right page.
There are many great chainsaws out there, and while some brands produce substandard products, others stand out, like Stihl.
For decades, Stihl chainsaws have been among the best chainsaws, and I don't think that'll change anytime soon. You won't just find Stihl chainsaws anywhere, either. Stihl only sells their products through their website and a few other companies- so no walking into Home Depot, Lowe's, or browsing Amazon to purchase these machines.
This guide will go over 7 of the best Stihl chainsaws and which ones work best for what.
There will be a chainsaw on this list for everyone, whether you're just beginning or if you've been sawing for a while now!
Disclosure: The chainsaw items recommended below are my top favorites because they have a great combination of quality and features. As an Amazon Associate, I earn from qualifying purchases made through the links as a way to support this site. If you buy a qualifying product, you're not charged anything extra, but I'll get a small commission to help pay for my expenses. I hope you find my advice helpful and discover the best chainsaw stuff for your needs on this list.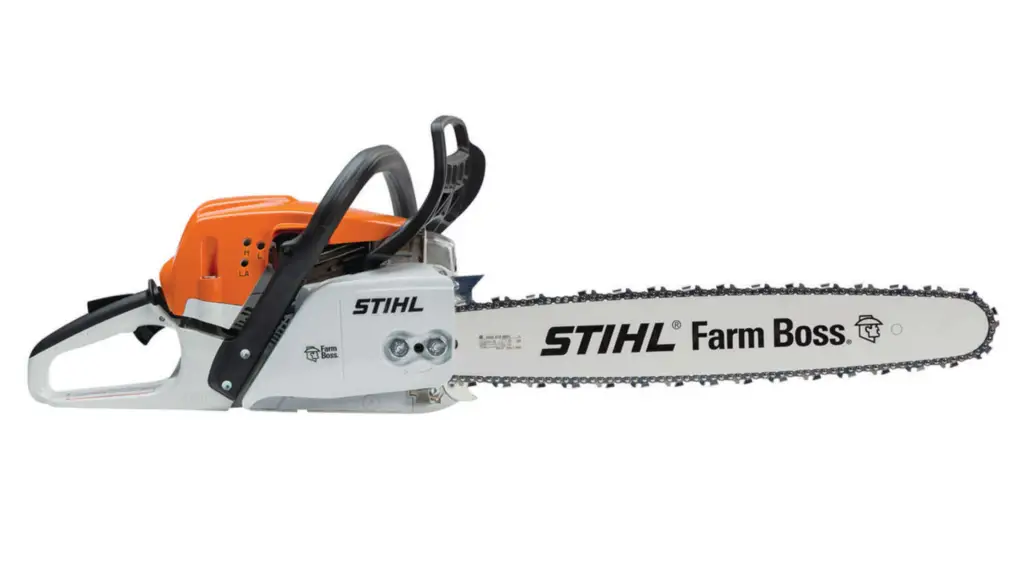 The MS 271 Farm Boss is a 20″ 50.2 cc gas chainsaw that's loaded with features and technology. It starts with a highly efficient engine that delivers 20% longer run times between re-fuelings – while cutting exhaust emissions in half compared to the MS 270. There's also a pre-separation air filtration system that's so effective, your air filter can last up to five times longer. All engineered into one compact, ergonomic design.
2. Stihl MS 170

For most entry-level users, the MS 170 chainsaw is highly recommended. Among the list, this is the best Stihl chainsaw for homeowners. It is easy to use, small, and capable.
Let's look into the capabilities of the saw. The guide chain and bar can cut trees between 12 and 16 inches across. The amount of cutting length provided isn't much, but it's enough to trim trees or clear storm debris. Despite its limited functionality, it can definitely accept some bigger jobs once you get used to it.
Additionally, because it is so small, it is very light. People can easily use it due to its lightweight design. This machine starts very quickly as well! The MS 170 typically starts up in less than three pulls, compared to other saws that might require 1 to 2 dozen pulls of the ignition line to get them to light.
3. Stihl MS 362 CM

The MS 362 is an upgraded version of Stihl's basic chainsaw. If you want to invest in a chainsaw for your job, this is probably the best Stihl chainsaw for the money. It runs at top performance thanks to its microprocessor-controlled engine.
This saw's cutting length is sufficient for most jobs. The motor has a capacity of 4.69 BHP, so cutting through hardwood is no problem at all. This chainsaw can handle diameters up to 25 inches.
If we're talking about features, the microprocessor is the most impressive. When the engine runs, the processor automatically adjusts to the cutting conditions by making adjustments as the engine runs. In other words, regardless of wood density or temperature, the MS 362 C-M will maintain its cutting performance.
4. Stihl MSE 250 C-Q

The Stihl MSE 250 C-Q is a corded electric chainsaw. This will take away exhaust fumes and minimize the noise in noise-restricted areas.
The 250 C-Q can handle diameters between 16 and 20 inches. It's a decent saw in terms of size, but its power source makes it somewhat limited. It's light for its size, though. The saw has fewer internal parts than a gas saw, so it is more comfortable to hold.
With the proven Stihl Quickstop® chain brake system, you can stop the chain in just a second. Therefore, injuries are less likely to occur during emergencies or kickbacks. This saw's quiet nature is one of its best features. Noisy neighbors or cities can be a problem if you live in a small area. This thing generates almost no noise, so your neighbors won't be disturbed by it.
Happy neighbors are the best neighbors.
5. Stihl MSA 140 C-BQ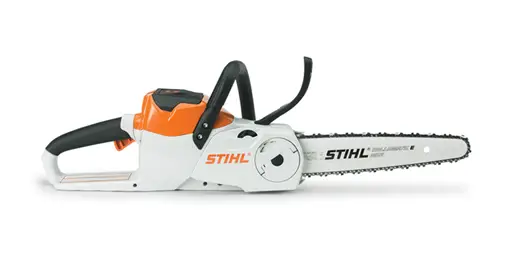 Stihl's MSA 140 C-BQ chainsaw is rated highly in several Stihl chainsaw reviews since it has an unexpected power for its tiny size at 8.19 pounds.
Pruning, climbing, and cutting firewood are all pretty effective with this tool. This chainsaw has guide bars only 10-14 inches wide so that it will take only handlebars up to 12 inches tall. For removing thick hardwood trees, this is probably not the best choice.
Unlike gas-powered models, it is much quieter in operation thanks to its 36V battery. When you cut through thicker trunks, the battery will drain faster. On a full charge, you can use the MSA 140 C-BQ for about 45 minutes.
You must purchase the battery and charger for the Stihl MSA 140 C-BQ separately if you buy it as a standalone tool. As for the chain, it may need to be sharpened frequently or replaced more frequently than others due to its lower durability.
6. Stihl MS 391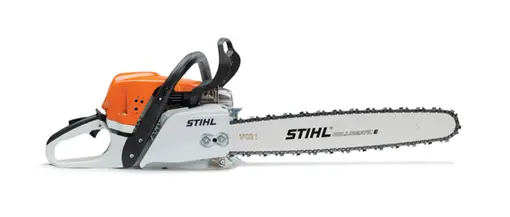 This tank-like MS 391 offers Prius fuel efficiency and emissions ratings. I would not recommend using this saw to trim limbs. This one's for cutting down oaks, you take this one into the woods!
Because of its 64cc engine, it can handle trees up to 20″ in diameter. As for fuel capacity, it is the same as that of the 362 C-M. This allows you to remain on the job for a long time without refueling. It is environmentally friendly because of its low-emission engine. When compared to other models, it is one of the best Stihl chainsaws has ever made. However, its filtration system is what makes it so impressive.
The MS 391 doesn't just have a fan that filters the air. Large particles are sucked out of the air by the use of centrifugal force. So you won't have to replace your air filters as often, and you can cut through trees and logs without worry about clogged filters.
7. Stihl MSA 200 C-BQ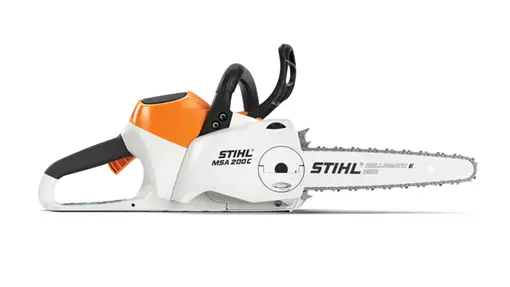 Check out the MSA 200 C-BQ if you're looking for a battery chainsaw. A gas saw of similar power can't match this saw's power, but it is quieter and doesn't require gasoline. You wouldn't want to use this for a big project. This model can cut only 14 inches with this machine. Nonetheless, it can help you clear out storm debris around your home since it's lightweight and safe.
When a standard battery is installed in it, the saw weighs just 11 pounds. Upgrades to larger and longer-lasting batteries may result in slight weight fluctuations. Battery life is approximately 15 minutes when fully charged. A battery that lasts more than two and a half hours can be purchased if you need more time.
With a battery-powered saw, you can also avoid breathing in toxic exhaust fumes as you would with a gas saw. A shutoff function automatically stops the saw if it is taken from you when your hand is removed, and a cordless start means there are no dangers of accidents.
Closing Thoughts on my Best Stihl Chainsaw Review and Buying Guide
The MS 362 C-M is the best option for most people. Three things make this device so good: its power, its size, and its efficiency. However, for people who are just beginning to use chainsaws, the MS 170 is probably the best choice. Simply put, it's easier to handle. On this list, however, there are still other chainsaws. You may find these saws more appealing if you have specific tasks to perform.
If you've read this far, you probably already have the best Stihl chainsaw in mind for you and your needs. I hope this guide has helped you find a great chainsaw that'll serve you for years to come.
However, if you're wondering what other chainsaws are out there and would like to compare them to Stihl, check out my other guide on top rated chainsaws. It reviews the top 10 chainsaws you can buy today.
That concludes my guide on the best 6 Stihl chainsaws.
Happy sawing!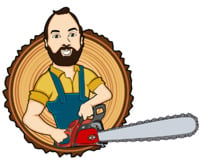 Your pal,
Chainsaw Larry