So you're on the market for a chainsaw mill?
If so, you're on the right page.
Having a chainsaw mill is one of the most accessible and affordable ways to make lumber. In this article, I'll go over what to look for.
Turning fallen logs, dead branches, and other wood from your property into useable finished lumber doesn't have to be a complex process. You don't even need to spend thousands of dollars on a professional lumber mill to get started. If you already have a chainsaw at home, you're halfway to making your lumber.
Let's dive in.
Disclosure: The chainsaw items recommended below are my top favorites because they have a great combination of quality and features. As an Amazon Associate, I earn from qualifying purchases made through the links as a way to support this site. If you buy a qualifying product, you're not charged anything extra, but I'll get a small commission to help pay for my expenses. I hope you find my advice helpful and discover the best chainsaw stuff for your needs on this list.
What To Look For In A Good Chainsaw Mill
A suitable chainsaw mill does two important things for you, it helps guide the lumber, and the saw to give you better control, and it helps minimize the amount of waste wood per cut.
The first part should be self-explanatory. Having a stable surface to help guide the saw is essential for safety and because it will help make sure you're producing straight cut lumber that's usable instead of wavy-sided or warped boards that don't work well.
The second part is also vital to help make sure you're making efficient use of your available wood. The less wood you're losing per cut, the more lumber you'll be able to get from the available resources.
A suitable chainsaw mill will also work with a range of different chainsaw lengths and help you create various lumber types.
Portability is a perk of a suitable chainsaw mill but might not be as important as you'd think. Stability and consistency are more important attributes than moving your mill back and forth since it's not too difficult to move the wood to your mill to start processing it.
Top Picks
Now that you know a little more about why you might want a chainsaw mill and what to look for in a good chainsaw mill let's look at 5 of the best chainsaw mills you can get right now.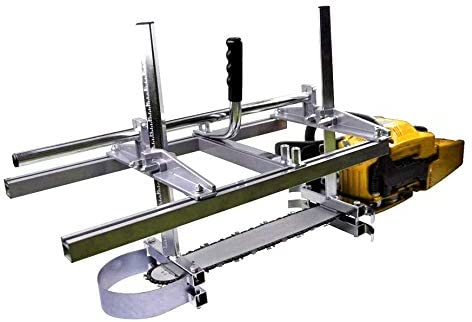 This powerful portable chainsaw mill is an excellent option if you're looking to create planks in a range of sizes on the go. It's designed to go from place to place. It's easy to set up, easy to break down, and consistent anywhere that has a stable flat surface to work on.
This model is also designed to work with a wide range of chainsaw sizes, which means that most chainsaw owners will already have a compatible model.
Of course, the larger the chainsaw you use, the larger the lumber you can effectively process with this mill.
This steel and aluminum design are also heavy-duty enough to handle hardwoods like oak and maple without shaking or getting unstable. That's great because hardwood lumber can be particularly valuable and particularly beautiful but can be hard to process with lighter or less stable tools.
Overall, this design is a step down from professional milling saw, but not a big step down. It's efficient, doesn't waste too much wood per cut, and works with such a wide range of lumber that can be used for most things.
Pros:
Durable construction
Portable
Works with a lot of chainsaw sizes and types
Effective for hardwoods
Cons:
Check the inch marks, they aren't always accurate
Some users report needing to provide their own hardware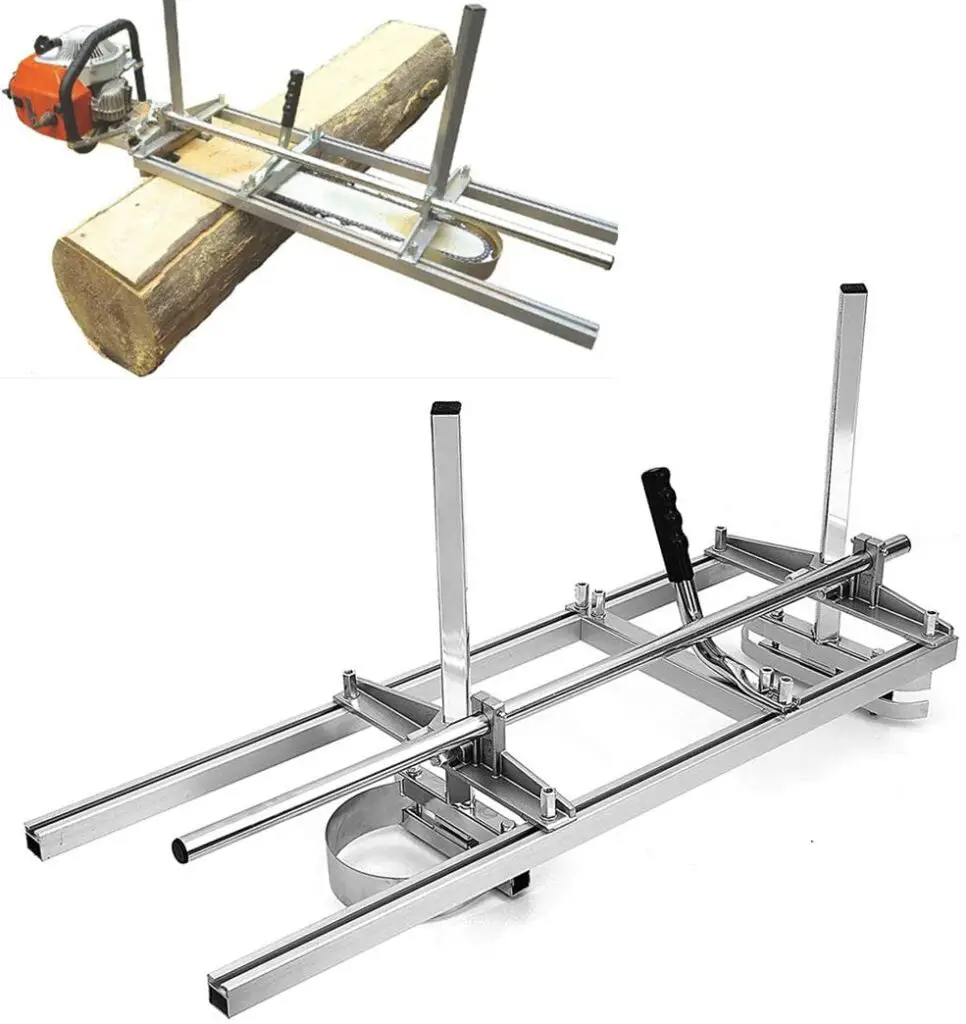 This slimmed-down portable option is an excellent choice if you're looking for a mill that can handle large logs (up to 36″) but doesn't take up a ton of space when it's not in use. This mill is smaller than other models, but it works with a wide range of woods and chainsaws.
The steel and aluminum construction is a little more lightweight than other options, but it's still more durable and hard-wearing overall.
Plus, this model comes with a fantastic lifetime warranty, which gives you a lot of reassurance as a consumer that this mill will hold up well over time.
Pros:
Durable construction
Lightweight
Highly portable
Lifetime guarantee
Versatile design
Cons:
Assembly a little more complicated than some alternatives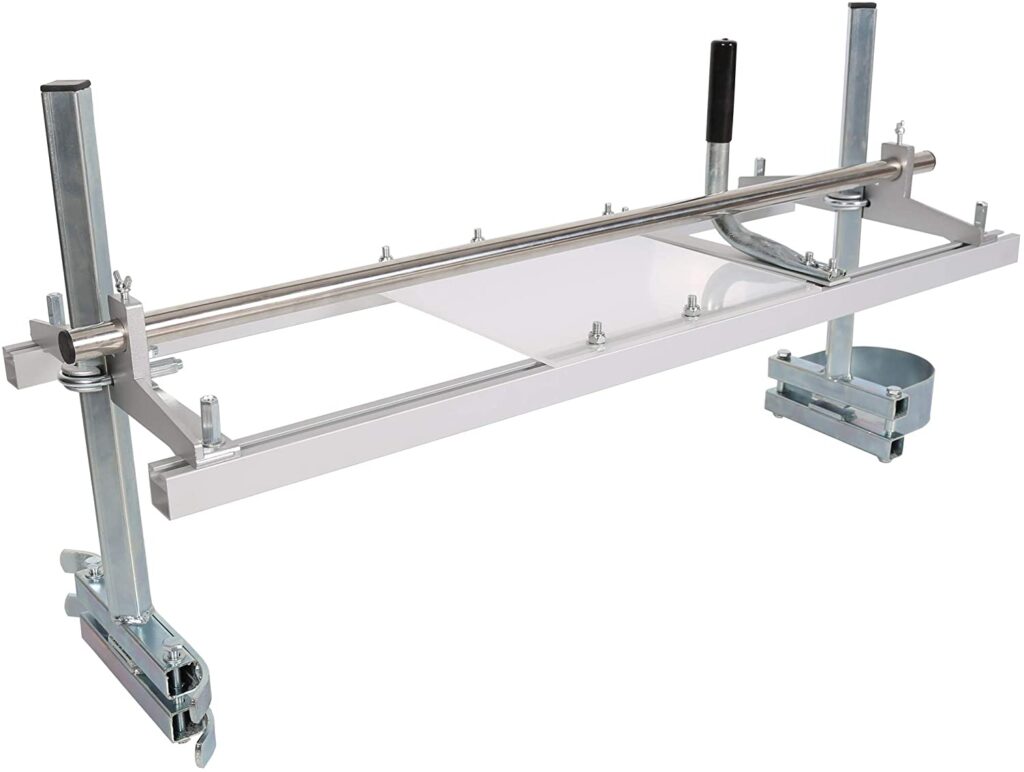 If you're not looking to save a ton of space on your mill, this is a good option. This design is still portable, but it's a little heavier and a little bulkier than some alternatives. The additional size helps keep this design a lot more stable though, which is fantastic if you're not used to using a chainsaw to mill lumber.
Like the other mills in this article, it's also incredibly versatile and durable, which is vital for making sure it can handle any lumber you want.
Pros:
Incredibly stable
Helps hold the wood in place
Easy to use guide
Works with a wide range of lumber and chainsaws
Durable
Cons:
A little bulkier than some alternatives
Takes up a lot of space in storage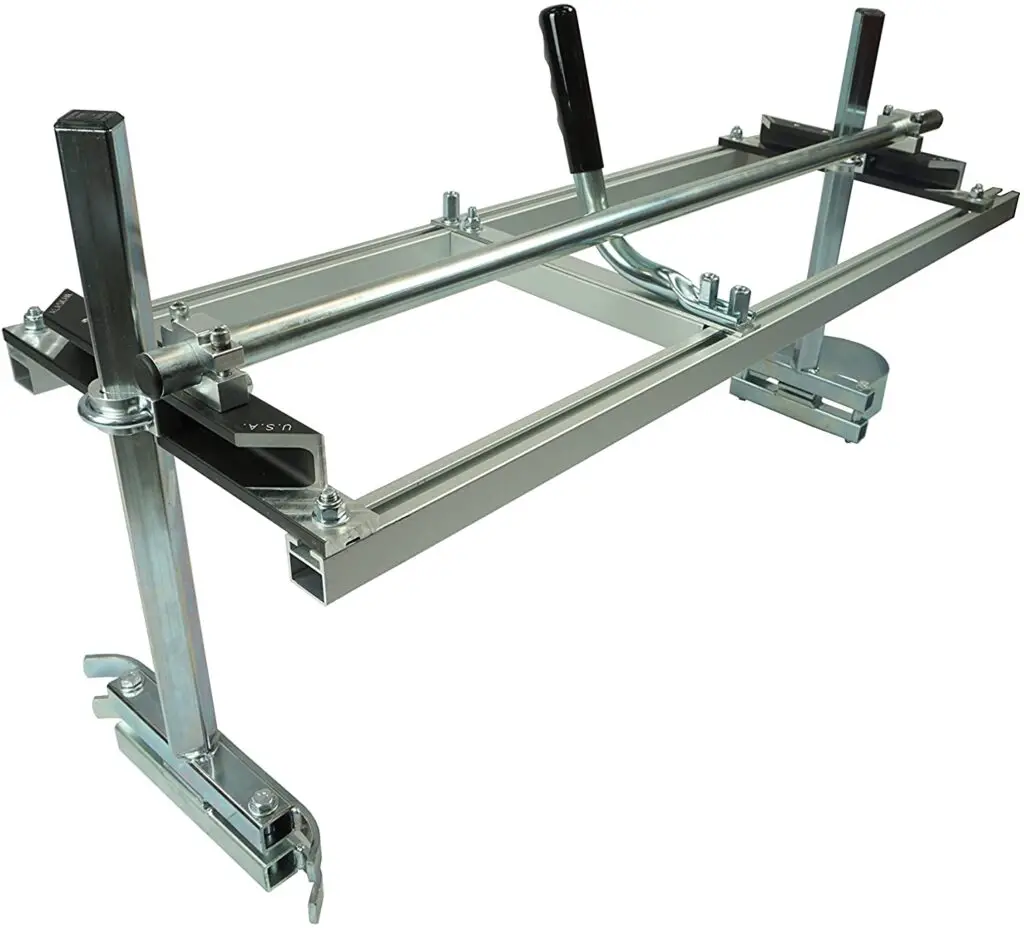 This chainsaw mill is one of the most impressive options out there. If you're looking for a quality and dependable mill, this is the option for you. Plus, it's also incredibly easy to use. This design is easy to attach your chainsaw and easier to remove.
The Alaskan name is well known among woodworkers, and there's a reason for that. If you're going to be doing a lot of milling and are looking for durability, versatility, and a high-quality design, this model may be an excellent pick for you.
Pros:
Well known durable brand
Incredibly stable
Works for a wide range of projects
Portable
Durable steel and aluminum design
Works for any kind of lumber
Cons:
Aluminum bolts might need to be upgraded to steel for heavy use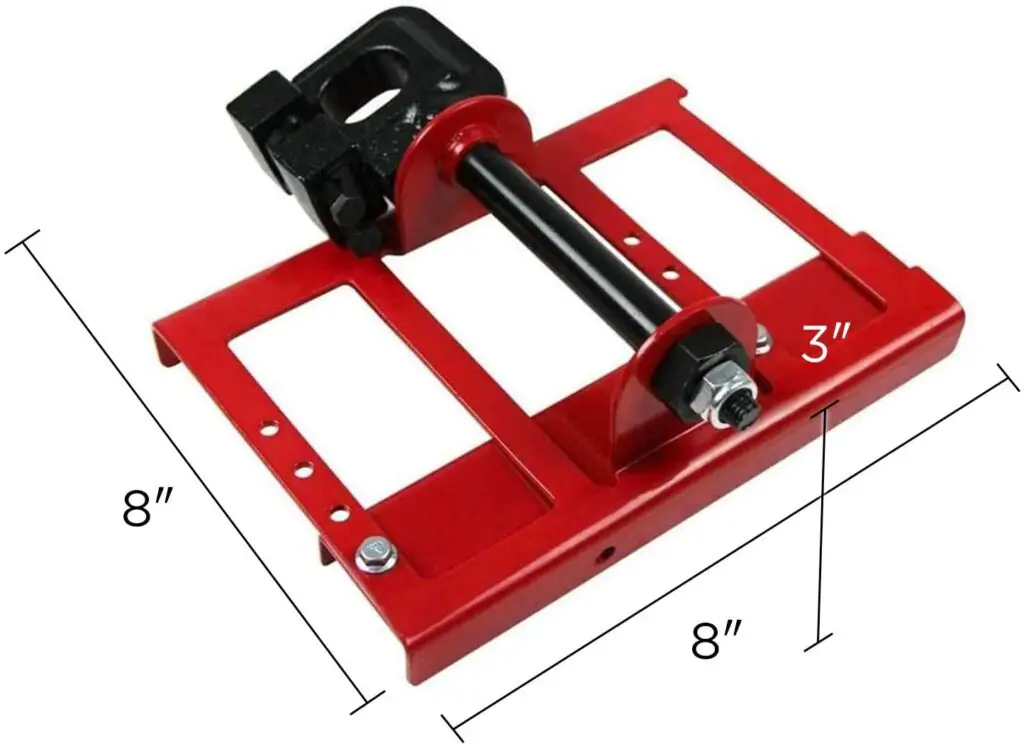 This is a good option if you're looking for a small lumber cutting guide that isn't as bulky as a true mill. This design is meant for vertical cutting, which can be slightly different from other milling designs, but that also means it's incredibly portable and highly storable.
However, this design isn't entirely as accurate or consistent as some of the other models we've discussed, so it's mostly a good option for people who aren't planning on doing too much milling.
Pros:
Portable
Design is simple and easy to use
Doesn't take up much space
Suitable for anything your chainsaw can handle
Vertical cutting takes up less space
Cons:
Not as consistent as some models
Not a traditional milling style.
I hope you enjoyed this article on finding the right chainsaw mill.
If you'd like to check out some of my popular chainsaw guides, I'll link them here:
Top 10 Best Rated Chainsaw Reviews
Best Battery Powered Chainsaws 2021
Happy sawing!
Your pal,
Chainsaw Larry