So you're looking for a professional chainsaw?
Not sure what makes a chainsaw pro-grade?
If so, you've landed on the right article.
Most professionals know that they need something a little different in most power tools than DIYers or homeowners. After all, if you're using tools professionally, no matter what you're doing, you're probably putting them through harder and more regular use than even the most dedicated hobbyist.
When it comes to chainsaws, getting a professional model is incredibly important because only professional models are likely to hold up well over time. Professional models also usually need less maintenance and are designed to be more powerful and more versatile than other options.
Here I'll go over what makes a professional chainsaw vs a chainsaw for home use or DIYers. We will also take a closer look at which brands and models are best for professionals of all stripes.
Let's get to it.
Disclosure: The chainsaw items recommended below are my top favorites because they have a great combination of quality and features. As an Amazon Associate, I earn from qualifying purchases made through the links as a way to support this site. If you buy a qualifying product, you're not charged anything extra, but I'll get a small commission to help pay for my expenses. I hope you find my advice helpful and discover the best chainsaw stuff for your needs on this list.
Difference Between a Professional Chainsaw and Other Chainsaws
When it comes to professional chainsaws there are two main differences to consider. The first is power, and the second is the quality of the materials used.
Power is important because when you're using a tool professionally, any tool, time is money. The less time you need to complete a task the better use of your time it will be. A more powerful motor increases your cutting power and speed, making them more efficient and effective.
Quality also matters though, and power isn't a good replacement for quality. This is important when it comes to professional chainsaws in terms of the blade, chain, motor, and even the ergonomic design of the chainsaw itself.
That's critical because high-quality materials hold up better with repeated use, heat up less, need fewer breaks, and can usually go longer between needing services like sharpening or tensioning. The less time you have to take to let your chainsaw cool off or give it a little TLC, the more time you can spend working.
A lot of guides to professional chainsaws act like choosing a professional chainsaw is difficult or time-consuming. It can be, but when you break down what you're looking for into something simple, like looking for a chainsaw that's powerful and uses high-quality components, it becomes easy.
Let's take a look at some of the brands and chainsaws you should consider as a professional.
Good Professional Chainsaw Brands
Choosing a good professional chainsaw brand is important because it will help you know that you're getting a good chainsaw every time. If you're only looking at one or two brands, instead of dozens, it will be a lot easier to find the model you want and that's best suited to your professional needs as a contractor, construction worker, landscaper, and more.
Husqvarna
Husqvarna is one of the top professional tools brands, and that goes for professional chainsaws as well. This brand is popular not simply because they are high quality and consistent, but also because Husqvarna tools are usually affordable and long-lasting. All three traits are important because you don't want to pay an arm and leg for your tools, but you also don't want to have to replace them every few months or even every year, or every two years.
Husqvarna also does their research and knows what professionals are looking for and design their chainsaws to be comfortable, consistent, powerful, and safe.
Husqvarna Chainsaws To Consider
Let's take a closer look at one of the best Husqvarna options.
Husqvarna 445 18″ Gas Chainsaw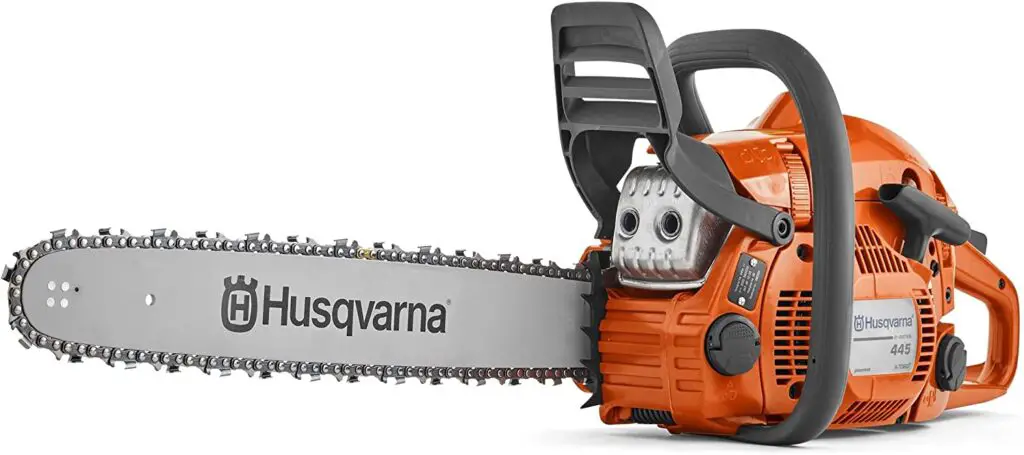 This 18" chainsaw is a good medium between a lot of different options as a professional chainsaw. At 18" it's on the small side, but it's not a tiny chainsaw. Think of this as a maneuverable but effective option, particularly for landscapers.
The gas motor gives you all the power of a traditional motor, but with the additional benefit of being more fuel-efficient than most.
Plus, this model comes with a ton of durability and maintenance features that help keep it working better longer, all without input from you.
Pros
Durable
Powerful
Fuel efficient
Lightweight
Maneuverable
Cons
Not as long as some professional models
Stihl
Stihl is one of the absolute best brands to look at if you're looking for a powerful tool designed for professionals. This brand doesn't make a lot of tools for DIYers or people who don't already have some experience with chainsaws, and that's a good thing if you're looking for a professional-grade chainsaw.
Their models are designed to give you the power you need for added versatility, without sacrificing the durability and quality of materials even a little.
Stihl Chainsaws To Consider
Thinking about getting a Stihl chainsaw, here's a good option.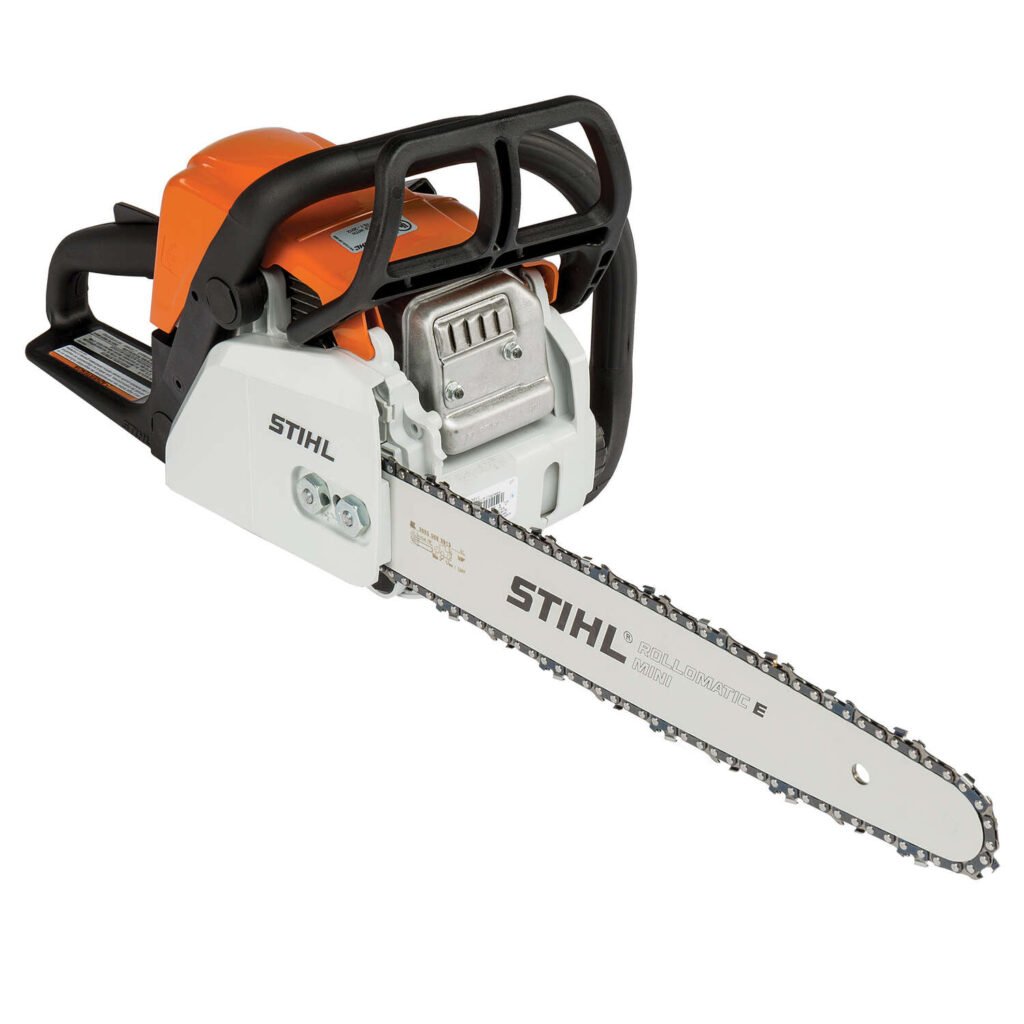 This model comes in a range of sizes, but this 16in model is a good option if you're looking for a portable and durable model to try the brand. Durability and reliability are really the highlights of this model, and it's a good option for storm cleanup, landscapers, and arborists who are looking for something lightweight, portable, and incredibly consistent.
Pros
Designed for consistency
Easy start
Powerful gas motor
Air filter reduces fumes
Fuel efficient
Cons
Can be stiff to start in the cold
Makita
Makita is one of those brands that produce a range of different models and is designed for a range of different users. They focus on quality and consistency no matter who they are designing for, but Makita has some models designed for professionals and hobbyists.
That might not always be the best thing in a brand for professional chainsaws, but in this case, it's a huge plus because it means you have more options to choose from.
Makita's products are usually hard-wearing, and more powerful than they look on paper. Plus, since they work for a range of users, Makita also adds a lot of safety features that help give you more control and make it easier and more effective to use.
Makita Chainsaws To Consider
This option is a little different from the other chainsaws we've considered, but it's still a good option if you're looking for more control and precision.
Makita XCU06Z 18V LXT Lithium-Ion Brushless Cordless 10″ Top Handle Chain Saw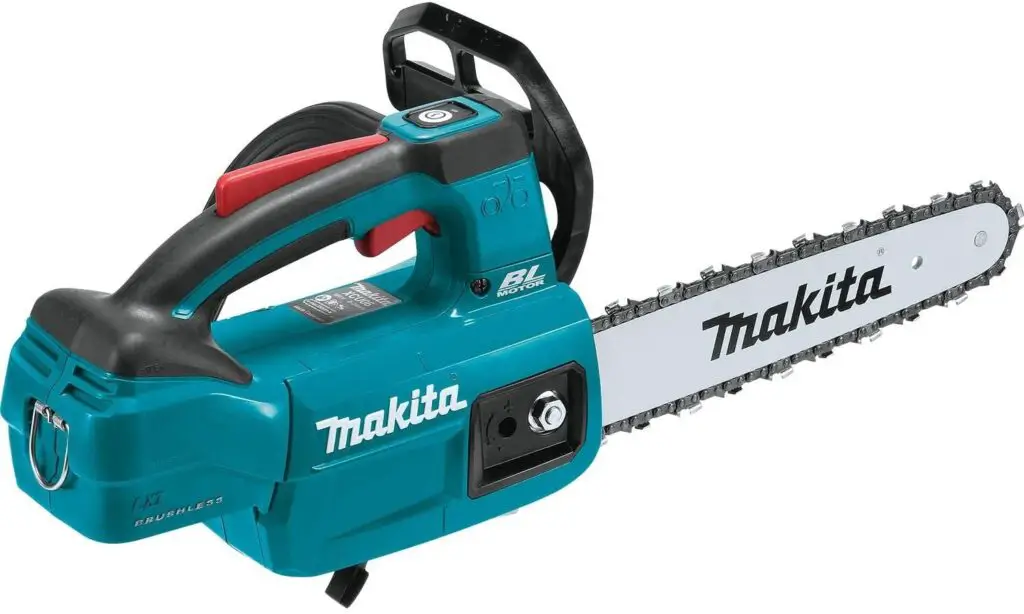 This model is a little smaller than many professionals need, but it's a good option for detailed arborists and contractors who need a mobile saw and are looking for a lot of control and precision from the tool.
The real standout feature of this design is twofold. For one thing, this is a powerful battery-powered saw, which is almost unheard of when it comes to professional chainsaws. For another, the top handle gives you a lot more control and precision, so you can place the saw exactly where you want it every time.
Pros
Torque boost helps with dense material
Incredible precision
Long-lasting battery
Powerful cutting design
Cons
Might need to get multiple batteries to use this chainsaw for a full shift.
That concludes my article on professional chainsaws. I hope you've gained some insight on the topic and I have made it easier to choose the right brand and model for your specific needs.
Happy sawing!
Your pal,
Chainsaw Larry