Are you looking for a chainsaw winch?
Or wondering why you'd need one?
If you are a logger or a hunter, you may be in the market for a winch. To be more specific, you're looking for a chainsaw winch. This is something that will help you pull the heavy stuff.
Whether it's big pieces of wood, big game, or something else, you can get it done with the right kind of chainsaw winch. A chainsaw winch is like any other type on the market.
Its purpose is to help you move heavy objects. What makes this interesting is that you use the powerhead of your chainsaw to get it to work. Just remove the bar, and you're in business.
It's lightweight and durable, and it can be easy to carry. We'll be looking at the top five rated chainsaw winches, so you know which ones are the best on the market.
Let's get right to it.
Disclosure: The chainsaw items recommended below are my top favorites because they have a great combination of quality and features. As an Amazon Associate, I earn from qualifying purchases made through the links as a way to support this site. If you buy a qualifying product, you're not charged anything extra, but I'll get a small commission to help pay for my expenses. I hope you find my advice helpful and discover the best chainsaw stuff for your needs on this list.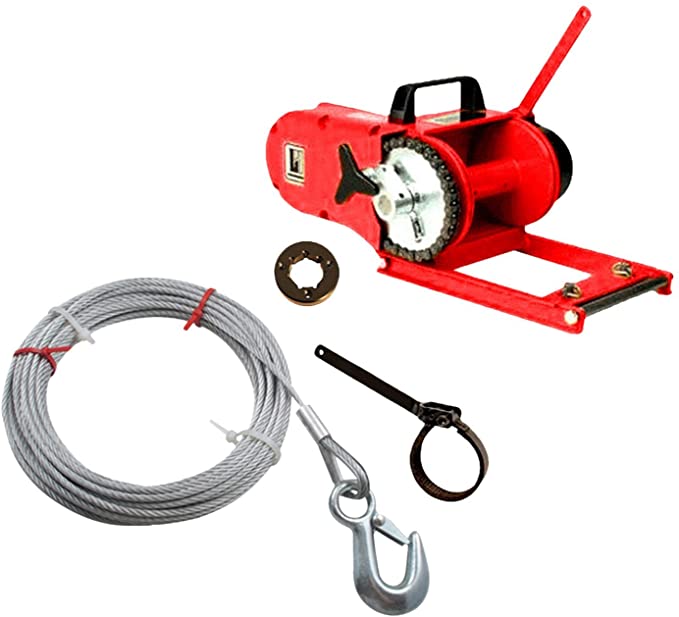 First, we will look at the Lewis Powerhouse Chainsaw Winch on the list. This has a capacity of up to 8000 pounds. It is perhaps one of the best options if you are looking for something affordable.
It's lightweight, coming in at just 22 pounds in weight. It comes with a universal adaptor kit to fit with almost any chainsaw that you use. So, if you're looking for durability and dependability, there's no denying that this chainsaw winch can get the job done.
Whether you are out on a hunting trip or spending the day chopping wood, this will be the winch you depend on. Just install this on your truck, and you're good to go for a day of hauling what you want.
Pros:
Great for hauling large game and piles of wood
Super durable
Affordable
Cons:
You can get tangled up quickly if you're not careful
May not handle high levels of torque from some chainsaws
Our next option is also from the Lewis brand. The difference between this one is that it can pull up to 4000 pounds. If 8000 pounds isn't the capacity you want, no problem.
You can knock that down to half and get this chainsaw winch. This has a line speed of close to 60 feet per second. So, if you want to deploy plenty of lines quickly, that's not a bad speed for your winch.
Again, the purpose of using this is the same. You're going to use it for moving game, wood, or even pulling disabled vehicles out of ditches. It's one of the best multi-purpose winches you can get your hands on.
This is compatible with most chainsaws, so you won't have to worry about whether your chainsaw will fit. However, you want an approximately three cubic inches saw for best results.
Pros:
Solid build
Handles up to 4000 pounds
Compatible with most chainsaws
Cons:
It may take patience to set up
A bit on the heavy side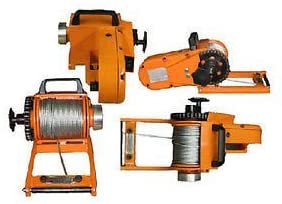 The next chainsaw winch on the list is the Streamline Industrial Winch. Like the previous one on the list, it has a capacity of up to 4000 pounds. It's equipped with a durable wire rope that will undoubtedly hold its own while you are pulling wood, animals, or heavy objects that need to be moved from one place to the next.
You can attach your chainsaw using the adapter kit and then get the job done. Keep in mind that you have 150 feet of cable to work with. So it might just be enough for all of your needs and purposes.
What makes this even better is that it's easy to set up. You can get it done in three quick steps, and it's ready to go. It's also a good winch for the price it's going for.
If you are looking for budget-friendly, look no further than a Streamline Industrial Winch. Since it's durable and easy to use, you'd be hard-pressed to find something like this anywhere else (and also for its price).
Pros:
Lightweight
Easy to set up
One of the best options for the money
Cons: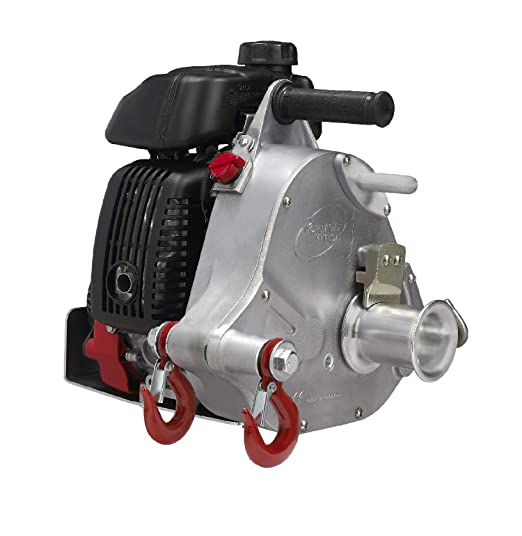 If you have a Honda GHX-50 Engine or a chainsaw similar in terms of power, this is the winch you'll love to have. It's high quality, durable, and worth putting to good use if you want to pull something that's 2000 pounds or less.
You'll be more than happy with the speed per minute (40 feet). If you want to get the job done and not be in such a rush, this is the winch to use. You get almost five times the pulling force when you use a pulley.
Additionally, you can tack on a couple of add-ons to get the most out of this winch. For several purposes, it's useful. You might not be opposed to the idea of bringing an extra pulley with you.
Pros:
Easily portable
Lightweight
Excellent pulling power
Cons:
Rope length may be limited for some users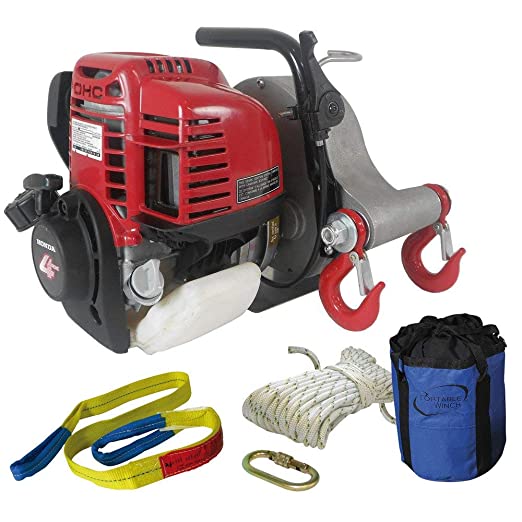 This final winch is similar to our previous one. A Honda X-35 Engine powers this one. This will allow you at least 33 feet per minute for line speed.
Also, the line pull capacity clocks in at around 1550 pounds. If you use a snatch block, you can double the capacity. If you want something that will give you plenty of pull, this is the one winch that you'll want to put to good use.
Pros:
Affordable for the money
Excellent pulling power
Lightweight and easily portable
Cons:
It Maybe lacks a couple of additional accessories (carabiner, etc.)
Buyer's Guide
To wrap up this review, I will provide you with this buyer's guide on finding the right chainsaw winch. Please take a look at the following considerations that fit your needs and preferences:
Budget
Finding an affordable chainsaw winch is possible. However, you want to focus more on the quality than the price tag. Find the best quality you can afford, so it's durable and lasts a long time.
Yes, the most expensive option may be the best quality. However, the cheapest will usually mean disappointment. Find an 'in-between' option and go with it.
Capacity
The capacity will determine how much the winch can be able to pull. What do you intend to pull with the winch? How much will it weigh on average?
If you are game hunting and manage to bag a moose or an elk, you may get away with a winch that weighs 2000 pounds. Also, consider the trailer that you might be using as well.
Chainsaw compatibility
Most of the winches will have an adapter that will fit almost every chainsaw motor. However, there is one caveat. You will need to use a gas-powered chainsaw motor to work effectively.
Final Thoughts
If you are looking for a chainsaw winch, these five listed above will be a good starting point. Choose the right one that will be reliable for your intents and purposes. The better the quality and capacity, the happier you might be.
Happy cutting!
Your Pal,
Chainsaw Larry