Want to learn more about the Jonsered chainsaw models?
If so, you're on the right page!
Whether you're a seasoned contractor or a first-time DIYer, your chainsaw is one of the most important tools you can use during a project. This is why it's crucial to not only choose the right chainsaw but also understand your options and the differences between them.
If you've decided that Jonsered is the brand for you (or if you're considering it among other options), this article has everything you need to know about these chainsaws, as well as a helpful buying guide. Read on to learn all about the best Jonsered chainsaws on the market, as well as helpful customer reviews to help you make the best choice for your situation.
Disclosure: The chainsaw items recommended below are my top favorites because they have a great combination of quality and features. As an Amazon Associate, I earn from qualifying purchases made through the links as a way to support this site. If you buy a qualifying product, you're not charged anything extra, but I'll get a small commission to help pay for my expenses. I hope you find my advice helpful and discover the best chainsaw stuff for your needs on this list.
Different Jonsered Chainsaw Models
Here are some of the different Jonsered chainsaw models you have to choose from, including their pros, cons, and basic features.
Here are some key features that all Jonsered chainsaws share:
Key features:
Spin Start — this reduces starter cord resistance by up to 40%.
Side-mounted, tool-free chain tensioner — allows for convenient and speedy adjustments to the chain.
Insulated, anti-vibration handles — chainsaw handles are insulated from the engine and the cutting equipment by steel springs. This allows for lower vibration and stellar ergonomic movement, which in turn reduces operator fatigue with extended use.
Snap-locked, quick-release cylinder covers — allow you to access the air filter and spark plug quickly and easily without needing to remove screws.
Turbo intake air cleaning — removes up to 97% of sawdust/debris particles with the use of centrifugal force, optimizing performance.
Clean power engine — harmful exhaust emissions are reduced up to 75%, all while increasing fuel efficiency up to 20%.
Inertia chain brake
Fuel pump / fuel gauge

This chainsaw is lightweight and is compatible with mid-length bars that are 18 inches long. With the bar, this chainsaw weighs 13.25 pounds, and without the bar, it weighs 10. 8 pounds.
This 18" option is very cost-efficient due to its excellent design and high manufacturing standard. It uses a 45.7cc, two-stroke engine capable of producing 2.82 HP, and the engine has a spin start recoil starter that is easy to operate. The turbo air intake is a great feature that helps to reduce dust in the air but it also cuts down on the need to replace or clean the air filter.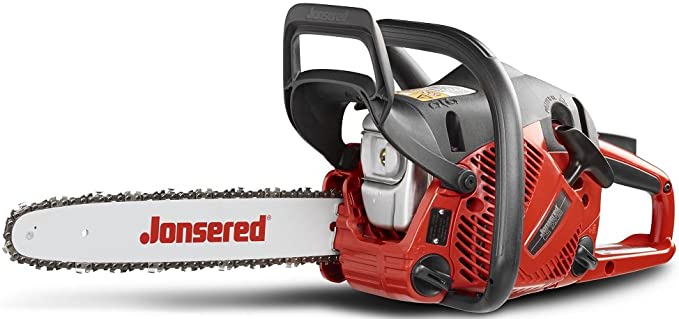 This chainsaw works with the smallest size, a 14-inch bar, and is overall a smaller chainsaw than the CS2245 above. With the bar attached, this chainsaw weighs 12.75 pounds, and without the bar, it weighs 10.14 pounds.
This small but mighty chainsaw is great for homeowners who like to get handy and need a chainsaw for various projects. It would not be the right choice for a professional contractor who needs a more heavy-duty piece of machinery. The engine and handles are all well-balanced and it features a combined choke/stop.

The 2255 is one of the most highly rated chainsaws sold by Jonsered. It is compatible with an 18-inch bar, with which it weighs about 12.5 points. This chainsaw is many people's go-to chainsaw, and it certainly is both powerful and effective. Many people consider this to be Jonsered's most powerful chainsaw, thanks to its 50cc gas-powered engine.
Buying Considerations
Gas vs. Electric
When it comes to chainsaws, you can buy gas or electric, but which is better? Gas-powered chainsaws are more powerful and can tackle bigger projects.
Electric chainsaws are best for smaller projects and they typically have less powerful engines.
Budget
If your primary focus is finding a lower-cost chainsaw, you'll want to take note of the prices before you consider a chainsaw for purchase. However, we would advise that you focus mainly on finding a high-quality chainsaw for an affordable price.
Bar Length and Chain
Different chainsaws have different bar lengths. The longer the bar and chain, the heavier, which may be a consideration for some people.
Ease of Use
If you want a chainsaw that is easy to use, read up on your options and how easy it is to start them up and operate them for long periods of time, as well as how comfortable and ergonomic they are.
Final Thoughts
Jonsered chainsaws are all great options, and they come in a variety of sizes and weights. One of the best things about Jonsered (in our opinion) is that its products are very powerful and very affordably priced. Some of their chainsaws are incredibly powerful and are best for heavy-duty contracting projects, while others are better suited for smaller at-home projects.
I hope this article has given you the Jonsered chainsaw information you were looking for.
If you're still searching for the perfect chainsaw, I think you'd benefit from reading some of my other chainsaw reviews and buying guides. Here are a few of them you might be interested in:
Happy sawing!
Your pal,
Chainsaw Larry