Are you interested in the Echo CS 400?
If so, and you'd like to learn more about this chainsaw, you're on the right page.
Perhaps you have been looking at a new chainsaw but aren't quite sure where to start. A lot of information leaves you overwhelmed and provides a lot of technical differences you might not understand.
However, one common chainsaw that often pops up for domestic use is the Echo CS 400, and for good reason. It provides a lot of heavy-duty power in a small, lightweight chainsaw. But is it the right one for you? And what are the pros and cons of this chainsaw?
I'll go over what you need to know about the Echo CS 400, so you can find out if it's the best chainsaw for you.
Let's get to it.
Disclosure: The chainsaw items recommended below are my top favorites because they have a great combination of quality and features. As an Amazon Associate, I earn from qualifying purchases made through the links as a way to support this site. If you buy a qualifying product, you're not charged anything extra, but I'll get a small commission to help pay for my expenses. I hope you find my advice helpful and discover the best chainsaw stuff for your needs on this list.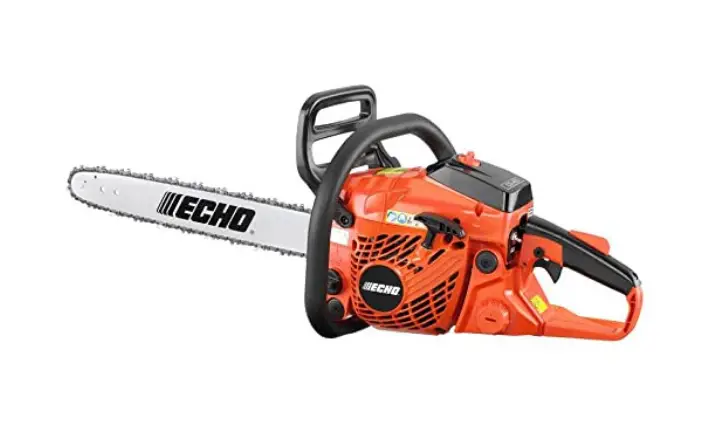 While many people may not have heard of the Echo chainsaw company, it is considered one of the top chainsaw brands. They aren't heavy-duty chainsaws that professionals use, but they work very well for households and don't come with a large price tag either.
One of their chainsaws that is pretty popular and works well is the Echo CS 400. It provides a lot of power and ease of use for those that are simply trying to do a little maintenance around the house.
The Echo CS 400 is a chainsaw that is primarily designed for at-home use. It can hold anywhere between a 16 to 18-inch blade depending on the person using it and their preferences. Many people enjoy the 16-inch blade better, as the chainsaw is lightweight and has a better balance with a shorter blade.
Despite being a household chainsaw, it is high-quality and looks as sleek and professional as any big name brand. They don't provide cheaper materials in the name of more affordable products.
What Is The Echo CS 400 Best Used For?
It isn't an ideal chainsaw for heavy-duty work such as trying to saw through a lot of trees at once. However, if you just want to cut back a few branches, chop up an old wood deck, or trim up the yard, it is an excellent option.
These are also lightweight and easy to start, which makes them a good choice for those without a lot of strength. It is a pretty well-balanced chainsaw with 18-inch blades, though some people prefer the 16-inch blades a little more. The Echo cs 400 also has vibration-dampening features to make it easier to hold still and use, and many people say they notice the precision of using this chainsaw compared to others.
It even comes with two handles to match your preferences, so you can hold it at the top or the rear. The starting system is easy, only requiring one pull to get it going. Also, while it isn't the quietest machine ever, it is a lot quieter than many other chainsaws out there. However, you still need to wear ear protection to reduce hearing loss.
The tool is also eco-friendly. It provides the benefit of reduced emissions thanks to superior air filters that clean the engine. This allows it to last much longer than other chainsaws and is better for the environment. This is important because the engine runs on gas, and emissions can be a large part of the downsides of these kinds of chainsaws.
Gasoline engine
16 and 18-inch bars and chain
Air cleaning system
i-30 starting system
Automatic chain oiler
Tool-less chain tension
G-Force Engine Air Pre-Cleaner for reduced air filter maintenance
Specifications of the Echo CS 400:
21 x 12 x 10 inches
10.1 pounds
2-stroke air-cooled cylinder
40.2 cc cylinder displacement
2650-3600 RPM
Automatic rewind starter
i-30 starting system
16 or 18-inch bar size
16 or 18-inch chain size
0.325-inch chain gauge
410 ml fuel tank capacity
280 ml oil tank capacity
Digital ignition system
The Pros:
We packed in all of that information, but what does it mean? What is good and bad about the Echo CS 400 chainsaw, and what should you expect when you buy one?
Below are some of the key pro features of the chainsaw that many users commented on when using this chainsaw, not only for the first time but for many uses after that.
The Cons:
However, no machine is completely perfect. Here are some of the major cons that people have pointed out.
Should I Buy?
Whether or not you should buy the Echo CS 400 depends on your preferences and needs. We can tell you that the company is one of the best out there and that the chainsaw is a good one to choose from.
However, it is always important to evaluate your own needs before deciding on a chainsaw.
What is the price you are willing to pay?
What do you need the chainsaw for?
Do you want to use gas, electricity, or a battery?
Do you want something lightweight and easy to use or heavy-duty and powerful?
By asking yourself these questions, you can narrow down the best chainsaw for you. However, if the Echo CS 400 does fit your criteria, we can say it is one you probably won't regret buying.
My Final Thoughts:
The Echo CS 400 is one we would recommend to anyone who is looking for a lightweight household chainsaw. It provides all the strength you need to get a job done and done right. It is also easy to use and keep clean, as long as you follow the instructions carefully.
However, if you aren't sure if the CS 400 is going to be strong enough for your needs, it is also worth looking at the CS 370. This chainsaw is very similar to the 400, but it is a lot more powerful and able to do a lot more work than the 400.
The product also comes with a five-year warranty. This warranty is much longer than other companies, which can give you some comfort knowing you have help if something does go wrong.
Want To Learn More?
If you'd like to explore different chainsaw options and learn more about them, you can check out my buying guides and learning center. Here are a few of my latest blogs I think you'll enjoy:
Happy sawing!
Your pal,
Chainsaw Larry