What is a log jack? Why would I need one?
Which log jack should I get?
If you're asking yourself these questions, you've landed on the right page.
Maybe you're a homeowner and you've just used a chainsaw to cut down some trees for some yearly maintenance, or maybe you've had some fallen trees due to some severe weather. Maybe you are in an industry where it's part of your job to chop up and haul or dispose of logs – either way, it's in your best interest to invest in a log jack.
In this article, I'll go over the reasons why you need a log jack and how to use one properly. In addition, I'll review the top 3 log jacks on the market.
You ready? Let's get into it.
Disclosure: The chainsaw items recommended below are my top favorites because they have a great combination of quality and features. As an Amazon Associate, I earn from qualifying purchases made through the links as a way to support this site. If you buy a qualifying product, you're not charged anything extra, but I'll get a small commission to help pay for my expenses. I hope you find my advice helpful and discover the best chainsaw stuff for your needs on this list.
What Is A Log Jack, And How Is It Used?
A log jack, also known as a timberjack by some, is a handy home forestry tool used to elevate felled trees off the ground so that they can easily be sliced into appropriate length rounds.
Lacking such a tool as this means that achieving a lifted and moved downed log or tree is awkward and even hazardous, as you will have to hoist and lay the logs completely on your own, which is no small feat at all and can be painful and exhausting and even bad for your body.
When using a log jack, all you need to do is prepare the log you are going to slice, slide the hook over the log and extend the handle of the device at about a 60-degree angle from the ground. It is very important that you make sure to dig deep into the wood. Then grab the handle with both hands and push the handle towards the ground.
Now you'll start cutting the log once it is elevated, slicing it into chunks. Now, if you're using a log jack to help you cut firewood, you might benefit from using a good chainsaw for cutting firewood.
After that, it is time to lift and dispose of the log. You put needless strain on your neck, arms, shoulders, and back if you attempt to raise the limbs off the ground on your own. A log jack makes the entire process easier and safer for everyone involved. Your body will thank you, and your yard will thank you too.
1. LogOX 3-in-1 Tool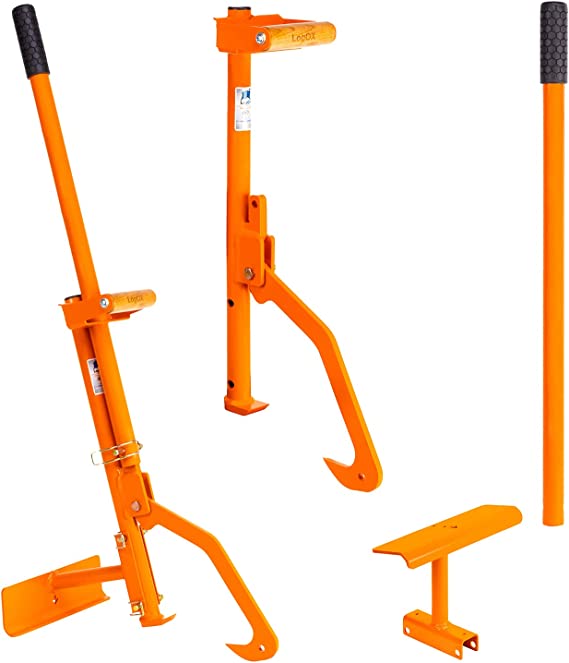 In terms of money and space, the LogOx is a fantastic buy. If you require access to a wide range of utilities but can only pay for one, the LogOX is a good choice. Many people looking to buy a log jack want to ensure they get the most bang for their buck. They certainly are with this device from LogOx.
A very intriguing feature of this LogOX product is that it can be customized with additional attachments. Turn it into a picaroon, for instance.
This creation from LogOX has two significant drawbacks, however. First, if you require a device to lift logs and won't utilize the other features, you should rely entirely on a different device. Plus, converting the tool might become a chore if you flip between functions regularly. Yes, it requires some practice and comes with a steep learning curve. But, in the end, it's worth it – especially considering how much money it costs.
Ultimately, this LogOx is a fantastic bargain and a creative approach to logging equipment. If you enjoy gadgets, you will enjoy this one. You will especially enjoy it if you are trying to stretch a dollar.
2. Woodchuck Tools-Timberjack

The Woodchuck Timberjack happens to be unquestionably one of the greatest options for lifting logs easily, quickly, and safely. It gives an excellent height for the chainsaw, keeping it off the ground and allowing it to cut through the log quickly.
The steel handle on the device is built with a tough, sturdy finish for additional durability and is composed of aluminum alloy. The log is kept off the ground by the twin-foot design, which also keeps the grip from sliding into the earth.
Its lightweight aluminum frame assures sturdiness and makes it perfect for raising and transporting huge logs. Its modest weight makes it easy to transport, and it may be transported for long ranges without difficulty.
The 48-inch grip is quite common for jacks like this and provides excellent strength when moving logs. This tool's most notable feature is its 20-inch diameter log capability, which means it can readily handle huge logs.
It can also handle logs as tiny as 6 inches wide. Therefore if you need a lot of variety, this is the machine for you.
It can also handle logs as tiny as 6 inches wide. Therefore if you need a lot of variety, this is the machine for you.
This log jack is a little pricey, but you'll get a lot of bang for your buck with this effective and long-lasting jack.
3. Ironton Wooden Handle Timberjack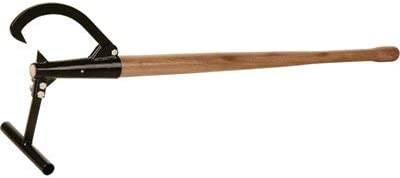 Here is something special and strong and also quite affordable too. The Ironton 48-inch Timberjack is an example of one of the strongest log jacks on the marketplace, and it's a wonderful option if you prefer wooden-handled equipment, particularly in frigid, chilling weather. Are you moving logs in the dead of winter? This log jack is for you!
This log jack is ideal for rotating logs and raising them from off the earth so they may be chopped safely.
This tool has an ergonomic curved varnished mahogany grip and a hard steel hook, unlike the other instruments on our list, which mostly have metal grips. There are many people who are attracted to this sort of handle not only because it is ergonomically comfortable and fitted, it also looks better too in many ways. It's a stunning device and looks downright gorgeous, like a work of art.
The jack can accommodate logs with a width of about 8 to 12 inches. The log jack can also lift logs that are a bit tinier or bigger than that but don't get too carried away (no pun intended).
Although not suited for larger logs, this tool is adaptable and may be transformed into a hook by taking off its installed bolts.
The disadvantage of this log creation from Ironton is its weight. Yes, it is rather hefty, making it unsuitable for operations that demand a lot of mobility. But, again, if you're looking for something that works well in the dead of winter, this one is perfect for you.
Those are my top 3 log jack picks on the market today. Thanks for reading and I hope I've helped you in determining which might be best for you and how to properly use one!
Happy logging!
Your Pal,
Chainsaw Larry