Are you interested in purchasing a mini table saw?
Why might you need a mini table saw over a standard size?
Let's start with the basics…what is a mini table saw?
It's a device much like regular types of saws, but it's used for hobbies and home improvement projects more than contracting. Smaller, more compact, cheaper, and easier to use, it's chosen over a regular saw because of its versatility and ease of use. Therefore, you should have one in your home workshop to fire it up whenever you're doing a DIY project.
I will go over the top-rated mini table saws on the market.
Let's get into it!
Disclosure: The chainsaw items recommended below are my top favorites because they have a great combination of quality and features. As an Amazon Associate, I earn from qualifying purchases made through the links as a way to support this site. If you buy a qualifying product, you're not charged anything extra, but I'll get a small commission to help pay for my expenses. I hope you find my advice helpful and discover the best chainsaw stuff for your needs on this list.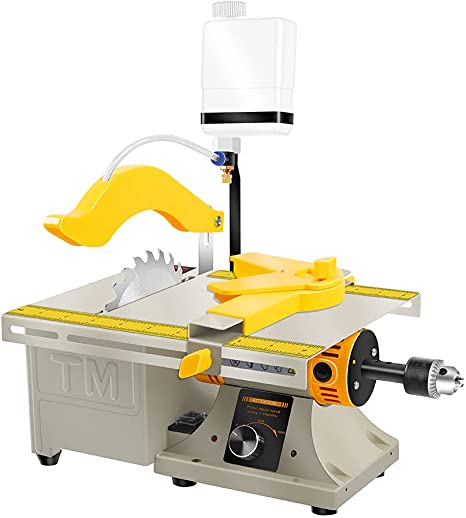 This LIBAOTML model is a terrific choice for carpenters and people who like housework and are looking for a reliable and effective tiny table saw. This product is inexpensive and won't break the bank, but it also has many attachments and features that only sweeten the pot.
If you can see beyond the unfamiliar company that made it, you'll discover that LIBAOTML produces high-quality DIY power equipment. This is the latest of the company's tiny table saws and is the greatest to date. With this table saw, you have a bigger operating platform, which gives you more flexibility and command over whatever project you're working on.
LIBAOTML's machine has the quickest motor, with speeds reaching up to 10,000 RPM. The motor isn't ideal for contractor use, however. Instead, it's best for projects around your home. So keep that in mind if you are running your own business.
The powerful motor provides enough energy for slicing through and cutting up metal, wood, and durable plastic materials. For quick buffing of your creations, you receive a compact buff grinder with a removable 42.5-inch shaft. This device has a changeable gauge and ruler for full command over your materials when sawing.
You'll like the concept that this mini table saw comes with a slew of extras. The equipment comes with numerous cutting discs, polishing discs, and grinding wheels, as well as various accessories for your saw.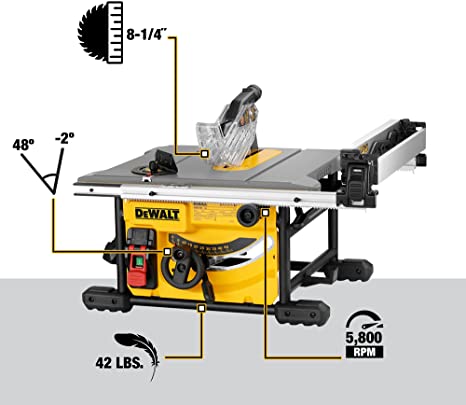 You have probably heard of DEWALT if you've done even a little bit of home renovation work. They are that popular – and with good reason too! Any DEWALT owner would tell you that the tool lasts for years and has no servicing difficulties. They create lovely, reliable, strong products that get the job done. This DEWALT small table saw is yet another ideal for builders and tradesmen seeking a piece of professional-grade equipment. You won't be let down. 
DEWALT's tiny table saw is another superb example of the company's high-quality products. This table saw features a changeable power motor that can reach speeds of up to 5,800 RPM. DEWALT makes equipment for professionals so you can be confident the engine won't burn out while you're working.
This device also has an interchangeable miter gauge and rip fence as well. Also included are anti-kickback pawls and blade-changing tools you'll need. An 8-inch saw blade comes with the package and a safety guard system to keep you and your family members and employees safe.
The hefty, noticeable weight is the only concern that might bother you. The DEWALT small table saw is 54 pounds in weight. That's a big burden to lug around the construction site. DEWALT, on the other hand, develops the equipment to last a long time, with a sturdy base and a tough frame.
The long-lasting, durable rubber padding at the base, which also acts as grips for transporting the machine about your job site, is another feature we enjoy. Overall, in our evaluation, the DEWALT small table saw is the finest quality option and a must-have for contractors.
Let's Get To The Pros and Cons
This mini table saw may be expensive, but you understand you're getting good value for your money. If you're a professional, you can trust the DEWALT brand to give you everything you need for your job site-cutting responsibilities. A 3-year manufacturer's guarantee covers all parts of this model.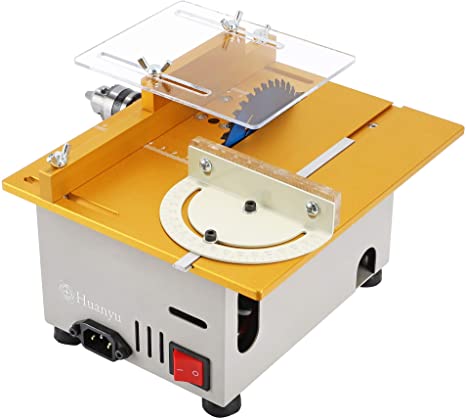 This mini table saw product coming to you from Huanyu is another excellent option on the market and proof that Huanya is one of the best brands around. This model is a perfect option for your garage shop if you seek a high-performing DIY product.
It's vital to remember that this device is solely intended for usage in crafts or on any job site that drastically affects the machine's life. Keep this in mind while making your purchase because this isn't ideal for a professional contractor. If you're a hobbyist craftsperson who tends to projects at home, this machine is all you'll need to complete them. In fact, it might be the inspiration you need to finally start up that DIY project you've repeatedly put off again and again.
With a strong, reliable motor that works well with any power supply, this tiny table saw has speed control from 1,000 to 9,000 RPM.
This model comes with the popular add-ons of miter gauges and rips fences, as well as a forward and backward switch. With this saw, you can alter the cutting angle from 0 to 90 degrees, providing you with a lot of flexibility.
This mini table saw provides everything a budding carpenter requires to accomplish projects, albeit it doesn't come with as many attachments as the other model. you may upgrade the machine's capability by buying extra accessories such as drill heads individually.
That concludes my top 3 reviews on mini tables saws. I hope there's one on the list that fits your needs. If you're looking for a mini chainsaw, you can check out my article on The Best Mini Chainsaw.
Happy sawing!
Your Pal,
Chainsaw Larry