So you're interested in the Stihl MS 180?
Want to learn more before making the purchase?
If so, you're on the right page.
It's that time of year again when we start planning some of the tasks and projects for the upcoming months.
If some of the jobs on your list include firewood preparation, felling small to medium trees, and other pruning and land-clearing needs, you're probably looking at adding a manageable chainsaw to your tools.
The Stihl MS 180 is a surprisingly versatile saw that is easy on the gas but tough enough to last.
Let's go over everything you need to know about the Stihl MS 180 model.
Disclosure: The chainsaw items recommended below are my top favorites because they have a great combination of quality and features. As an Amazon Associate, I earn from qualifying purchases made through the links as a way to support this site. If you buy a qualifying product, you're not charged anything extra, but I'll get a small commission to help pay for my expenses. I hope you find my advice helpful and discover the best chainsaw stuff for your needs on this list.
Stihl MS 180 Overview
There are some great saws and some time-wasters in the 16″ prosumer class of chainsaws. Stihl is a name that has been respected in the chainsaw game for many years as a provider of reliable, well-performing tools, and the Stihl MS 180 is no different.
It excels in making quick work of any solid wood up to about 12″ across, as well as taming brush and pruning jobs. While it may take a little bit more finesse to get through seasoned hardwood, it does much better with fresher, greener wood that needs to be sectioned.
What To Look For In A Potential Chainsaw
There are a few factors to consider before starting your saw shopping, and they will apply to just about any chainsaw you're considering.
Use Case
Think about what you're going to use the saw for. Some only need it for trimming, pruning, and occasional firewood use. Others will see theirs put through grueling all-day land-clearing work, which will be much harder on the engine and the chain.
Displacement
The engine size is going to determine how much power the saw has. This not only impacts how well it cuts through material but what size bar the powerhead can handle.
Bar Size
The bar size will be determined by the power of the engine and will influence what you can do with it. Bars of at least 16″ can be used to fell trees relatively quickly without bogging down the engine.
Ease Of Use
Your chainsaw should not only be easy to operate and use safely, but it should also be comfortable. This can encompass many different features, but in general, features that contribute to ease of use include vibration control, kickback protection, and quick-start engine technologies.
Safety Measures
Chainsaws are potentially dangerous power tools, so you should ensure yours is as safe as possible. Look for a chain brake, catchers, handguards, kickback protection, throttle locks, and more.
Stihl MS 180 Specifications
Gasoline-powered
31.8cc 2-cycle engine
1.9 horsepower
9.3-pound powerhead
12" to 16" bar length
250cc gas tank
145cc chain & bar oil capacity
Stihl MS 180 Review
The Stihl MS 180 is a powerful chainsaw for its size, and if you have a long list of moderate-duty chores to knock out, it just might be the perfect saw for you. It will handle any daily cutting you need to do, such as firewood, clearing rough brush, or even some carpentry.
It is incredibly comfortable to use, and the anti-vibration feature makes long-duration cutting or sporadic all-day use much easier on the hands and arms. Another great bonus to the Stihl MS 180 is its efficiency with your petroleum products. It makes much better use of the gas and lube oil that it's given than some other saws in the prosumer space.
The only noticeable downsides to the Stihl MS 180 come when you try to bite into something a little harder, like gum or locust wood or wood that's been dried for a while. If you're looking to get rid of wide-diameter logs that have been sitting for a while, this may not be the ideal tool for you.
Alternatives To The Stihl MS 180
Even though the Stihl MS 180 is a great saw, you sometimes want to see other options. Here are two comparable saws in the space to check out as potential alternatives.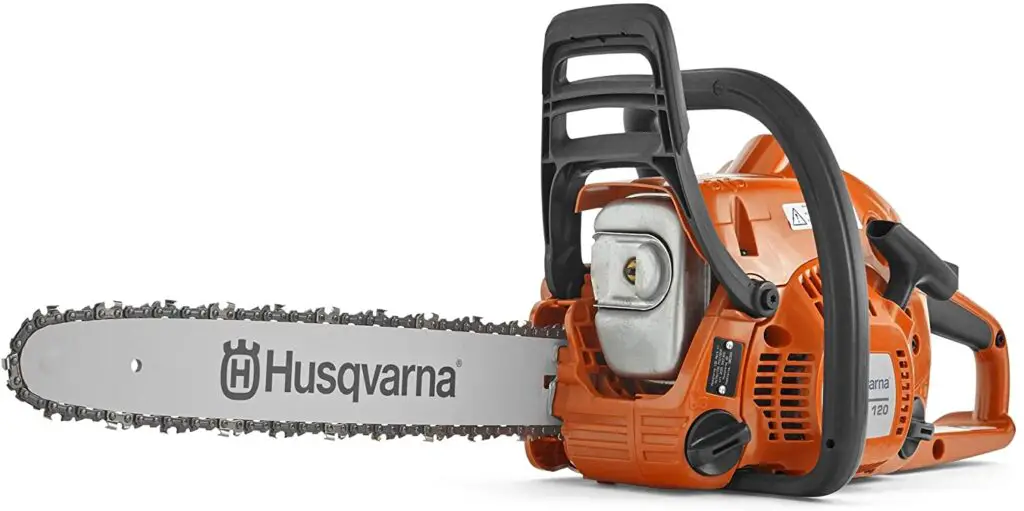 This small husky is a viable alternative to the Stihl MS 180. It comes with the Husqvarna vibration limiting system, making your cutting much more comfortable than other saws in this class. It's also nice and light and has some respectable kickback safeties.
A lesser-known brand that manages to stuff a lot of functionality into a little saw, the Echo CS400 has a wide range of uses, like the Stihl MS 180. It is perfect for cleaning up some standing dead timber and even processing relatively large amounts of firewood.
Frequently Asked Questions About The Stihl MS 180
What Is The Engine Size Of A Stihl MS 180?
The Stihl MS 180 has a 31.8cc engine with just under two horsepower.
What Size Bar Does The Stihl MS 180 Have?
The power of the Stihl MS 180 engine makes it perfect for bars as short as 12″ but up to 16″ inches long, making it very versatile.
Is The Stihl MS 180 A 2-Stroke Engine?
The Stihl MS 180 is a 2-stroke engine, so you need to ensure that the right amount of oil has been added before you add the fuel.
How Much Oil Do I Need In The Stihl MS 180 Gas?
The Stihl MS 180 uses a 50:1 mix of gas to oil. This means for every gallon of gas. You will need to add 2.6 fl oz. of oil.
Is The Stihl MS 180 The Right Chainsaw For You?
When it comes down to it, that's a question that only you can answer. The Stihl MS 180 is in the category of "prosumer" meaning it will be significantly better and more reliable than your average generic brand. Still, it's not going to hold up to heavy-duty all-day cutting, week after week.
The Stihl MS 180 is great for those who need to process their firewood or need some easily portable muscle to clear land. It's much more efficient and robust than similar models in the same price range, making it a solid value.