Are you looking to purchase a Stihl Farm Boss chainsaw?
Want to learn more before you buy?
If so, you've landed on the right page.
The Stihl Farm Boss Chainsaw is incredibly popular among the rural and prosumer crowd, but is it suitable for you and your needs?
We're going to take a good look at the most common Stihl Farm Boss Chainsaw model and cover the other models in the series. I hope it will help you decide if the Stihl Farm Boss Chainsaw should have a place in your chainsaw collection.
If you're interested in other Stihl models, check out my article on The Best Stihl Chainsaw (Reviews and Buying Guide).
Let's get into it.
Overview
The Stihl Farm Boss Chainsaw line is popular for homeowners or landowners looking for a chainsaw with a bit more power than the standard consumer-grade saws. There are several models in the Farm Boss range, but one of the most commonly seen is the MS271. Also, there are three other models currently available as well. Other saws in the Farm Boss line include:
Stihl MS291 Farm Boss
Stihl MS311 Farm Boss
Stihl MS391 Farm Boss
One downside to the three less-common Farm Boss Chainsaws is that in being less common, they are also less available to some extent. The MS271 is common enough to pick one up used through social media or a marketplace. Getting one of the other three models would almost always necessitate getting it brand new. You may even come across older saws with the Farm Boss logo. However, they are no longer in production.
Are Stihl Farm Boss Chainsaws Professional Saws?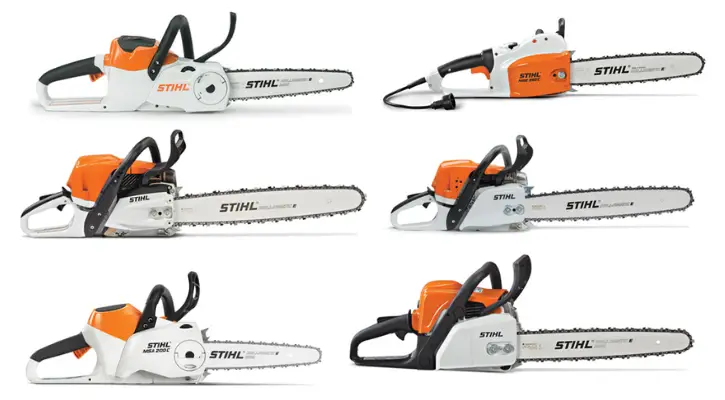 While the Stihl Farm Boss Chainsaw line is high-quality, the saws are not considered part of the Stihl Pro chainsaws. There are some notable differences in the two chainsaw classes, including:
Improved sprocket design and quality on Pro saws
Pro saws will have captive bar nuts, while Farm Boss saws will have non-captive bar nuts
The two lines will have different air filters, with the filters on the Pro chainsaws being of slightly higher quality
Pro line has a decompression valve that the Farm Boss line does not have
The crankshaft design is slightly different between Pro and Farm Boss, with the Pro being a little better
Pro line saws have a magnesium casing, while Farm Boss saws will have largely polycarbonate construction
Between equally powerful Pro and Farm Boss chainsaws, the Pro saw will have a lower weight
Pro saws will have a higher power output than Farm Boss models with similar engine displacement
As you can see, there are several ways that Stihl Pro saws are better than Farm Boss. However, that additional performance and engineering also factor heavily into the price. Stihl Farm Boss Chainsaws will still have better components. It's lighter weight and has more rugged performance capabilities than standard consumer-grade or budget homeowner saws.
MS271 Chainsaw Specifications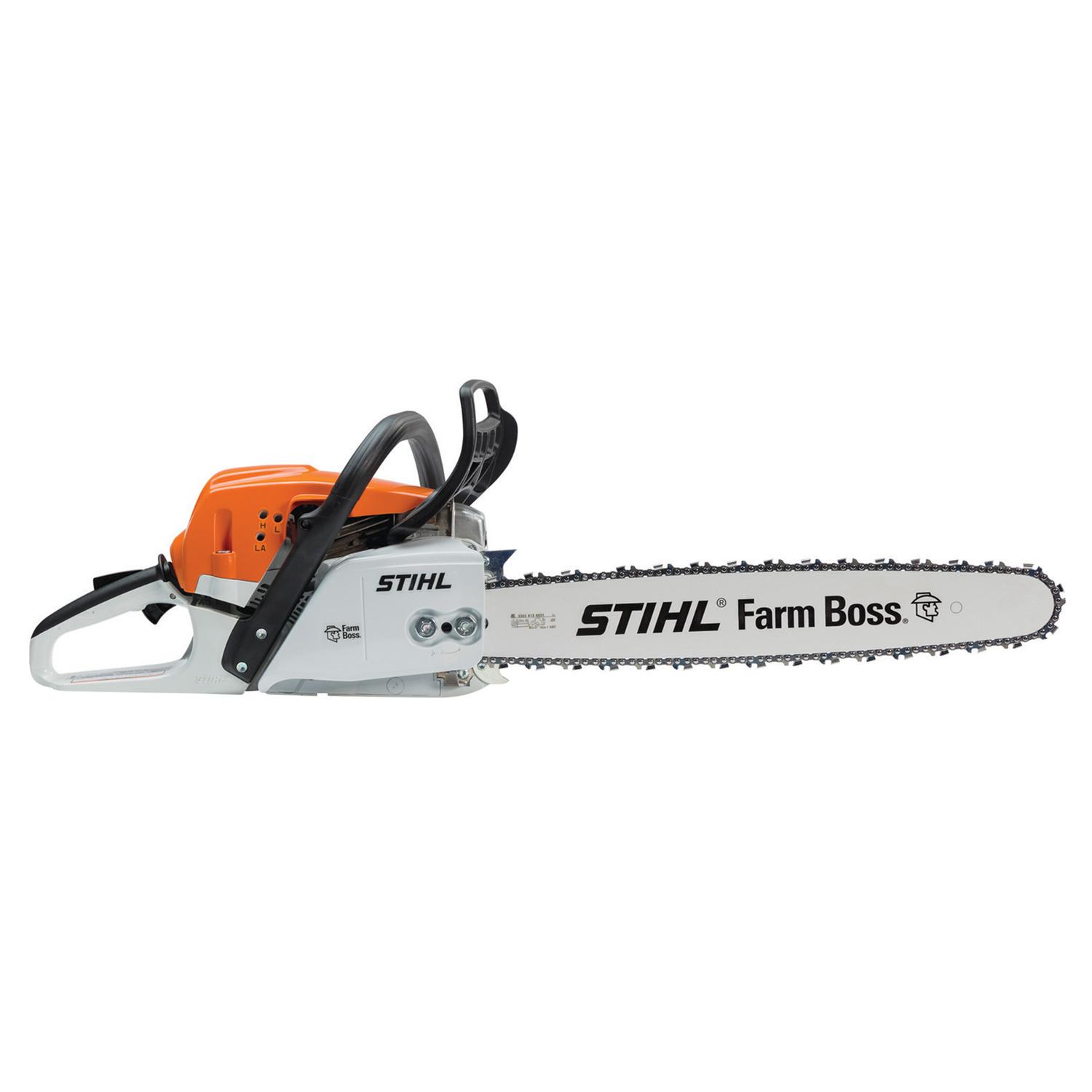 The specs here will be for the most common Stihl Farm Boss Chainsaw, the MS271.
Gasoline-powered
50.2cc 2-cycle engine
3.49 horsepower
12.3-pound powerhead
16" bar is optimal
Anti-vibration system
Side tensioner
Long-life air filter
Chain brake & handguard
Automatic chain oiler
Chainsaw Review
Stihl Farm Boss Chainsaw line occupies a solid space in the gap between cheap homeowner chainsaws that lack longevity and professional-grade units that can be incredibly spendy. Depending on what you need to do with your saw, you may find that your next chainsaw purchase also lies in this gap. This would make the Stihl Farm Boss Chainsaw a great solution to your wood cutting needs.
While the Stihl Farm Boss Chainsaw series will be sufficient to keep your firewood stack full for the winter, there are also some saws out there that can do the job quicker and easier. You'll have to pay a bit more for them. The Stihl Farm Boss Chainsaw line will stand up to rigorous use. However, if you need something that will be cutting all day, every day, for seasons on end, you should invest in a Pro.
Alternatives To The Stihl Farm Boss Chainsaw
Although the MS271 Stihl Farm Boss Chainsaw isn't a Pro saw, it still may be a bit too powerful for those who need it to do smaller or lighter-duty jobs. For situations like these, you may want a milder chainsaw.
Some ideal alternatives to the Stihl Farm Boss Chainsaw line include the marginally more expensive MS291, or the MS250, which is cheaper but smaller and a little easier to handle on minor jobs. Outside the Stihl family, some 50cc-60cc Husqvarna Rancher chainsaws might fit your budget.
Frequently Asked Questions About This Chainsaw
Can I Use A Stihl Farm Boss Chainsaw To Cut Down Trees?
Absolutely. The Stihl Farm Boss Chainsaw line will handle trees easily, even trees up to 10″-" 2″ "n diameter.
Which Size Bar Can A Stihl Farm Boss Chainsaw Handle?
The MS271 can easily handle a 16″ bar without becoming overworked. Models MS2, S311, and MS31 can handle up to a 20″ bar.
What Is The Proper Fuel-Oil Mix For The Stihl Farm Boss Chainsaw?
Stihl Farm Boss Chainsaw family runs on 2-cycle premixed fuel at a 50:1 ratio. This means that for each gallon of premix you make, you will need to add 2.6 fluid ounces of oil to the gas.
Is The Stihl Farm Boss Chainsaw The Right Chainsaw For You?
So there you have it, the Stihl Farm Boss Chainsaw line is incredibly adept at shortening most cutting jobs. While they aren't the absolute best, they are a solid middle ground between entry-level or homeowner chainsaws and much more expensive Pro-level saws.
If you think that you'll need a saw you can grow into as your skills progress, the Stihl Farm Boss Chainsaw range is probably ideal for you. Now, in the event you need something to help you with heavy forestry all-day, everyday use, you should look into one of the Stihl Pro chainsaws. However, if you only need a light-duty machine to make pruning and trimming easier, with maybe a little firewood duty a couple of times a year, then an entry-level saw will get the job done cheaper.