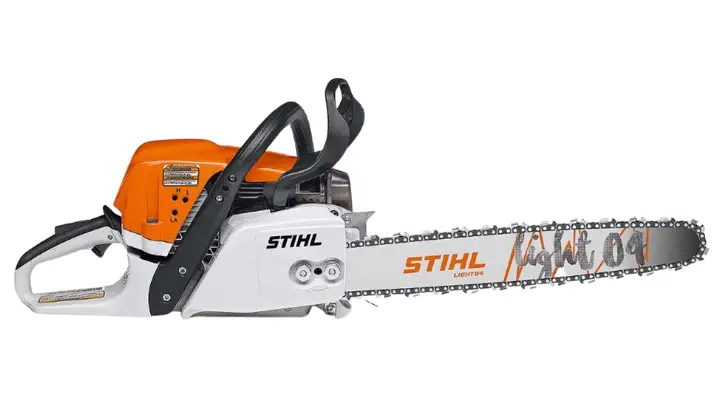 View the Stihl MS 391 on the Stihl website
Interested in buying the Stihl MS 391?
If so, you're on the right page.
STIHL chainsaws have been in the market for a long time and have also made their name among arborists.
STIHL has rated the MS 391 as their top-rated chainsaw for farm work. For some, it has proven to be the toughest chainsaw. However, there are those who doubt its reliability and performance. Let's start by going through the outlying features of the STIHL MS 391.
In this article, I'll go over the pros and cons, features, and comparable options.
If you'd like to read more on different Stihl models, check out my Stihl reviews, The Best Stihl Chainsaw 2023 (Top Picks and Reviews).
Let's get into it!
Outstanding Features of the STIHL MS 391 Chainsaw
Reduced-emission technology with 'Caring For Nature' seal
A pre-separation air filtration system
Anti-vibration system
IntelliCarb Compensating Carburetor
Side-access chain tensioner
20" guide bar length
Automatic chain
11.8 oz chain oil capacity
Gas powered
4.4 bhp engine power
20.3 oz fuel capacity
64.1cc displacement
While this chainsaw is not the best for professionals, it is perfect for odd jobs on your farm and ranch. The MS 311, another popular model by STIHL, is similar to the MS 391, but the latter is much more powerful.
If you're looking for a chainsaw for felling trees, cutting firewood, and cleaning up after a bad storm, then the MS 391 is the solution to all your problems. It claims to have an optimal power-to-weight ratio even though many users find it too heavy for regular use.
Check out this video of the Stihl MS 391 by Cod Fish on Youtube.
The Pros of the STIHL MS 391
STIHL has added some exciting and productive features in this model, which improve efficiency and performance. You don't need a chainsaw that can just cut down anything you want. You need a powerful machine that consumes less time and fuel.
Let's look at all the best features provided by STIHL for the Stihl MS 391.
Decompression valve
A decompression valve is included in the easy-starting system to decrease the compression pressure when starting the chainsaw. The valve ensures you don't need to put too much effort into pulling the starter rope.
It isn't automatic, so you need to press it down manually when starting, but it closes off automatically.
Advanced combustion technology
To make the chainsaw more efficient and provide room for optimum combustion, the fuel-air mix is swirled around in four overflow channels before ignition.
This provides a low fuel consumption, higher RPM, more torque, and extra strength to the chainsaw.
Anti-vibration system
Continuous vibration in your hands and arms while using a chainsaw is not only annoying but also has detrimental effects. Excessive vibration from such tools can lead to long-term effects on the blood vessels.
STIHL has focused on creating a successful anti-vibration system. The MS 391's engine oscillations are damped, resulting in a lower frequency of vibrations felt in the handle.
A pre-separation air filtration system
Compared to a traditional air filtration system, STIHL's pre-separation air filtration system lasts longer. The pre-separator duct sucks in the air and sends it to the air filter. The air sucked in moves around so you can remove the heavier dirt particles.
Compensator
The compensator plays an integral role in maintaining the chainsaw's life since it doesn't let the fuel-air mixture get heavy when the air filter starts clogging. The quantity of fuel delivered to the carburetor relies on the air sent to the air filter.
This feature keeps the air filter clean and maintains engine power by keeping the fuel-air ratio constant. You only need to clean the filter if there is a drop in engine power.
Variable-displacement oil pump
A variable-displacement pump ensures that oil delivered to the engine is demand based. Through the variable-displacement oil pump, oil production is decreased by at least 50% when you use the chainsaw in the E-position.
Single-level master controller
A single lever controls all necessary functions, such as throttle, choke, start, and stop.
Side-chain tensioner
To completely avoid any contact with the saw chain, STIHL added a tensioning screw. You can spot it on the side of the MS 391 in a sprocket cover.
E-Matic chain lubrication system
Pinpoint lubrication is now possible with the E-Matic lubrication system. On its own, this feature reduces bar oil consumption by 50%.
When used with the Oilmatic system introduced by STIHL, it provides more lubrication, longer wear, and reduced oil consumption compared to traditional chain oiling methods.
Tool-free filler caps
You can easily lock or open the fuel and oil tanks without using any tools. Special catches are added to the machine to make this possible.
Going over this list, you will surely be overwhelmed by the number of features introduced in the MS 391 by STIHL. While this machine seems perfect, it also has some problems you should consider before deciding to add this power tool to your collection.
What's Wrong With the Stihl MS 391?
Despite having a long list of additional features that you might not find in other chainsaws, there are some problems with STIHL MS 391. Let's go over these.
Reliability and durability
Even though STIHL has a sound reputation in the industry, it is noticeable that the MS 391 is produced in China. This raises a huge question mark about the reliability and life of this chainsaw.
The port covers placed on either side of the chainsaw's cylinders are simply glued to stick on. This leads to a huge air leak which causes the pistons to get damaged. While you may use this machine occasionally around the house, it is not meant to be used for long periods.
Expensive
When you get a chainsaw, it's an investment and an asset in your tool kit. The STIHL MS 391 costs $740.00 with a 25" bar. This price tag makes it expensive and not worth buying with a low-quality build.
The STIHL 261 comes within the same price range but has improved quality. Even though the MS 391 has a more powerful torque, it doesn't befit its price tag.
If you have to spend the same money, you could get another machine with improved functions and quality.
Weight
Another disadvantage of the MS 391 is the weight. It weighs around 14.1 lbs, which can be quite tedious to hold for a long stretch.
Despite being heavy, it's not as tough as it seems. Because the MS 391 is heavier than its alternatives, it is underpowered.
Comparing Alternatives to the STIHL MS 391
Products
Features
Pros
Cons
Echo CS-590 Timber Wolf
– G Force Engine
– Air Pre-Cleaner
– 59.8cc 2-stroke engine
– Decompression valve -Translucent fuel tank Automatic and adjustable clutch-driven oiler Rear-mounted, heavy-duty 2-piece air filter
Lower oil consumption with a self-lubricating system
The decompression valve makes starting the machine easy
Filter doesn't need to be cleaned frequently
Metal bucking spikes for higher stability
Difficult to start
STIHL MS 362
Pre-separation air filtration system
Anti-vibration system
Side-access chain tensioner Decompression valve 59cc displacement
Anti-vibration system protects hands and arms
Has more strength and can be used for professional purposes
Reduced emission technology lowers fuel consumption by 20%
Chain-stopping system in case of kickback Winter/summer shutter for the carburetor to perform at optimum levels
Expensive
HUSQVARNA 455 Rancher
Air Injection Technology Side-mounted chain tensioner Powerful and efficient XTORQ engineLowVib Technology Adjustable oil pump
Quick-release air filterFelling marks
Combined choke/stop control
Three-piece crankshaft
Front handle ergonomics
Start smart technology Inertia-activated chain brake
X-Torq technology reduces fuel consumption by 20%
LowVib technology Side-mounted chain tensioner Centrifugal cleaning system for cleaner filter
Inertia-activated chain brake to prevent kickback
Ergonomic design for increased comfort while working
Unreliable and the chain falls off frequently
Conclusion
The STIHL MS 391 isn't a bad option if you're looking for a chainsaw to use in your backyard. However, you need to take notice of the price you'd be paying for a machine that isn't a pro-saw.
I wouldn't suggest anyone buy an MS 391 since other better options are available in the same price range. If you prefer sticking to STIHL, I'd recommend getting an MS 362, a pro chainsaw worth the price you pay.
Another reason to avoid this machine is the problem of finding the parts. This chainsaw isn't as reliable and heavy-duty as it should be. So if you need to change some parts, it'll be extremely difficult to get them easily.
What to Consider When Buying A Chainsaw
When you have to purchase a chainsaw, there are multiple features that you need to look over before finding the right fit. It mainly depends on the kind of work you'll end up doing.
Not all expensive chainsaws are the best. You need to sift through them to see which one suits your pocket and needs. Here are some features you should consider when buying a chainsaw.
Types
Chainsaws are divided into different categories depending on their work, so not all chainsaws are the same.
A standard chainsaw is ideal for felling trees and light yard maintenance. A pole saw is an extension of a saw used to reach and trim limbs that are generally difficult to reach. An enclosed saw is the safest for a user and is mainly used to trim limbs.
Power options
Gas-powered chainsaws are more powerful and can drive the longest bar length. They can cut down larger trees without putting much pressure on the chain. However, they are noisier and heavier than electric chainsaws. Moreover, the engine needs maintenance more often.
Electric chainsaws come in corded or battery-powered options. Corded electric chainsaws have as much power as a midrange gas-powered saw. Corded electric saws limit users from moving around too much. They are best for small and odd jobs.
Features
Chain type shouldn't bother you much if you are a DIY kind of person. However, educate yourself about different chain types if you're a pro and need a chainsaw for various tasks. You should know why the teeth profile and spacing options matter.
Choosing the handle position depends on the work you'll do with the chainsaw. Top-handle saws are perfect for cutting down objects at a height, but it also decreases their stability. Rear-handled saws are more suitable for ground-related work like cutting logs and pruning.
Anti-vibration is a feature that improves comfort while using a chainsaw, especially a gas-powered one. This reduces fatigue and makes working with a heavy chainsaw easier.
FAQs
What makes a chainsaw powerful?
A gas-powered engine makes a chainsaw powerful for use professionally and in larger spaces.
Can you use a chainsaw without training?
To use a chainsaw, you should have adequate training and knowledge. Otherwise, it could be dangerous to use one.
What happens if you run a chainsaw without oil?
If you use a chainsaw without bar oil, the chain will heat up and break. Chain heating can cause severe damage to the chainsaw, and you may need to change the chain and bar.
Which chainsaw cuts the fastest?
A full chisel chain with square-cornered teeth is known to be the best shape for cutting down objects fastest.
If you need to buy a product, you need to read a review that is not only detailed but also trustworthy. For this purpose, I test all products thoroughly before providing true and unbiased feedback. This is the sole reason you can and should trust Chainsaw Larry reviews before choosing a product.