So you're looking for a table saw?
Do you want a quick review and an easy way to purchase one?
If so, you've landed on the right page.
The table saw serves many purposes and is a staple in any handyman's set of tools. Selecting an excellent one will make any cutting process go smoothly and avoid the frustration of paying money for a table saw that doesn't work very well.
In this article, I'll go over the top 6 table saws available on Amazon. I hope my reviews and comparisons will help you in your decision.
Let's dive right in!
Disclosure: The chainsaw items recommended below are my top favorites because they have a great combination of quality and features. As an Amazon Associate, I earn from qualifying purchases made through the links as a way to support this site. If you buy a qualifying product, you're not charged anything extra, but I'll get a small commission to help pay for my expenses. I hope you find my advice helpful and discover the best chainsaw stuff for your needs on this list.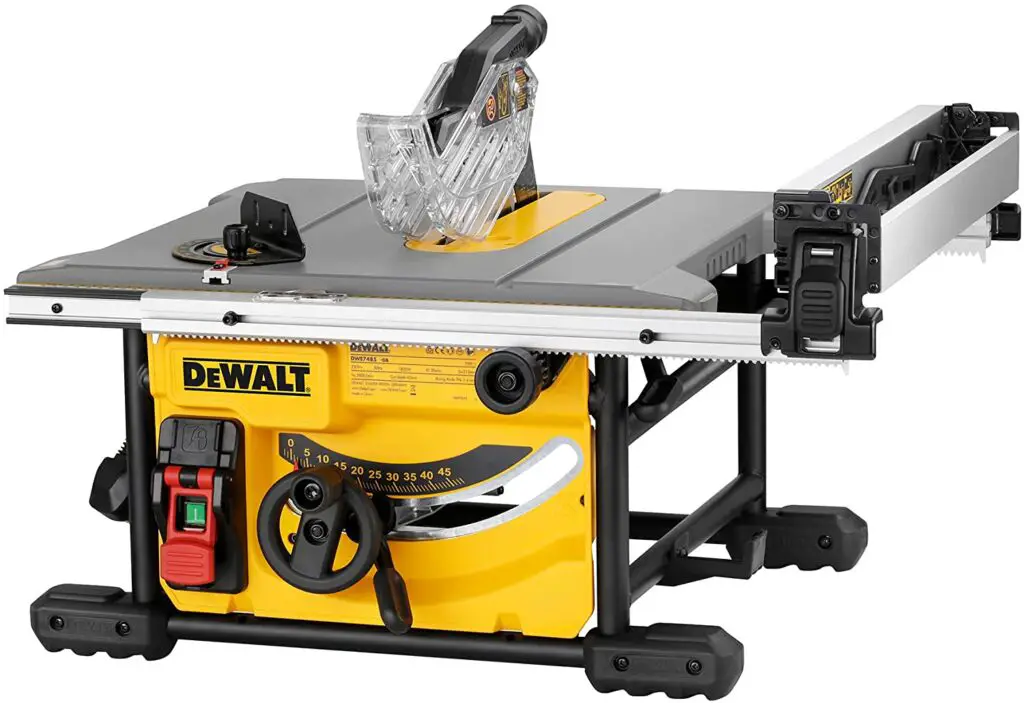 The Dewalt Compact Table Saw is the top-rated, best table saw on Amazon, according to customers. It is a mid-sized option you can invest in for around $300. While this is a little pricey, you can be confident you are getting a quality product.
This saw is smaller than most, able to be transported to any work site. It also permits simple adjustments and holds rip capacity. It is a powerful machine anyone can afford to invest in for their home.
If you are looking for a table saw on Amazon that is both affordable and quality, the Dewalt Compact Table Saw will work for you. It is one of the best table saw options for any handyman.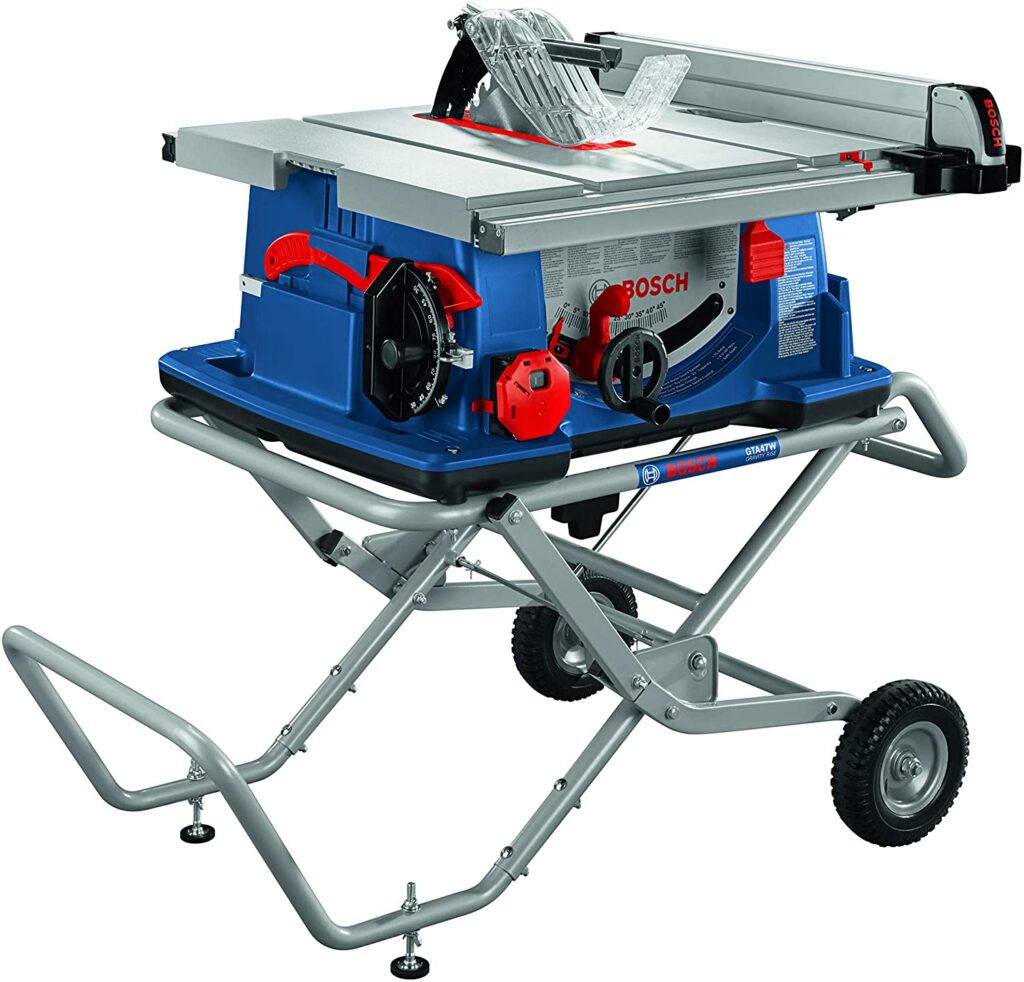 The Bosch 10-Inch Worksite Table Saw (which comes with a stand) is another one of the best table saw choices. This saw is a little more expensive thanks to the stand it comes with, running around $600 if you want to have this one in your home. Those who need a stand may prefer this option despite the price.
The Bosch saw is a powerful option, capable of cutting many sizes. It also has an incorporated Smart Guard System to permit the viewer to have a clear view of what they are slicing at all times. Many of its features are designed to avoid items like circuit trips or failed start-ups.
If you are looking for a portable saw with an excellent stand, this one might be great for you. The Bosch 10-inch Worksite Table Saw has many powerful features, but it also has safety features designed to keep the machine from breaking and you from harm.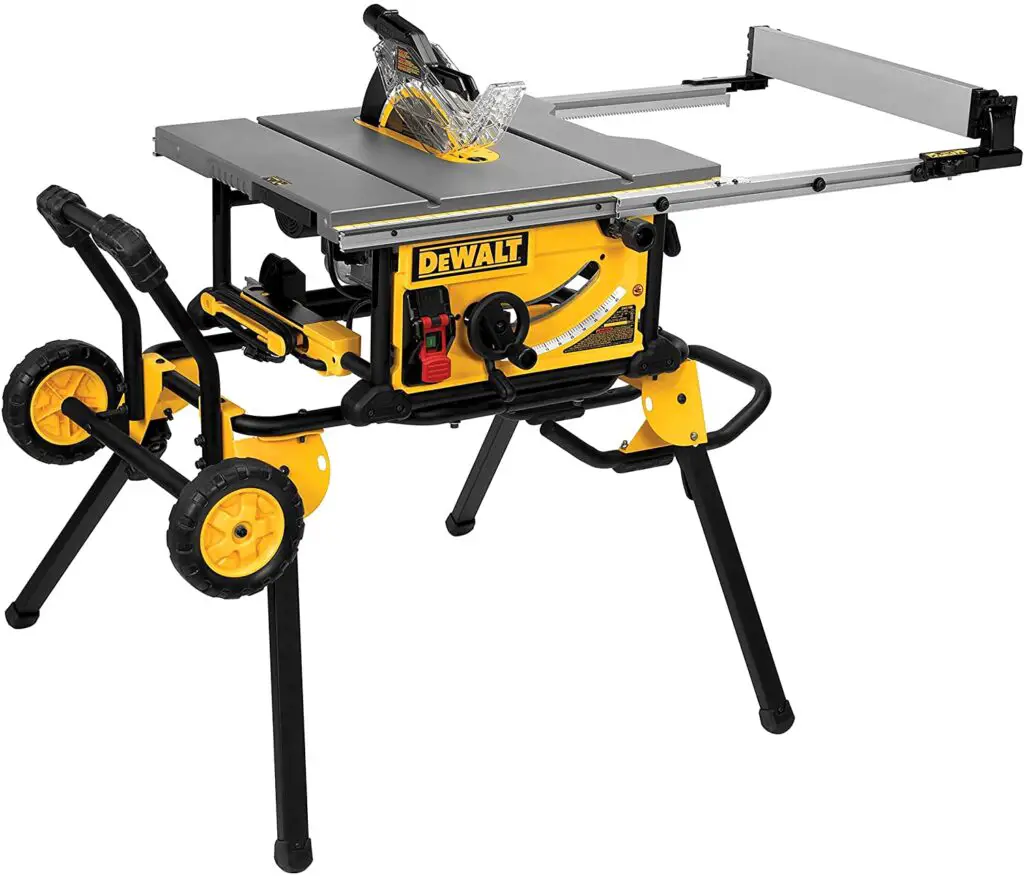 The Dewalt 10-inch Table Saw is another of the best table saw choices for those on the hunt for a blade. This one is less portable than the compact version, more intended for sitting in a garage or workspace. It will run you about $599 to purchase, relatively affordable for such a large saw.
Many features come with this option. You get a maximum rip effect and a rolling stand that makes the set-up as simple as possible. Adjustments are simple with a Rack and Pinion system. The motor is powerful enough to cut through even the most powerful treated wood.
If you prefer a saw that takes a more permanent residence in a workspace, this could be the saw for you. It is larger and more powerful, so you can expect it to help you do even more as you take on projects.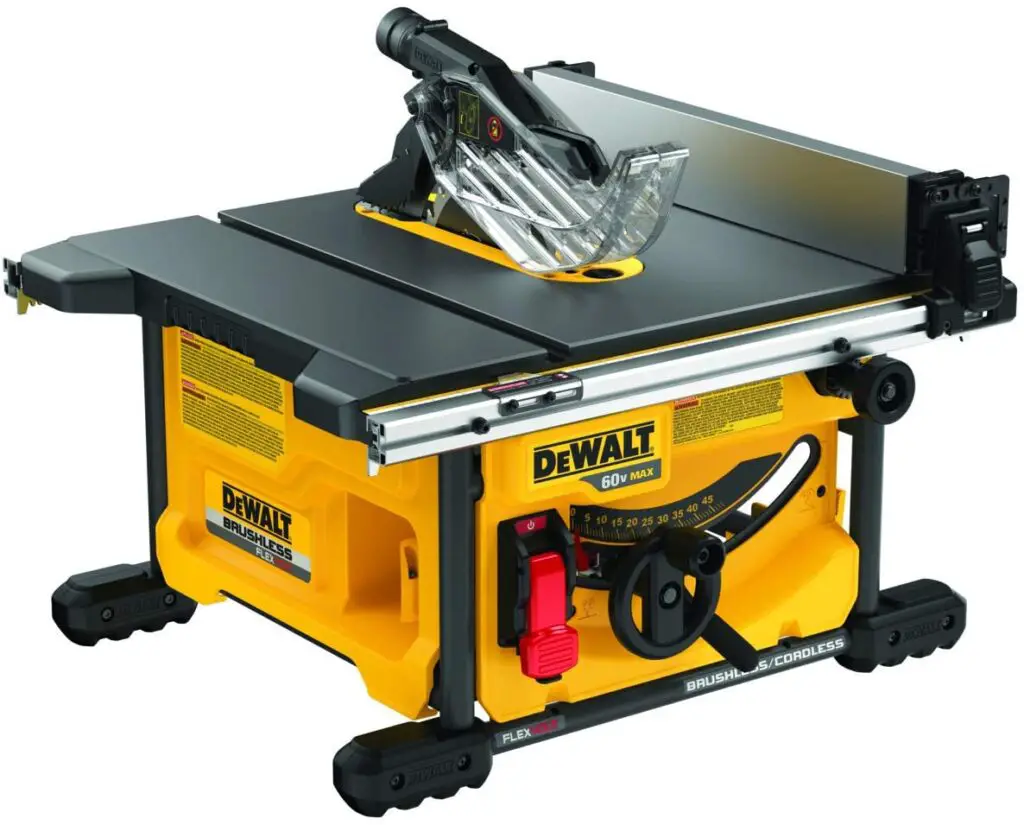 Next up is the Dewalt Flexvolt 60V Max Table Saw. This one comes without a base, so you will need to add that on yourself. This four-inch blade will cost around $1000, making it the most expensive choice on this list. The price may not be for everyone, but it is worth it for what you will get for your home.
The Dewalt Flexvolt is one of the best table saw options because of the features. It is a cordless, battery-powered machine that changes its voltage when you shift tools and offers smooth accuracy with a great rip. It is also incredibly durable, sure to last for a long time, thanks to its material.
The Dewalt Flexvolt 60V Max Table Saw is expensive, but it is worth it. This saw is the first of its kind. It gets rid of the inconvenient hassle of having a cord attached to your table saw. This type of table is a valuable asset that will quickly pay for itself.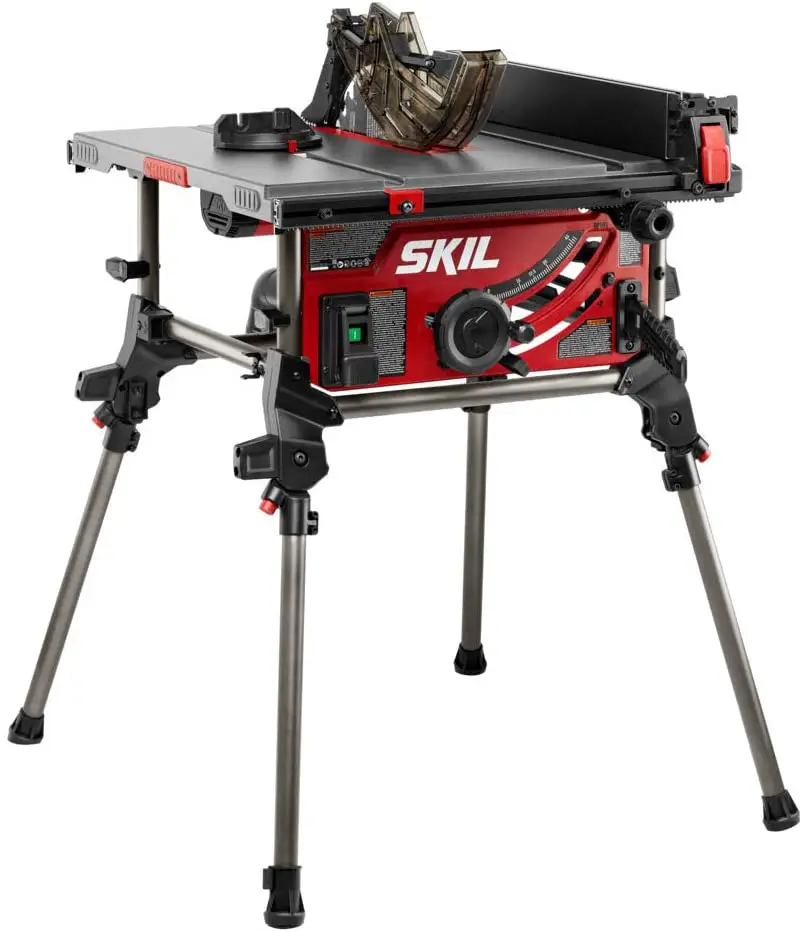 The Skil Amp 10-inch Table Saw is one of the more affordable table saws on Amazon. For around $350, you will gain access to everything this unique tool has to offer. We are discussing the 10-inch saw, but this brand also has several lengths you can choose from if you need something bigger or smaller.
Many excellent features come with the Skil Table Saw. It has a rail that encourages fast and accurate cuts on your material. It folds for easy storage and unfolds just as fast for a simple set-up process. It even can redirect dust for a simple clean-up.
If you want something that will not cost you a ton of money, the Skil 15 Amp 10-inch Table Saw is for you. It boasts many additions that you do not need to pay a fortune to gain access to for your home. Those who do not use their table saw too often will enjoy this choice.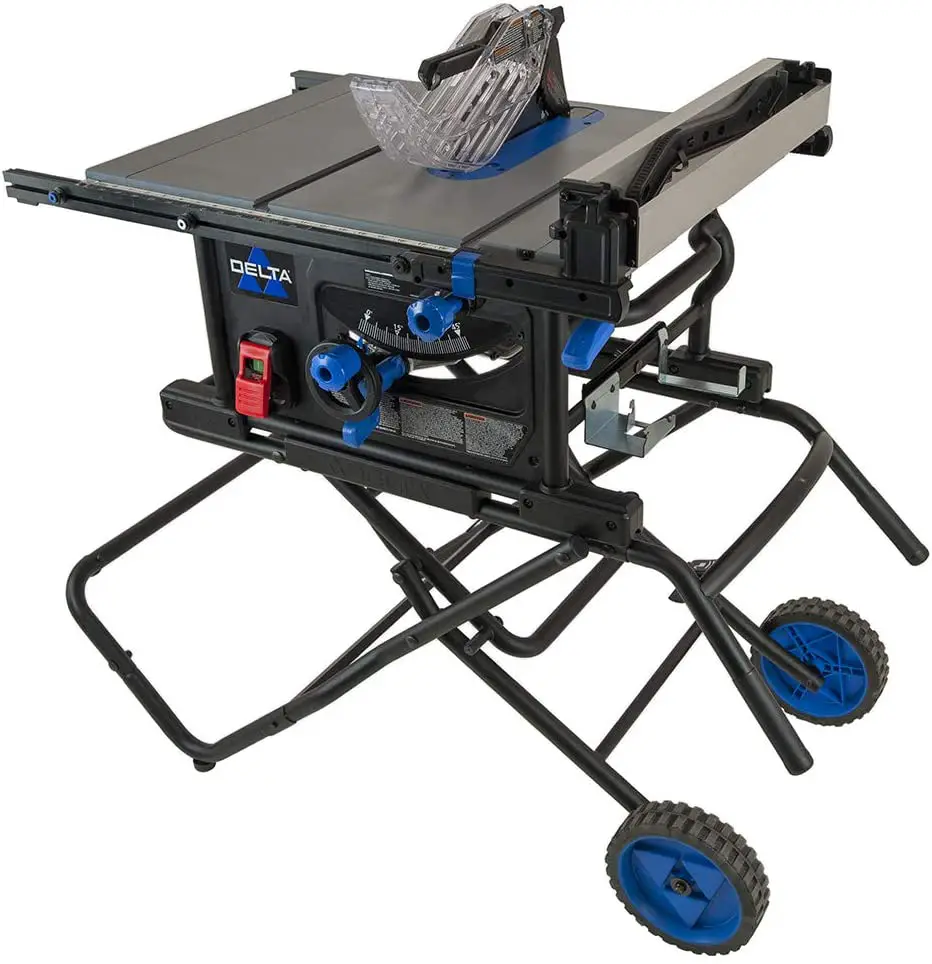 Last on the list of the best table saw choices is the Delta 10-inch Table Saw. This option is one of the most expensive, coming in at around $730. It is more affordable if you are okay with buying it used. Delta is a less well-known brand but still provides an excellent cutting experience with materials.
The Delta 10-inch Table Saw boasts several unique benefits. It has a powerful motor that can take on several types of wood, treated and untreated. It has a massive rip capacity, is durable, and comes with a five-year warranty. This warranty makes the price worth it all by itself.
If you do not mind spending a little more, the Delta 10-inch Table Saw is a quality option that will last a long time. The warranty will make the price worth it, as you can replace the saw and its various parts when necessary. Expensive is not always worth it, but in this case, it is.
That completes my list of the top 6 table saws available on Amazon today.
I hope this article has been of some help. Since all the table saws are top-rated, you're guaranteed a great table saw for years to come.
If you're interested in looking around for chainsaws as well, check out my article on the Top 10 Best Rated Chainsaw Reviews.
Happy sawing!
Your pal,
Chainsaw Larry