So you're interested in buying a Husqvarna chainsaw?
Not sure which one to get?
If so, you're in the right spot.
Husqvarna is a quality brand in the tool world. One of the most common items they create is chainsaws. There's a ton of options. If you're interested in buying a Husqvarna chainsaw, you might wonder which ones are the best. What should you invest in for your life?
In this article, I'll go over the top ten Husqvarna chainsaws available on the market. Each excels differently, sure to benefit anyone who gets their hands on one.
Let's get into it.
Disclosure: The chainsaw items recommended below are my top favorites because they have a great combination of quality and features. As an Amazon Associate, I earn from qualifying purchases made through the links as a way to support this site. If you buy a qualifying product, you're not charged anything extra, but I'll get a small commission to help pay for my expenses. I hope you find my advice helpful and discover the best chainsaw stuff for your needs on this list.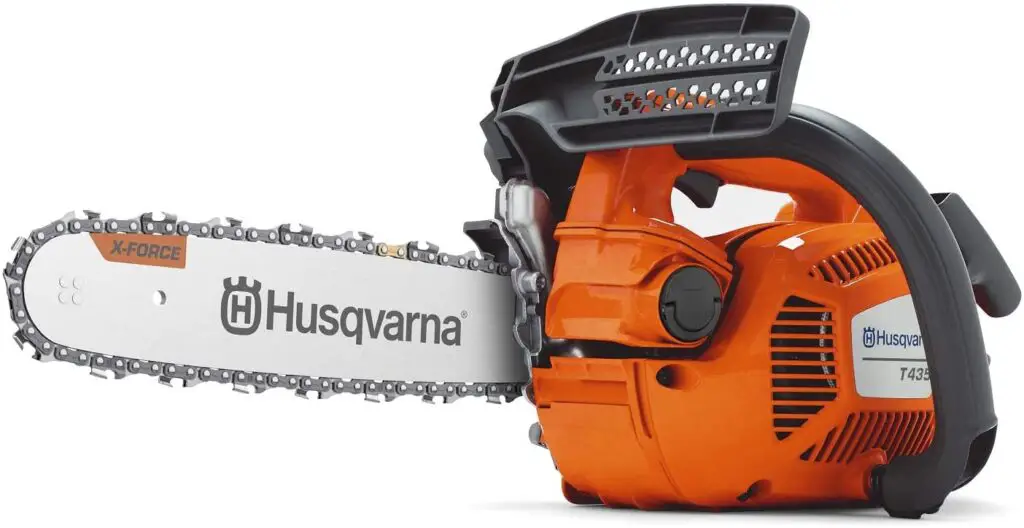 The first Husqvarna chainsaw on our list is the T435 Midsize Top Handle Chainsaw. For about $355, you can get your hands on one of these impressive pieces. It's a simple piece, easy for anyone to handle. It's also relatively affordable. It's high-quality and easy to carry into even the highest locations.
The T435 is best for those who do a lot of tree pruning and work high up. You can climb a ladder holding this with no problem, and you don't need to worry about it quickly running out of fuel.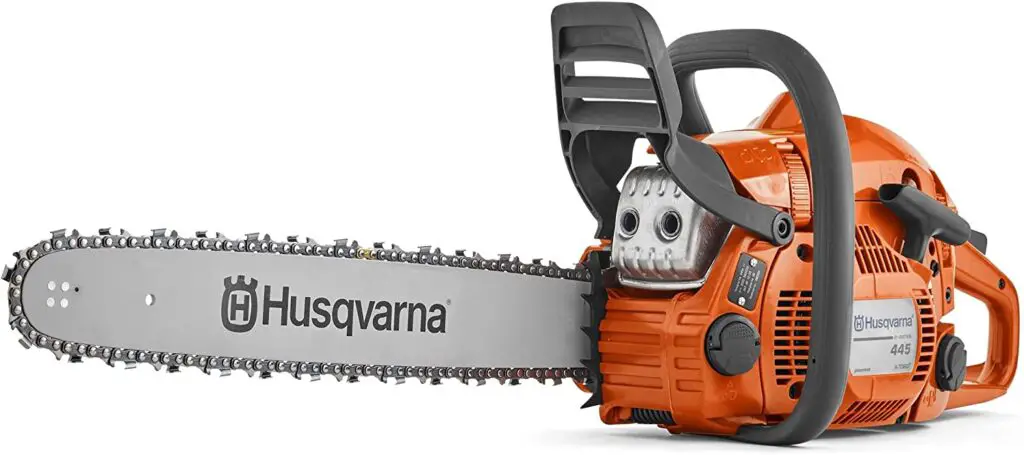 Next up is the Husqvarna 445 18-Inch Rancher Gas Chainsaw. This Husqvarna chainsaw will pull about $370 from your pocket, just a little more expensive than the T435. The 445 Rancher is a quality device that anyone can utilize. It's rugged and allows you to start the engine with little trouble.
This Husqvarna chainsaw is for homeowners and people who need the tool around their house. It can do everything from slicing firewood to pruning trees, ideal for even the most basic yard work functions.

The Husqvarna 460 24-inch Gas Chainsaw is a popular version of the Husqvarna chainsaw. It will take about $570, making it one of the most expensive options. It's rugged and durable, with anti-vibration technology. Its engine also reduces fuel consumption and is better for the environment.
This saw, like most of the others on this list, is meant for homeowners. It's great for cleaning up the yard or pruning trees. It can handle a bit more than smaller varieties, so those who have bigger things to clean up will love this one.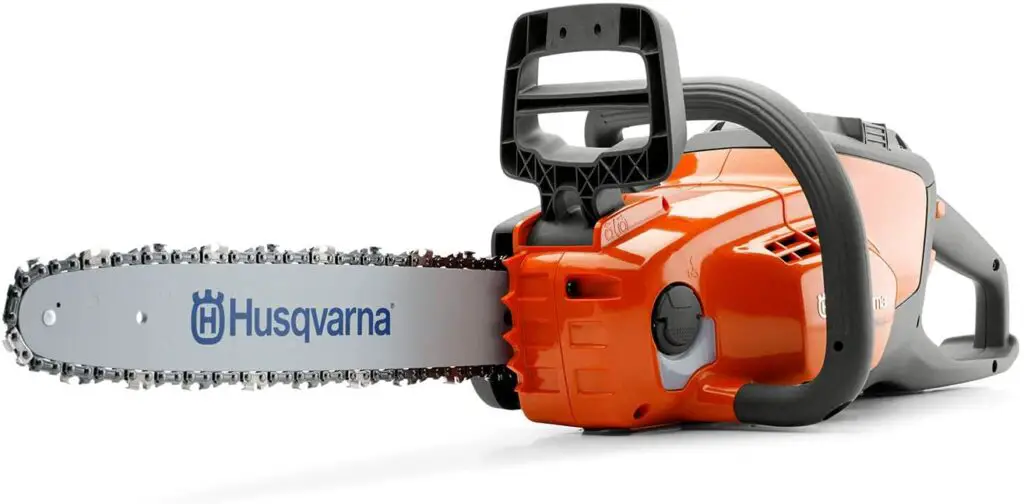 The Husqvarna 120i 14-inch Cordless Battery-Powered Chainsaw is a unique version of the brand. Rather than running on gas, it works with batteries. It costs about $230. This chainsaw is lightweight and has a guide bar for cutting, utilizing a 40-Volt battery for power.
For homeowners, this chainsaw is great for cutting up firewood and chopping down small trees. It's great to have on hand and doesn't need gas to run effectively.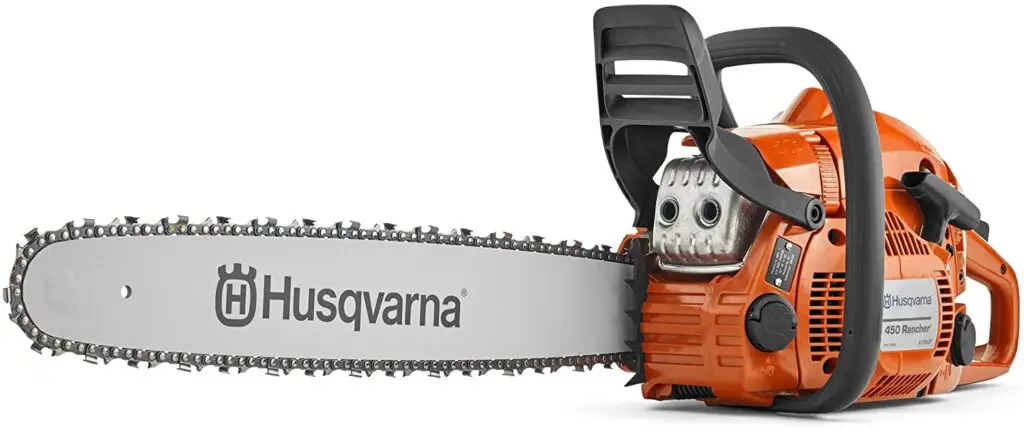 The Husqvarna 450 18-Inch Two-Cycle Gas-Powered Chainsaw is another excellent option. This chainsaw costs around $385. It's an ergonomic saw that permits quick adjustments while cutting is in progress. It has an automatic oiler for constant lubrication and requires minimal effort to start it up.
Those who want a chainsaw for yard work but need something a little more powerful will enjoy this saw. Its double-cycle engines make it a unique addition to any home.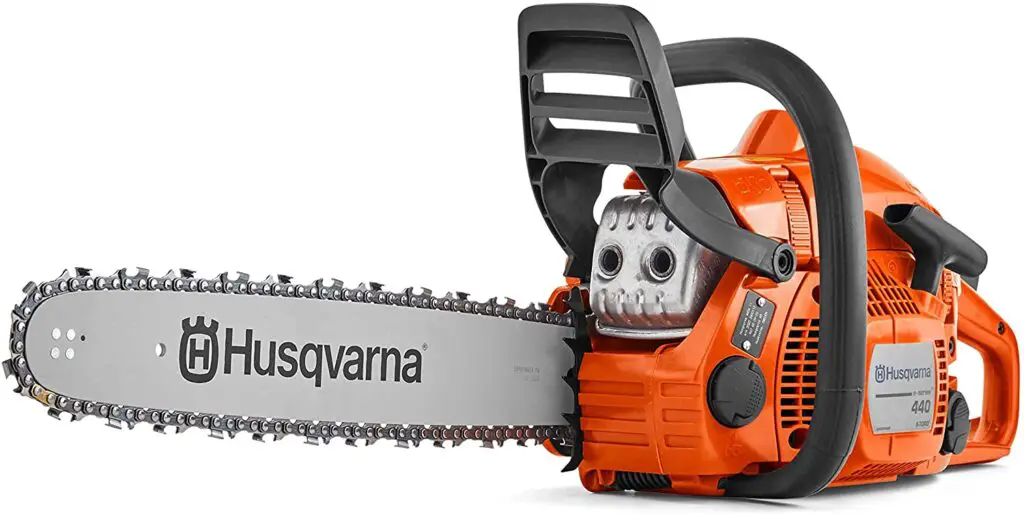 Next up is the Husqvarna 450 20-inch Rancher Gas Chainsaw. This Rancher saw runs you about $430, one of the more expensive pieces of equipment on this list. It has an automatic oiler that makes lubrication simple. It starts effortlessly with little trouble and has little vibration.
Like many of the Husqvarna chainsaw varieties, this one is excellent for clearing trees and chopping firewood. It has a hard time getting through thicker logs, but most homeowners don't need it for that. It's a solid option.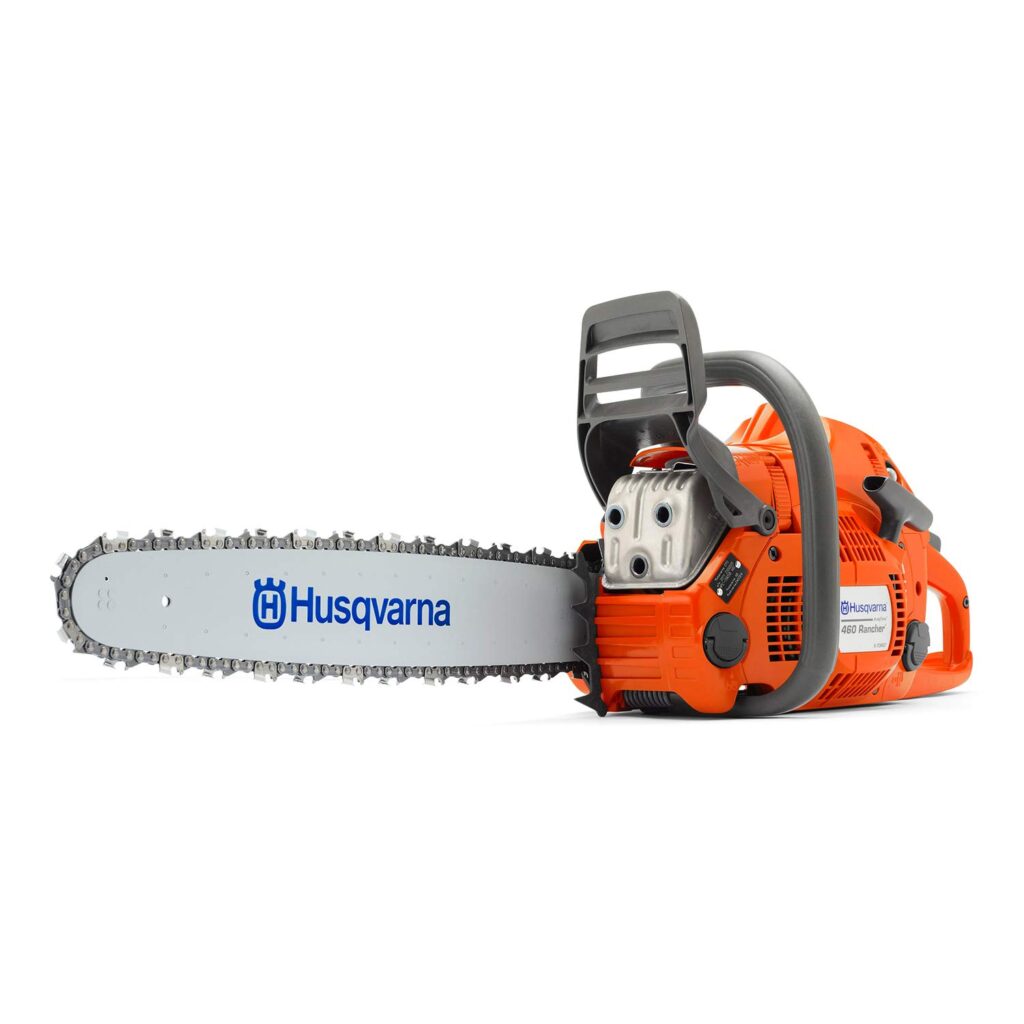 The Husqvarna 460 Rancher Gas Chainsaw is yet another great Husqvarna chainsaw option. It lands at about $600 for one saw. With this one, you get a two-cycle engine with a brake-safe chain operation. It has a high oil pump capacity and oils constantly during cutting processes. It allows easy air filter replacement.
This saw is one of the larger options. It's ideal for those who need to cut through thicker items, such as tree trunks or hefty branches. If you need a sturdy chainsaw that will cut through anything, this is the right choice for you. It will serve you and your yard well.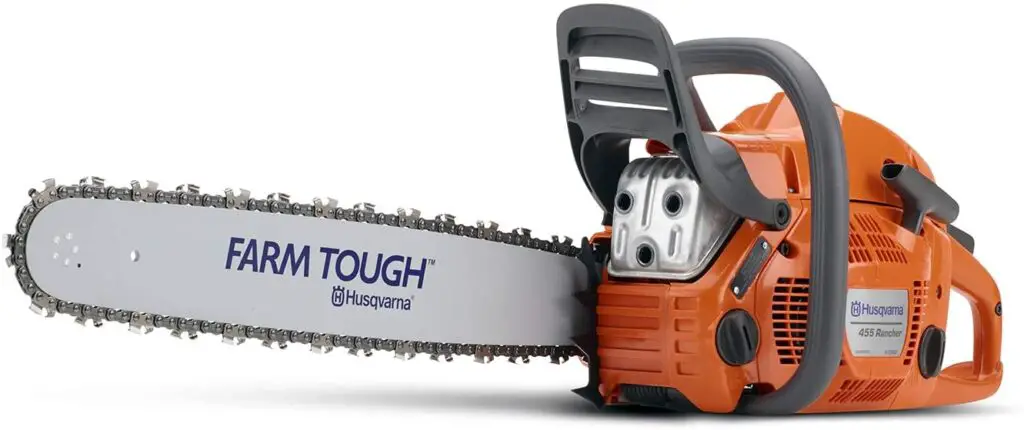 Next up is the Husqvarna 455 Rancher Gas Chainsaw. This option will run you about $536. The 455 saw is tough and sturdy and has a guide bar for precision. It also has a two-cycle engine system. Like the others, it constantly oils the system to keep it safe and moving.
This Husqvarna chainsaw is excellent for ranchers and farmers that need something heavy-duty. It's the boldest and strongest option on this list. Whether you need a tree chopped down or hefty branches sawed off, the Husqvarna 455 Rancher Gas Chainsaw has you covered.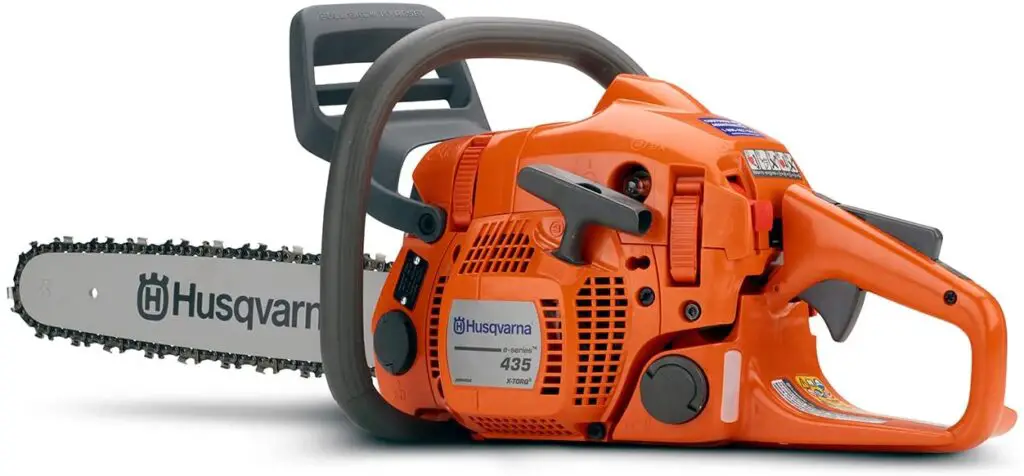 The Husqvarna 435e II Gas Chainsaw is the next Husqvarna chainsaw we'll go over. This one costs about $380, around the average range for a 16-inch chainsaw of this brand. The 435e has an upgraded x-chain and a two-cycle engine with a chain brake. It's lightweight and constantly oils the machine for safe ingestion.
The 435e chainsaw is ideal for any homeowner who wants a lightweight and safe option for their saw. It's one of the simplest saws to operate, so anyone can have a safe and effective time using it.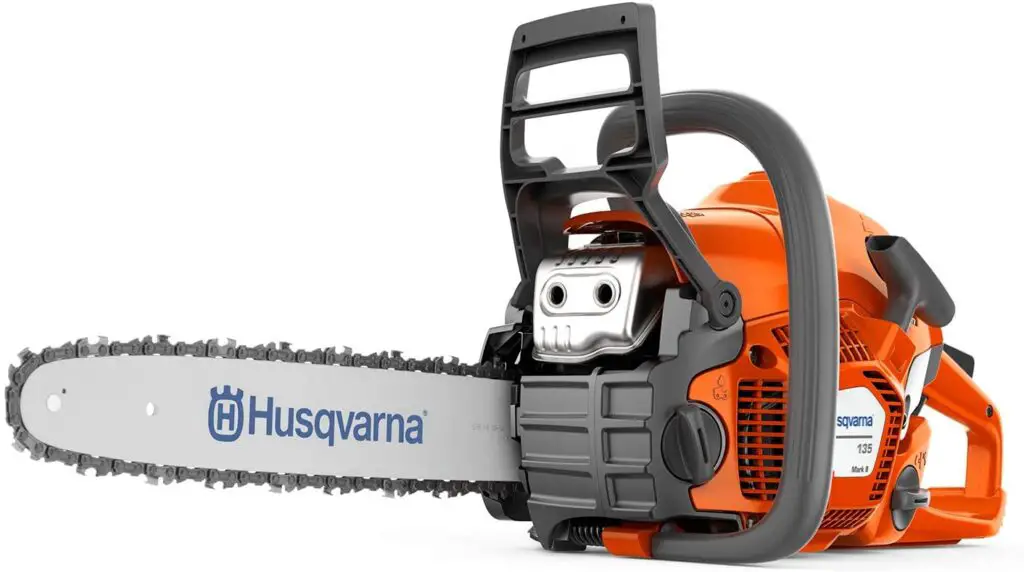 Finally, we have the Husqvarna 135 16-inch Mark II. This Husqvarna chainsaw will cost you about $280. This chainsaw is one of the cheaper options on this list, lightweight and easy to carry around. It possesses excellent torque with minimal vibration for a fantastic grip.
The Husqvarna 135 is ideal for homeowners. The piece is perfect for trimming trees, cutting firewood, and any other job that involves taking down wood in the yard. Those who love compact saws will find this Husqvarna chainsaw to be right up their alley.
That wraps up the top 10 Husqvarna chainsaws available on the market today. I hope I was of some help in finding the right one for you.
If you want to compare more of the top chainsaws on the market, check out my article on the Top 10 Best Rated Chainsaws for 2021.
Happy sawing!
Your pal,
Chainsaw Larry