Are you interested in the Husqvarna 455 Rancher?
Maybe you're comparing a few options to see if it's the right fit for you?
Shopping for a chainsaw can be nerve-racking. There are so many different brands, models, and enough letters and numbers in all the names to make you think you are back in algebra class in high school. But shopping for a chainsaw does not have to be stressful or confusing.
We will be looking at the Husqvarna 455 Rancher chainsaw in this review. If the Husqvarna 455 Rancher chainsaw has piqued your interest, let's go over all the details of this beast together!
The Husqvarna is a fantastic machine that is a best-seller on Amazon and is a popular chainsaw for all different types of cutting. It's owned by many ranchers and home cutters. If you are unsure if the Husqvarna Chainsaw is for you, I'll get into the nitty-gritty so you can decide for yourself.
Before we launch into the features of the Husqvarna 455 Rancher, let's go over some basic information. The Husqvarna 455 Rancher is not a logging type of chainsaw. It is not for every day of every week kind of use. It is a great saw for frequent use, but not non-stop use. This means that if you whip out your chainsaw more than five times a year and you do some pretty heavy work with it, then the Husqvarna 455 Rancher might be perfect for you. It costs around $500, depending on where you purchase it from.
Disclosure: The chainsaw items recommended below are my top favorites because they have a great combination of quality and features. As an Amazon Associate, I earn from qualifying purchases made through the links as a way to support this site. If you buy a qualifying product, you're not charged anything extra, but I'll get a small commission to help pay for my expenses. I hope you find my advice helpful and discover the best chainsaw stuff for your needs on this list.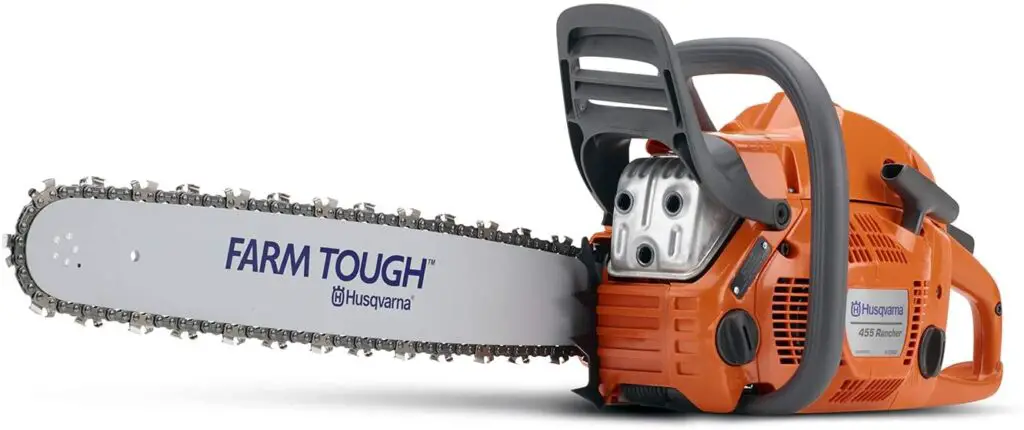 Check out the Husqvarna 455 Rancher on Amazon.
The "55" in the name shows that the Husqvarna 455 Rancher chainsaw is a 55cc chainsaw. You will find most models are sold with a 20-inch bar, but you can find an 18-inch bar if you do some digging on Amazon or other e-commerce websites. The company states that you can also use bars from 14 inches to 20 inches.
Many users who customized their bar length found that 16 inches or 18 inches were the perfect lengths to keep extreme power while ripping up the speed of the chainsaw.
The Husqvarna 455 Rancher is not a battery or electric operated chainsaw and functions on a 2-stroke gas-fueled engine. This puts the 455 Rancher above most of the electric chainsaws on the market by the sheer power and speeds it can achieve. This is way more than most electric or battery-operated chainsaws.
The Husqvarna 455 Rancher comes standard with a great chain brake system to help avoid user injuries from kickback. Unlike some chainsaws, the Husqvarna 455 Rancher comes with an accessible and easy-to-use side chain tensioning system. Which makes changing tensions a breeze.
The Husqvarna 455 Rancher also has a fantastic anti-vibration system to help reduce fatigue in users' arms and hands while in use, which can help you work for longer and finish more in a cutting session! The 455 Rancher also features a quick-release air filter for easy cleaning.
The Husqvarna 455 Rancher also has a super easy start-up, making it easy to get into your work. Plus, it handles very well, making your job easier too! Altogether, the Husqvarna 455 Rancher has almost every quality you could need from a high-power and high-quality chainsaw.
Your Husqvarna 455 Rancher will last you many years and serve you well with the proper care and maintenance.
Husqvarna 455 Rancher Pros
Now, let's look at the pros and positives of the Husqvarna 455 Rancher.
Very powerful 55cc
Easy start-up and easy to use
Quality make and build
Quality features come standard
Anti-vibration design to reduce fatigue
Quick-release air filter
Customizable bar length up to 20 inches
Cuts extremely well
Another pro we need to talk about is the cult-like following that Husqvarna has gathered over the years. Folks who own and love a Husqvarna 455 Rancher or other quality Husqvarna chainsaws are protective of their machines and know just how well they work.
Some people call the cutting power "unreal," Others have had their Husqvarna for 15 years without a single issue or malfunction. These beasts are built to last and serve you well, so it is a huge pro that they are reliable and reputable in the chainsaw community as really great saws.
Husqvarna 455 Rancher Cons
Now, on to the cons. For the Husqvarna 455 Rancher, there are not many issues. The two main problems are that the bar length maxes out at 20 inches and that the Husqvarna 455 Rancher is not powerful enough for some people's jobs.
But both of these have a straightforward remedy: maybe the Husqvarna 455 Rancher is not the chainsaw for you then! If you need a chainsaw with a more extended bar, check out some of the other Husqvarna chainsaws to see if one has the bar length you are looking for.
If the 455 Rancher is not powerful enough for the jobs you need it to run, then definitely do not buy it! As I said earlier, the Husqvarna 455 Rancher is made for people who need a chainsaw that can log (no pun intended) some serious hours often, but not every day for weeks on end.
It is a great chainsaw, but it is by no mean a professional, daily chainsaw.
Lastly, a minor con. You need to keep up with maintenance on the Husqvarna 455 Rancher, which might be a learning curve for some folks. But do not worry! There is a great chainsaw community right here and all over the internet that is more than willing to help you learn through informative articles like this, video tutorials, and social media groups!
Comparisons
When the Rancher 455 is compared against the Rancher 450, you can see some differences in the specs. The Rancher 450 is 14 pounds compared to the 455 13 pounds. The 450 has a 20-inch bar, just like the 455, but only has 50cc in the engine. Some users say they use 24-inch bars on their 450 Ranchers, which cannot be done on the 455 Rancher. However, the company says not to exceed 20-inch bars on either the Rancher 455 or 450.
When the 455 is compared to the 460, you can see that the engine on the 460 packs 60 cc's. You can also customize the bar length you want and swap in a 24-inch bar on the 460, which the company approves. The Rancher 460 only weighs 13 pounds, like the 455.
Thank you for reading my review of the Husqvarna 455 Rancher! I hope it has provided you with some insight as to whether or not it's right for you.
Happy sawing!
Your pal,
Chainsaw Larry