So you've been looking for a Milwaukee chainsaw?
Not sure if it's the right chainsaw for you?
If so, you're on the right page.
Chainsaws are not just another tool you buy real quick at the store without much thought. You want to put some good thought and research into purchasing a chainsaw. Chainsaws are an excellent investment for anyone who keeps up their yard, hedges, trim trees, or fell trees.
But when it comes time to pick out a chainsaw, which one do you pick? Where do you start? And how does the chainsaw that you pick stack up against the other chainsaws on the market?
Here we will review the Milwaukee M18 Chainsaw, including the pros and cons and a couple of other chainsaws comparable to the Milwaukee M18 Chainsaw. Read on to find out all you need to know about the Milwaukee M18 chainsaw.
Disclosure: The chainsaw items recommended below are my top favorites because they have a great combination of quality and features. As an Amazon Associate, I earn from qualifying purchases made through the links as a way to support this site. If you buy a qualifying product, you're not charged anything extra, but I'll get a small commission to help pay for my expenses. I hope you find my advice helpful and discover the best chainsaw stuff for your needs on this list.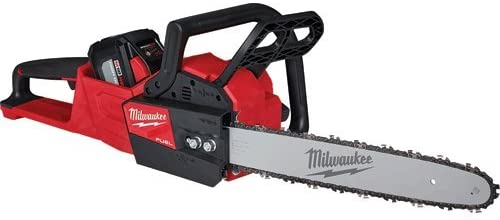 Shop the Milwaukee M18 Chainsaw Here.
The Milwaukee M18 Chainsaw features a bar that is 16 inches, which is somewhat rare and unique on the Milwaukee M18's 18-volt battery. But the Milwaukee 18-volt battery platform (with a 12.0 battery) has RedLithium, Milwaukee's signature battery. This means that the power increases, overheating decreases, and the battery life is longer than other batteries. The battery life is 50% longer than other 18-volt batteries and boasts better overall performance.
It is often said that battery-powered chainsaws are not as capable or as powerful as gas-powered chainsaws, but the Milwaukee M18 holds its own. The Milwaukee M18 is comparable to a chainsaw, like a gas-powered chainsaw with a 40cc engine. That means there is a lot of power in this chainsaw!
The Milwaukee M18 has a brushless motor that can hit up to 6600 RPM, which is good. It also has a variable speed trigger that makes controlling the speed easier, thus making controlling the power and precision of your chainsaw better and more straightforward.
The Milwaukee M18 features a variety of safety features to ensure user security. Plus, the M18 chainsaw has a second handle to promote better handling, increased precision, and more force and power. However, the M18 chainsaw does not have chain or tension features that can be adjusted or fixed without tools.
The Milwaukee M18 chainsaw weighs about 14.5 pounds, including the battery. This means it is an easier chainsaw to handle and hold for an extended time. It is efficient enough to take longer jobs but still has the overall power to complete jobs quickly.
Pros of the Milwaukee Chainsaw M18
Below, you will find a list of pros and positive features of and for the Milwaukee M18 Chainsaw.
Full-sized chainsaw
Fully battery-powered by RedLithium Milwaukee battery
16-inch bar length
18-volt battery platform with a 12 battery from the M18 Milwaukee tool range
50% longer running time and battery life
Variable speed trigger
Brushless motor reaching 6600 RPM
Comparable to a 40cc gas-powered chainsaw
Can handle up to 150 cuts through 6 by 6 lumber
Comes with standard safety features
Ergonomic grip and second handle
14.5 pounds total weight with battery
It's easy to say that you will be hard-pressed to find another 18-volt battery-powered chainsaw that runs the way the M18 does. The majority of the other 18-volt battery-powered chainsaws are much weaker and cannot last the running time that the Milwaukee M18 chainsaw can.
The M18 chainsaw is built to be durable and last a while, just like all Milwaukee products. Plus, all of Milwaukee's products and power tools are made to be very high quality for their price. If you take proper care of your M18 chainsaw, you are sure to have it for years to come, as Milwaukee products and power tools do not often have issues or malfunctions associated with their brand.
Cons of the Milwaukee Chainsaw M18
We will now move on to the cons for the Milwaukee M18 chainsaw. First and foremost is the price of the chainsaw. It is not exactly a cheap or affordable option with a price tag of nearly $500 for the battery, tool, case, and rest of the kit. Anyone on a budget can immediately become a non-starter because of its steep price, especially if they are not committed to the M18 Milwaukee power tool line.
The charging speed of the battery can be slow or sub-par to what customers need on-site at jobs sometimes. So, while the power for a battery-operated chainsaw is unmatched, the charging time can sometimes become a hassle, and a gas-powered chainsaw could be more convenient.
So if you are already committed to the Milwaukee M18 tool line, the M18 chainsaw is probably the best fit for you! If you are not committed to the M18 tool line, maybe check out some of the chainsaws below as an alternate to the M18 chainsaw.
Comparable Chainsaws to the Milwaukee M18 Chainsaw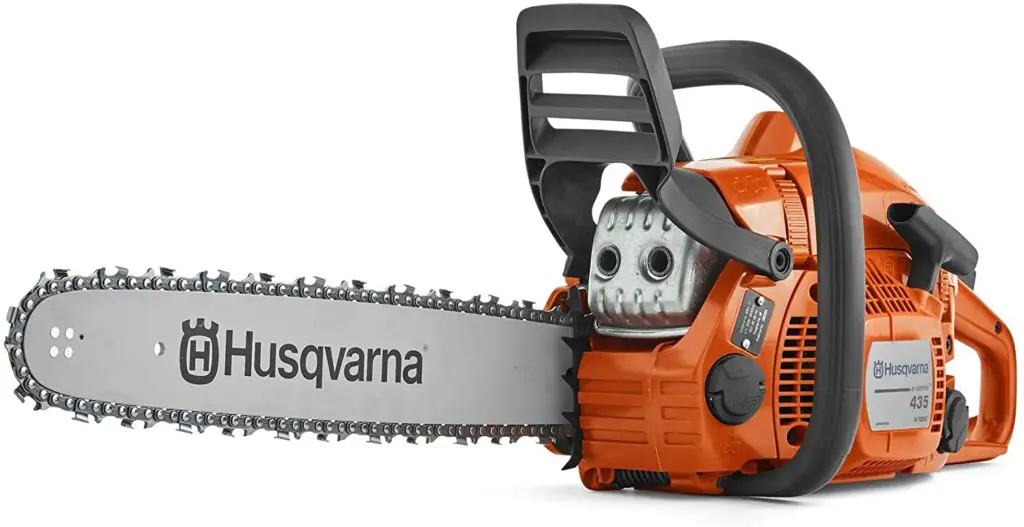 The Husqvarna 435e gas chainsaw is right up there with the power and speed of the Milwaukee M18 battery-powered chainsaw. It has a 40.9 cc engine, a 16-inch bar, and weighs 9-pounds. It is a total beast of a chainsaw and has a very cool anti-vibration feature that can help prevent arm fatigue!
You can find more on Husqvarna chainsaws here.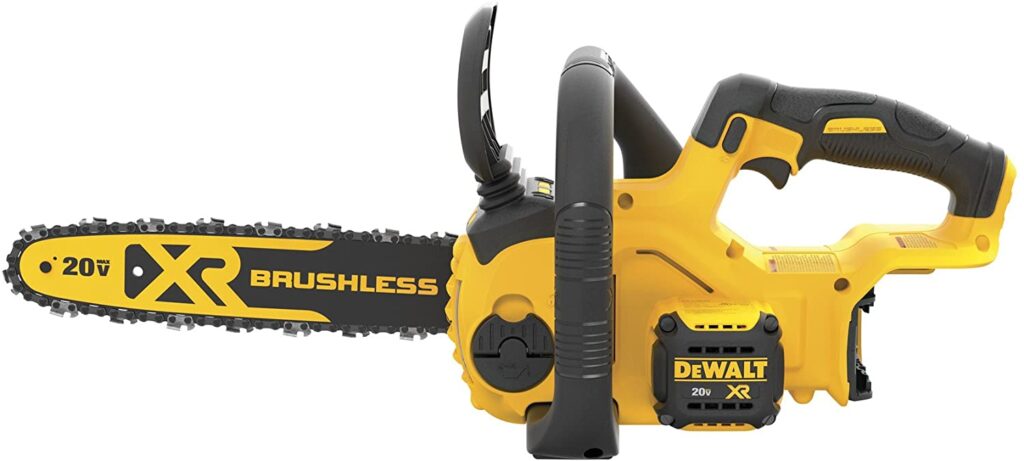 If you are looking for something still powerful but a little bit smaller than the heavy-duty Milwaukee M18, then the Dewalt 20V Max XR Chainsaw might be a good fit for you! This is another cordless chainsaw like the M18, but this one has a 12-inch bar instead of a 16-inch bar like the M18.
The Dewalt Max XR also has a brushless motor, weighs 9 pounds, and has approximately 90 cuts per charge. This makes it a great lightweight option that can offer more precision than the M18.
You can find more on DeWalt chainsaws here.
Regardless of whether you opt for one of the alternative options we provided, or you love the Milwaukee M18 chainsaw, you are sure to be able to use the information from your research to find the chainsaw that works best for you.
Thank you for reading my review of the Milwaukee M18 Chainsaw.
I hope you found the information you were looking for.
Happy sawing!
Your Pal,
Chainsaw Larry