Interested in an Oregon Chainsaw?
Maybe you've heard about Oregon but want more information?
If so, you've landed on the right page.
Chainsaws can be expensive, and many people may not find themselves buying one often. However, when you have to get a chainsaw, you want to make sure you get a good one.
But which one is the best? And which one will fit your needs the most? Keep reading to find out if an Oregon chainsaw is the best choice.
Disclosure: The chainsaw items recommended below are my top favorites because they have a great combination of quality and features. As an Amazon Associate, I earn from qualifying purchases made through the links as a way to support this site. If you buy a qualifying product, you're not charged anything extra, but I'll get a small commission to help pay for my expenses. I hope you find my advice helpful and discover the best chainsaw stuff for your needs on this list.
Qualities of an Oregon Chainsaw
If you haven't yet decided whether or not the Oregon brand of chainsaws is for you or haven't heard much about the brand, I've got you covered!
Here are some of the top benefits of choosing the Oregon brands.
Domestic Use:
The chainsaws that Oregon creates are designed to be used for domestic purposes. This means that they aren't able to handle large situations that a professional would. However, they can handle what most average homeowners would.
This comes as a benefit for users for one primary reason: the cost. Products not made to be professional and handle tough work can be made at a much lower price. So when you need a couple of branches or smaller trees removed around your property, you don't have to pay a considerable sum of money.
Electric Only:
This may be a pro or a con for you, depending on your preference. The Oregon chainsaw brand doesn't use anything other than electric. This means you don't have to buy something that requires costly gas to operate.
However, this also means that if you are trying to cut something down far from your home or a place with no outlets, you may struggle. A cordless version sports a battery pack, but that might not always be ideal for everyone.
PowerSharp:
Powersharp is a technology copyrighted by Oregon. This is a self-sharpening feature on their chainsaws that makes the maintenance much more manageable. You have to pull a lever, and the built-in tool sharpens the cutters.
This keeps them in sharp, excellent condition that helps to reduce your workload.
North American:
While not a company that operates 100% in the United States, it is a company that operates entirely in North America. As their name suggests, they are primarily made in Portland, Oregon. However, they do have two other locations in the Midwest and Canada.
Oregon Chainsaw Top Picks
Oregon has some different chainsaws, but it can be hard to tell them apart unless you know exactly what you are looking for. There are minor differences between their top three choices, which we will break down below.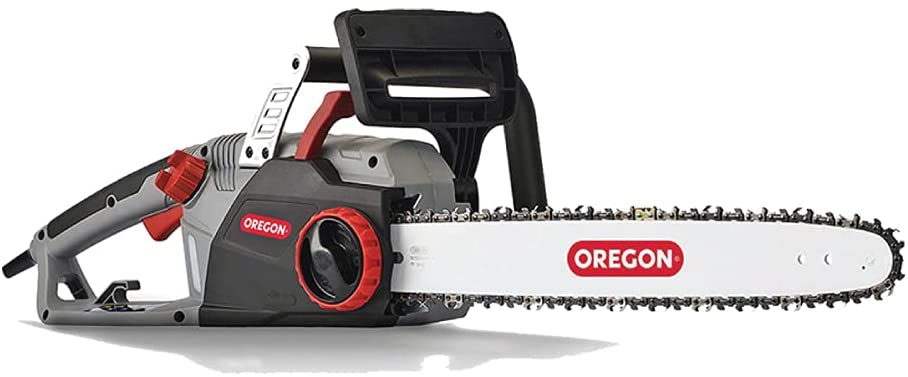 The Oregon Self-Sharpening CS1500 is their larger chainsaw. Instead of 16 inches, it has 18 inches. This means that it has a slightly longer reach than some of their other chainsaws, though it still isn't as much as a pole saw. This model is corded, so it requires constant electricity to run. 
Features:
PowerSharp technology
Guide bar
Lightweight
Quick-adjust cain
Automatic lubrication
Instant startup
Lower noise than a gasoline chainsaw
2-year warranty
15-amp power
Pre-assembled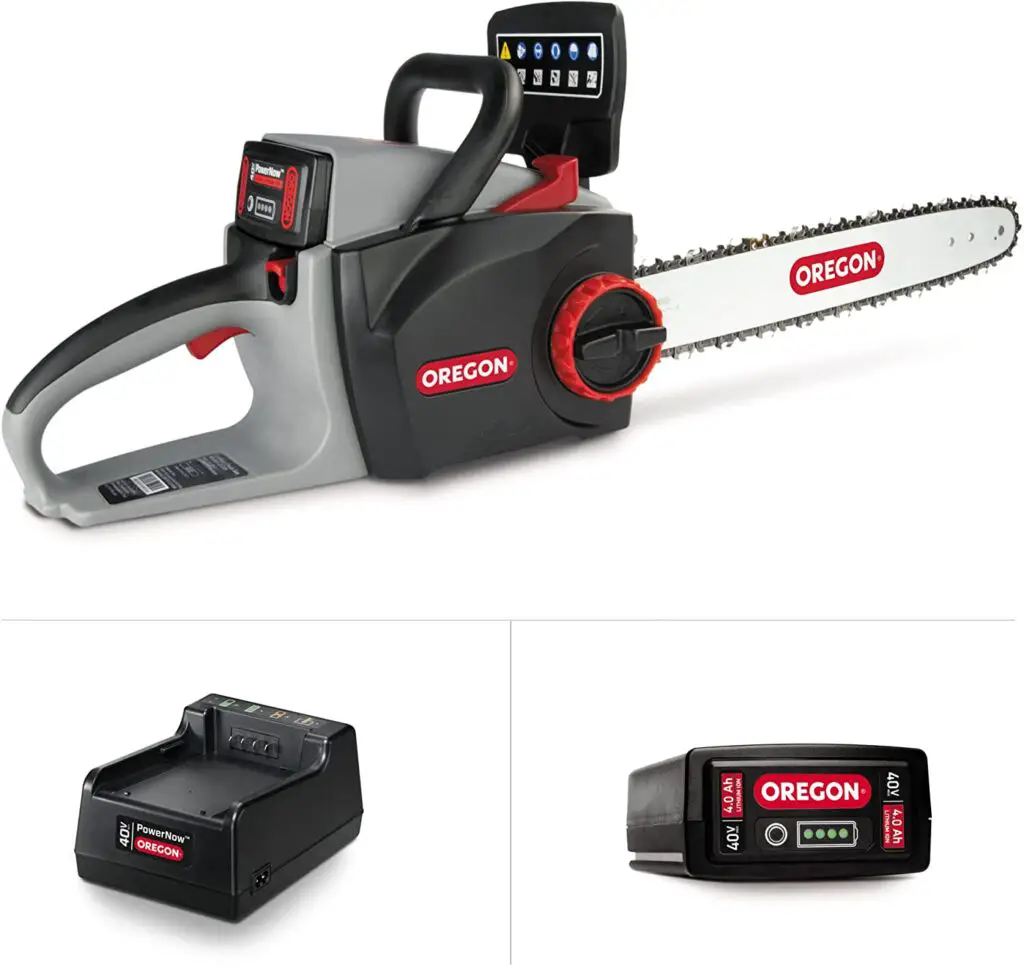 If you want a chainsaw that doesn't require constant energy inputs, then the Oregon CS3000 is a great option. It is a 16-inch chainsaw that comes with a battery pack to get the most out of your chainsaw without having to buy gas.
Features:
PowerSharp technology
Brushless motor
Automatic lubrication
Lightweight (12 pounds with battery)
Silent between cuts
No power cords
2.6, 4.0, or 6.0 Ah Battery Pack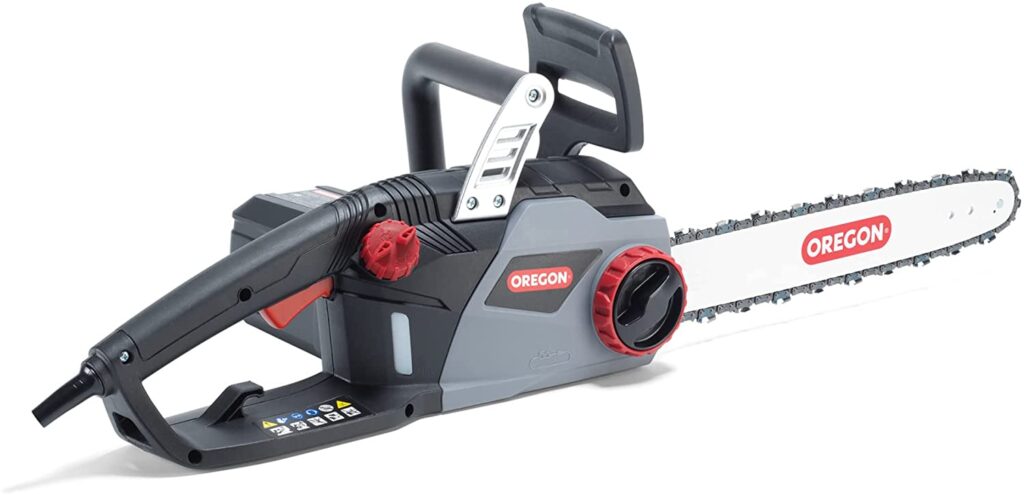 The Oregon CS1400 15 Amp Chainsaw is similar to the CS1500 chainsaw but a little smaller if you don't need something quite so heavy-duty. It requires a 15 Amp power supply to run, which is something any standard outlet can run.
Ergonomic
Lightweight
Balanced
3-year warranty
Automatic lubrication
ControlCut Saw Chain
16 inch Guide Bar
Oregon Chainsaw Buying Guide
There are always a couple of topics you should keep in mind, no matter which chainsaw or chainsaw brand you decide to go with. This will allow you to make a purchase that works for you and your needs.
Cost:
It is always worth having an ideal budget in mind before starting to look through chainsaws. They can vary in price from around $60 to $600, so you have a wide range to choose from. However, having an ideal cost in mind will stop you from going too high-end while also allowing you to find the best features for you.
Use:
What will you be using the chainsaw for? A few limbs around the yard, or something more professional? Keeping the power, you need in mind can help you ensure you don't get more than you need or that you don't get too little power to do the task properly.
Power source:
Do you need a powerful chainsaw that will run for a long time without being plugged in? Or maybe you want something you don't have to pay to fill up with gas. Maybe something portable that doesn't have to run for a long time sounds good for you?
Choosing between gas, corded, and battery power dramatically changes what you are looking for and may eliminate some companies.
To Conclude My Oregon Chainsaw Review
I find the cordless one to be the best out of all of the Oregon chainsaws. It offers the same amount of power, but it is portable like a gas chainsaw. The downside is that it can't run very hard or for very long without a backup battery present.
However, any Oregon chainsaws are great options if you don't need anything crazy powerful. And if you know that you will always be near an outlet when you need to use the chainsaw or have an extension cord, then their corded ones are a great option.
Explore some of my other chainsaw guides to ensure you're getting the right chainsaw for you and your needs:
Happy sawing!
Your pal,
Chainsaw Larry