Need to add bar and chain oil to your chainsaw?
If so, you've landed on the right page.
Regular maintenance of your chainsaw is important to extend the individual parts' longevity and reduce potential accidents. Checking and replacing the bar and chain oil is one simple way to reduce friction when cutting, which keeps the chainsaw from premature wear and tear and makes your cuts easier.
In this post, I'll be explaining how to add bar and chain oil to your chainsaw and I'll also include some of the top oils you can purchase.
Let's get to it.
Disclosure: The chainsaw items recommended below are my top favorites because they have a great combination of quality and features. As an Amazon Associate, I earn from qualifying purchases made through the links as a way to support this site. If you buy a qualifying product, you're not charged anything extra, but I'll get a small commission to help pay for my expenses. I hope you find my advice helpful and discover the best chainsaw stuff for your needs on this list.
When To Add Bar and Chain Oil To Your Chainsaw
Some people may think that the only difference between a gas-powered and an electric chainsaw is their power sources, but this isn't the case! Both types of chainsaw still require proper lubrication for optimum operation, but adding bar and chain oil to your chainsaw may differ a bit depending on what kind of chainsaw you have.
Gas-powered chainsaws
Gas-powered chainsaws are usually more straightforward when it comes to recognizing the need for more bar and chain oil. In general, gas-powered chainsaws will use a full bar and chain oil reservoir for every full tank of gasoline used for fuel.
So for gas chainsaws, learning when to add bar and chain oil to your chainsaw is as simple as filling the reservoir with fresh oil every time you fill the fuel tank for the chainsaw.
Electric chainsaws
Clearly, electric chainsaws don't use a fuel tank and are usually plugged into a constant energy supply. Some electric chainsaws make use of a battery pack that often achieves the same amount of work as a full tank of gas or a little less. In these cases, following the guidelines for a gas-powered chainsaw should be enough to keep your electric chainsaw in prime condition.
Electric chainsaws with cords depend more on how much you use your chainsaw. Getting into the habit of checking the bar and chain oil reservoir before you do any work is always important, but even more so for these kinds of chainsaws.
No matter what chainsaw you have, if you haven't used it in a long time, it is always worth performing an oil change and starting again with fresh oil.
How To Add Bar and Chain Oil To Your Chainsaw
Adding bar and chain oil is a simple and straightforward process that makes maintenance easy for better long-term performance and greater safety. These are the general steps you should take to add bar and chain oil:
Clean the top of your chainsaw of any dust or debris
Place your chainsaw on a flat, level surface
Unscrew the cap leading to the oil reservoir
Fill the reservoir to the "full" marking
Replace the cap and wipe away any excess oil or spills
Some important points to keep in mind are:
If you are using a corded electric chainsaw, unplug it to prevent any accidental starting
If you are changing the bar and chain oil after recently using the chainsaw, allow the chainsaw to cool down to prevent burns
Avoid overfilling the reservoir
What To Consider When Buying
There can be a lot of factors that decide what oil is best for maintaining your chainsaw, which can lead to confusion about what is best. Below are several things to keep in mind when you're in the bar and chain oil market.
Manufacturer – using an oil formulated by a well-known company will prevent you from using anything that may not help or damage your chainsaw.
Engine Type – electric chainsaws typically do better with thinner oils because they aren't as powerful as gas-powered chainsaws
Viscosity – cold weather climates make oils thicker, meaning thinner oils are preferred for optimal performance. The opposite is true of hot summer weather.
Tackiness – specific additives are often used in bar and chain oil that help the liquid adhere to the parts for greater efficacy.
Cost – bar and chain oils usually come in either quart or gallon sizes, and there is a wide variety of prices even for products of the same size. Finding the right balance of quantity and cost is essential.
Best Bar and Chain Oil Brands
While the manufacturer's manual may state that you can use regular motor oil for lubricating your chainsaw, avoid doing this because the wrong oil can quickly damage your bar and chain from excessive throw-off. So it is best to use oil specifically made for bars and chains, but which brands are the best to use?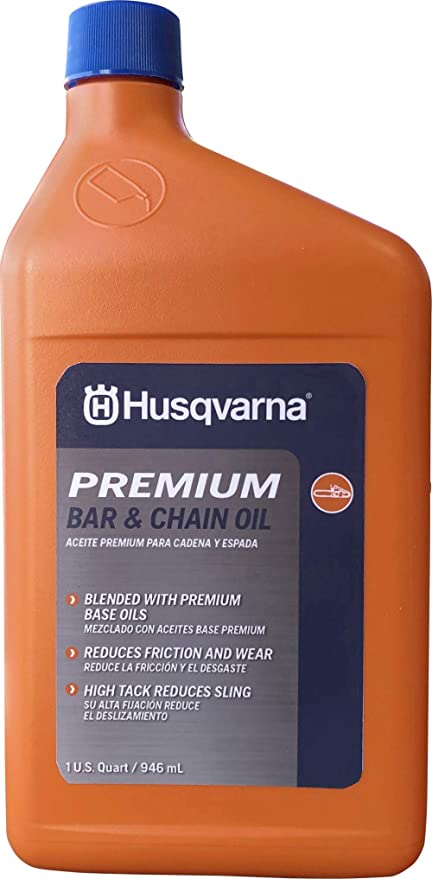 Husqvarna is well-known in the power tool industry for its high-quality products, and the premium bar and chain oil are no exception. According to Husqvarna, the smooth oil works well even in some more extreme temperatures and is reportedly compatible with any chainsaw. This makes it the single best bar and chain oil overall for most users due to its versatility and performance while having a reasonable price tag.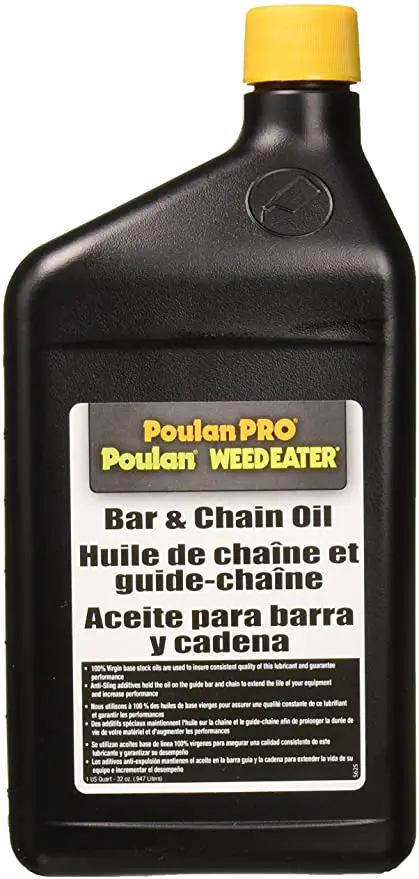 This bar and chain oil from the chainsaw manufacturer, Poulan, is often hailed as the best option for those on a budget. The oil has a premium base, and a blend of additives makes the oil competitively tacky and lubricating. It is on the thicker side of bar and chain oils, making it more ideal for summertime or warm weather use and therefore not recommended for use in the winter. For the money you spend, this bar and chain oil will do the job and stretch your pennies as far as they will go.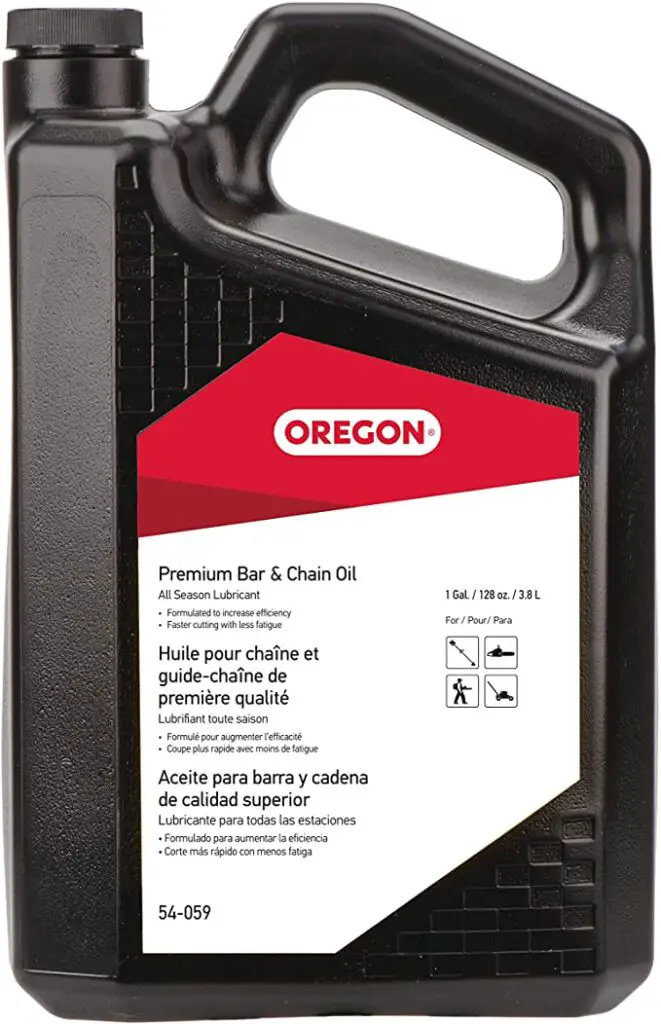 Oregon is a brand often heard about when it comes to chainsaws for domestic use. With good quality parts at a low cost, Oregon has built a reliable reputation, and many of its products are used in other chainsaw brands as well. Their chainsaw bar and chain oil are a little more expensive than the Poulan Pro Bar and Chain Oil and offer superior lubrication. This particular oil isn't really designed for heavy-duty work so keep that in mind when purchasing.
Thank you for reading my how-to article and I hope it's helped you learn how to change the bar and chain oil in your chainsaw.
If you'd like to learn more about chainsaw maintenance, feel free to look at my learning center. There you'll see some posts like these ones:
Happy sawing!
Your Pal,
Chainsaw Larry