Interested in buying a Remington Chainsaw?
Not sure which one to get?
If so, you're in the right place. We'll be looking at some of the top-rated chainsaws from this brand shortly. You'll also be looking at a buyer's guide we'll put together for you to make a decision based on a few considerations.
There are plenty of chainsaws that you can find on the market. Many of them are from different brands. So what makes the Remington brand special compared to the others?
For one, Remington has a wide variety of chainsaws. There's a good chance you may find one that will fit your needs and preferences. Plus, you're looking for something that will be reliable every time you put it to good use.
So, let's dive right in and go over the first option on this list.
Disclosure: The chainsaw items recommended below are my top favorites because they have a great combination of quality and features. As an Amazon Associate, I earn from qualifying purchases made through the links as a way to support this site. If you buy a qualifying product, you're not charged anything extra, but I'll get a small commission to help pay for my expenses. I hope you find my advice helpful and discover the best chainsaw stuff for your needs on this list.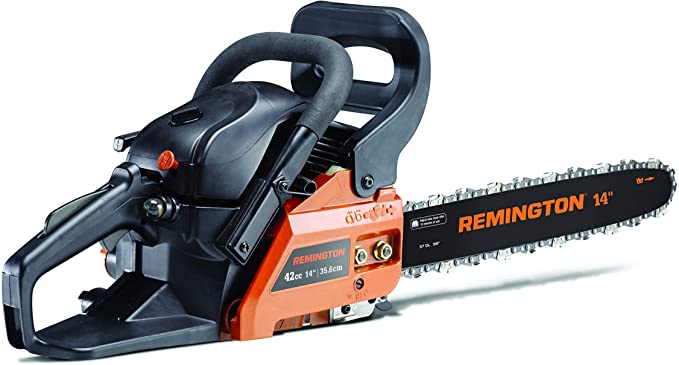 First, on the list, we'll be looking at the Remington Full Crank 2-Cycle Gas Powered Chainsaw. Currently, this one is available with a 14-inch bar and chain. If you are looking for a chainsaw that will get the job done with tough types of wood, this might be one you'd be interested in.
It has a high output engine that will give you more than enough power to put to good use. A chainsaw powered by a 2-cycle engine that is 42cc and a full crank engine packs quite a punch. It's exactly what you need for almost every purpose a chainsaw is good for.
You can start it quickly and not worry about having to lubricate the chainsaw manually. It has a chain oiler that you can adjust whenever you need to. Besides, you want a chainsaw that will produce as little friction as possible.

Next on the list, we have the Remington Rebel 42cc 2-cycle gas-powered chainsaw. Like the previous chainsaw, it's got a 42cc engine that is quite powerful. You can quickly start it up and be ready to go for all your wood cutting needs.
It has an automatic oiler, so you can start it up and have the bar and chain well-lubricated regularly. This will save you time instead of lubricating it before starting the process. It also has an anti-vibration system, so it will help you handle the chainsaw better.
The chassis is lightweight, which is important since you're probably holding onto it for more extended periods. The good news is that it's maneuverable, ergonomically friendly, and worth using for all your outdoor projects.

We'll be turning our attention to an electric chainsaw this time around. This is the Remington 40V 12-Inch cordless battery chainsaw. It's got a 12-inch bar and chain that will be great for cutting small trees and limbs.
Like the other Remington chainsaws, it has an auto oiler to keep the chain and bar as lubricated as possible during usage. It operates on four 144wh batteries charged with a 1.8 A charger. It can reach a full charge in two hours.
That's a pretty nifty feature to have for an electric chainsaw. You don't want a chainsaw that will take forever to charge.
To help you find the best Remington chainsaw, you'll want to look at the following considerations. Here's what you'll want to go over:
Gas-powered or electric?
What chainsaw will be best suited for you? Gas-powered chainsaws will do an excellent job at cutting thicker pieces of wood. Plus, you get plenty of power and torque out of the engine.
Meanwhile, your electric chainsaws will primarily be used for small projects. Plus, they may not be as powerful engine-wise.

Budget
Finding an affordable chainsaw will be your best option. One thing you want to pay attention to is the quality. You don't want to skimp on it to save yourself money.
Find one that will be affordable but proves its worth in terms of durability and reliability. The more durable and reliable it is, the better.
Length of Bar and Chain
Chainsaw bars come in different lengths. Some will be 12 inches, and others maybe 18 inches. You'll want a long bar and chain to give you plenty of reach. Keep in mind that longer bars and chains will be heavier in weight.
Durability
If you are looking for excellent durability, the Remington brand gets the job done. That's because they are made from tough materials that will last a long period of time. So long as you take good care of your chainsaw and maintain it properly over the years, you can still get plenty of use out of it.

Easy to use
This includes starting it up and being able to move it around with ease while cutting through wood and other materials. Plus, being easy to use can also mean being ergonomically friendly. You can comfortably use the saw without being affected by the motor's vibrations.

Final Thoughts

Remington chainsaws are durable. Plus, they create some of the best ones in terms of reliability and maneuverability. We can talk about the other brand names all day until we're blue. Yet, the Remington brand name flies under the radar.
Choose one of these saws listed above, and you'll have one that will last you a long time. Put a Remington to the test, and you may never go back to any other brand.
Also, If you're interested in checking out any other chainsaw brands, take a look at some of my other buying guides:
Happy sawing!
Your Pal,
Chainsaw Larry