Are you interested in purchasing a Ridgid table saw?
Maybe you know of Ridgid, but maybe you've just heard of them recently and would like to learn more?
A Little About Ridgid
If you work with construction, home building, and repair, you have heard of Ridgid. Created back in 1923 and now owned by Emerson Electric. The company has become one of the premium manufacturing companies regarding construction, plumbing, and electrical devices and tools.
Ridgid is certainly one of the most well-respected companies in its industry, and it has many products to choose from, including when buying a table saw. A table saw is perhaps the most important tool for a home shop or if you're thinking about starting a home improvement business. This is because it has so many uses and needs to be precise and in great shape at all times.
Is Ridgid a Good Option For You?
You know you'll get something good when you buy from Ridgid. With so many table saw options, you may wonder which one is right for you and provides the most quality for the price you're spending. I'll be going over the best Ridgid table saw options.
Let's get into it!
Disclosure: The chainsaw items recommended below are my top favorites because they have a great combination of quality and features. As an Amazon Associate, I earn from qualifying purchases made through the links as a way to support this site. If you buy a qualifying product, you're not charged anything extra, but I'll get a small commission to help pay for my expenses. I hope you find my advice helpful and discover the best chainsaw stuff for your needs on this list.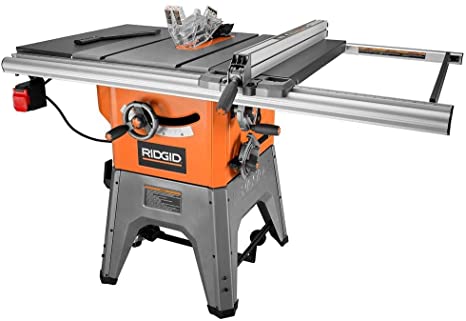 Ridgid's R4512 13-amp 10-inch industrial and commercial table saw is a strong, reliable, durable machine designed for the most difficult work. This table saw is substantial and difficult to carry since it is heavy. The metal extensions provide the table saw a greater operating area and add to the mass.
This is all worth the effort since it includes an incorporated foot pedal lift system that effortlessly raises this 266-pound saw. Unlike other table saws, the dust created when cutting is also quite low. The riving knife ensures the woodworker's safety.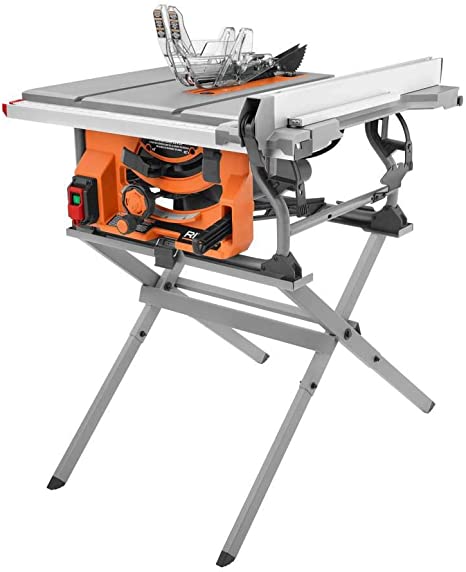 Rather than moveable rolling support, the X folding stand on this Ridgid 10′′ Compact Table Saw is designed to be more fixed and stay in one place for a long time. It can become your home shop staple, set in a corner, and repeatedly used without movement.
It is made to be foldable as well as collapsible too. A powerful 15 amp engine fires up the 10-inch saw, robustly made to deliver precise slices through even the most difficult materials.
Its retracting and detachable blades and 6-inch-sturdy wheels make it ideal for mobility while working a job at a construction or DIY site. The micro-bevel feature allows sawing at varied angles from 45 to 90 degrees. In addition to the anti-kickback feature that makes installation easier. The internal space created for equipment and supplies is welcomed by people who use the saw often and have multiple projects to tackle at home.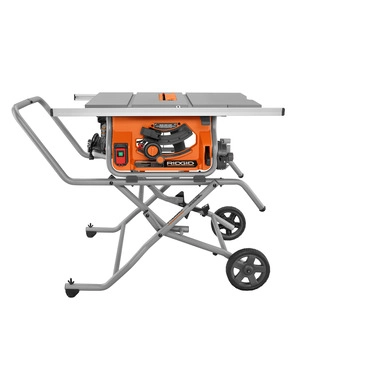 The Ridgid R4514 has many great features that make it better than most other table saws. For example, a tape measure is built inside the device, which you can roll out and roll up, making the table longer and more functional. This will help you customize whatever you're cutting and give you much more accuracy.
But there is more than those cool little tricks and features that make it worthwhile. Take the motor, for example. It performs at 5,000 RPM and is created with strong durability and build. This is strong enough for home and capable of being used on a job site. So if you are a contractor or someone who uses the saw at work and home, you're in luck.
Putting this product together can be tricky and exhausting, especially if you don't have experience doing it. But, of course, this is a saw that appeals more to seasoned handymen. And when you use it, it'll help you with all sorts of things, such as multiple different types of cuts at different angles and depths.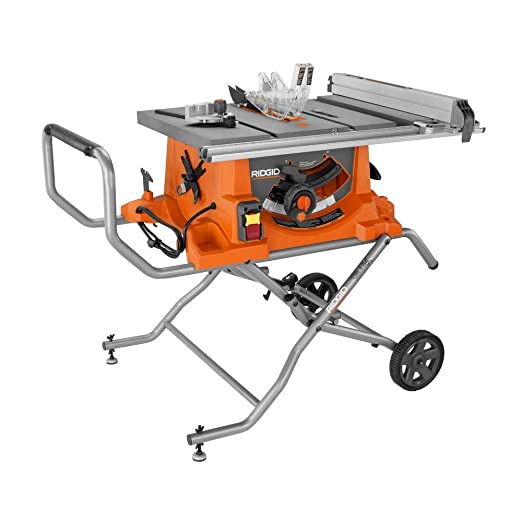 Here is an upgrade for you courtesy of Ridgid. The Ridgid R4513 is a better version of the already classic R4510.
It has a 15-amp motor capable of reaching up to 5,000 RPM rates. The 10-inch edge slices up to 4 inches at 90 degrees, while the adjustable lever lets you modify the elevation and angle of the edge with only one hand. It's ready to use right out of the package, with no adjustments required. It takes just a few minutes of installation, and you're ready to go.
The R4513 contains all conventional table saw safety features, such as a blade guard and pawls that prevent kickback. All of these elements may be added or removed without needing any equipment, making them simple to use. Ridgid built the table saw to accommodate dado blades, although they are not included in the price. But that choice is quite normal for portable table saws like this one.
Also…
This table saw comes in at a substantial 90 pounds, meaning it's a bit cumbersome in terms of portability. But, it comes with a portable folding stand with reliable, easy-to-use wheels that are forever hooked to the bottom of the product. Ridgid added a convenient heel lever upon the stand's side, making switching from transport to construct mode easier.
It also comes with a minor dust port for controlling dust at your workplace, accessory housing, and a large work area. You'll almost certainly like to replace the blade that came with the device, but that's a regular problem with saws such as this, so you're not alone and can find what you need online or in the marketplace. Some people have mentioned that the rip fence might get misaligned, although this is also a simple remedy.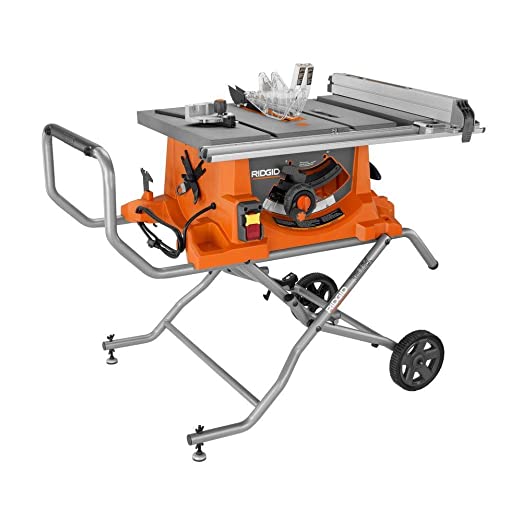 Those are my top Ridgid table saw picks. I hope this review has helped you determine whether Ridgid is the brand for you and which table saw is best for your needs.
Happy cutting!
Your Pal,
Chainsaw Larry