Interested in a Poulan Chainsaw?
Maybe you haven't heard of the Poulan brand before?
If either of these ring true, you're in the right place.
Poulan is an old American brand that has been around for over 70 years. They have made powerful chainsaws and tools and have recently branched out into other yard equipment. Their products are trustworthy and work well. You won't be disappointed with a Poulan chainsaw no matter which one you pick.
But sometimes, when you are a new user, you can get overwhelmed with some of the specs and what they mean. This review guide will break down some of the pros and cons of their top chainsaw models and their key features.
So, If you'd like to see if a Poulan chainsaw is what you need, read on and I'll go over my top picks.
Disclosure: The chainsaw items recommended below are my top favorites because they have a great combination of quality and features. As an Amazon Associate, I earn from qualifying purchases made through the links as a way to support this site. If you buy a qualifying product, you're not charged anything extra, but I'll get a small commission to help pay for my expenses. I hope you find my advice helpful and discover the best chainsaw stuff for your needs on this list.
Poulan Chainsaw Top Picks
Poulan has many different types of chainsaws and provides a mix of gas and electric to suit their users' needs.
Also, I understand that everyone has different values and needs, so I have included the best so that you can choose which one works more for you.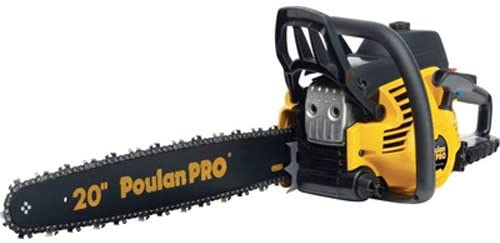 If you want something bigger than most chainsaws for regular homeowners, it might be worth checking out this model. Instead of the standard 16 or 18 inches, it comes with a 20-inch blade and 50cc engine power.
However, this chainsaw has some very specific instructions. If you've used a chainsaw before and think you know what you are doing, still read the manual. Most of the reviews on this product mention that you have to follow the instructions very closely to have it work as it should.
This engine is heavy-duty and can handle some of the bigger trees you have in your yard without the need for a professional saw and the cost. Plus, you can take it wherever you need it to go with the handy carrying case.
Features:
DuraLife Engine
A super clean air filter system
Effortless pull starting system
Automatic chain oiler
Carrying case and locking scrench holder included
10 pounds
20 x 15.8 x 22.3 inches

The 18-inch Wild Thing gas chainsaw is a powerful, heavy-duty chainsaw made for the average user. One unfortunate aspect about this chainsaw is that it doesn't provide a vibration dampener, so it may start to wear on you and hurt your arms from the vibration for extended uses.
However, it gets the job done around the house. If you need it for trimming and maintenance, then this chainsaw is perfect for you. It isn't designed to do a lot of work at once, and that really shows in its design and flaws, but many people at home won't be working that hard for that long.
This one is gas, like the more heavy-duty chainsaws. This means you can take it with you anywhere on your property, and you don't have to worry about it getting power or needing a new battery while working.
Features:
Super Clean Air Filter System
Gear-driven automatic oiler
Primer bulb for easy starting
CARB compliant
11.8 pounds
40 cc engine
35.2 x 14.8 x 11.9 inches

If gas isn't your thing, don't worry. The Poulan PL1416 comes with a cord, so you don't have to worry about running out of fuel. The inline motor makes the chainsaw much easier to use and balance, as it isn't sticking out of one end of the saw. This is especially beneficial for those that are left-handed as there isn't a more dangerous side that they have cut from.
It is very quiet compared to some other chainsaws and is fast and pretty light for its size. However, it does have to be assembled upon delivery, making it difficult for some people even to get started on using it.
It is 14-Amp is also a great steal, as it can be powered on many breakers without a problem and is unlikely to flip the breaker even during a high-power moment.
Features:
22 x 4 x 8 inches
11 pounds
Corded
14-Amp
16-inch bar and chain
Easy-to-see brake alert
Automatic oiler
Simple chain tension
Balanced with ergonomic incline engine
Low kick-back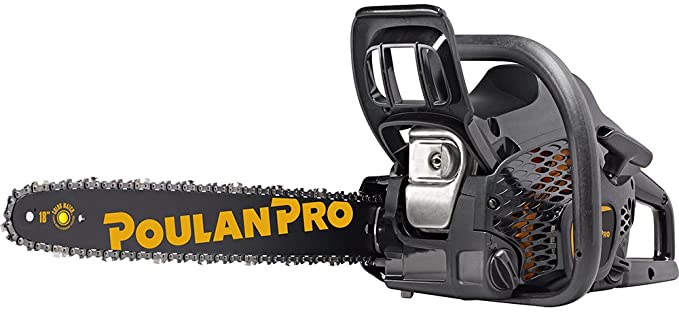 The Poulan PR4218 is a powerful chainsaw part of Poulan's pro models. Despite this, it isn't much more expensive than some of their other chainsaws, and it comes with a lot of additional items such as a built-in scrench, an extra chain, and even a carrying case.
One downside is that this chainsaw is designed to reduce emissions. However, this design is for people at or around sea level. If you live at higher elevations, you need to make sure your carburetor is tuned to that elevation change. They don't say this in the manual, so it leaves many buyers confused.
But, if you can get that figured out, you can have a chainsaw with clean air technology that is powerful and can get any basic work you have in your yard done with no problem.
Features:
24 x 10 x 11 inches
Gas-powered
42cc engine
2-stroke engine
18-inch bar
It comes with a carrying case, a built-in scrench, an extra chain, and 2-stroke oil.
13.25 pounds
Anti-vibration system
No visible exhaust smoke
Little smell
My Final Thoughts on the Poulan Chainsaw:
Out of all of the Poulan chainsaws we mentioned, we found the Poulan PR4218 to be the best. It was a gas-powered chainsaw, but the clean air technology works incredibly well, so users don't have to deal with strong smells and smoke while working.
However, if that isn't for you, any of these four Poulan products are worth investing in. Whether you want gas or electric, small or large, they have something for everyone. Poulan is a company that has been trusted and growing for 70 years, for a good reason.
If you're looking to compare the Poulan to a few other chainsaw brands, check out some of my other chainsaw buying guides:
Happy sawing!
Your pal,
Chainsaw Larry