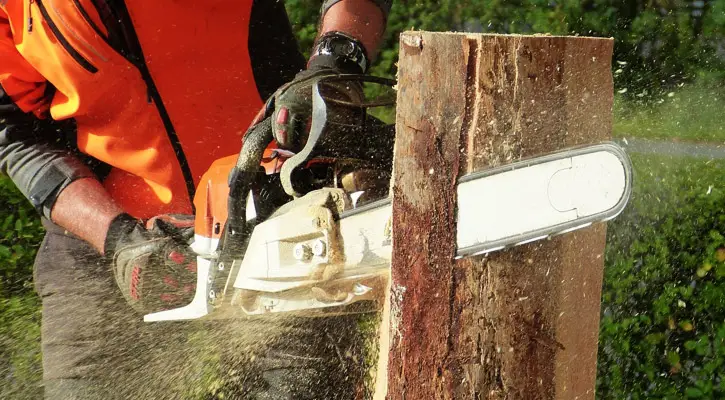 So, you're looking for the best chainsaw for milling?
Look no further.
If you're new to milling and you're on the hunt for a chainsaw mill instead of the best chainsaw for milling, you can check out my article on the best chainsaw mill (top picks on the market).
Chainsaw mills can be a great commodity. But you can get the right chainsaw for the job that will make milling a relatively less inexpensive way to make your own lumber. Whether you're working with some fallen tree logs, unused wood on your property, or working – it's a relatively affordable and accessible way to make lumber.
So assuming you don't have a chainsaw mill, you'll need the right chainsaw for the milling job.
In this article, I'll go over the features, specs, and the pros and cons of some of the best chainsaws for milling, all in one place so you don't have to.
Let's get into it!
Disclosure: The chainsaw items recommended below are my top favorites because they have a great combination of quality and features. As an Amazon Associate, I earn from qualifying purchases made through the links as a way to support this site. If you buy a qualifying product, you're not charged anything extra, but I'll get a small commission to help pay for my expenses. I hope you find my advice helpful and discover the best chainsaw stuff for your needs on this list.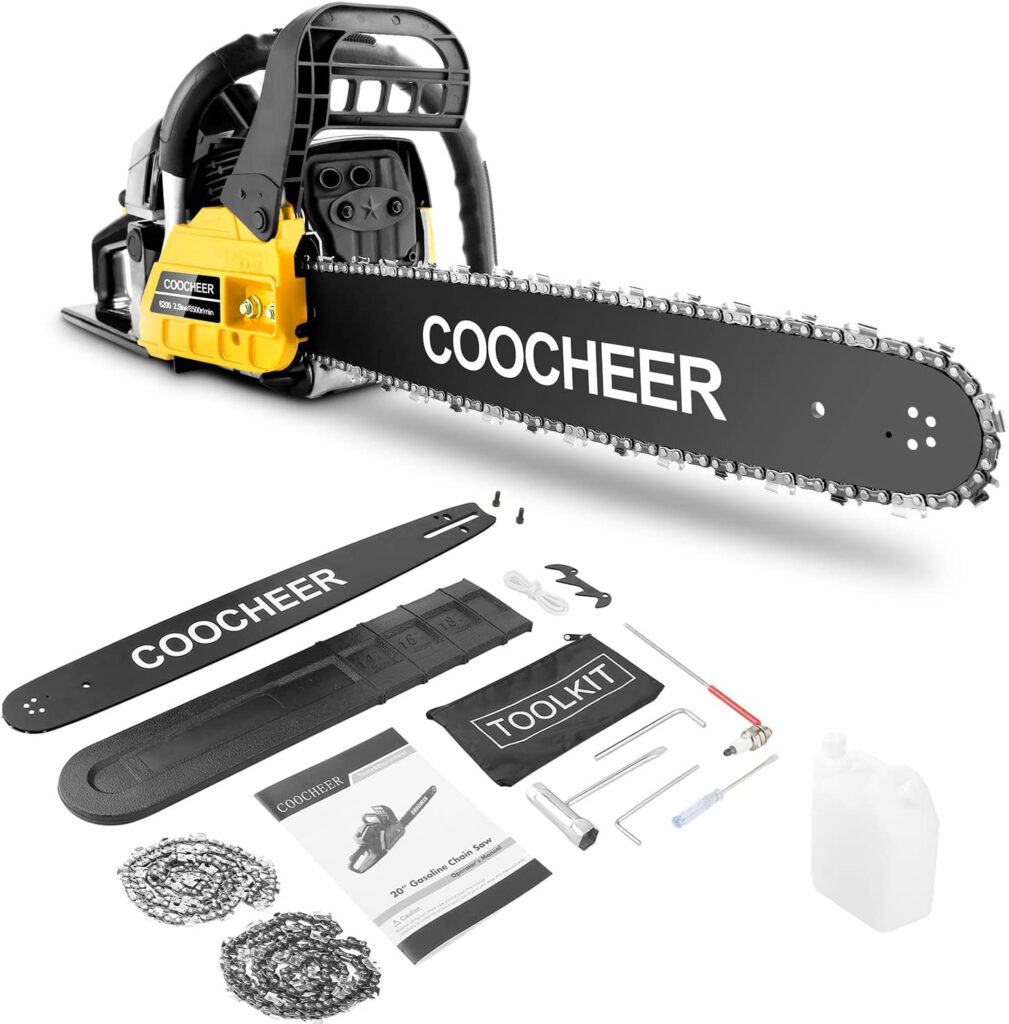 Power equipment, such as high-end chainsaws, may be rather costly, particularly those capable of milling lumber. However, if you're searching for a less expensive choice that will still do the job, this is the best chainsaw for milling, for the money. The COOCHEER 20-Inch Gas Chainsaw.
The stats on this saw are rather astounding. It comes with a 62cc engine that produces 3.5 horsepower, placing it on par with other saws on the market that are three times as expensive. Given its inexpensive price, you'll be happy to know that it's suited for all-day use and will run like a dream for every minute of that.
If you take up this saw after another chainsaw, you'll realize it's rather substantial. Noticeably, it's several pounds heftier than other saws out there. Nonetheless, the COOCHEER 20-Inch Gas Chainsaw offers a lot of saw for the money.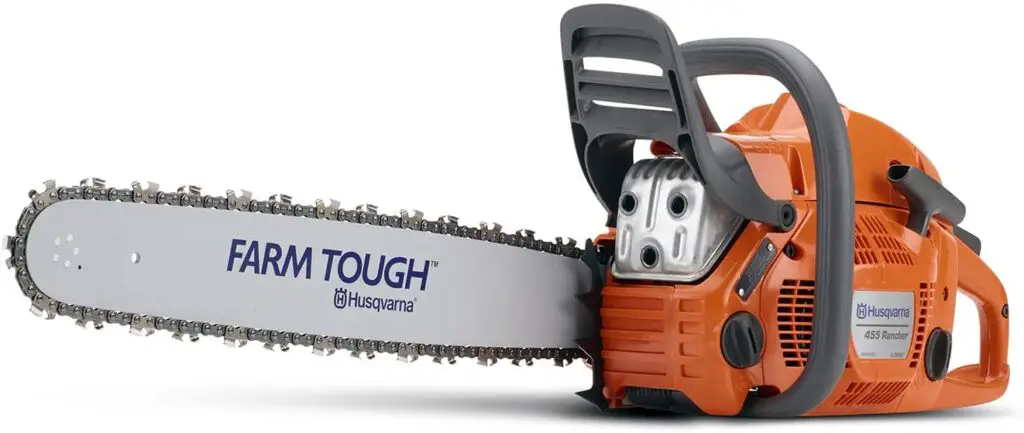 Second on my list of the best chainsaw for milling is the Husqvarna 455 Rancher Gas Chainsaw. It is a monster saw with enough of energy to chop through whatever wood you put in front of it with total ease. It's a good chainsaw and can mill successfully, but it isn't the ideal option for milling. The Husqvarna 460 Rancher, this saw's bigger sibling, is a preferable alternative for milling since it comes with a longer bar attached.
Despite this, the 455 offers several outstanding features. It has plenty of force behind the trigger, for example, due to a robust 55.5 cc motor, which generates a respectable 3.5 horsepower. This saw never decelerates during use, making each cut look like a knife through butter. It even starts up without difficulty every time, which is unusual for a gas-powered chainsaw.
This device, like others from Husqvarna, also comes with a lengthy warranty. Yes, it's no match for the Echo chainsaw, which comes with a five-year warranty, but two years is plenty of time to decide f you want it or not. Ultimately, you may prefer the Echo or Husqvarna 460 Rancher over the 455, but this one is still a fantastic saw in its own right, well worth your time and money, and can totally get the job done with surprising ease.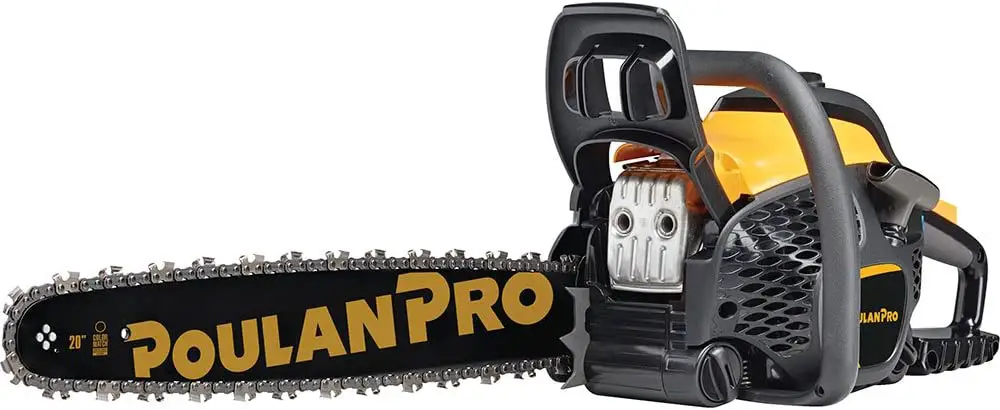 Poulan Pro is a very popular chainsaw brand that is known by just about anyone who is into lawn work and forestry. The company has been making chainsaws and other various devices like that for generations not, and that's because they almost always deliver exceptional products that get the job done. The PR5020 from Poulan is yet another item that you will be proud to use and will definitely improve your yard and work through any logs or downed trees that need to be dealt with.
Gas chainsaws have a reputation for being tough to fire up, although many current saws have discovered solutions to this issue. The Poulan Pro doesn't have that problem. In fact, it starts up like a dream and will keep humming for as long as you need it to. And it doesn't shake or vibrate too much in hand, running smoothly like a dream from when you turn it on to when you turn it off.
It has a 50cc engine and is built with some cutting-edge, patented tech from Poulon, which is meant to make the engine last longer with more power the entire time. This means that the saw doesn't get very clogged up and doesn't experience many problems that plague other saws. In fact, the whole process of firing up and using this saw is very relaxed and efficient. Smooth and functional are the best ways to categorize this saw. This is why It's made it on my list of the best chainsaw for milling!
There are many competitors on the market, and the Poulan Pro does have some room for improvement. But is a handy and relatively inexpensive device from a trusted brand that will get the job done. 
If you'd like to learn more about Poulan and its' top chainsaws, you can check out my article on The Best Poulan Chainsaw Reviews.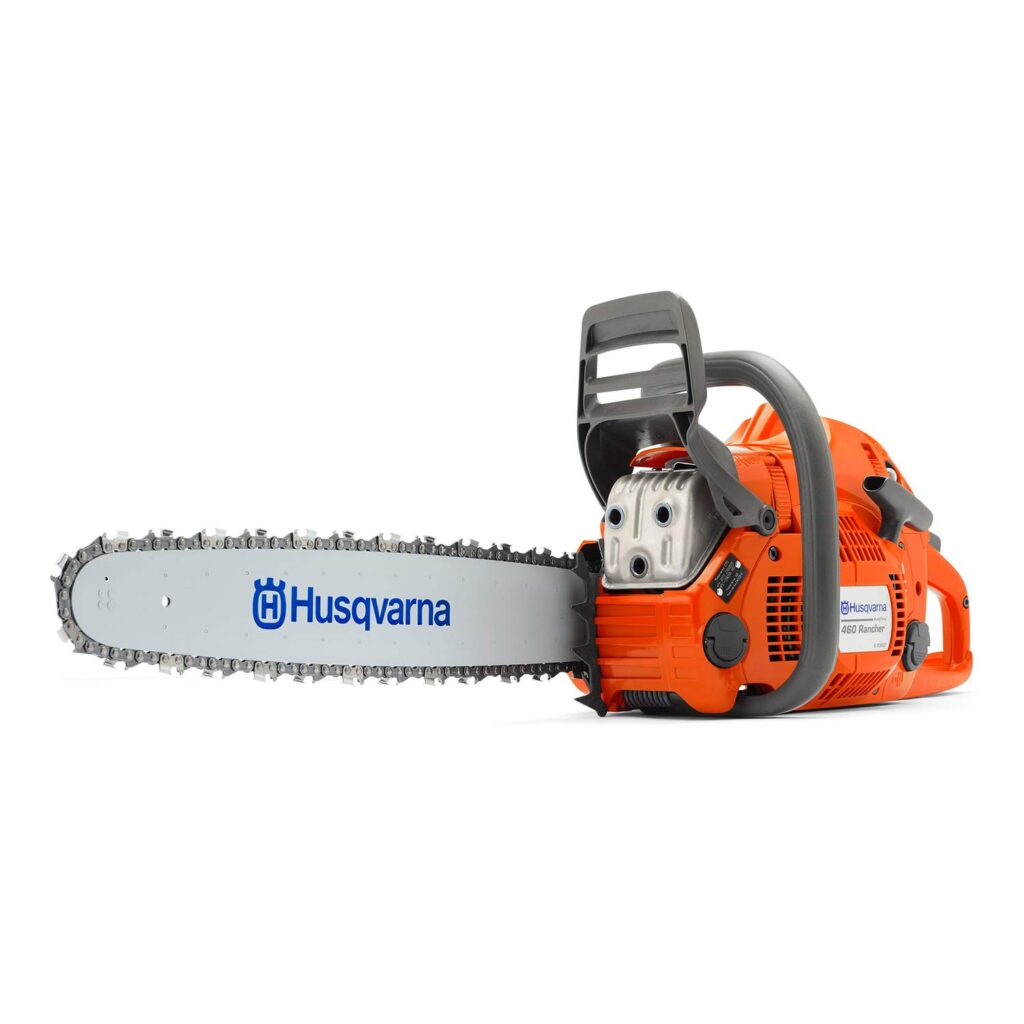 When searching for the best chainsaw for milling, you'll want the one with the most power, the most ability, and versatility. You want a device that can reach a long way while not sacrificing its strength no matter what test you're putting it to. That means you'll need the biggest bar possible, as well as a powerful motor to keep the chain moving at the same time. In this crucial criteria, the Husqvarna 460 Rancher triumphed, outperforming and outshining the competition.
This chainsaw's long 24-inch bar gives greater length for cutting huge trees, allowing users to mill considerably bigger timber. However, absent additional energy for such exhaustive sawing, the wide range of the chains wouldn't mean anything at all. But that's where Husqvarna once again knocks it out of the park. The strong 60cc motor provides a class-leading 3.62 horsepower, which keeps this chain running smoothly in all situations.
Because large, impressive motors cause greater shaking and vibrating, this saw incorporates a LowVib anti-vibration technology. Because of this cutting-edge, modern approach to keeping the saw still, it is both comfortable to wield and won't shake your arms to death. Thanks to the motor, you can fire up all that energy at once without wasting too much gasoline. It is energy-efficient, easy to use, and runs smoothly, and can handle almost any challenge in your yard. It is one of the best milling chainsaws available on the market.
Thank you for reading my review of the best chainsaw for milling. I hope it was valuable in helping you find the best chainsaw. You really can't go wrong with any of these top-rated saws!
Happy milling!
Your Pal,
Chainsaw Larry