Are you interested in buying a Ryobi Chainsaw?
Not sure if it's the best choice?
If so, you're in the right place.
I'll go over the top 6 chainsaws you can buy from Ryobi in this post. Ryobi is a quality chainsaw brand that focuses on the quality and endurance of its chainsaws. They have several different styles of chainsaws as well, making the Ryobi chainsaw the perfect brand to buy from regardless of what you are looking for in your chainsaw. By the end of this article, you'll be able to know which model is best for your needs or if you might need to look at other chainsaw brands altogether.
Read on to find out what my picks are for the top 6 Ryobi chainsaws!
Disclosure: The chainsaw items recommended below are my top favorites because they have a great combination of quality and features. As an Amazon Associate, I earn from qualifying purchases made through the links as a way to support this site. If you buy a qualifying product, you're not charged anything extra, but I'll get a small commission to help pay for my expenses. I hope you find my advice helpful and discover the best chainsaw stuff for your needs on this list.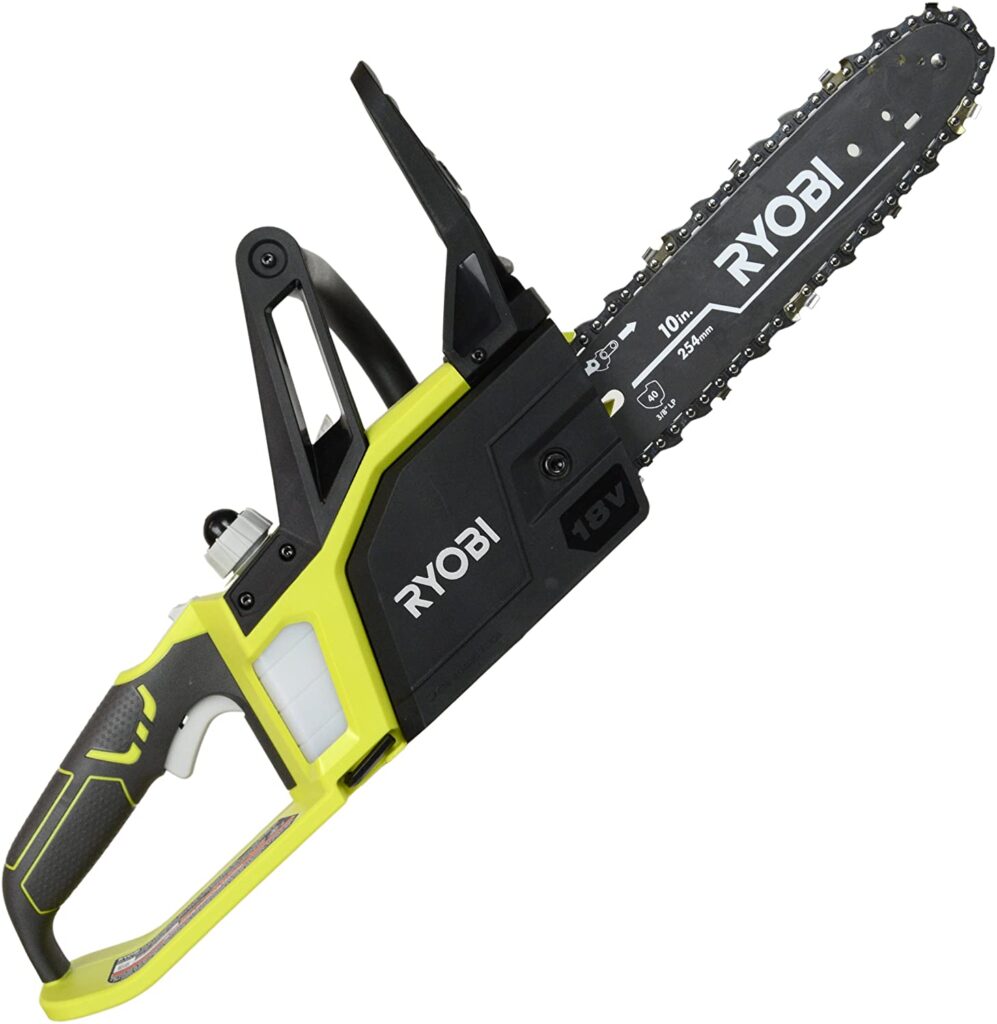 The Ryobi P546 is a fantastic chainsaw. Not only is the Ryobi P546 a cordless chainsaw, but an 18-volt lithium-ion battery also powers it! This superb battery will last for a quick and powerful cutting session. 
The Ryobi P546 is relatively light compared to some other chainsaws and only weighs 5.8 pounds. The dimensions of the Ryobi P546 are 25 x 10 x 10. Also, the bar and chain length on this chainsaw is 10 inches. There is also a convenient side-access chain tensioning to make easy chain adjustments without any struggle.
The Ryobi P546 cordless chainsaw is perfect for a quick and simple job. You can get several good hours of cutting accomplished with this machine. Plus, the comparable lightweight of the Ryobi is spot-on for pruning trees, hedges, and bushes. You are sure to get the job done with this one!
The Ryobi One+ chainsaw is a great battery-powered machine perfect for small and odd jobs. This model is nice and nimble, which is why it is the optimal chainsaw to use for detailed work on things like trimming trees bushes or fixing overgrown hedges!
The Ryobi One+  chainsaw is $118, so it is perfect for someone who only needs a chainsaw a couple of times a year and does not want to invest a considerable sum of money into their chainsaw. Additionally, the Ryobi One+ chainsaw battery is compatible with over 70 other Ryobi One+ tools! Ryobi One+'s 18-volt battery can be exchanged for any Ryobi One+ tool, so it is extremely versatile and helpful for people who don't want to buy a ton of different tools and batteries.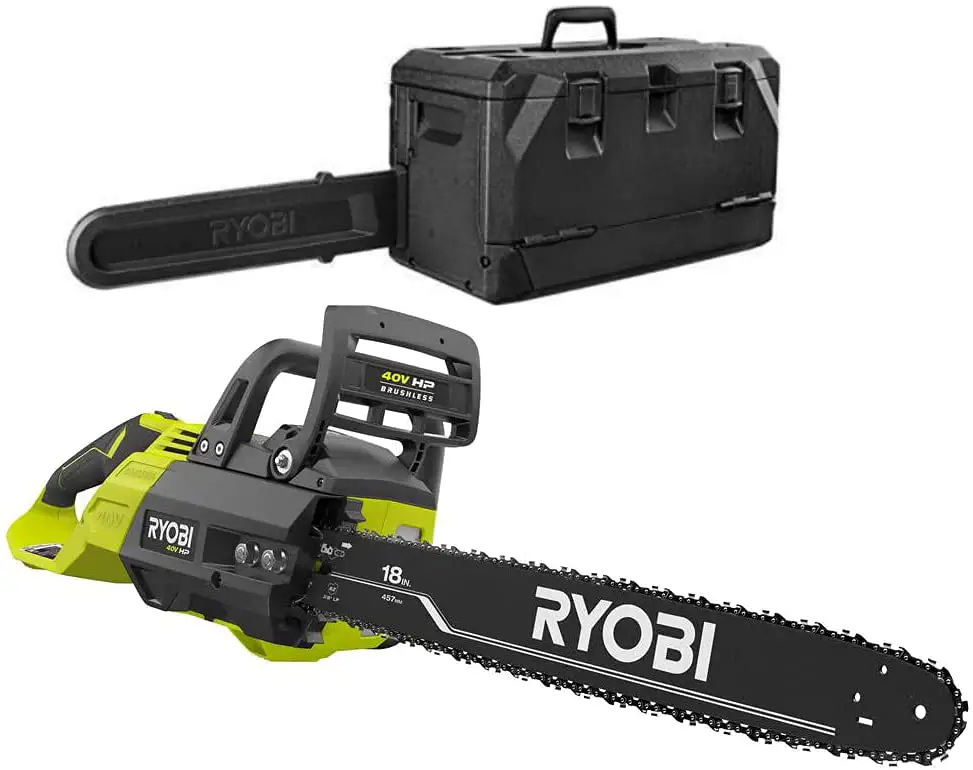 A 40-volt lithium-ion battery fuels the Ryobi 18 inch HP 40V chainsaw. This chainsaw runs cordlessly and packs a nice punch, thanks to the 18-inch bar and chain. The Ryobi 18 inch HP 40V runs on a brushless motor, which helps to maximize the chainsaw's power and increase the overall cutting speed.
The Ryobi 18 inch HP 40V weighs 16.17 pounds and has dimensions 18 x 12 x 10 inches. Additionally, the Ryobi 18 inch HP 40V works with all Ryobi 40V batteries! This chainsaw has excellent maneuverability and has pretty average battery life.
This is the perfect machine for people who need a bigger chainsaw than a 10-inch bar but do not want to spend too much money or invest in a larger gas-fueled machine. The price of this chainsaw is $290.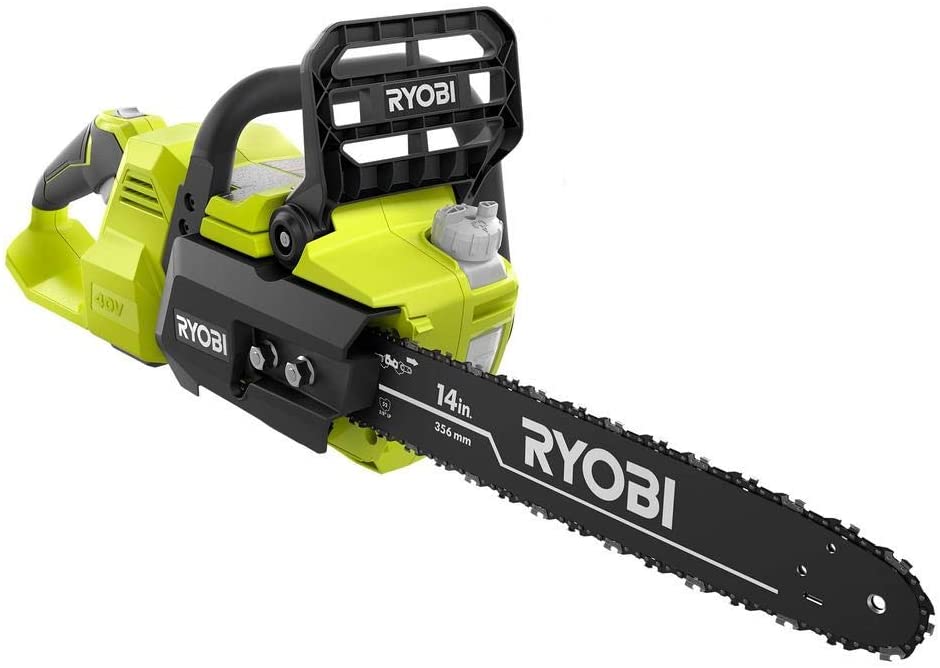 This chainsaw is a great option for folks looking to buy a battery-operated electric chainsaw with the power and speed that comes from a gas-powered chainsaw! The Ryobi RY40530 is powered by a 40-volt lithium-ion battery and packs a powerful punch, unlike many battery-powered chainsaws on the market.
The Ryobi RY40530 has a 14-inch bar and chain, perfect for efficiency and an easily accessible side access chain tension adjuster. In addition, the Ryobi RY40530 also has onboard tool storage, making quick, easy, and straightforward chain adjustments. This chainsaw also has a variable speed trigger to make it easy to control.
This is a great machine for people looking for a powerful yet not extremely bulky or over-the-top chainsaw. Plus, the 40-volt battery is compatible with all other Ryobi 40V tools!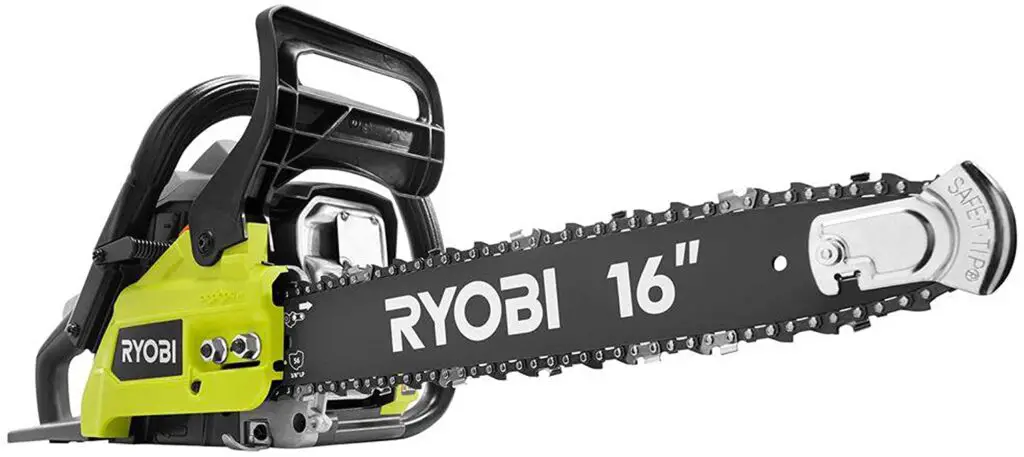 The Ryobi 16-inch 37cc 2-cycle gas chainsaw is a great chainsaw from Ryobi that demonstrates the brand's strength beyond battery-powered chainsaws and other power tools. The Ryobi 16-inch 37cc 2-cycle gas chainsaw is a gas-powered machine built to handle more challenging jobs on a more regular basis than a battery-powered chainsaw like the ones above in the list.
The Inertia-activated chain has a brake that stops automatically and quickly. Additionally, the 37cc engine delivers power and reliability. Ryobi's 16-inch 37cc chainsaw comes with a comfortable handle. It also has an anti-vibration design in the handle and the safe-t-tip, protecting the user from rotational kickback.
This machine also has an adjustable automatic oiler to help extend the bar and chain life! If you need a chainsaw for larger, more regular jobs, this Ryobi might be the one for you!
#6: Ryobi 18-inch 38cc 2-Cycle Gas Chainsaw

The Ryobi 18-inch 38cc 2-Cycle gas chainsaw is a step up on power, intensity, and heavy duty-ness from the previous Ryobi gas-powered chainsaw on this list. This Ryobi chainsaw has an 18-inch bar and chain and dimensions 36 x 18 x 7.
Using a 3-point vibration isolation system, the Ryobi 18-inch 38cc chainsaw prevents vibration from reaching the user's hand, thanks to its 11-pound weight. If you use a chainsaw frequently and want an affordable with appropriate power for the money, then this is your chainsaw!
So, this concludes my Ryobi chainsaw review. I hope I've given you some knowledge of their more popular models and whether or not it's the right chainsaw for you.
Also, take a look at some of my other articles if you're interested in learning about some other chainsaw brands:
Happy sawing!
Your pal,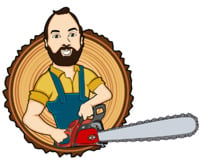 Chainsaw Larry