Are you interested in buying a Kobalt chainsaw?
How do you know if Kobalt is the right brand for you?
If you are looking for a good-quality chainsaw, you may want to look at what the Kobalt brand offers. We'll be looking at the three top chainsaws from Kobalt that are currently available. It's no secret that you want something durable, and reliable, and that can get the job done every time you use it.
Whether you are cutting wood for a fire or cutting down a dead tree in your backyard, one of these chainsaws will do an excellent job of cutting through wood materials with no problem. Yes, that also includes your harder woods as well.
So, if you are in the market for a chainsaw and have heard great things about Kobalt, keep reading. After we unveil our list, we'll go over our buyer's guide to help you choose the right one.
Let's get started.
Disclosure: The chainsaw items recommended below are my top favorites because they have a great combination of quality and features. As an Amazon Associate, I earn from qualifying purchases made through the links as a way to support this site. If you buy a qualifying product, you're not charged anything extra, but I'll get a small commission to help pay for my expenses. I hope you find my advice helpful and discover the best chainsaw stuff for your needs on this list.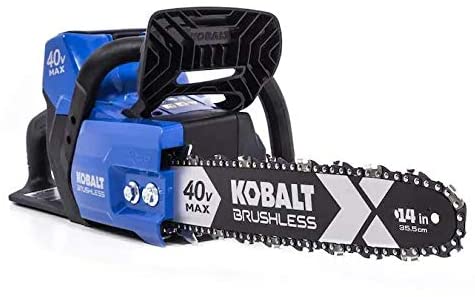 First, we'll be talking about the Kobalt 40-volt 14-inch Cordless Electric Brushless Chainsaw. One of the great things about this is that you will be able to cut through plenty of wood on a fully charged battery.
The motor is highly efficient and operates quietly. So if you are looking for something that won't make too much noise, you will love this chainsaw. You can start it with ease with one button press and get right to work.
This is a chainsaw perfect for cutting through smaller trees and branches. Lastly, it has an auto oiler that you can allow to self-lubricate. It will save you plenty of time otherwise spent just cutting wood.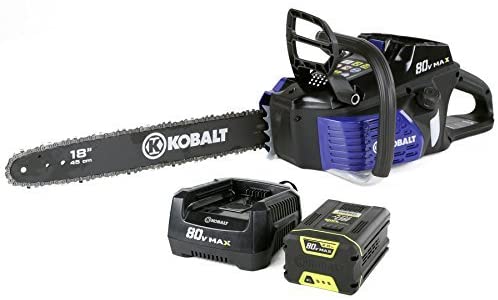 This Kobalt chainsaw has twice the voltage. Its bar is four inches longer and runs on a lithium-ion battery. This is the perfect chainsaw if you want something with more power and can take on the more challenging cutting projects.
You can use this when you need to clean up your yard after a storm. Or you can use it to clear off any unwanted brush. You'll get low kickback force and frequency from the bar itself.
You can also experience the chain brake that will help stop it in the event of an issue. You can quickly adjust the chain tension if you need to do so. Lastly, it also has its auto-oiling ability to keep the chain lubricated for less friction while cutting.
So, If you are looking for a Kobalt chainsaw that is bigger and better, go with this one.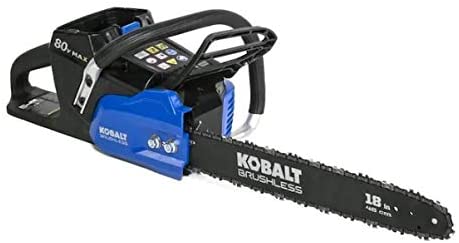 This is another version of the previous saw. The only difference with this one is that it operates using a 2.0 AH battery (which you will need to purchase separately). This has the same features: an auto oiler, quick-adjust chain tensioning, and a low-kickback bar.
You'll want to put this bad boy to good use when you want to cut plenty of wood, especially if it's 4×4 lumber. It's suitable for almost any application, such as storm cleaning, cutting dead wood, and more.
Buyer's Guide
Now that you know exactly what three chainsaws are currently available, we'll look at this buyer's guide. This will help you decide which one will be the better option for you. Let's have a look at the following considerations:
Budget
Affordability may be one of the driving forces behind your purchase. It's important to find the one that will fit your budget. However, you want to pay attention to the quality.
You don't want to buy a chainsaw that is the cheapest option. The quality will be bad, but the performance will be subpar. Thankfully, Kobalt chainsaws are of excellent quality.
So, even if you buy one that fits your budget, you're getting a steal of a deal in terms of quality and performance.
Voltage
The more voltage it has, the more powerful it will be. Using it mainly to cut smaller trees and branches, a 40-volt chainsaw could be your best option. Likewise, an 80 volt will pack more power and be able to cut slightly thicker pieces of wood.
Additional features
Some of the additional features include but are not limited to safety features like the low kickback bar, auto oiler, and whether it includes a battery or not. You can find a Kobalt chainsaw with a battery intact. Otherwise, you may have to purchase one separately.
Buying a chainsaw and a battery separately may be challenging if you are on a budget. If that's the case, find one with the battery included.
Intent and purpose
What will you be using your chainsaw for? Will you be using it for storm cleaning? Cleaning out your property in general?
Depending on the purpose, choosing the chainsaw with the higher voltage may come down to selecting the chainsaw.
Final Thoughts
These three Kobalt chainsaws are perfect for their intents and purposes. If you are looking for one that will give you less power for small projects, you'll know exactly which one to get. If you are looking for one that will be perfect for the more challenging cuts, a more powerful option will be available.
Electric chainsaws are growing in popularity. Therefore, Kobalt may be one of the leading brands that may be a household name in the near future.  
Interested in learning about other chainsaws brands and whether or not they're the right fit? Take a look at my other buying guides to make sure you make the best decision for your needs.
Happy sawing!
Your Pal,
Chainsaw Larry